We've all heard that breakfast is the most important meal of the day, right? Breakfast can certainly be a great way to include healthy and delicious foods and start your day off right. But what about a healthy renal diet breakfast? Let's dive into what makes up a healthy renal diet breakfast, different breakfast ideas, and different packaged items that can fit into a renal diet breakfast.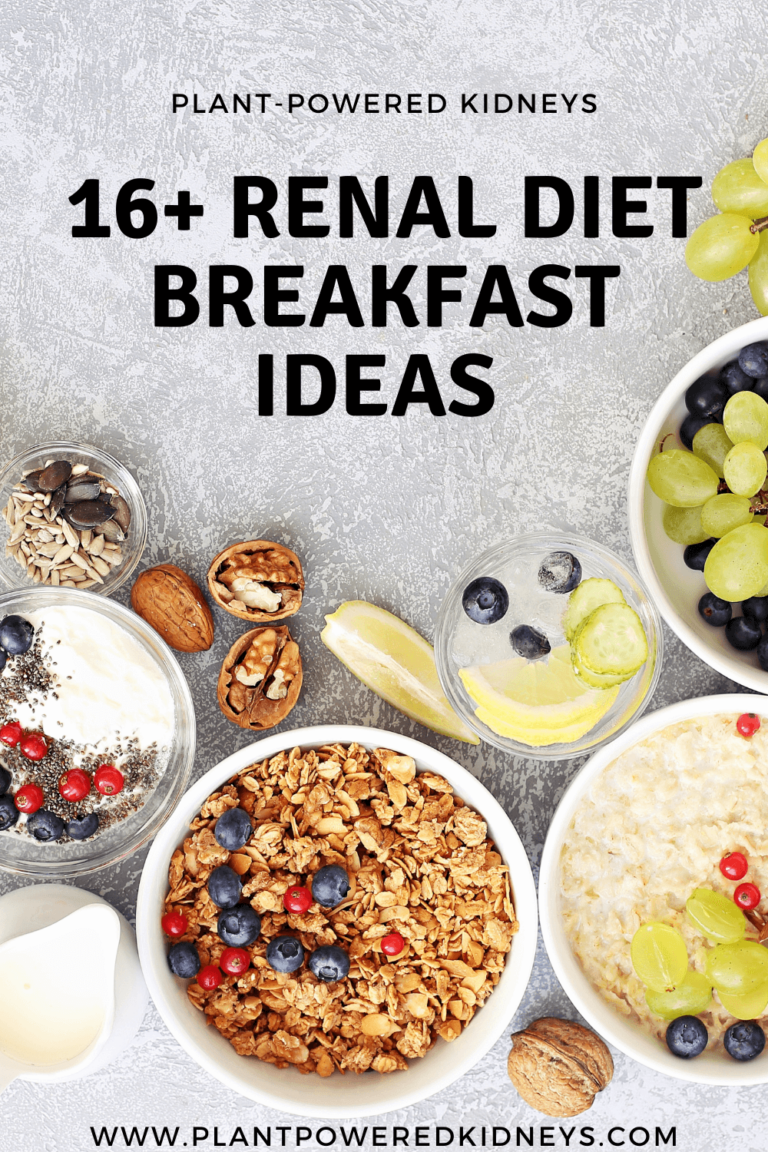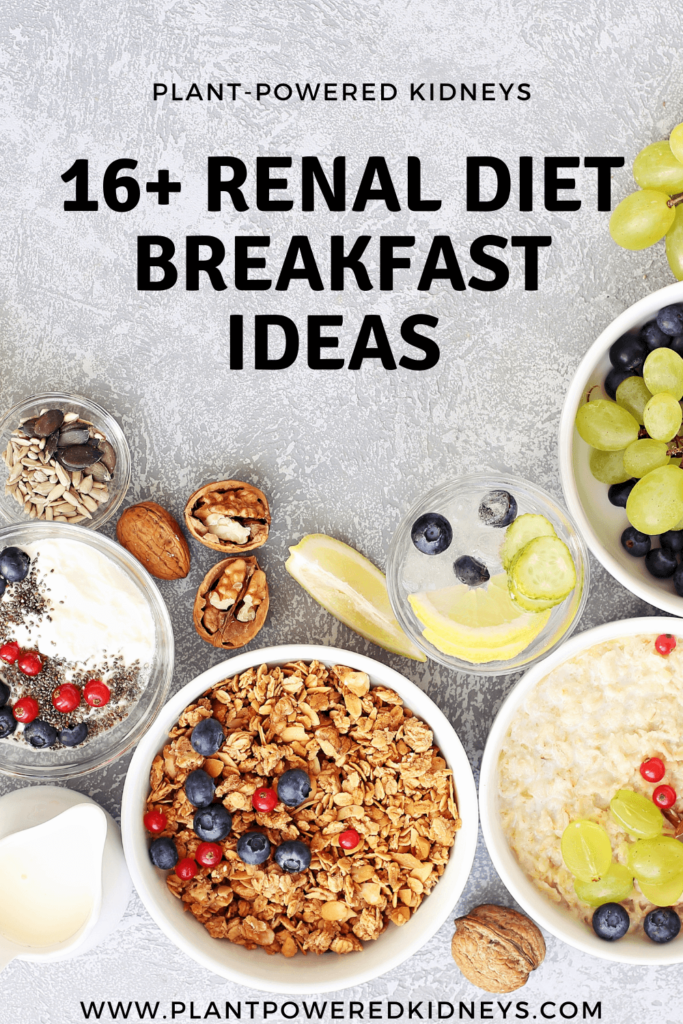 What Makes A Kidney-Friendly Breakfast?
Protein
If you walk down any grocery store aisle nowadays you can see all sorts of products boasting their high protein contents.
However, when we talk about kidney disease, many people have to be mindful of the amount of protein that they consume. This includes getting a safe amount of protein at breakfast.
Ask your dietitian about how much protein you need in a day. You can also talk with your dietitian about how much protein to aim for in your breakfast.
Click here to learn more about a low protein diet!
Some protein options for a kidney-friendly breakfast include:
Chickpea flour
Tofu
Chopped nuts
Phosphorus
Phosphorus levels are regulated by the kidneys. When kidneys are damaged, it can be harder for phosphorus to be filtered out of the body.
We can help our kidneys by not getting too much phosphorus from the diet.
Big sources of phosphorus include phosphorus additives, followed by meat and dairy sources.
Lots of typical breakfast foods can be high in phosphorus. However, there are some kidney-friendly swaps you can make to lower your phosphorus intake at breakfast.
For example, swap out scrambled eggs for a tofu scramble. Or add a side of fruit to your breakfast instead of a side of bacon.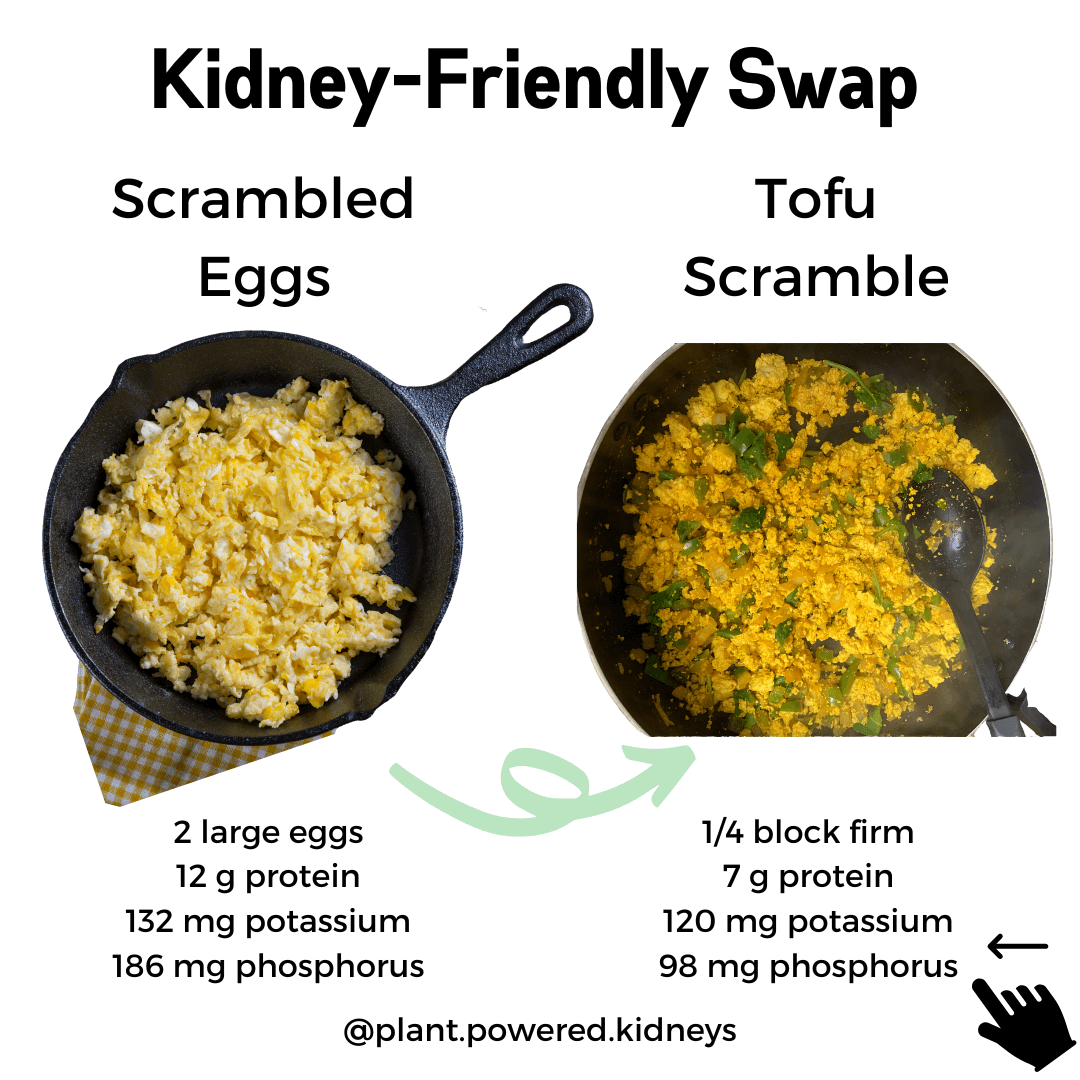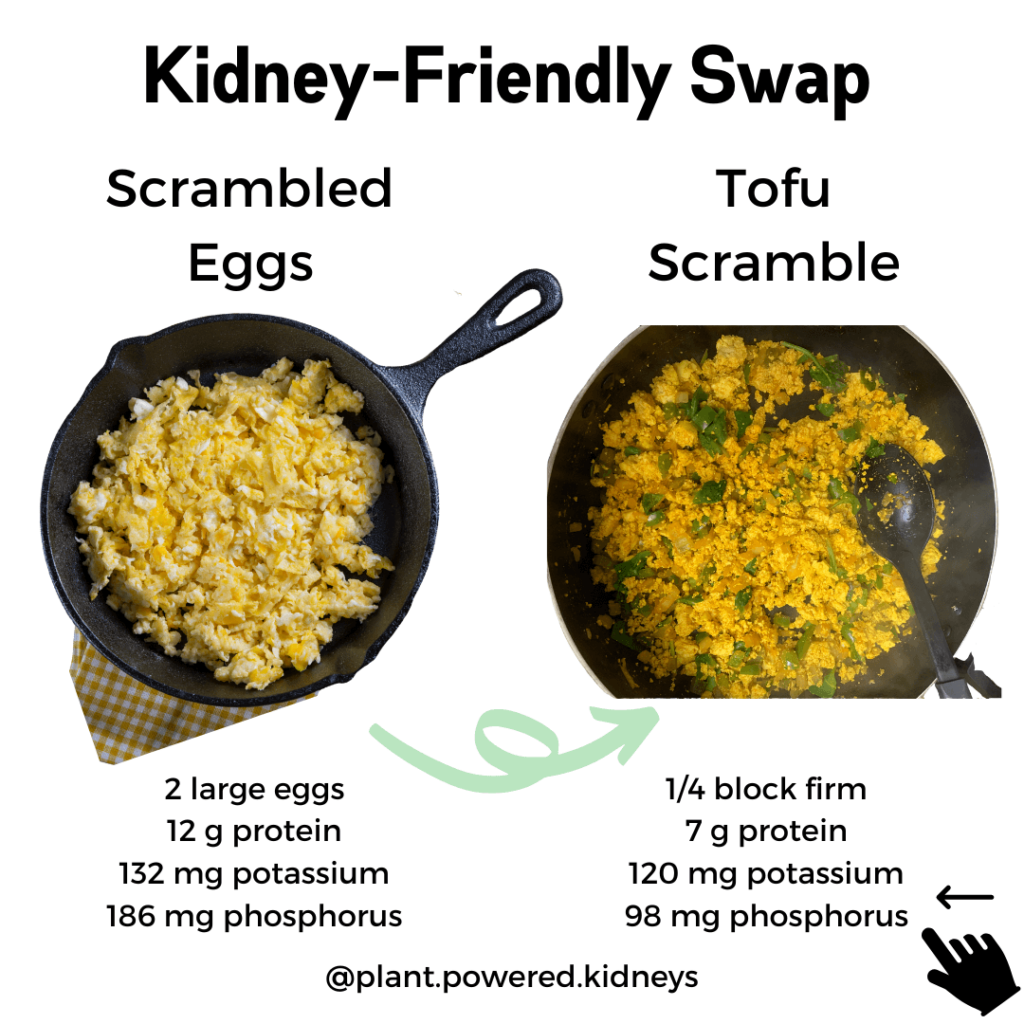 For our complete list of low phosphorus foods, click here!
Potassium
Some people with chronic kidney disease need to limit the amount of potassium that they include in their diet.
Remember, not everyone with CKD needs to follow a potassium restriction.
If you do need to limit the amount of potassium in your diet, be sure to incorporate plenty of low potassium fruits, veggies, whole grains, proteins and healthy fats.
Low potassium fruits to include in your kidney-friendly breakfast:
Apples
Apricots
Blueberries
Cherries
Cranberries
Grapes
Mandarin Orange
Pear (Bosc)
Pineapple
Plum
Raspberries
Strawberries
Tangerine
Watermelon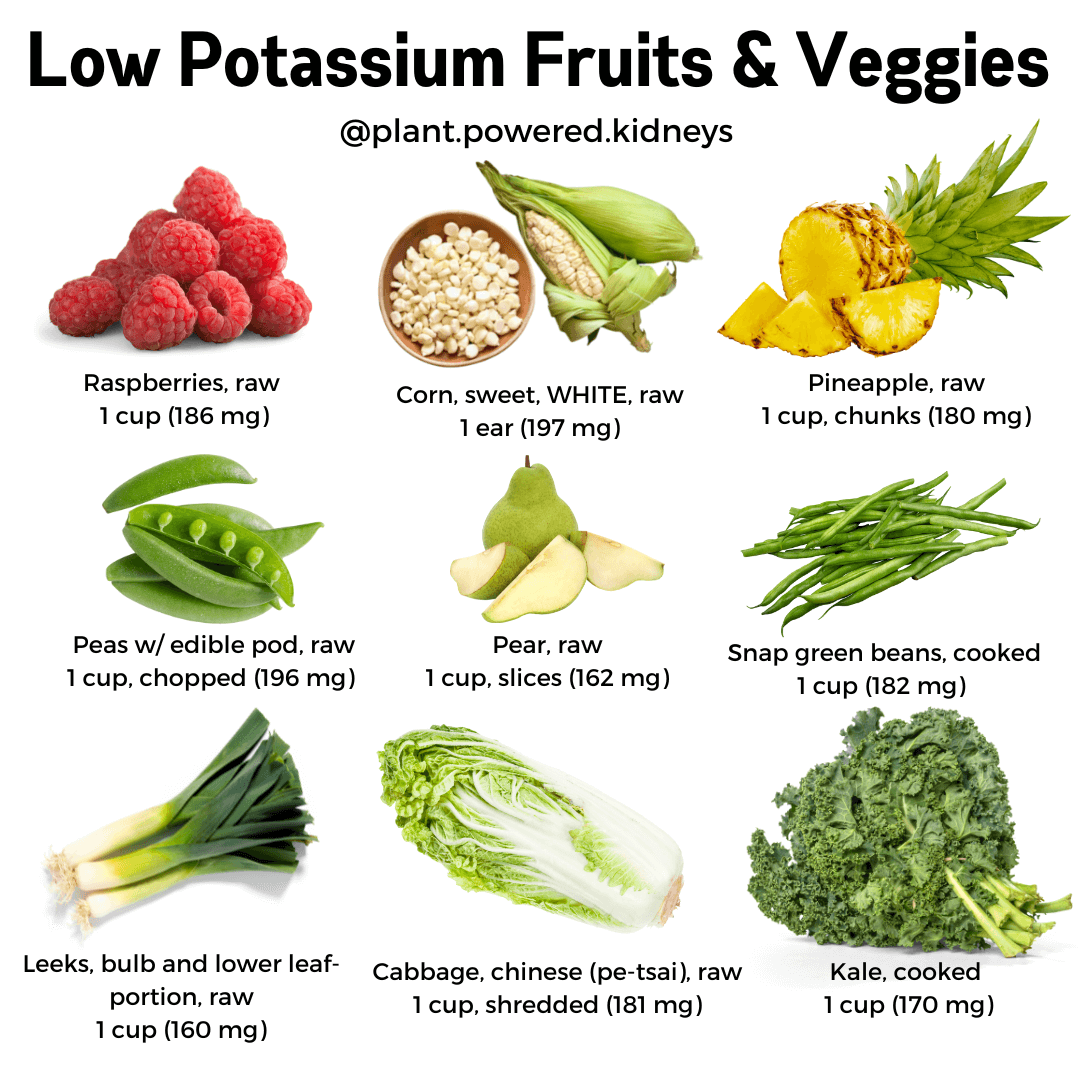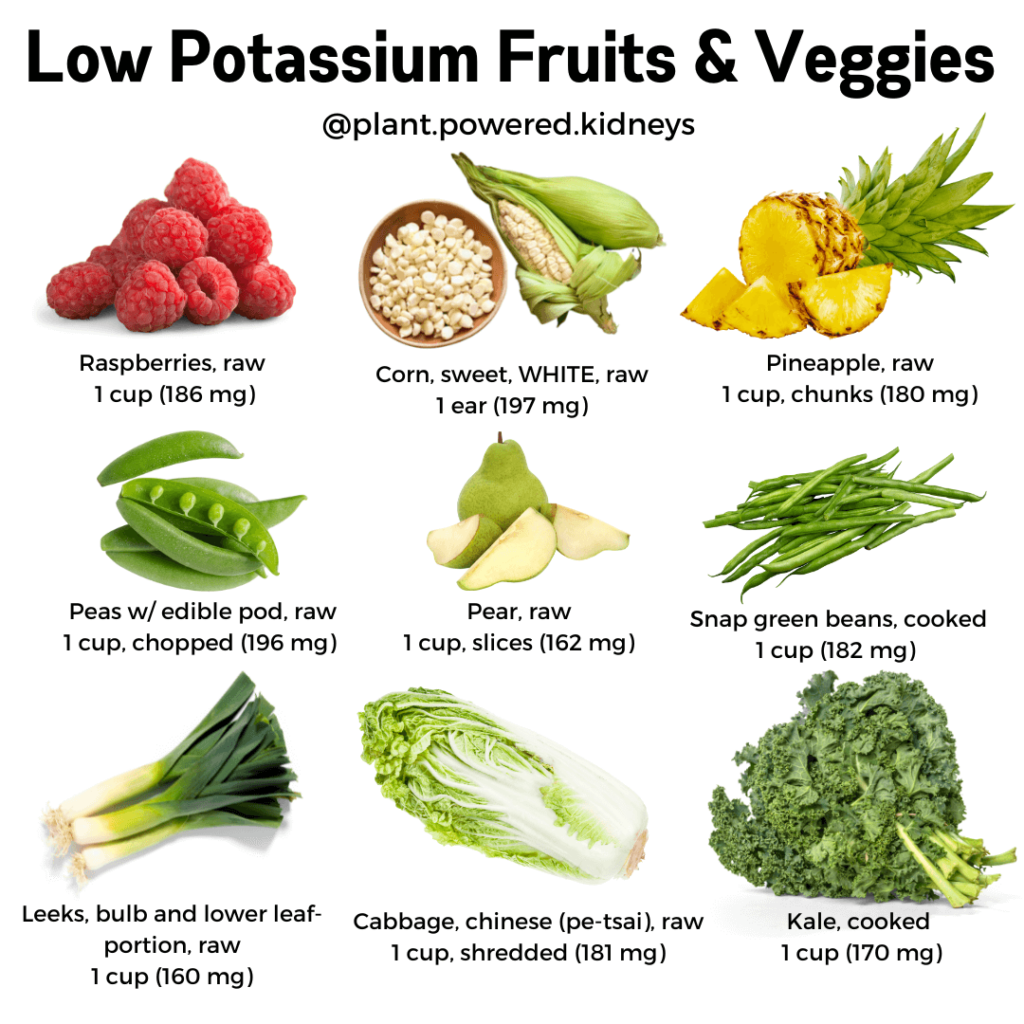 Here are some low potassium veggies to include in your breakfast:
Arugula
Kale
Onion
Peppers
Scallions
Tomatillo
White Mushrooms
Click here to get the full list of low potassium vegetables!
Fruits and vegetables can and should be a part of your breakfast.
If you have to follow a potassium restriction, be sure to talk with your dietitian about some of these low potassium fruits and veggies to add in.
Low potassium proteins:
Tofu
Pecans
Seitan
Walnuts
Low potassium grains:
Barley
Brown Rice
Buckwheat
Bulgur
Oatmeal (1 packet instant, plain)
Teff
Whole Wheat Bread (1 slice)
Wild Rice
Click here to learn more about the low potassium diet!
Sodium
Sodium is a sneaky item that can build up quickly in breakfast items.
The Centers for Disease Control recommends that those with CKD limit their sodium intake to less than 1,500mg per day.
The American Heart Association recommends a safe limit of less than 2,300mg of sodium per day, with an ideal limit of 1,500mg per day.
On average, Americans consume roughly 3,400mg of sodium per day. This is well above the recommended limit.
To learn more about how sodium affects the kidneys, click here!
On the other hand, we cannot (and should not) aim for 0mg of sodium.
We need some sodium in our diet, we just want to make sure that we don't get too much. Be sure to talk with your dietitian about exactly how much sodium you need.
So, how can you lower the sodium content and create a renal diet breakfast? Let's dive in!
For packaged items, check the label! Items are considered low sodium if they contain 140mg or less per serving.
For example, if the serving size for bread is 1 slice, look for less than 140mg of sodium per slice.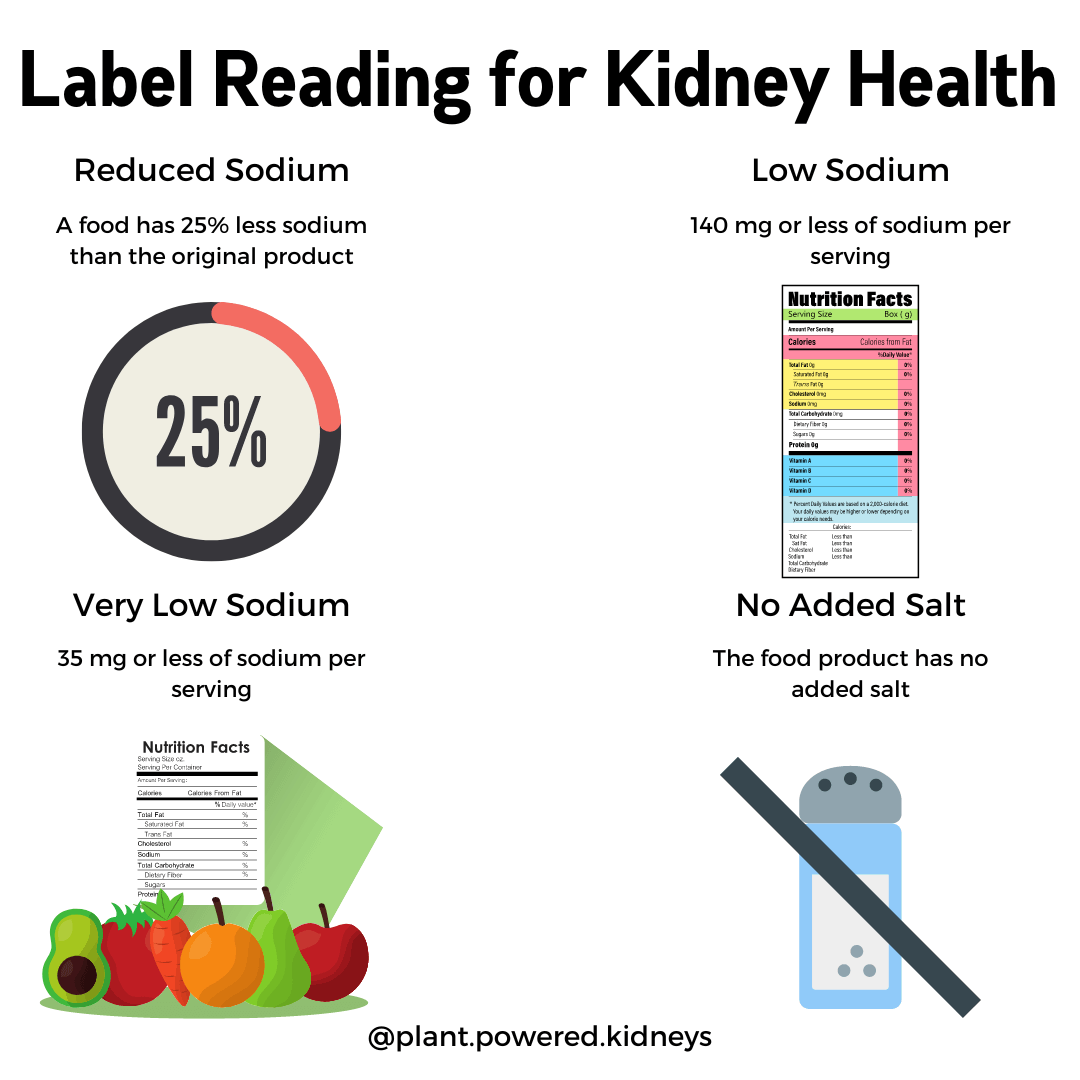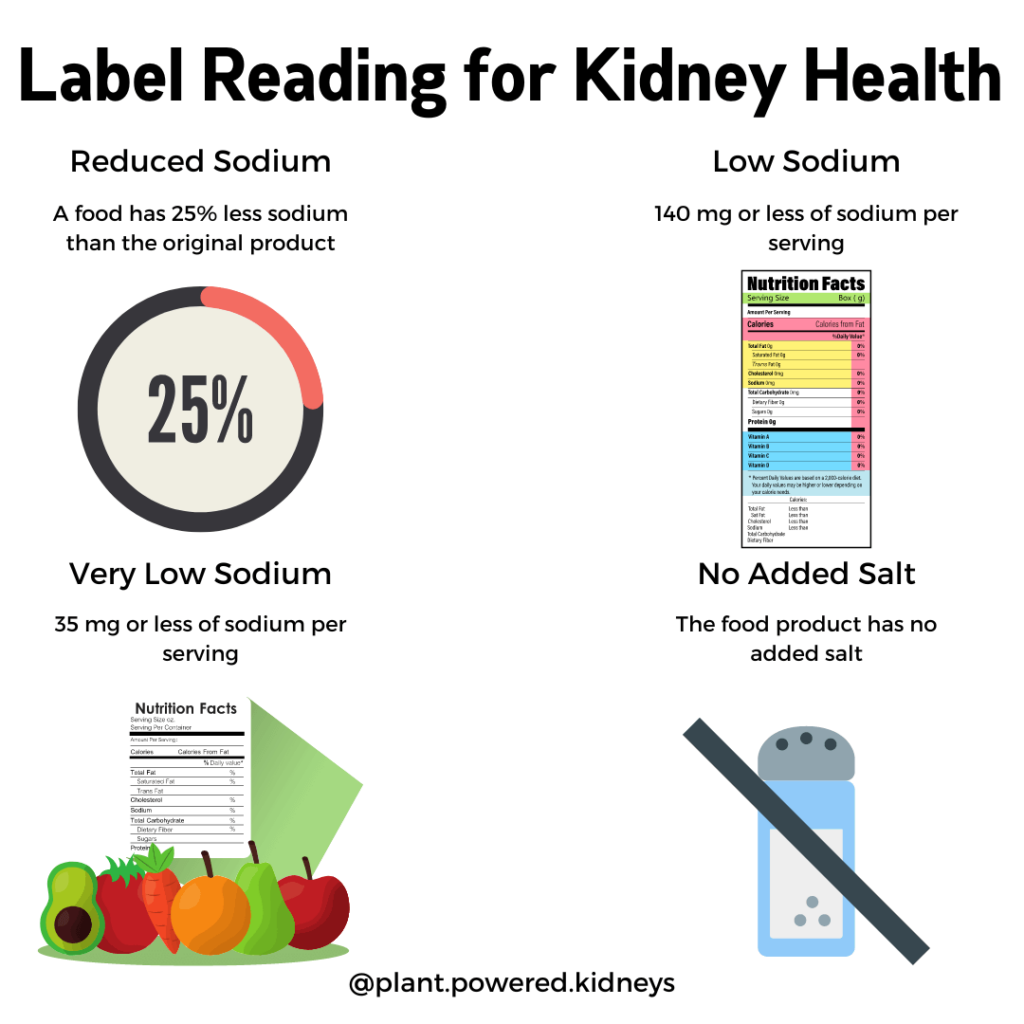 Use spices other than salt! Try out these other kidney-friendly spices:
Parsley
Cilantro
Basil
Chives
Dill
Mint
Cinnamon
Nutmeg
Spice blends like pumpkin pie spice
Not only do spices add great flavor to your breakfast, they can also be a great way to add more nutritional value to your food.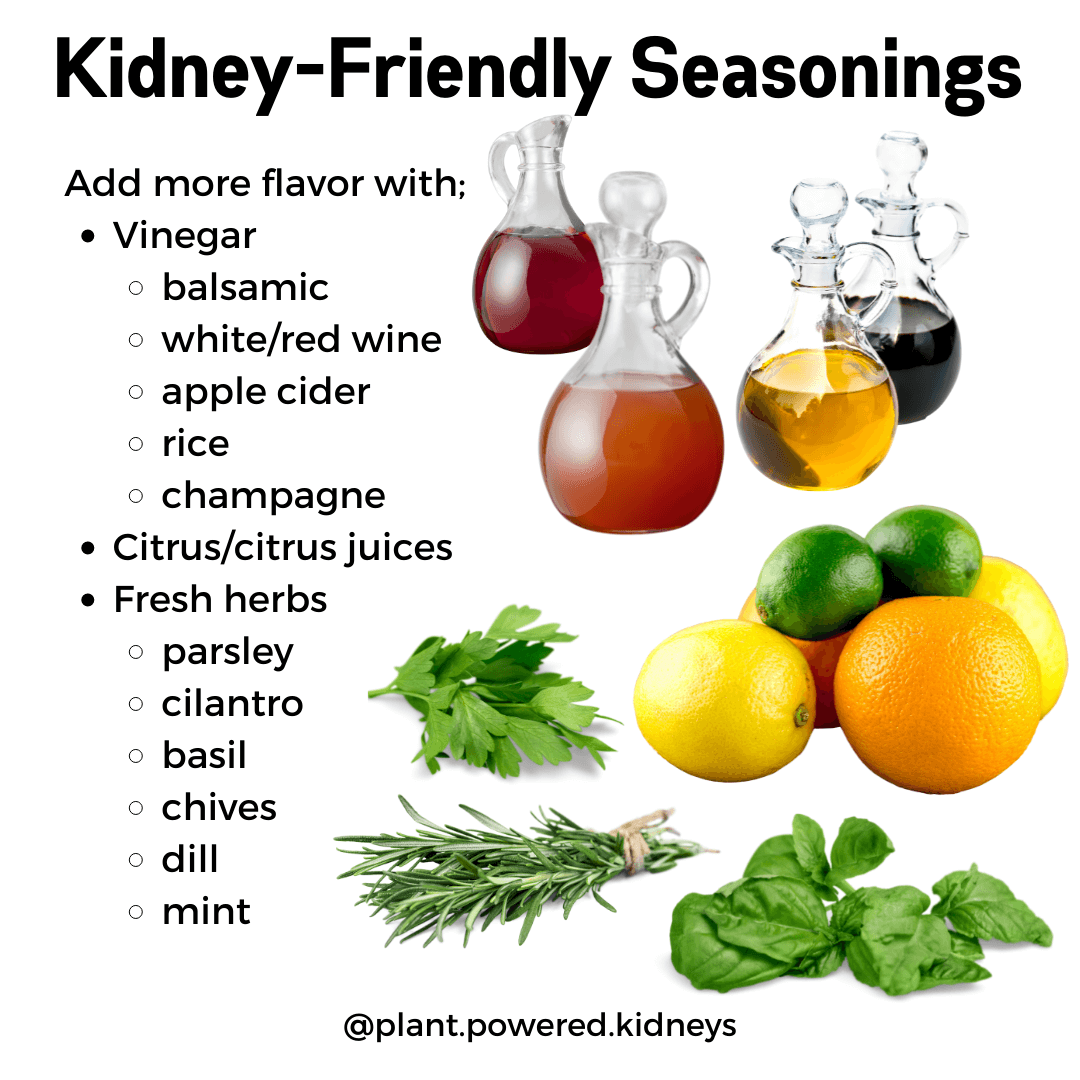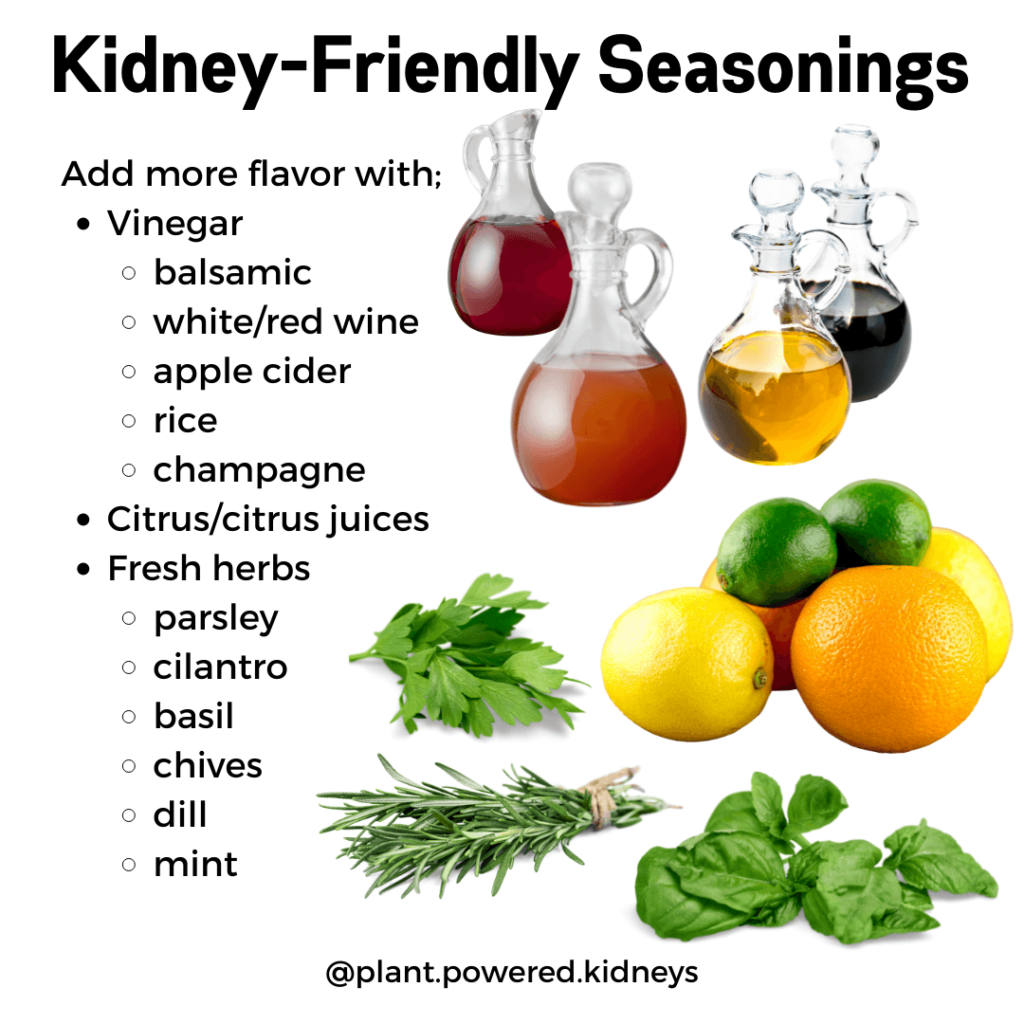 Swap out saltier sides like bacon, sausage, biscuits and breads, home fries or grits with a fruit cup or mixed veggies.
Instead of adding cheese on top of your breakfast, try flavoring your food with salsa, homemade pico de gallo, avocado or your favorite spice blend.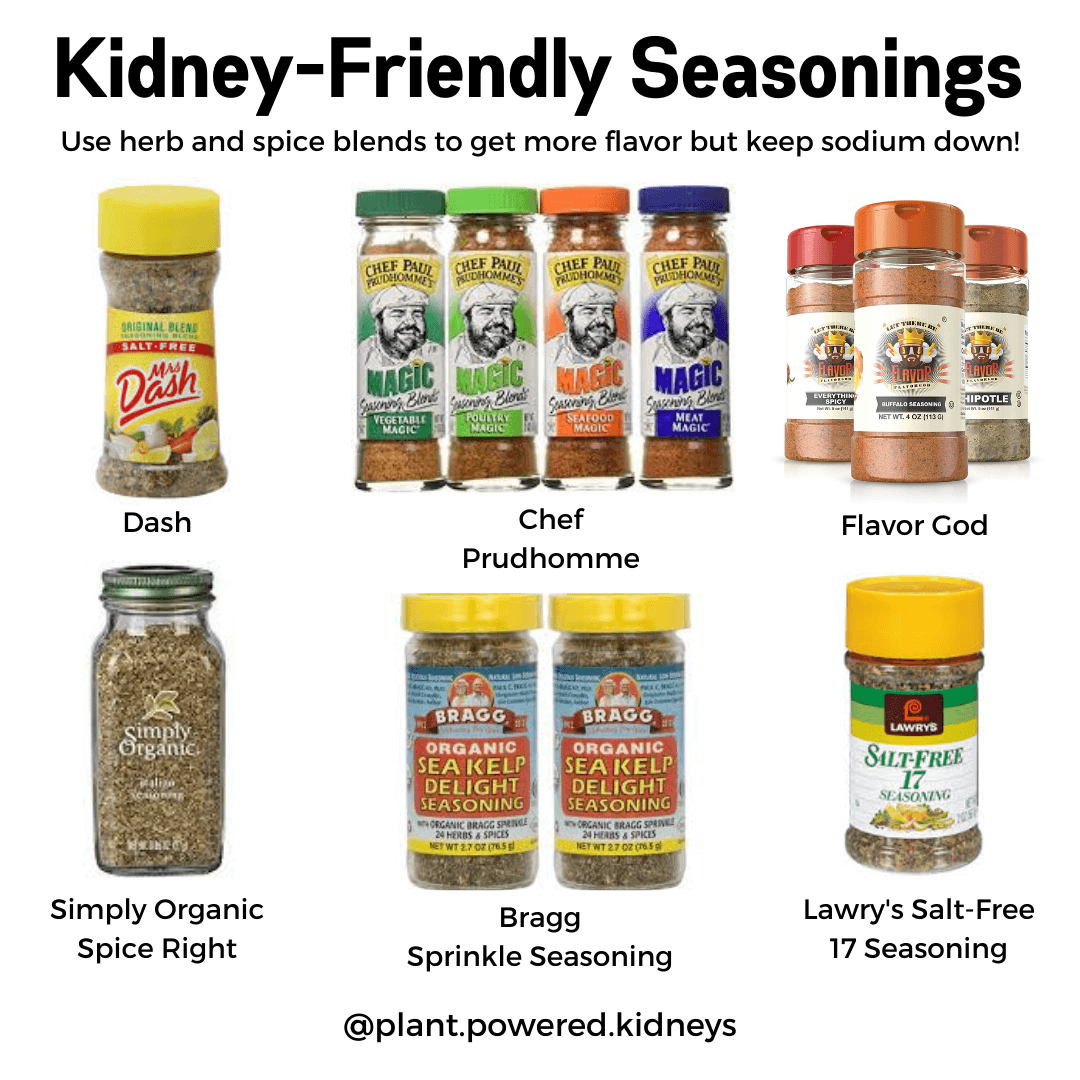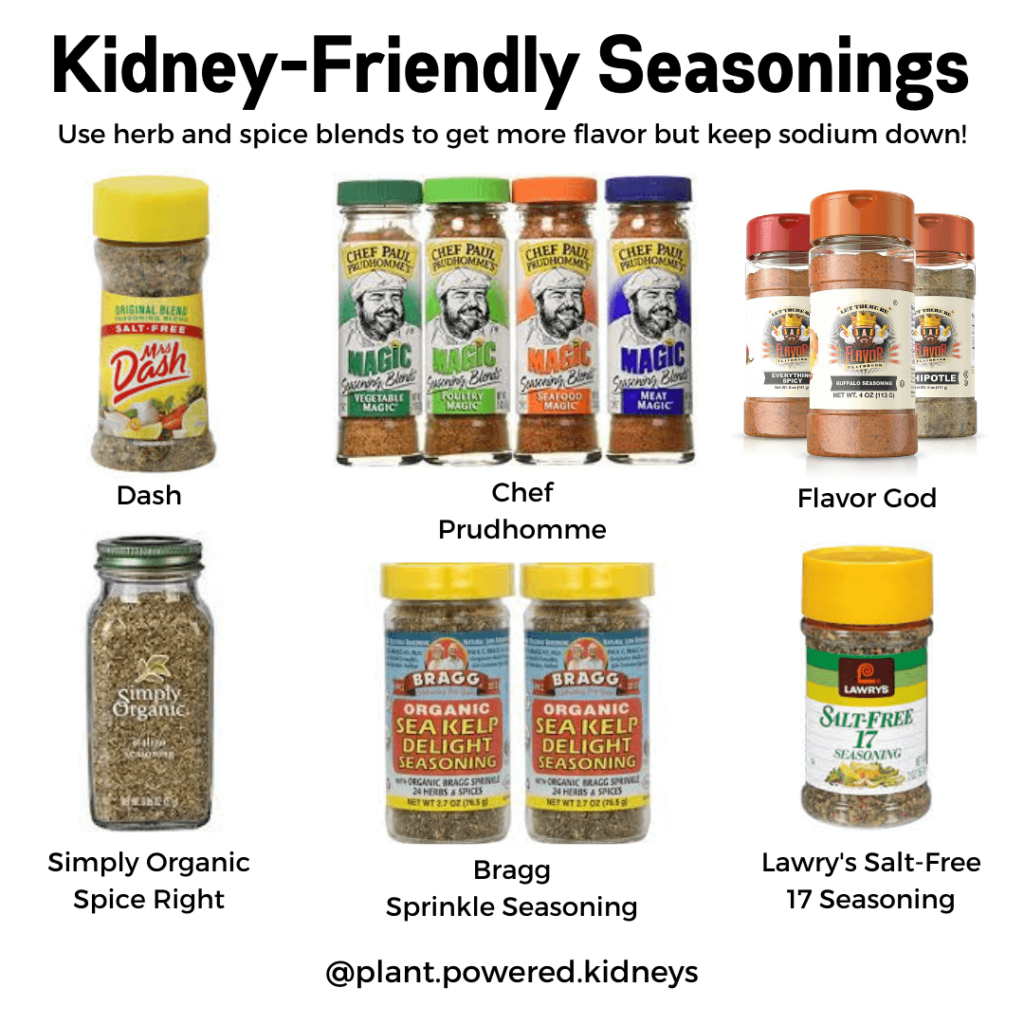 Added Sugar
Added sugar can show up in a ton of different breakfast foods.
Limiting the amount of added sugar you take in can help manage blood sugars and take care of heart health which helps take care of your kidneys!
So, what is added sugar? Added sugar includes sugars that are added to a food item during processing.
Added sugar can be found in common breakfast items such as
Similar to sodium, it is unrealistic to aim for no added sugar in the diet.
In contrast to sodium, we don't require added sugar in our diet. Current daily recommendations are less than 25g of added sugar per day for women and less than 36g per day for men.
Fiber
This is something that we want more of in our breakfast! Fiber is a type of carbohydrate that comes in two forms: soluble and insoluble fiber.
Soluble fiber can help with blood sugar control and blood cholesterol.
On the other hand, Insoluble fiber can help with digestive health and aids in keeping bowel movements regular.
Both forms of fiber are equally important and we need both for better kidney and overall health.
There are a ton of sources of soluble and insoluble fiber!
Fruits, vegetables, legumes, whole grains and nuts and seeds are all examples.
Challenge yourself to add 1-2 more sources of fiber to your breakfast to make it more kidney-friendly!
Savory Renal Diet Breakfast Ideas
3 Kidney-Friendly Savory Toast Toppings
Hummus with cucumber
Sliced tomato with balsamic vinegar drizzle and chopped parsley
Black Bean hummus with fresh pico de gallo
Tofu Scramble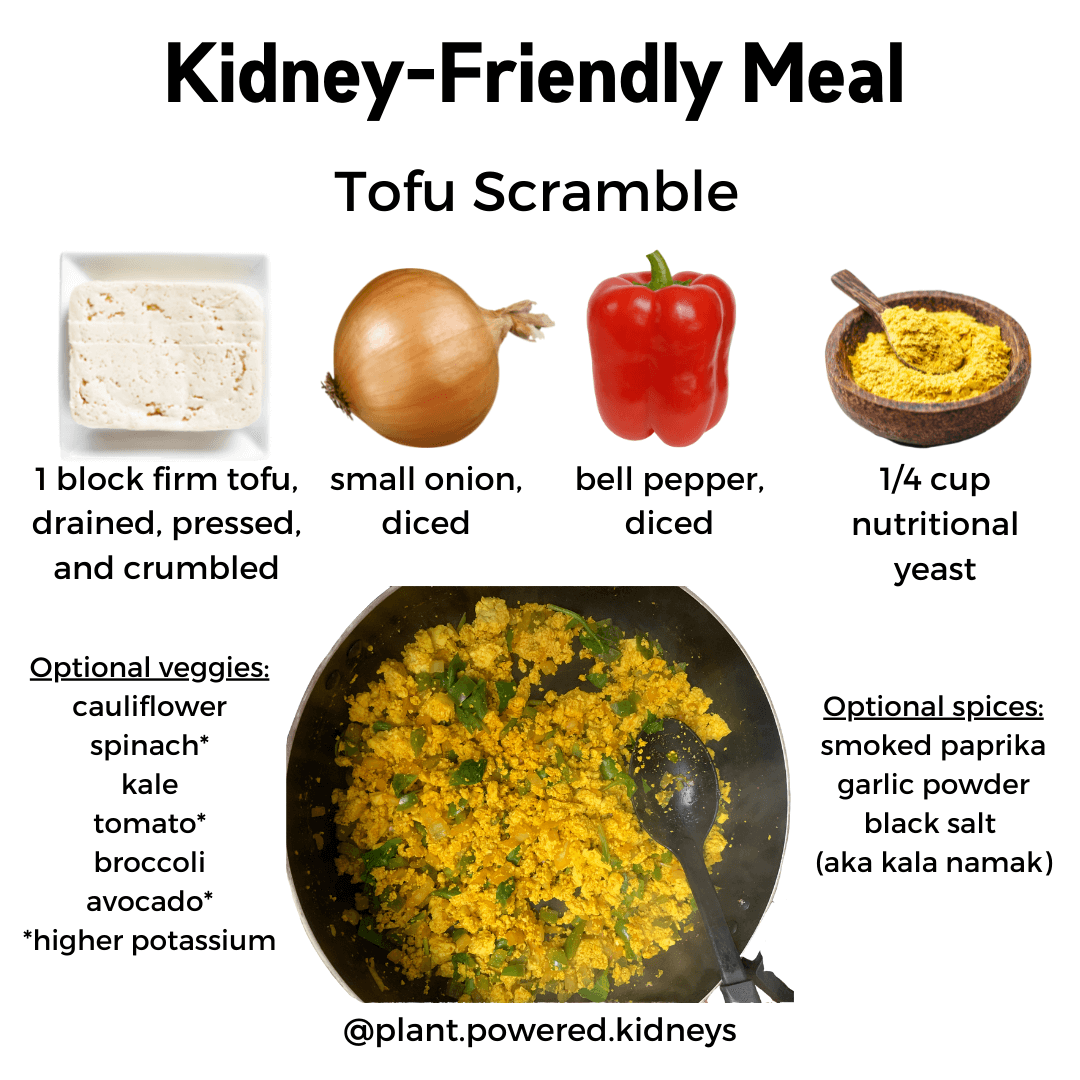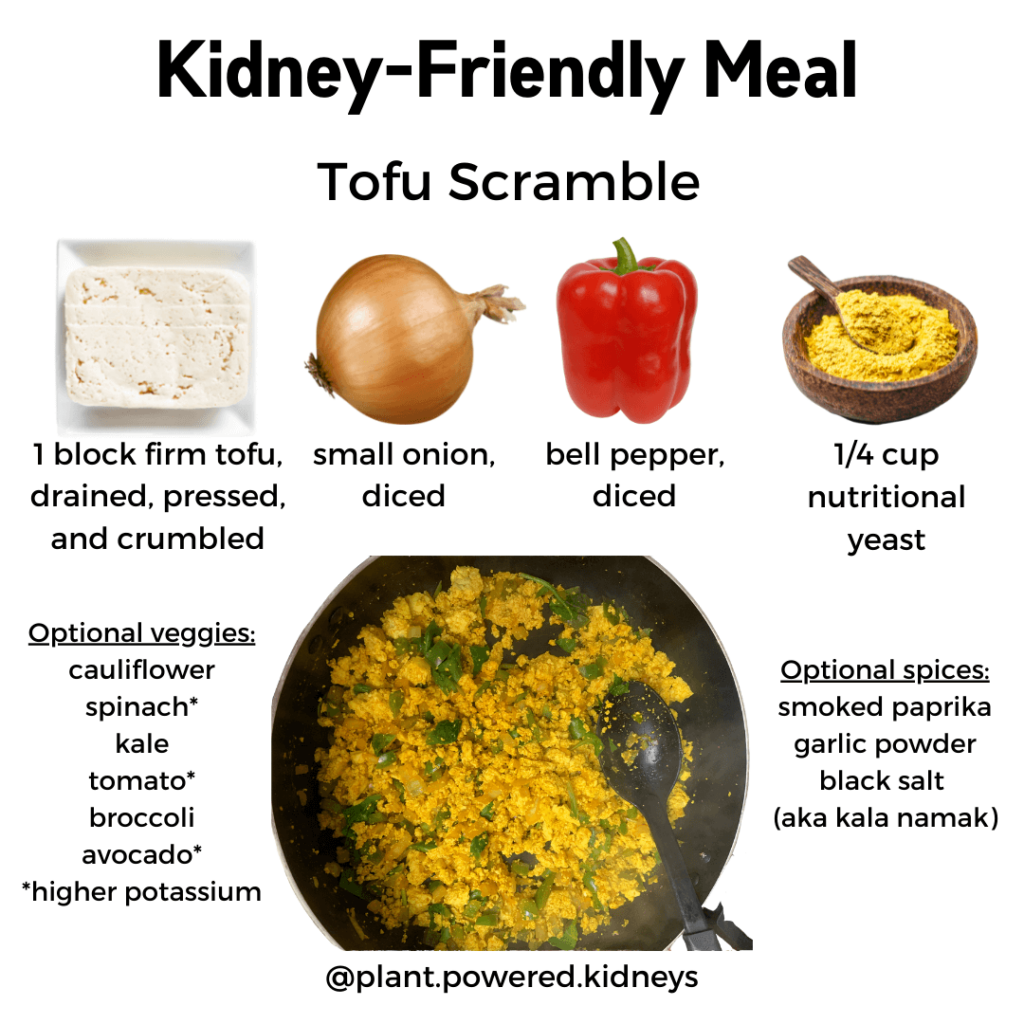 Find the nutrition facts in the kidney-friendly swap image under the "Phosphorus" section of this article!
Chickpea Omelet
This dish is made from chickpea flour and is lower in protein and phosphorus than an egg-based omelet!
Avocado Smash
Smash ¼ of an avocado on top of your favorite whole grain toast and add crushed black pepper!
Add any of your favorite spices as well.
Sweeter Renal Diet Breakfast Ideas
3 Kidney-Friendly Sweet Toast Ideas
Chocolate hummus with sliced strawberries
Peanut butter (or your favorite nut butter!) with smashed blueberries or raspberries. Optional: Sprinkle with chia or hemp seeds!
Almond butter and banana with cinnamon.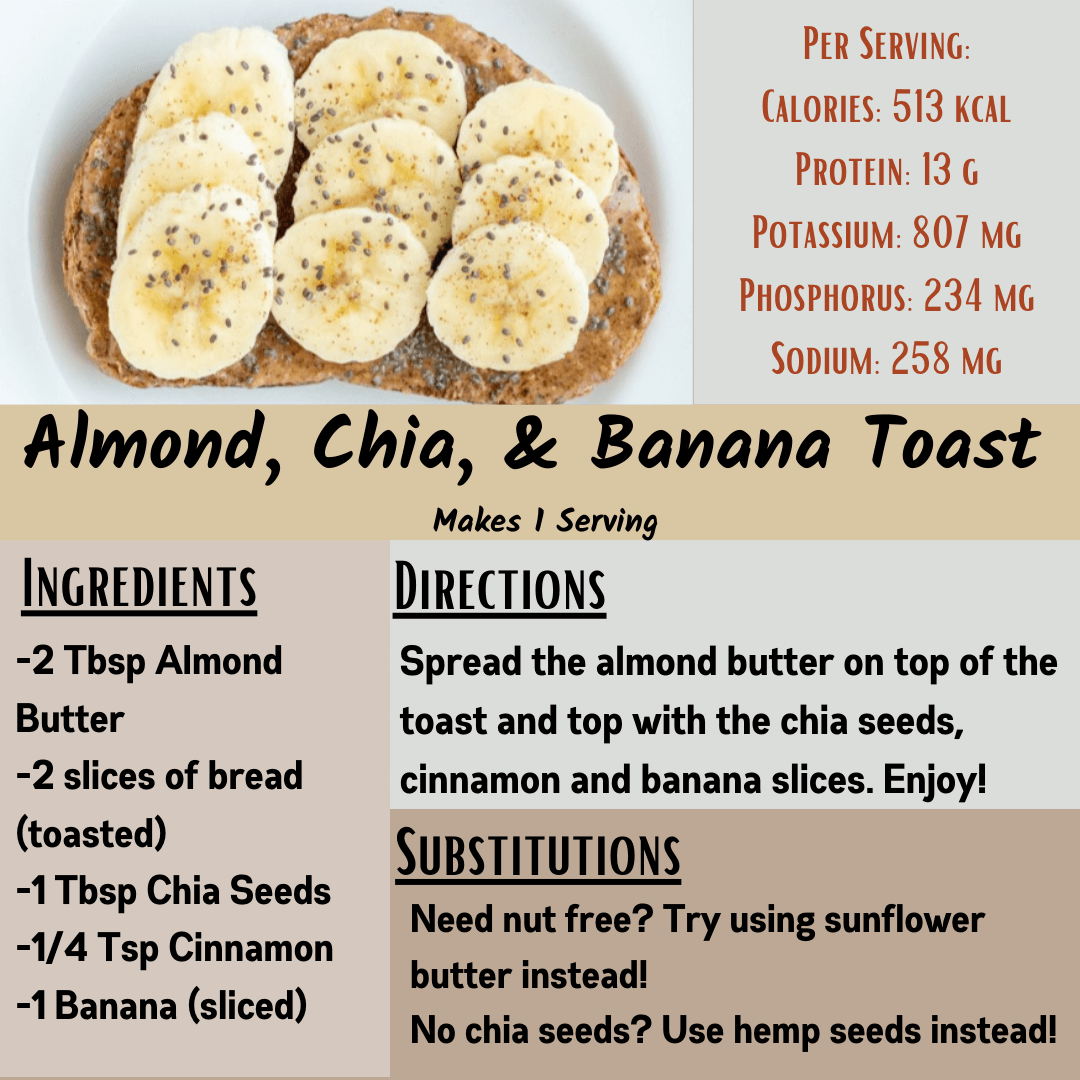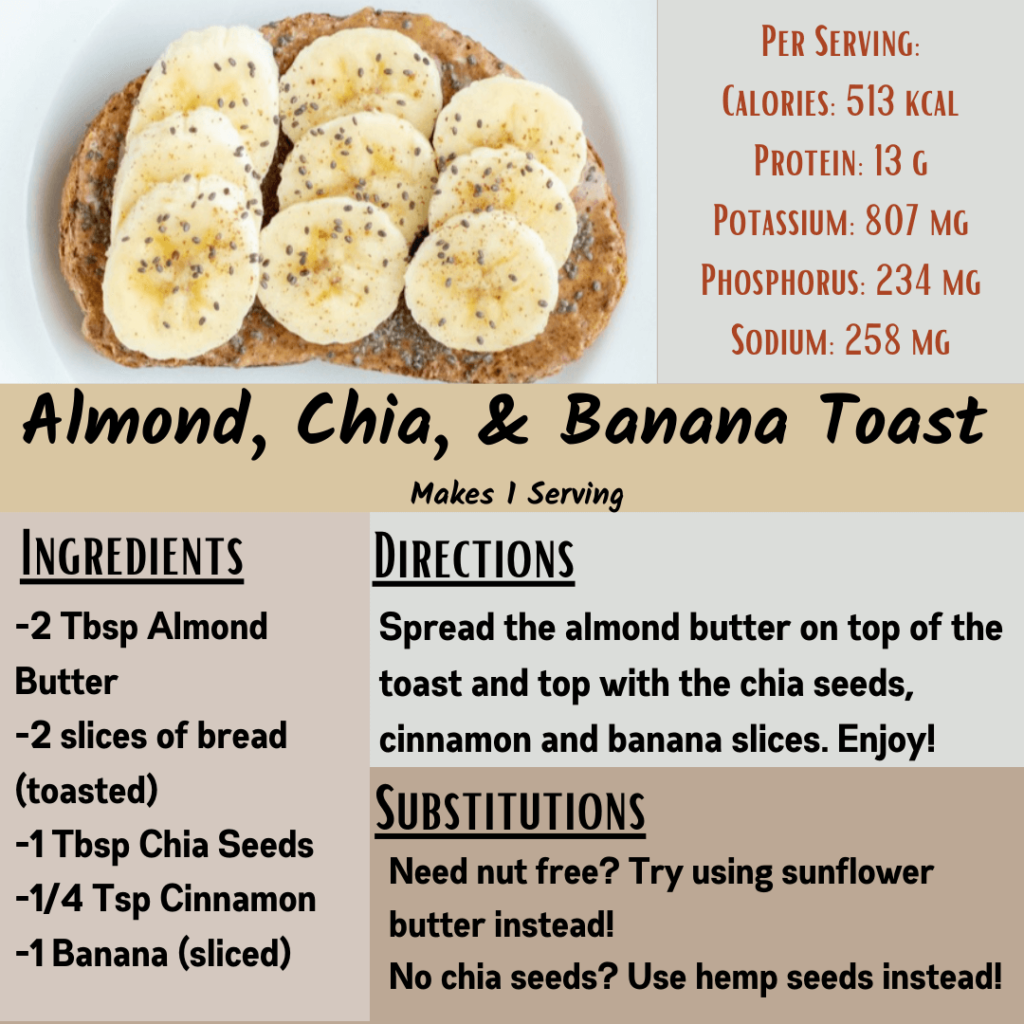 Overnight Chia Pudding
There are so many ways to make chia pudding! This is a great easy, grab-n-go breakfast that you can prep the night before! Below is a basic recipe for chia pudding:
Combine 2 tbsp of chia seeds with ½ of your favorite plant-based milk in a jar. Let sit for at least 15 minutes (ideally overnight). Then, add your toppings!
Below are some toppings to choose from:
Shredded coconut
Sliced almonds
Chopped walnuts or pecans
Hemp seeds
Honey
Maple syrup
Kiwi
Strawberries
Blueberries
Mango
Raspberries
Sliced Banana
Peaches
Nut butters
The list goes on and on!
Oatmeal Variations
Oatmeal is one of the most versatile breakfasts.
You can dress it up with a seemingly endless line of flavors and toppings.
Try out some of these unique kidney-friendly oatmeal toppings and flavorings:
Turmeric
Cinnamon
Nutmeg
Chopped walnuts or pecans
Shredded coconut
Vanilla extract
Peaches
Berries
Chopped apples
Nut butter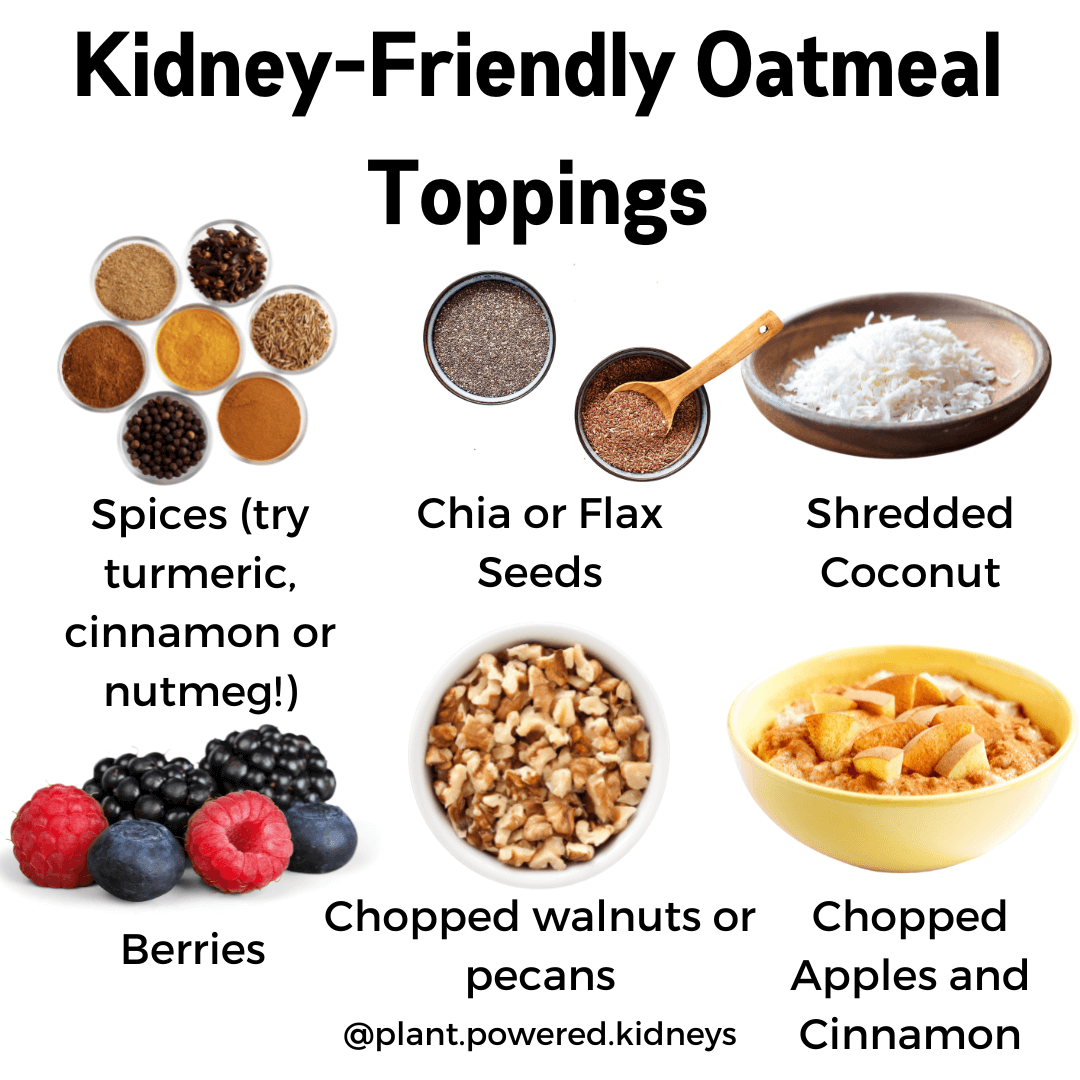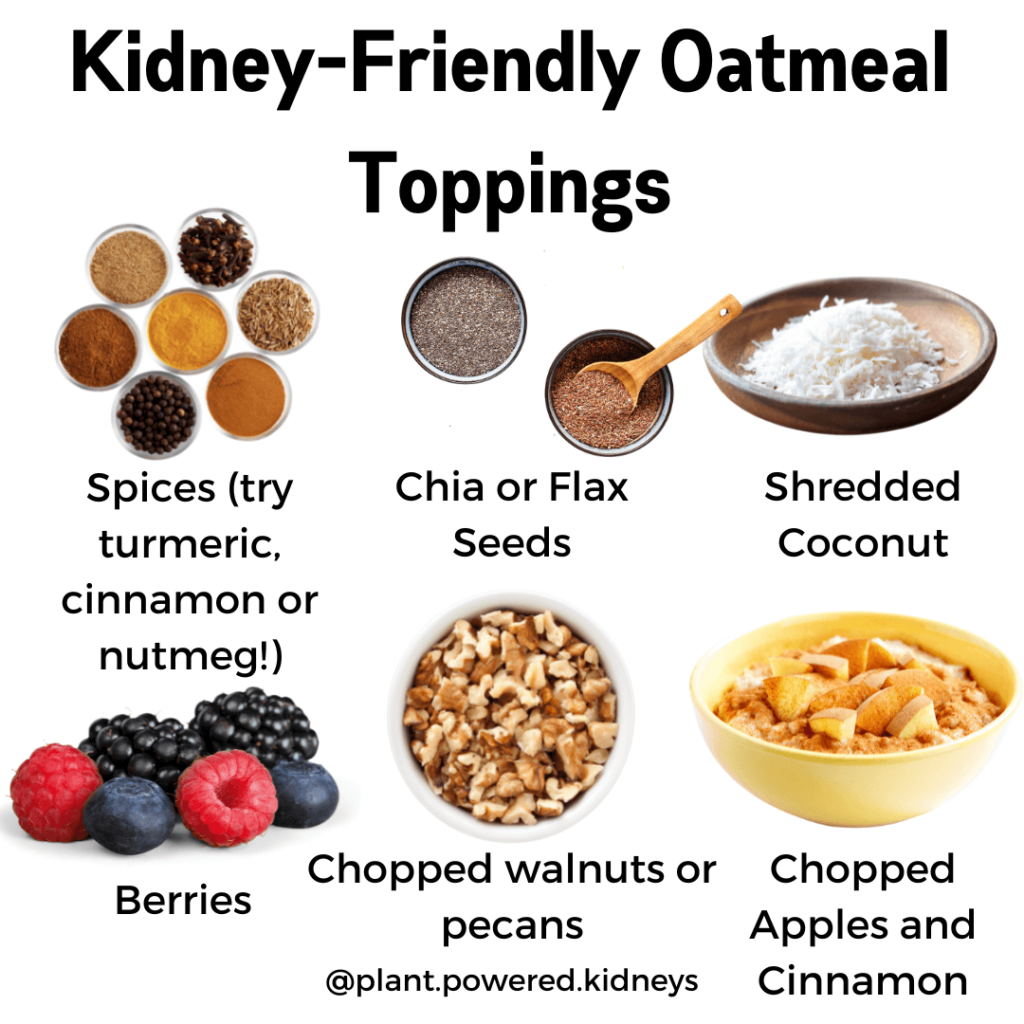 Try out these oatmeal combos!
Chopped apples + cinnamon + chopped walnuts
Chopped peaches + flaxseeds + honey
Make your oatmeal with unsweetened vanilla coconut milk and add a dash of turmeric, cinnamon and nutmeg!
What is your favorite oatmeal topping? Let us know in the comments!
Quinoa Breakfast Bowl
Ingredients:
½ cup cooked quinoa
2 tbsp raisins
¼ tsp cinnamon
½ tbsp of honey
Combine and enjoy!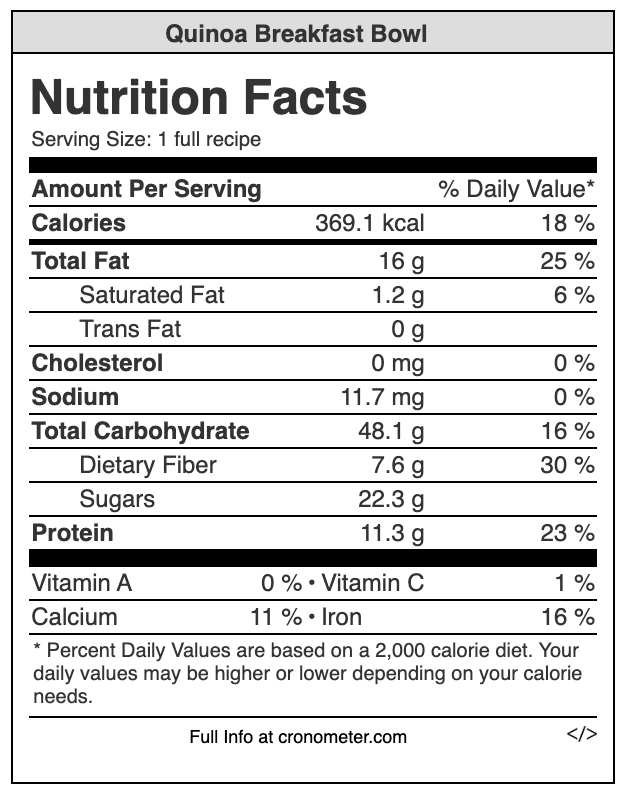 Renal Diet Breakfast Smoothie Recipe
Ingredients:
1 cup of raw kale
1 cup of frozen mango
2 tbsp shredded, unsweetened coconut
½ med banana
1 cup coconut milk (can adjust based on desired texture)
2 tbsp chia seeds.
Blend together and enjoy!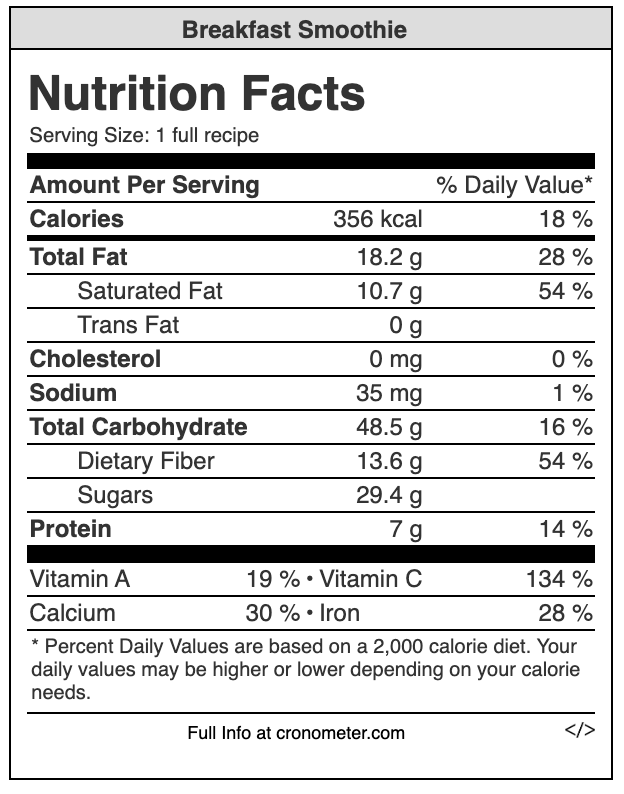 3 Quick and Easy Renal Diet Breakfast Ideas
2 slices of whole grain bread with 2 tablespoons of peanut butter and ½ banana. You can make this one into a sandwich or enjoy it open-faced.
Grab a single-serving (6 oz) container of your favorite plant-based yogurt and top with berries and granola.
Whole grain bagel with hummus and sliced red peppers.
Prepackaged Renal Diet Breakfast Ideas
Running short on time? There are some kidney-friendly grab-n-go items to keep in your pantry and refrigerator.
But what makes these grab-n-go items kidney friendly?
Low in sodium (see the sodium section above for more info on sodium!)
No phosphorus additives **learn more about phosphorus additives here!
Low in added sugar
Not too much protein
At least 3 or more grams of fiber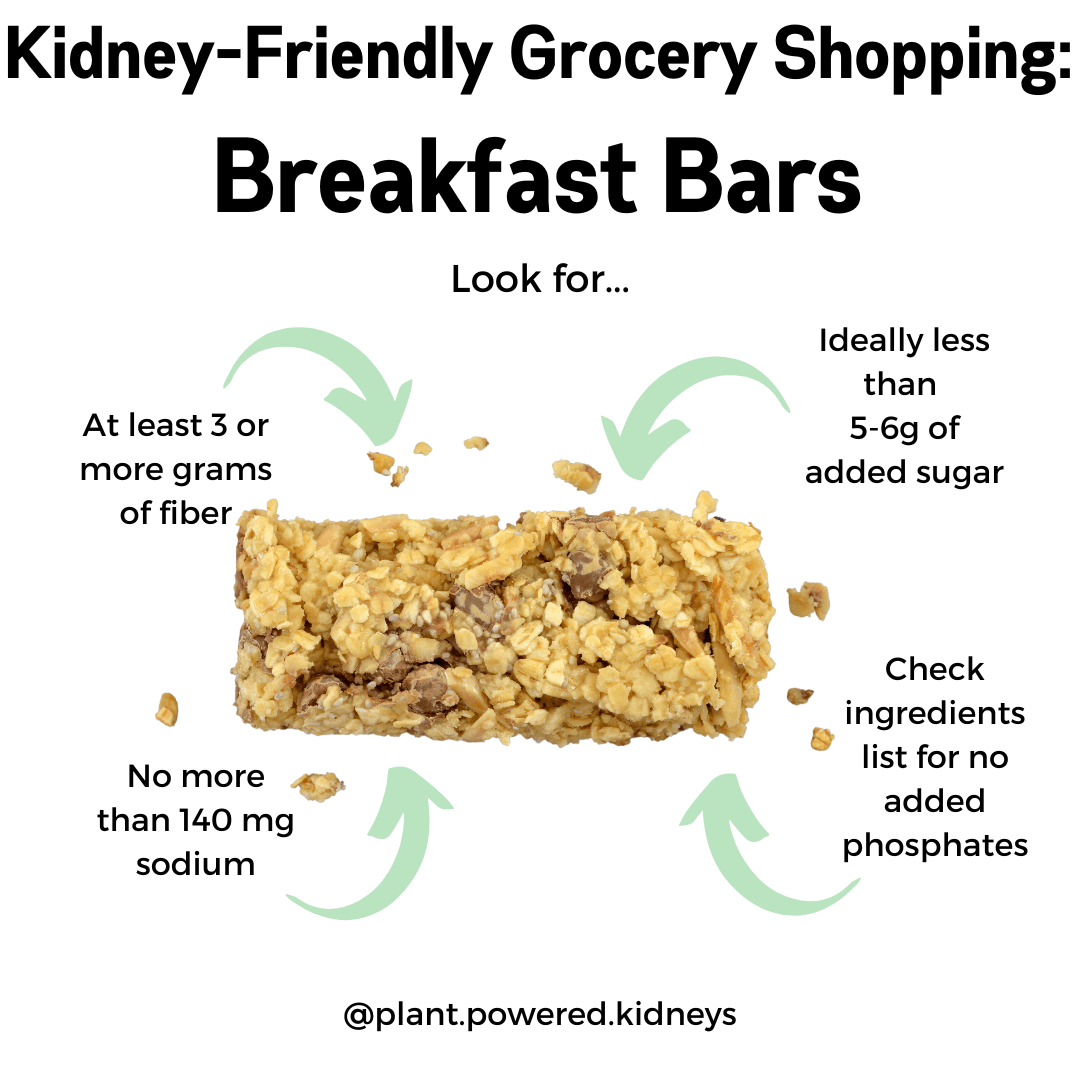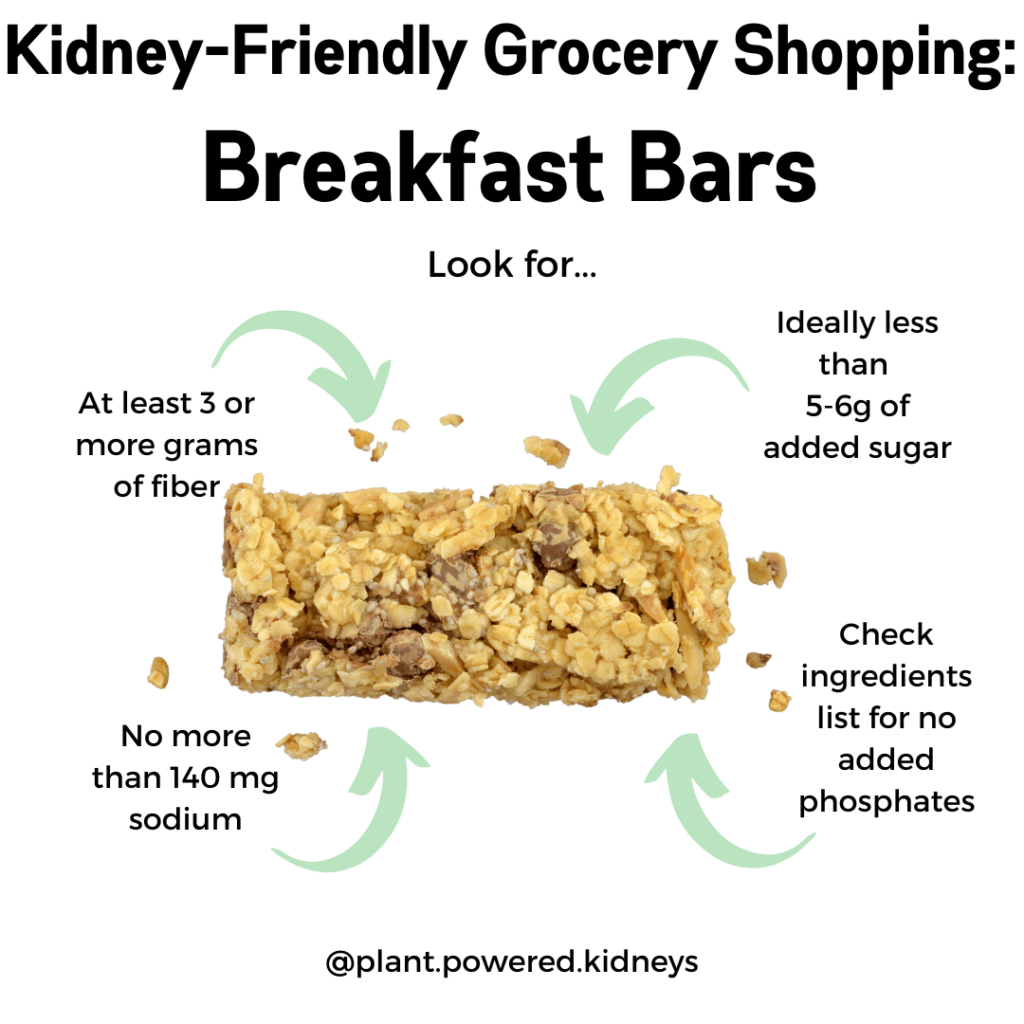 Ready-to-Eat Cereals
What is better than the classic cereal and milk combo for breakfast?
So many kidney patients are surprised to discover that cereal can absolutely fit into a kidney-friendly diet!
Below are some great kidney-friendly cereal brands to try out:
Grape-Nuts
Kashi Go Lean
Bran Flakes
Great Grains Banana Nut Crunch
Life Original, Vanilla and Chocolate
Special K Blueberry with Lemon Clusters
Corn Flakes
For the full list (yes, there are a ton more kidney-friendly cereals out there!), click here!
Unsure of which milk to enjoy your cereal with?
Almond milk, oat milk and rice milk are just a few of the many great options out there.
For our full comparison of all of the kidney-friendly milks to enjoy with your cereal, click here!
Instant oatmeals
If you don't have time to put together a homemade oatmeal breakfast, there are some instant oatmeals that can be a great part of your kidney-friendly breakfast.
However, not all instant oatmeals are created equal.
Below are some examples of good instant oatmeals to include:
*Contains milk ingredients
Granola
Granola can be a great topping for yogurts, smoothie bowls or enjoyed on its own.
Below are some store-bought granolas that are lower in added sugar, sodium and have no phos additives:
MadeGood Cocoa Crunch and Strawberry Light Granola 
Bars
Larabars (apple pie, cashew cookie, cinnamon roll, and strawberry chocolate chip are a few examples of some great flavors to try!)
This Saves Lives Bars, Vanilla Almond, and Honey
Pair your favorite bar with a piece of fruit like bananas, apples, or pears.
This will add nutrients, increase satisfaction and keep you fuller for longer!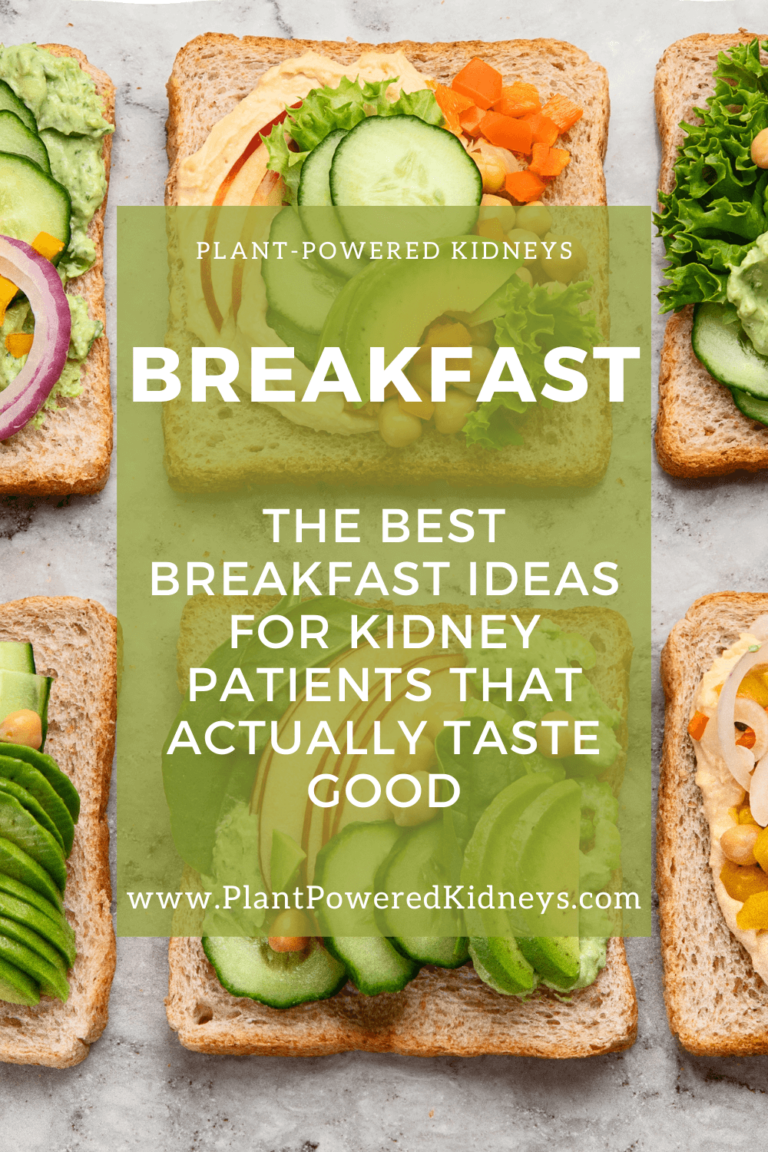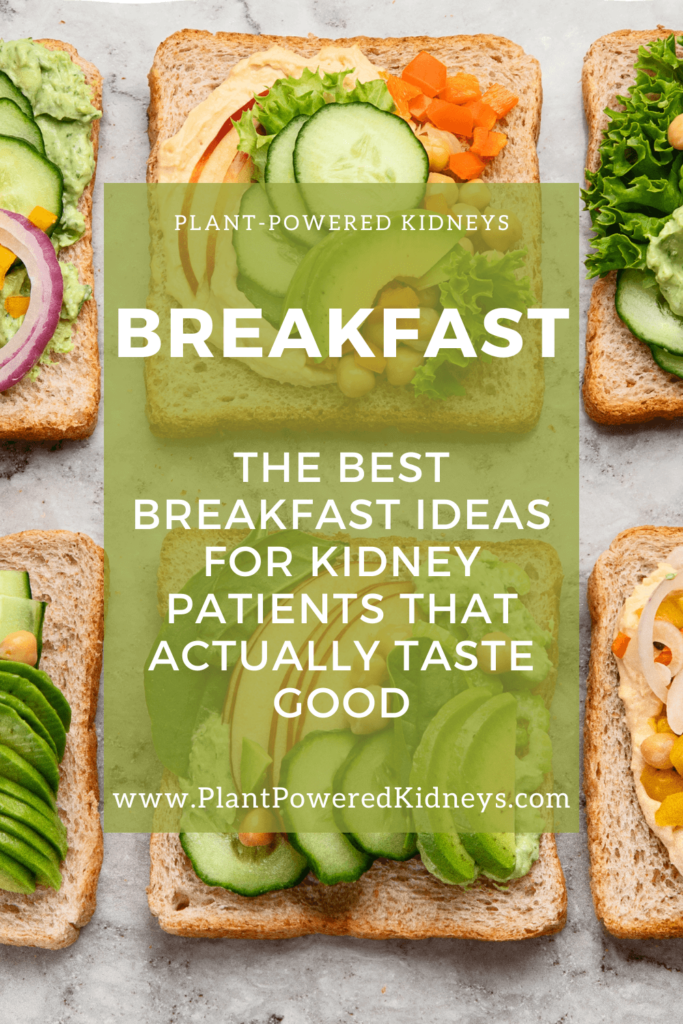 Summary
There are a ton of delicious kidney-friendly breakfasts available.
From savory to sweeter renal diet breakfast ideas, you can find tons of recipes that ensure that you are satisfied and also keep your kidneys healthy. You may just have to pay closer attention to items such as added sugar, sodium, protein or potassium.
So, whip up one of these kidney-friendly breakfast ideas and start your day off the kidney friendly way. Enjoy!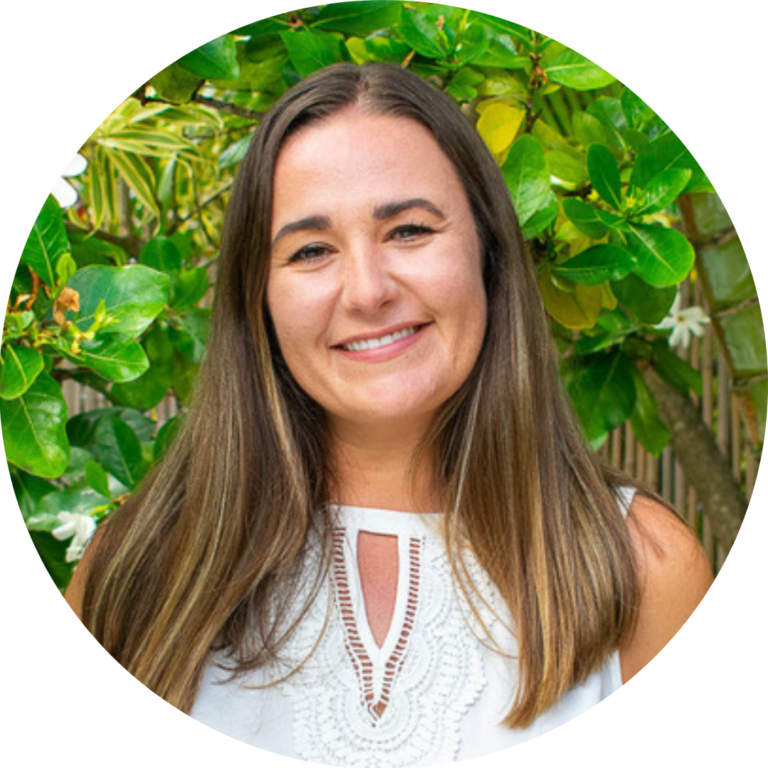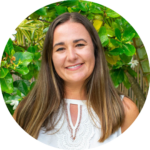 Jen Hernandez is a registered dietitian and board-certified specialist in renal nutrition. She has nearly a decade of experience with kidney disease patients in all stages - from stage 1 through kidney transplant. Jen writes on the blog of Plant-Powered Kidneys to help reach and teach more kidney patients about how they can enjoy more foods in a plant-based diet while protecting kidney health.