When it comes to renal diet snacks, it's important to pay attention to the nutrients like phosphorus and potassium. So whether you need low potassium snacks or low phosphorus snacks, I'm here to help!
Renal Diet Snacks: The Guidelines
The intention of a snack is to help satisfy our hunger until we are able to eat a full meal. So in that case, renal diet snacks should aim for the following guidelines:
100-250 calories
<240 milligrams sodium
<150-300 milligrams potassium
3+ grams fiber
No phosphate additives
You may need to keep protein in mind as well, depending on your own kidney function and protein needs. You can learn more about the low protein diet here.
Low Potassium Snacks
Your renal diet snacks may need to be low in potassium. Low potassium snacks may sound challenging, but they don't have to be! Low potassium is generally defined as 150 milligrams or less potassium per serving.
Here are some low potassium snacks you might want to try out.
1/2 c. cucumbers with 2 Tbsp hummus
Hummus provides only 34 milligrams of potassium per tablespoon. With a half cup of sliced cucumbers, you'll add 76 milligrams of potassium. The total potassium for this snack is about 144 milligrams of potassium with approximately 2.5 grams of fiber.
6 oz coconut yogurt with ¼ c. blueberries
While made from coconut, the potassium levels is low enough that it is rounded down to zero milligrams of potassium. Adding a low potassium fruit like blueberries will provide some antioxidants and fiber!
Other plant-based yogurts made from cashews or soy milk can also make for excellent renal diet snacks. Be sure you pair it with some fiber-rich and low-potassium fruits like blueberries, strawberries, grapes, or pineapple!
2 cups popcorn with 1 Tbsp nutritional yeast
A one-cup serving of air popped popcorn will provide only 29 milligrams of potassium, which means 2 cups is still easy to keep as a low potassium snack at 58 milligrams of potassium.
The nutritional yeast will provide 66 milligrams of potassium per tablespoon, but a little goes a long way with this flavorful food enhancer! You can also sprinkle on some garlic powder or cayenne if you enjoy some heat.
5 medium strawberries with 1 square dark chocolate
Chocolate often shows up on the "foods to avoid" lists when it comes to a renal diet, low potassium or not. But by savoring one square of 72% dark chocolate, you're only consuming approximately 67 milligrams of potassium.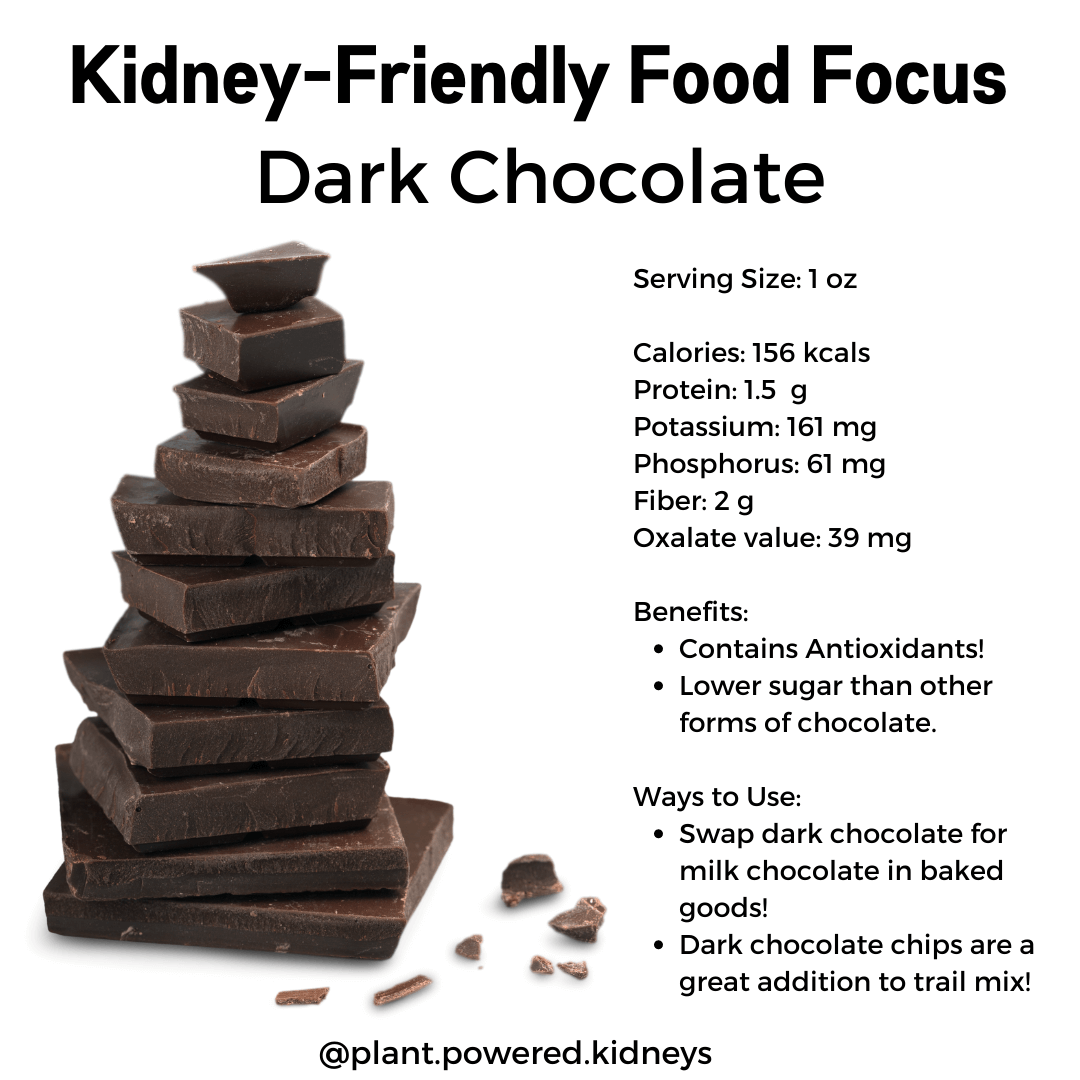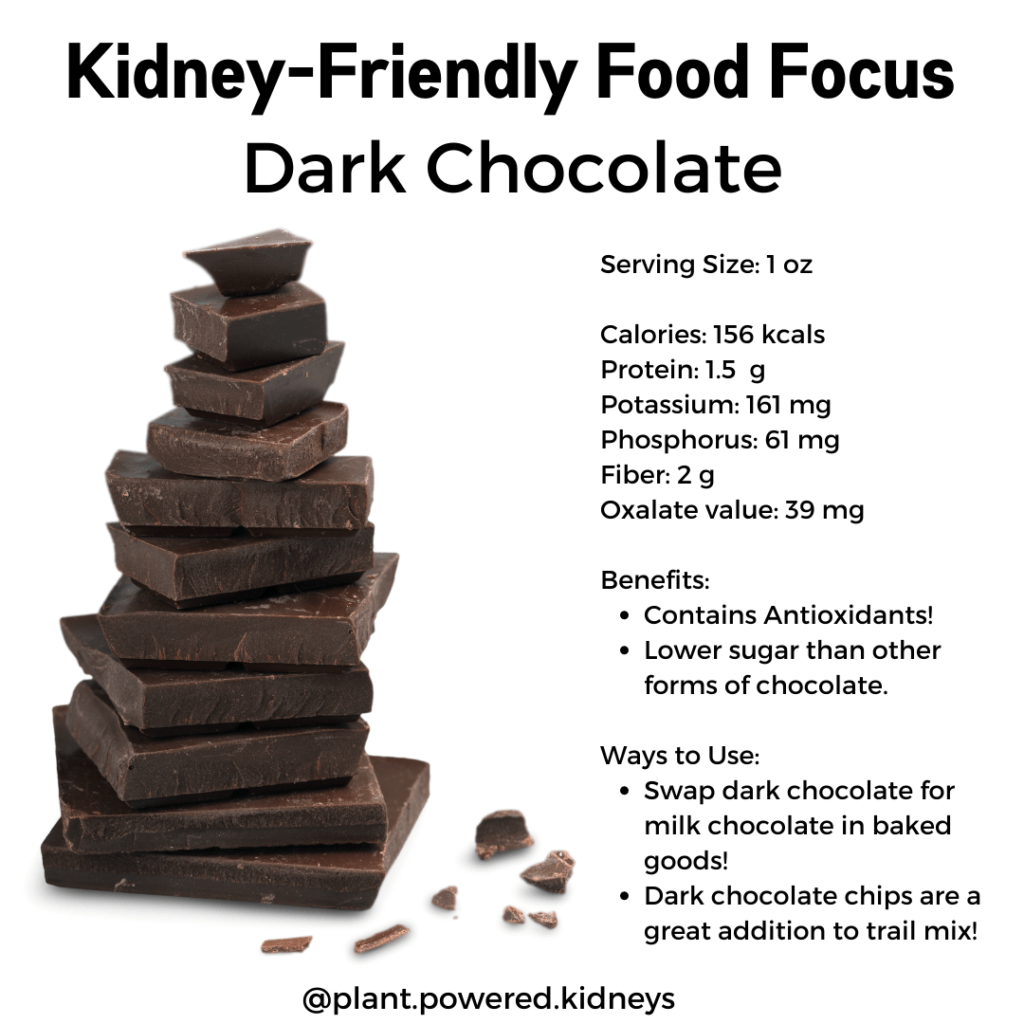 To make it more enjoyable and reap more benefits with this snack, pairing it with 5 medium (1" diameter) strawberries, which add up to approximately 90 milligrams of potassium.
Learn more about low potassium snacks in a low potassium diet
If you'd like to brainstorm some other snack ideas, check out my article about the low potassium diet here!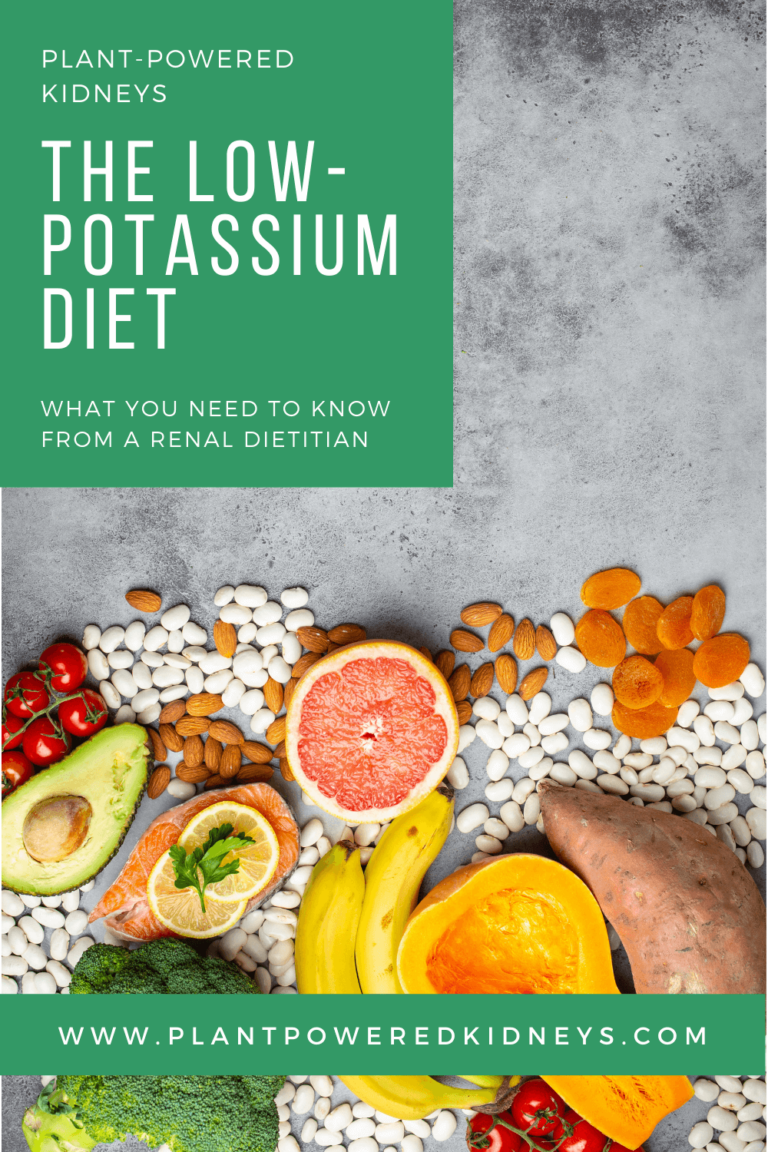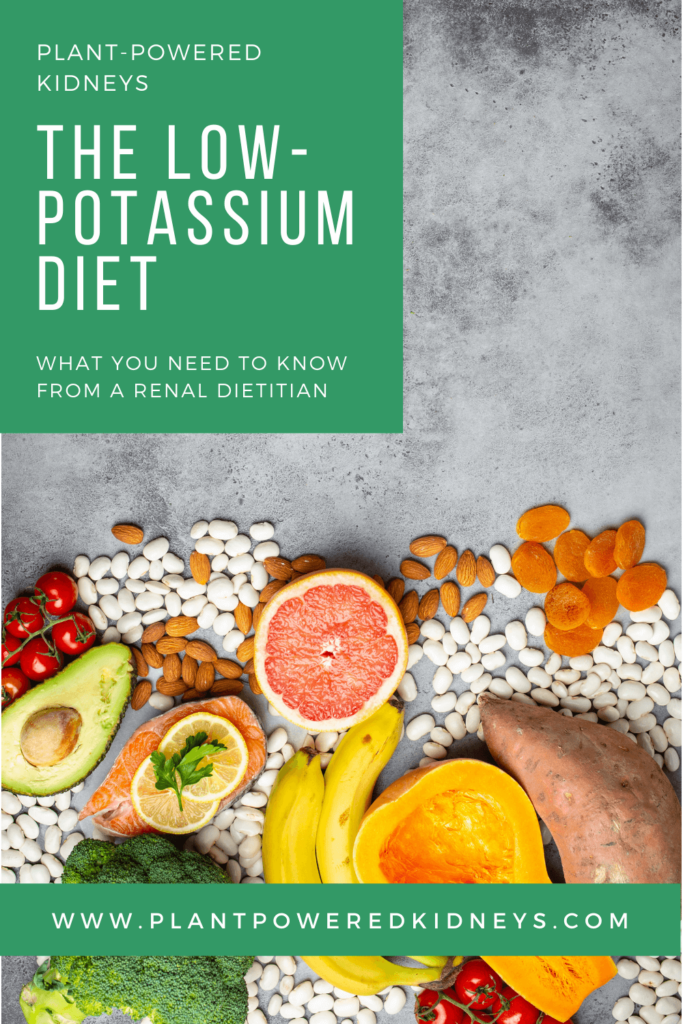 Low Phosphorus Snacks
Another concern that is common with the renal diet is phosphorus. The number one focus to make when keeping to a low phosphorus diet is to avoid phosphorus additives. This is found in the ingredients section of a nutrition label. Any ingredient that includes the letters P-H-O-S (for example, PHOSphoric acid) is an added phosphate that can be harmful to your bones. You'll be saving a lot of phosphorus by avoiding these types of ingredients.
If you've been directed to limit your phosphorus intake, some of these renal diet snacks may be better options.
Rice cake with 1 Tbsp cream cheese and 1 Tbsp fruit jam
Rice cakes are back! But this time, it's all about the topping. Spread one tablespoon of low fat cream cheese (or vegan cream cheese alternative) along with 1 Tbsp of your favorite fruit jam (not jelly) on top of a low-sodium rice cake.
Frozen fruit pop
While ice cream can be higher in phosphorus, fruit pops won't be! Fruits and vegetables are not a source of phosphorus.
Make your own by blending up some of your favorite fruits along with water or fruit juice, then freezing in a popsicle mold or cups with popsicle sticks.
1 oz Tortilla chips with 2 Tbsp salsa
If you're looking for something crunchy, try reaching for low-sodium tortilla chips over crackers or even nuts.
Crackers may have added phosphates. Nuts are higher in organic phosphorus. Organic phosphorus is not easily absorbed, but if you are working on lowering your phosphorus levels, nuts and nut butters may need to be limited for a bit while your levels come down.
For salsas, try a corn or tomatillo-based salsa that is lower in potassium. A tomato-based salsa may work for you as well, keeping portion in mind.
Homemade Trail Mix
While traditional trail mix can be very high in both potassium and phosphorus, you can easily make your own trail mix that is more renal diet friendly.
Try making your own with some Rice Chex, freeze-dried fruit like strawberries, a few of your favorite nuts. Need a sweeter part? Instead of chocolate or candies, how about Honey Nut Cheerios or sweetened Chex? Lightly sweetened cereals will provide that sweet crunch and also more volume to your snack.
Learn more about the low phosphorus diet
If you'd like to take a deeper dive beyond low phosphorus snacks and learn more about the full diet, you may find this article helpful. If you're taking phosphorus binders, here's an article that speaks more about that as well.
Low Sodium Snacks
Most people with kidney disease will need to limit sodium, regardless of stage or situation. Snacks are one of the areas in our diet that can add up in sodium quickly without even realizing it.
Because of that, I've got an entire other blog dedicated to over 19 low sodium snack ideas. Read it here!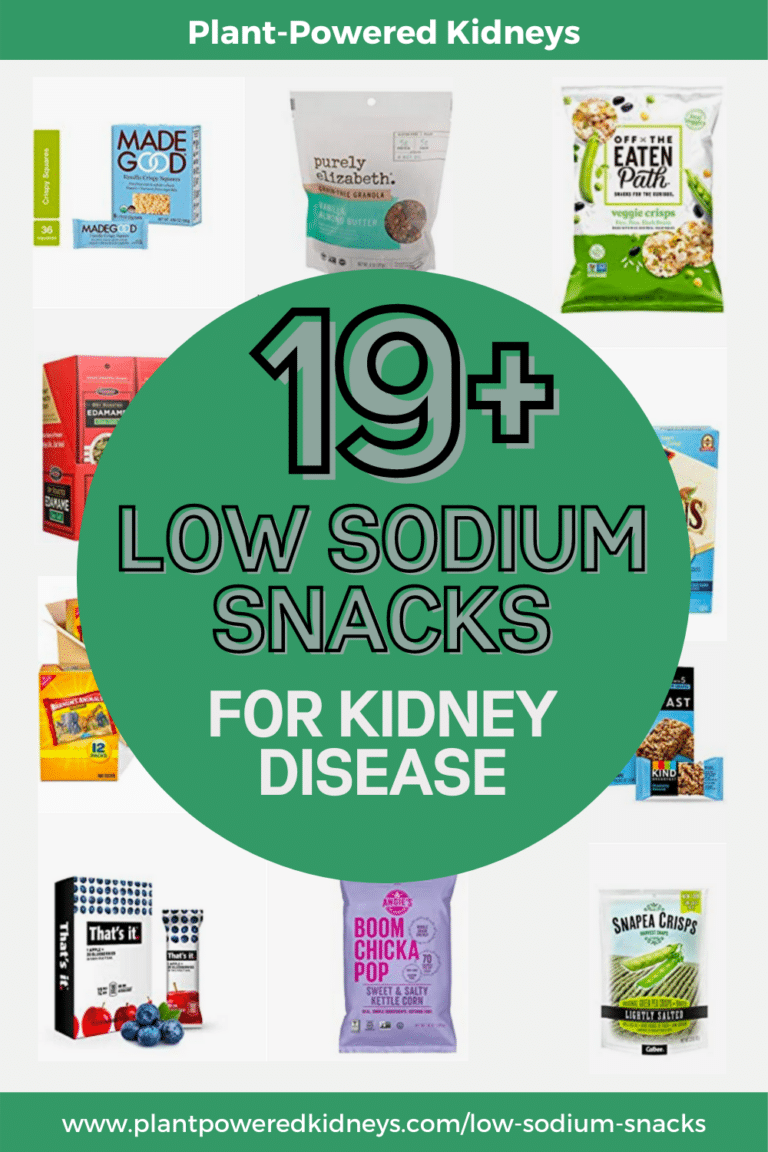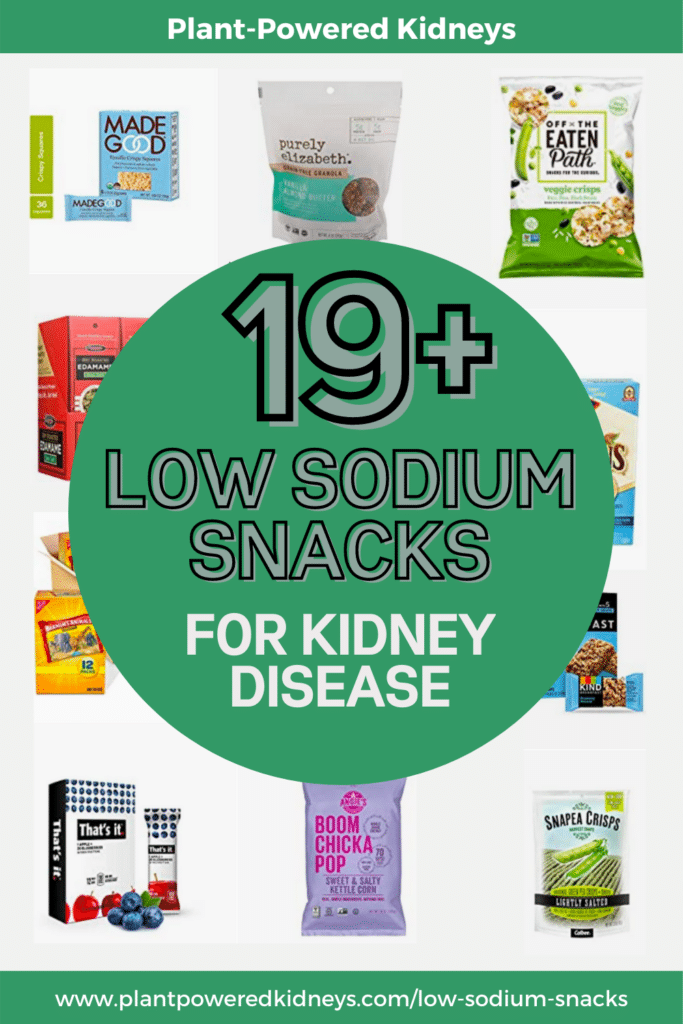 Summary
Your renal diet snacks should serve a purpose in your day and diet. They're not to let us mindlessly munch on packaged products. It's to fuel our bodies and give ourselves a boost of energy to continue our day, or carry us through the night.
By having some great go-to snacks available in your kitchen, you'll doing yourself – and your kidneys – a huge favor!