Pasta is a common household staple across the globe. And nowadays it seems like there is an entire grocery store aisle dedicated to all of the different types of pasta available. But is pasta ok for kidney disease? What about the potassium in pasta? Which pasta is best for kidneys? We'll answer all of that and more in this article! 
Why Is Potassium Important For Kidney Disease?
The main role of the kidneys are to filter out waste products. However, with kidney disease, poor filtration can lead to high levels of potassium in the body.
As kidney function declines, your healthcare team may suggest that you follow a potassium restriction. If so, ask your doctor or dietitian how much potassium you should eat in a day.
Potassium can also be too low. Therefore, it is important to get the right amount of potassium (and not aim for zero!).
What is considered high and low potassium?
A high potassium food will have more than 200 milligrams (mg) per serving.
However, it is considered to be a low potassium food if it has less than 200 mg of potassium.
You can read more about potassium here.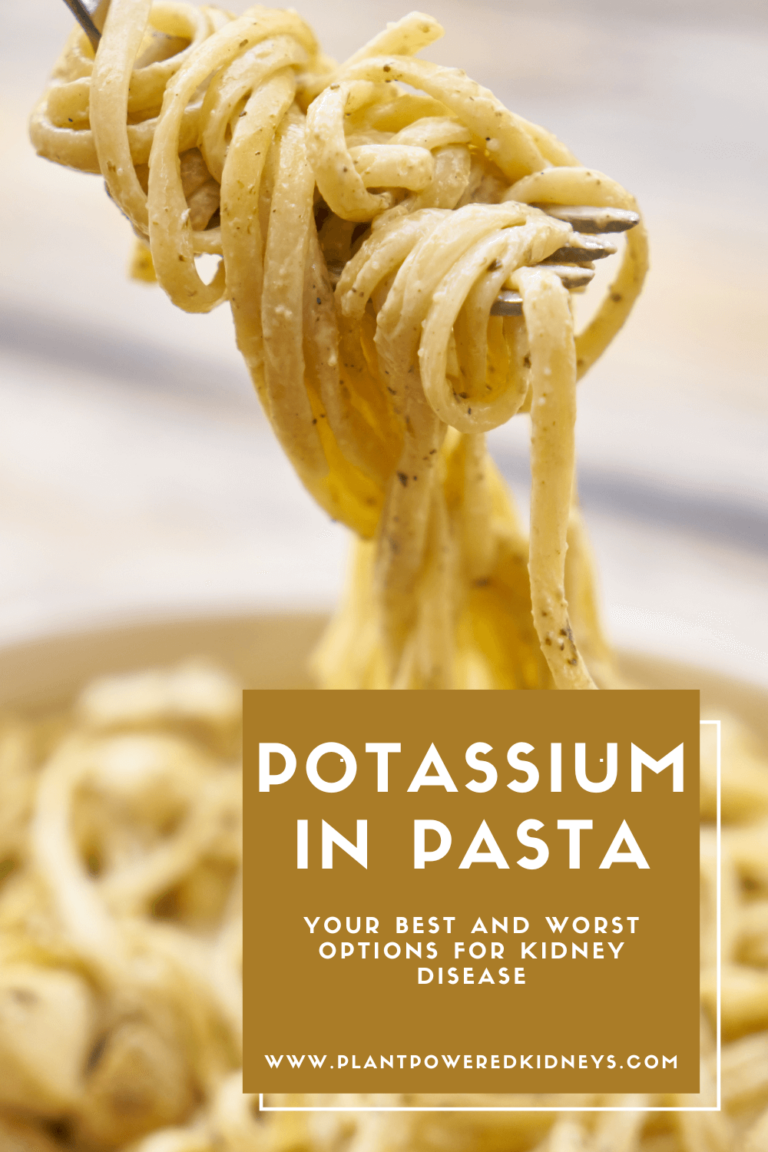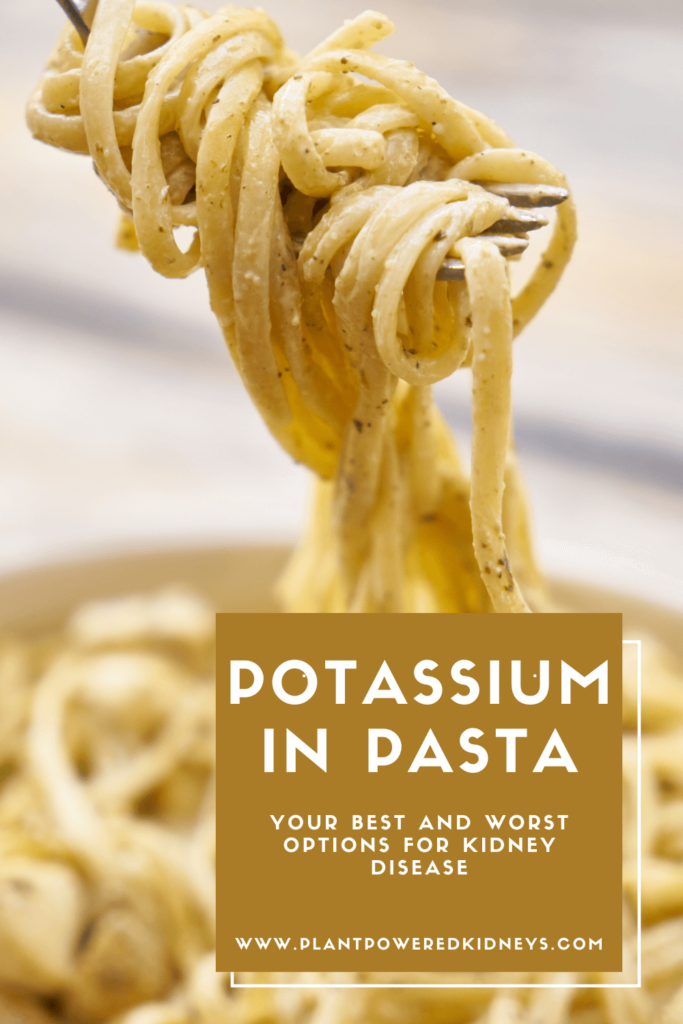 The History of Pasta
Let's start with the origins of pasta.
Different cultures were making pasta thousands of years ago. It is safe to say that pasta has been a dietary staple for a very long time.
The first documentation of pasta so far dates back to the 4th century B.C. in the Etruscan civilization in Italy.
Chinese records show noodle variations popping up around 3000 B.C. Greek mythology also has records of early forms of pasta.
Pasta has been a staple across many different cultures and time periods, but can it fit into a low potassium diet? The answer is: maybe. Let's find out why!
Different types of pasta
So let's face it, there are a ton of different types of pasta. Whole wheat pasta, lentil pasta, rice noodles…. The list goes on and on. But which type of pasta is best for kidneys?
And what about the potassium in pasta?
The different types of pasta:
Wheat pasta (whole wheat, white pasta, macaroni, spaghetti)
Brown Rice Pasta
Egg Noodles
Lentil Pasta
Black Bean Pasta
Edamame Pasta
Rice pasta/ rice noodles
Udon Noodles
Soba Noodles
Pasta Nutrition Breakdown
Grains can be a very nutritious part of your kidney friendly diet. Pasta can provide loads of essential vitamins and minerals and can provide calories and fiber to your meal.
Adding in pasta and grains to a meal can also make your meal more filling and satisfying. However, some pastas are higher in potassium than others, so be mindful of the type of pasta that you choose.
Nutrition in Pasta Comparison
**All nutrition information obtained from the USDA nutrient database. Nutrition information may vary across different products. Please look at individual product labels for more specific nutrition information.
The Best Pasta For Kidneys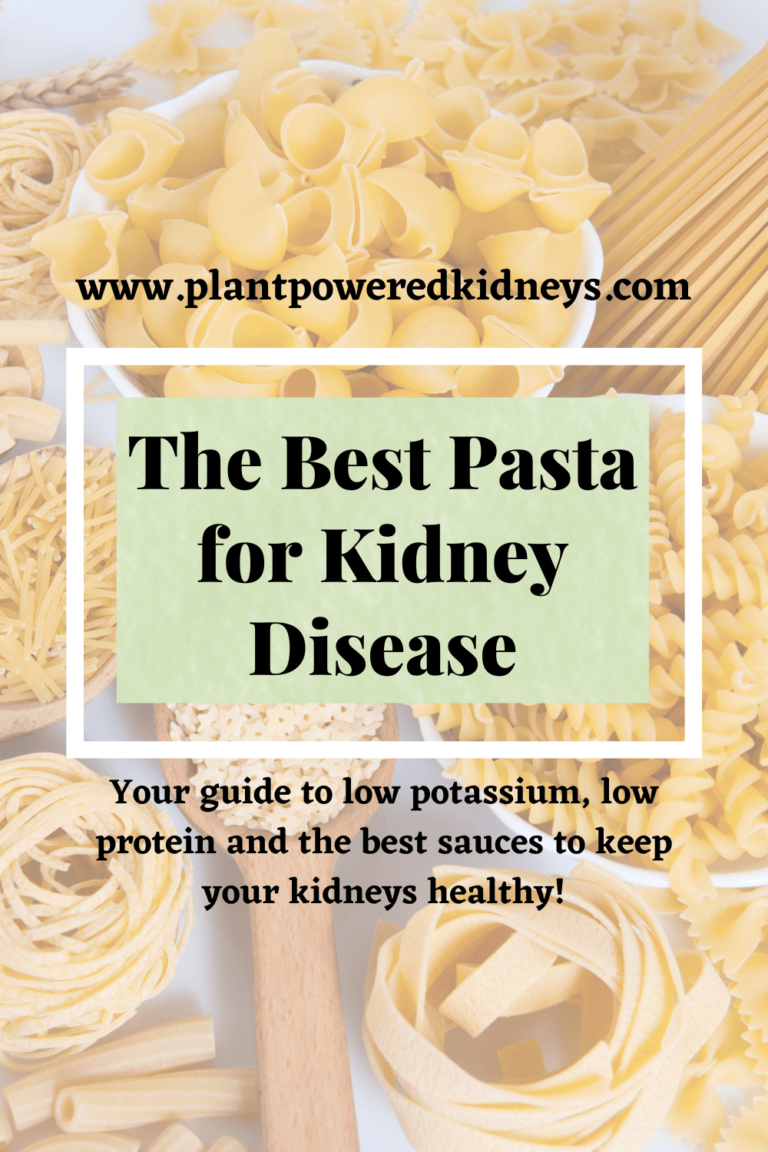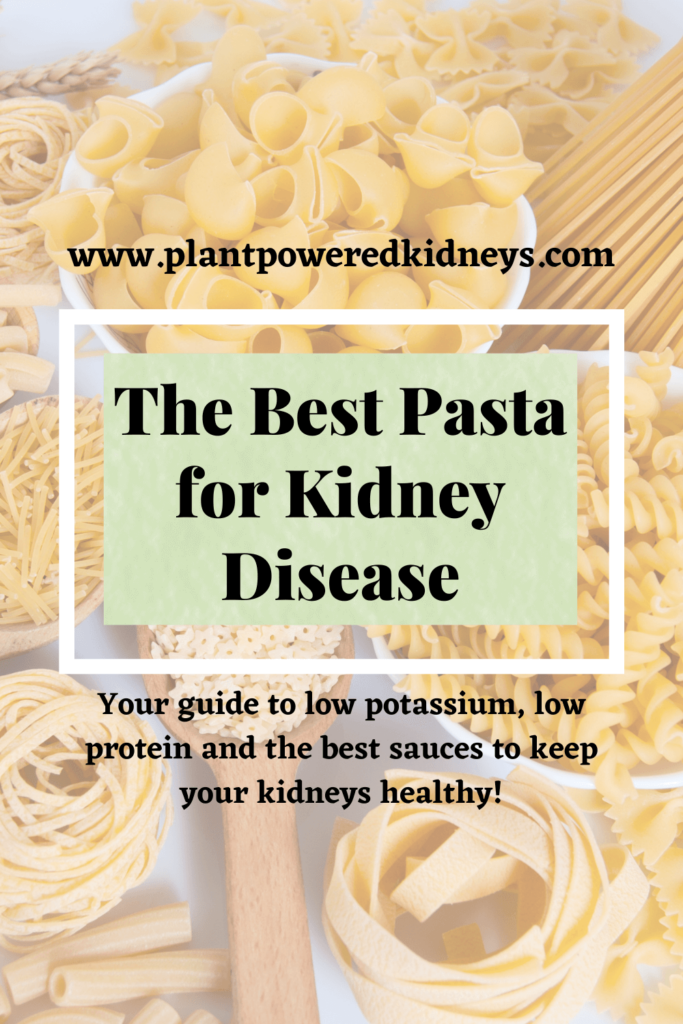 Best Low Potassium Options
When it comes to pasta, there are a ton of different low potassium options.  
Remember to be mindful of portion sizes and to pair your pasta with low potassium veggies, proteins and fats to make it a complete meal. 
Nutrition information for 100g, cooked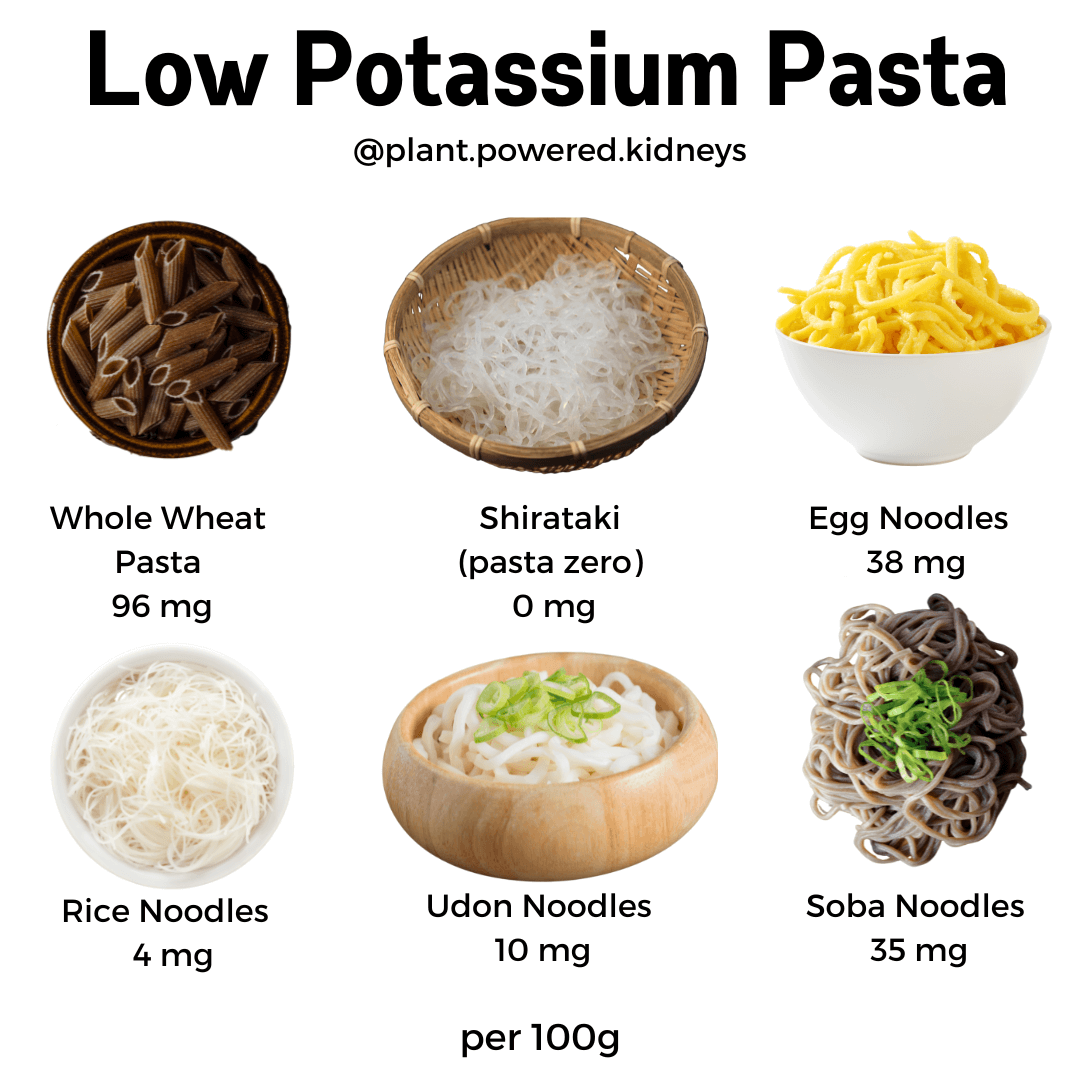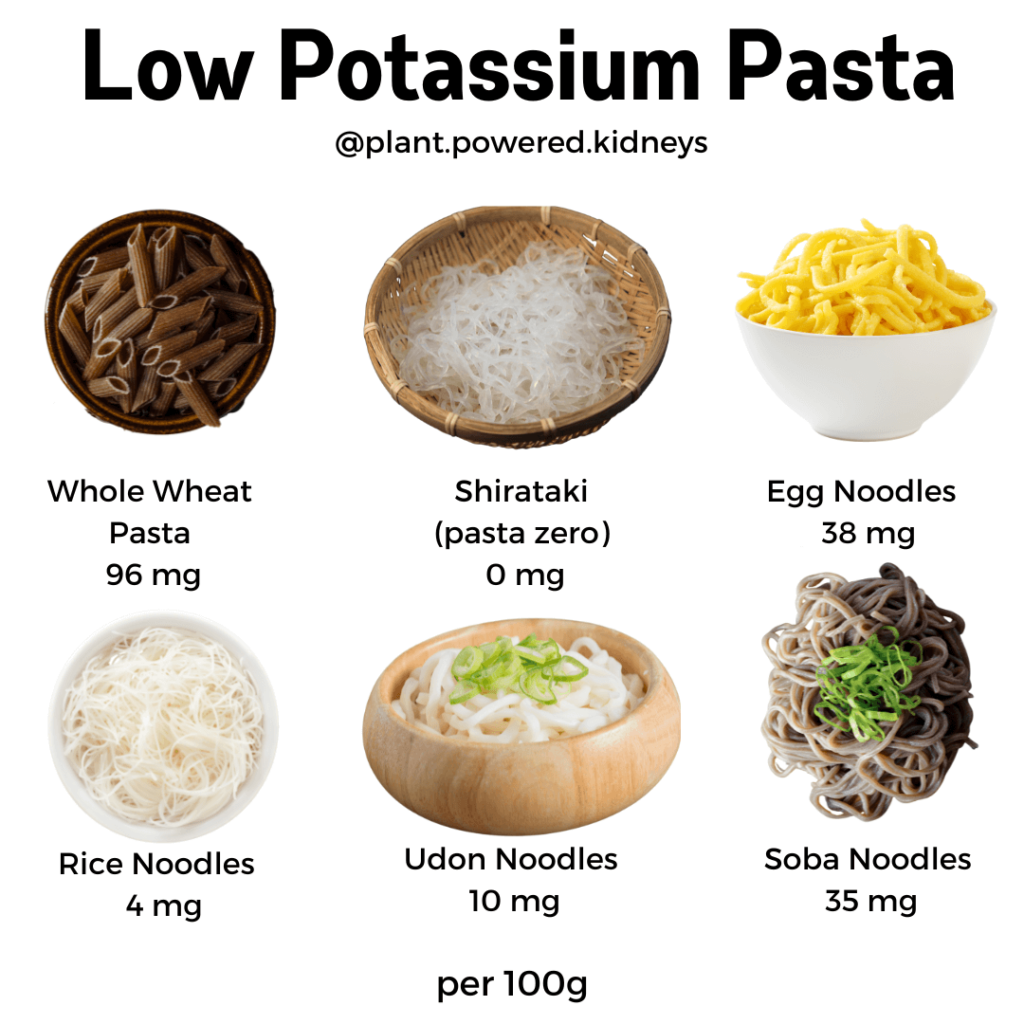 Moderate Potassium Pasta
High Potassium Pasta
Nutrition information for 100g, cooked
Although these bean and lentil pastas are very popular right now, they are very high in potassium and protein.
For those needing a potassium restriction or low protein diet, it is best to avoid these.
Low Protein Pasta Options
Certain pastas can also be higher in protein. Some people with kidney disease need to be mindful of the amount of protein that they consume.
Below are some low protein pasta options to include in your kidney-friendly diet:
**Certain soba noodle brands can be higher in protein. Be sure to check the individual product package label for exact amounts!
Pasta for Diabetes and CKD
If you have diabetes and kidney disease, you may need to be mindful of the amount of carbohydrates that you include in your meal. Thankfully, there are plenty of lower carbohydrate, higher fiber options available.
You can read more about diabetes and kidney disease here.
Whole wheat pasta and shirataki pasta (pasta zero) can be some of your best options when choosing a diabetes and kidney-friendly pasta. These two both have moderate amounts of carbohydrates and are good sources of fiber. 
Looking for a low carbohydrate alternative to pasta? Try spaghetti squash! Whole grain pasta and spaghetti squash are both considered low potassium.
However, spaghetti squash has 5g of carbohydrate in 1/2 cup while whole grain pasta has 21g of carbohydrate in 1/2 cup.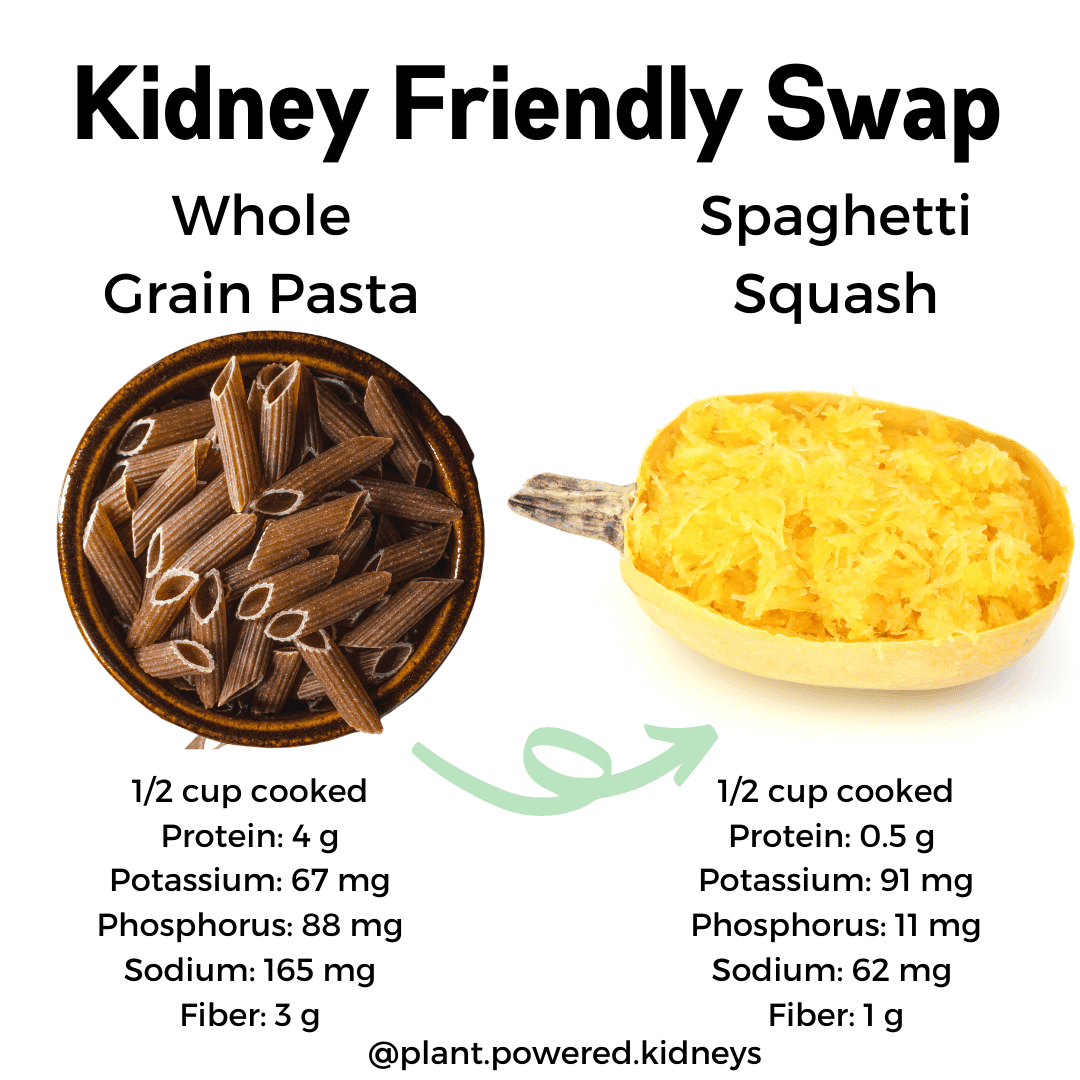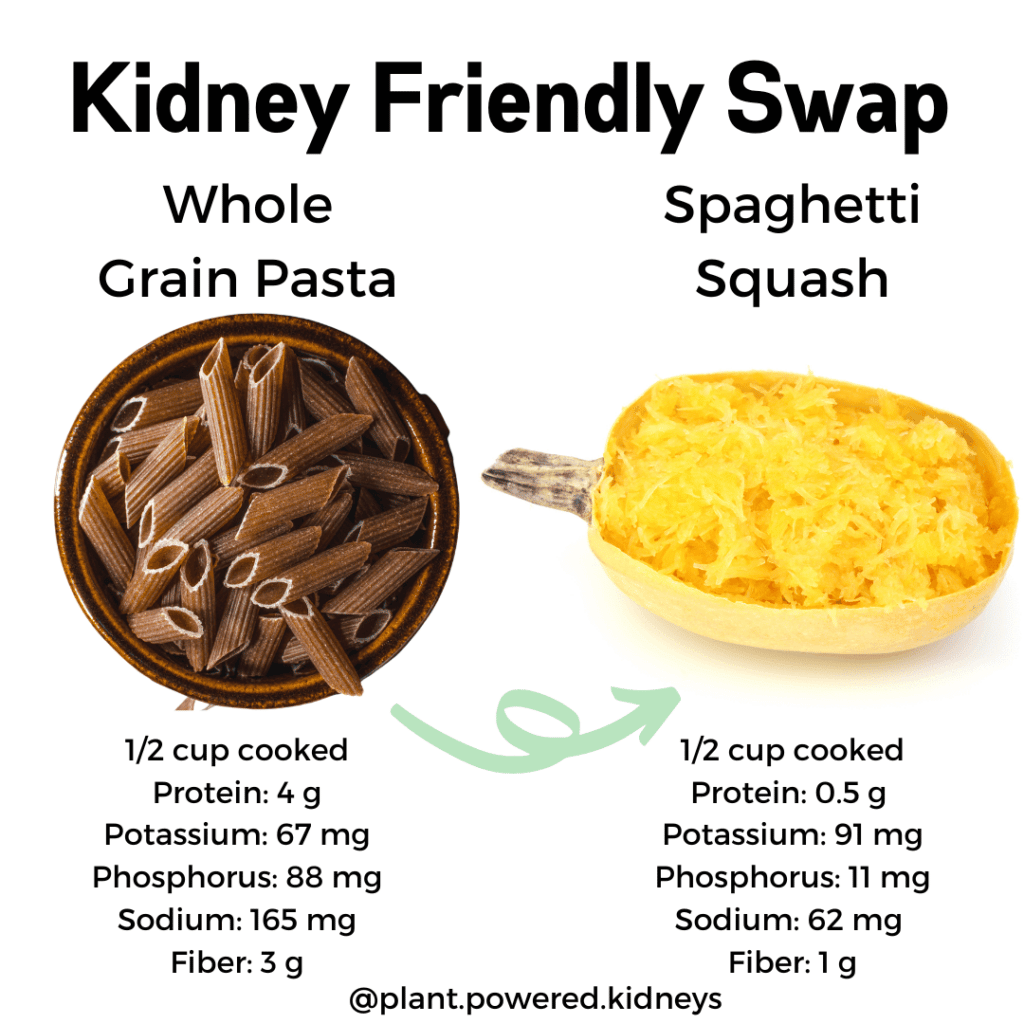 Tips for Adding Pasta Into a Renal Diabetic Diet
Add in a veggie to every pasta dish to add more fiber. Zucchini, carrots, squash and peas all go well (get our full list of low potassium fruits and veggies here!). Or, add a side salad or side of steamed veggies. 
Choose smaller portion sizes of pasta and be sure to add in a source of fiber and fat. 
Take a walk after your meal. Just a ten-minute walk around the block can be a great way to bring blood sugars back down after a meal. 
Pasta Sauces For Kidney Disease
Oftentimes, it's not the pasta itself that makes a pasta dish higher in potassium. It is the sauce that makes it high in potassium. Below are some great low potassium pasta sauces to round out your low potassium pasta meal and add some great flavor.
Low Potassium Pasta Sauce Options:
Basil Pesto (many brands contain cheese, but vegan options are available)
Pasta Aglio e Olio

Combine pasta with lemon, red pepper flakes, olive oil and parmesan cheese (optional)

Sweet and Sour Sauce
Thai Peanut Sauce
**The store-bought versions of these sauces are often higher in sodium. Therefore, be sure to use a smaller amount and make sure it fits into your sodium "budget" for the day! Learn more about sodium here.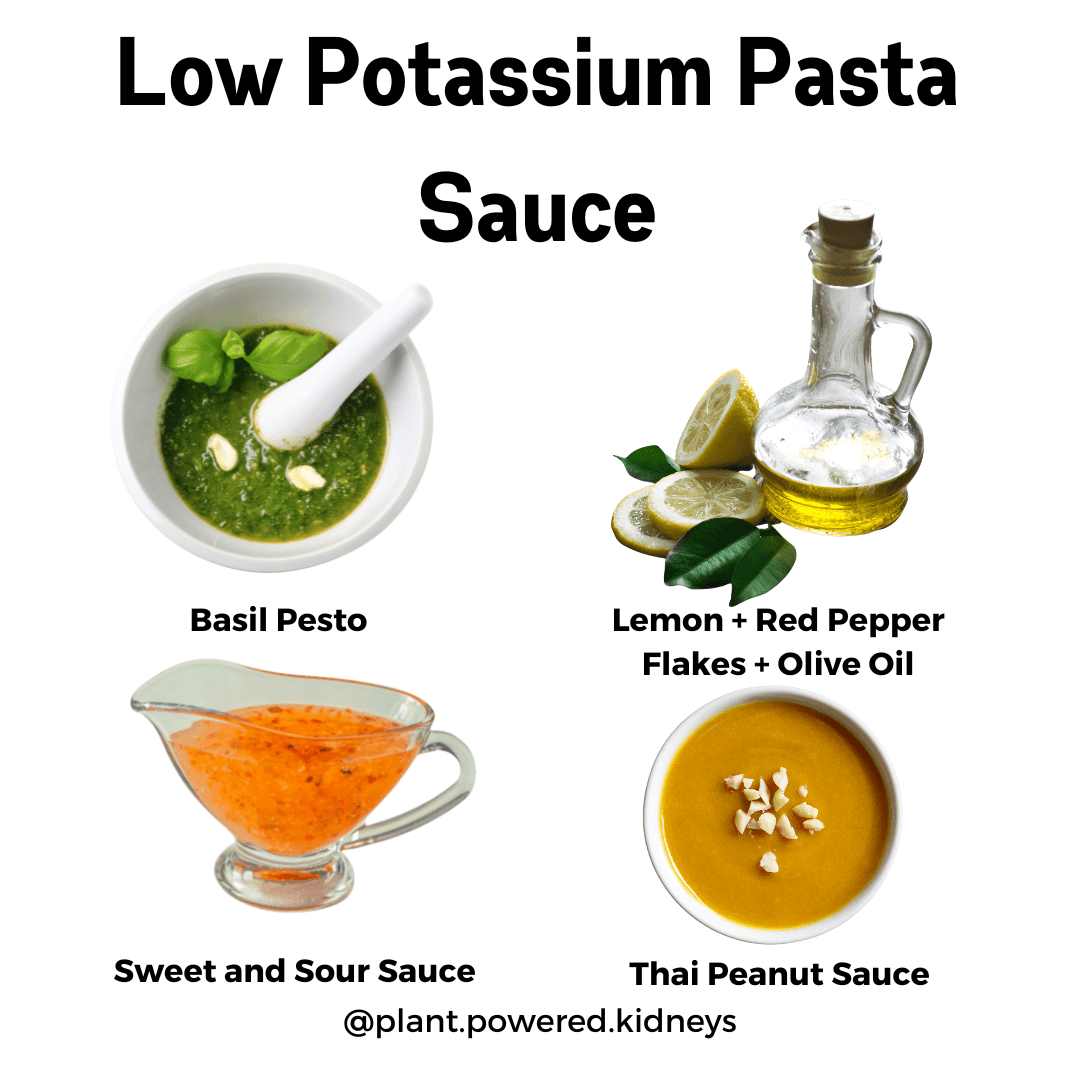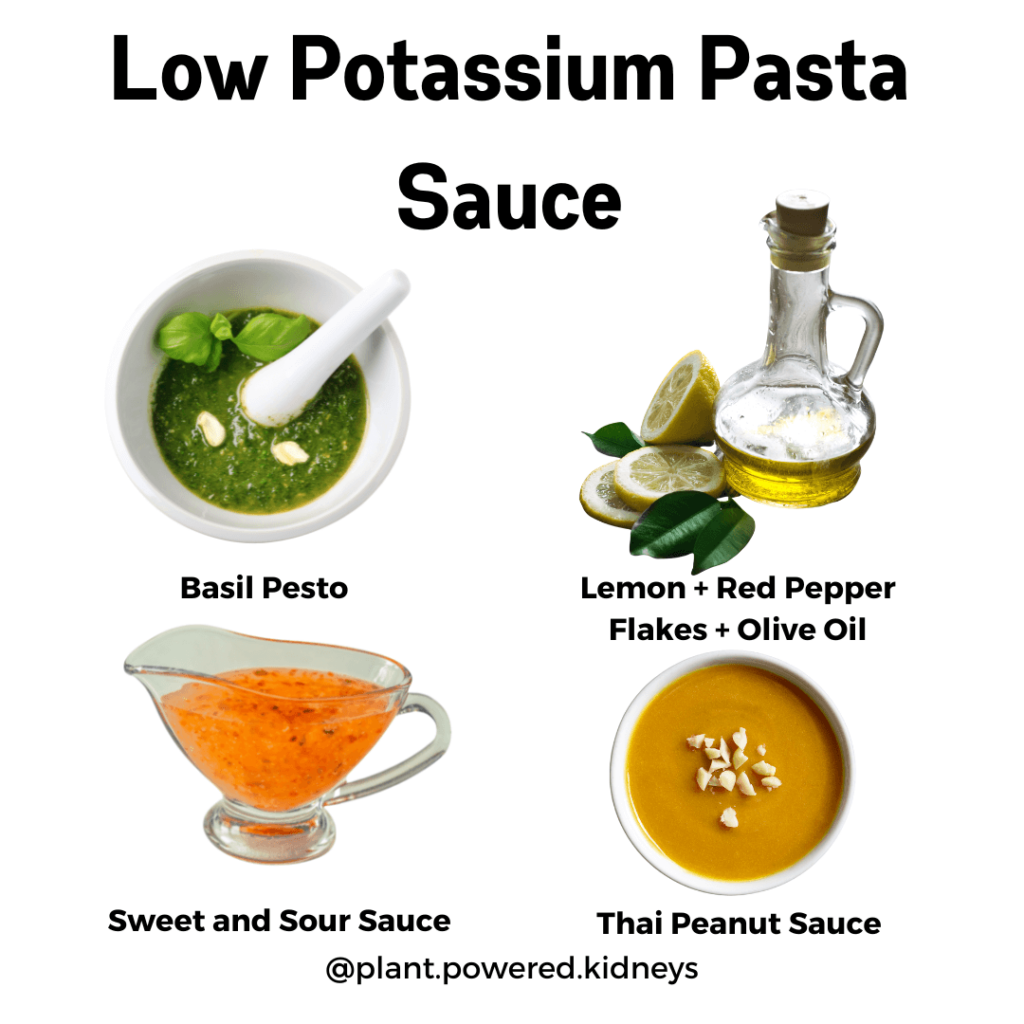 Higher Potassium Kidney-Friendly Pasta Sauce
Below are some higher potassium pasta sauce options. If you need to follow a potassium restriction, it may be a better option to stick to the low potassium sauces listed above.
If you don't need to follow a potassium restriction, you may be able to add these pasta sauces into your kidney friendly diet:
Tomato Based Store Bought Pasta Sauces
Tips For Adding in Pasta To Your Kidney-Friendly Diet
Choose higher fiber options. 
Fiber is essential for good heart health, digestive health and better blood sugar management. Therefore, it is very kidney friendly! An item is a good source of fiber if it has 3g of fiber or more per serving. 
Whole wheat pasta and shirataki pasta are low potassium options that have at least 3 g of fiber per 100 g. 
Take a look at how a low potassium pasta dish can fit into a high fiber day: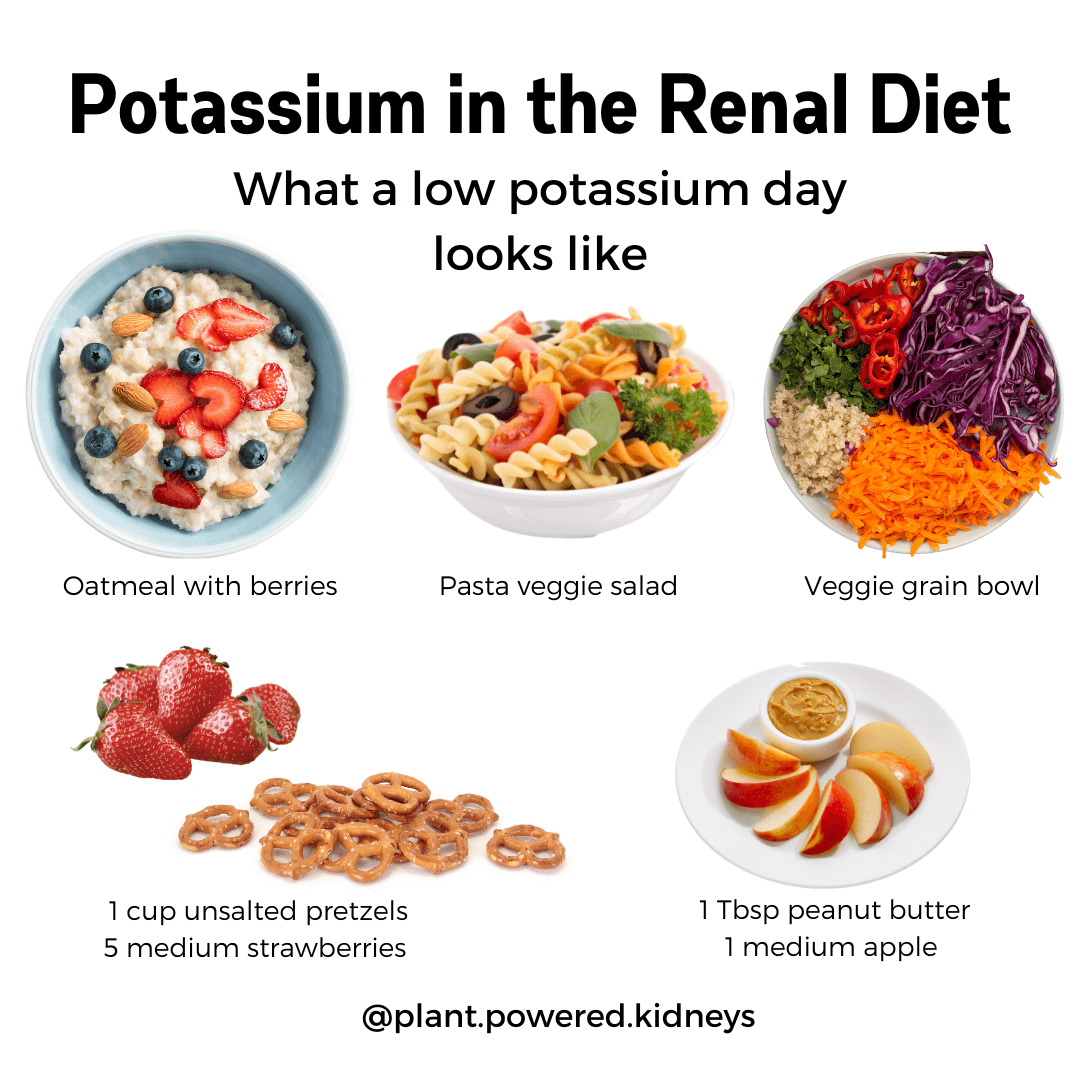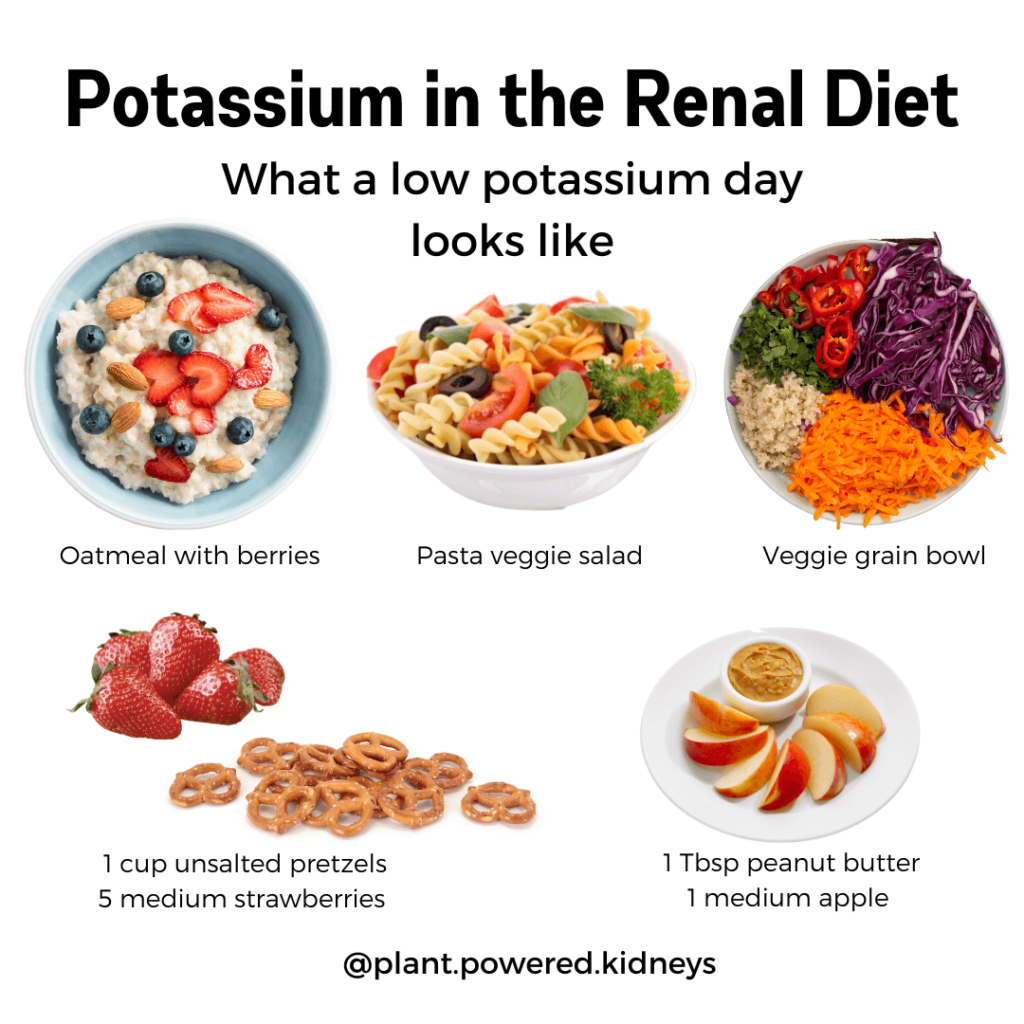 Be mindful of protein. 
Manufacturers will add protein to certain pastas (usually in the form of pea protein or chickpea and lentil flour). 
For example, Barilla came out with a "Protein Plus" type of pasta that has pea protein as well as chickpea and lentil flour added to it.
This adds quite a bit of protein (10g in a 2oz serving of Protein Plus Angel Hair) and may not be the best option for kidney patients.  
Stick to your portion size. 
With pasta, it can be pretty easy to eat more than the suggested portion size.
Be sure to measure out the appropriate serving of pasta. In general, a pasta serving is about ⅓ cup. 
Make it a balanced meal 
Make your pasta dish more balanced by adding in lean sources of protein (like garbanzo beans or pine nuts), a fat source and produce.
For example, use olive oil to saute onions, spinach, and garbanzo beans to add to your plain pasta or pasta sauce.  
3 Easy Pantry Staple Pasta Recipes
Pressed for time? Keep these easy kidney-friendly pasta recipes in your back pocket for a quick lunch or dinner.
Cheezy Pesto Pasta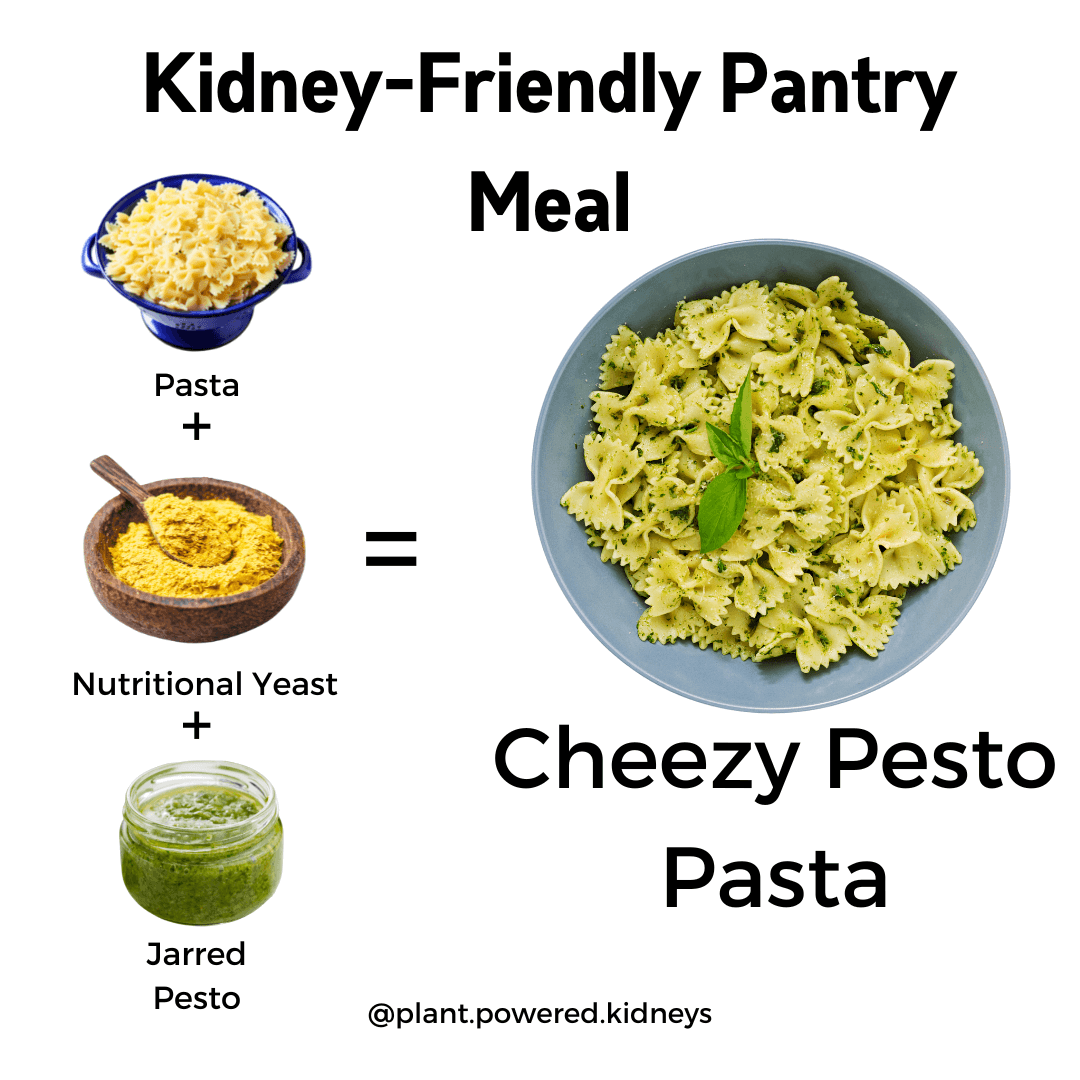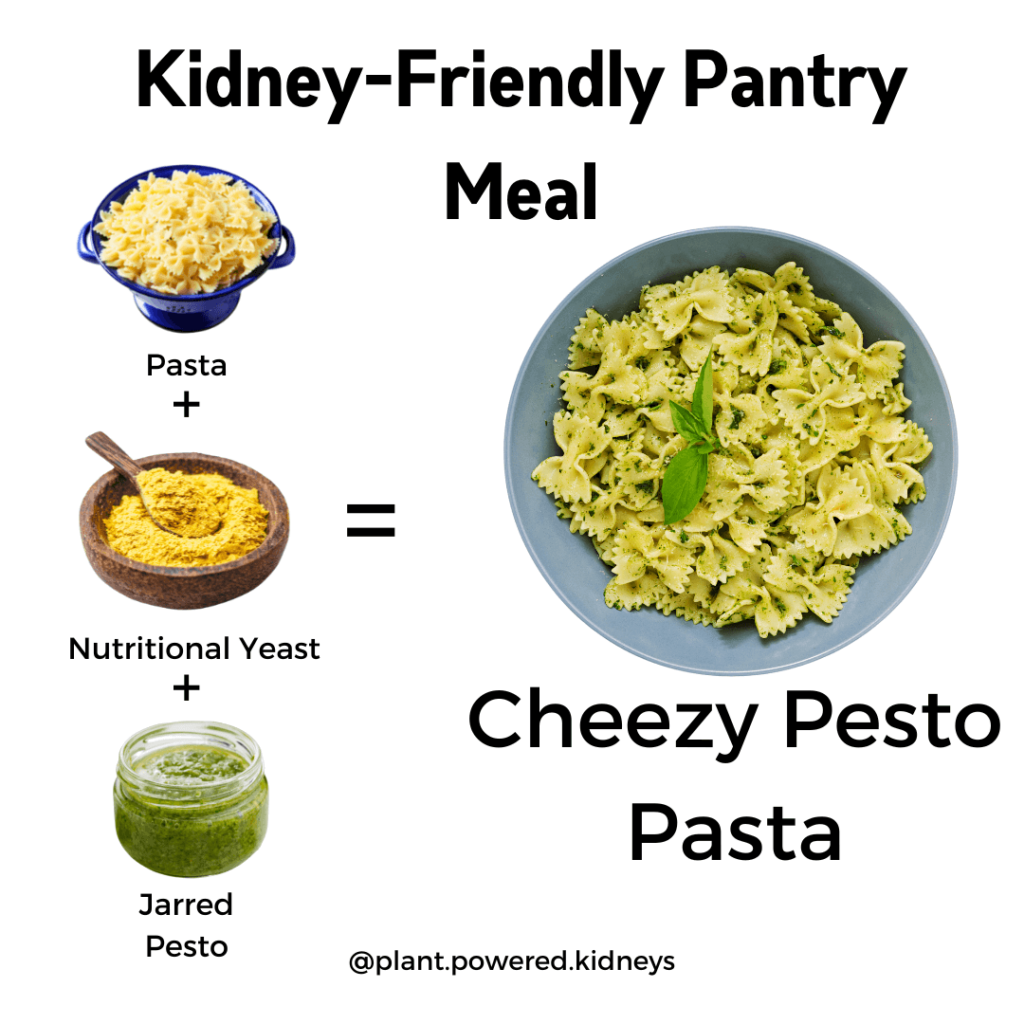 Cook your favorite pasta and then add jarred pesto and nutritional yeast. Make sure that your jarred pesto has less than 140mg of sodium per serving and no phosphorus additives. 
Soba Noodles with Stir Fry Veggies and Sweet and Sour Sauce 
Switch it up with a stir fry! Fry up some soba noodles, low potassium stir fry vegetables and tofu or edamame in a pan. Top with Sweet and Sour Sauce for a flavorful finish.  
Pasta Salad with Low Potassium Veggies  
Toss your pasta in a bowl with your favorite chopped low potassium veggies (peppers, scallions, and cucumbers all do great) and a drizzle of some low sodium store bought Italian Dressing. Add some feta or cubed tofu if you want!
Kidney Friendly Pasta Recipe
Ready to try out a new kidney friendly pasta recipe? This creamy lemon garlic pasta is sure to please!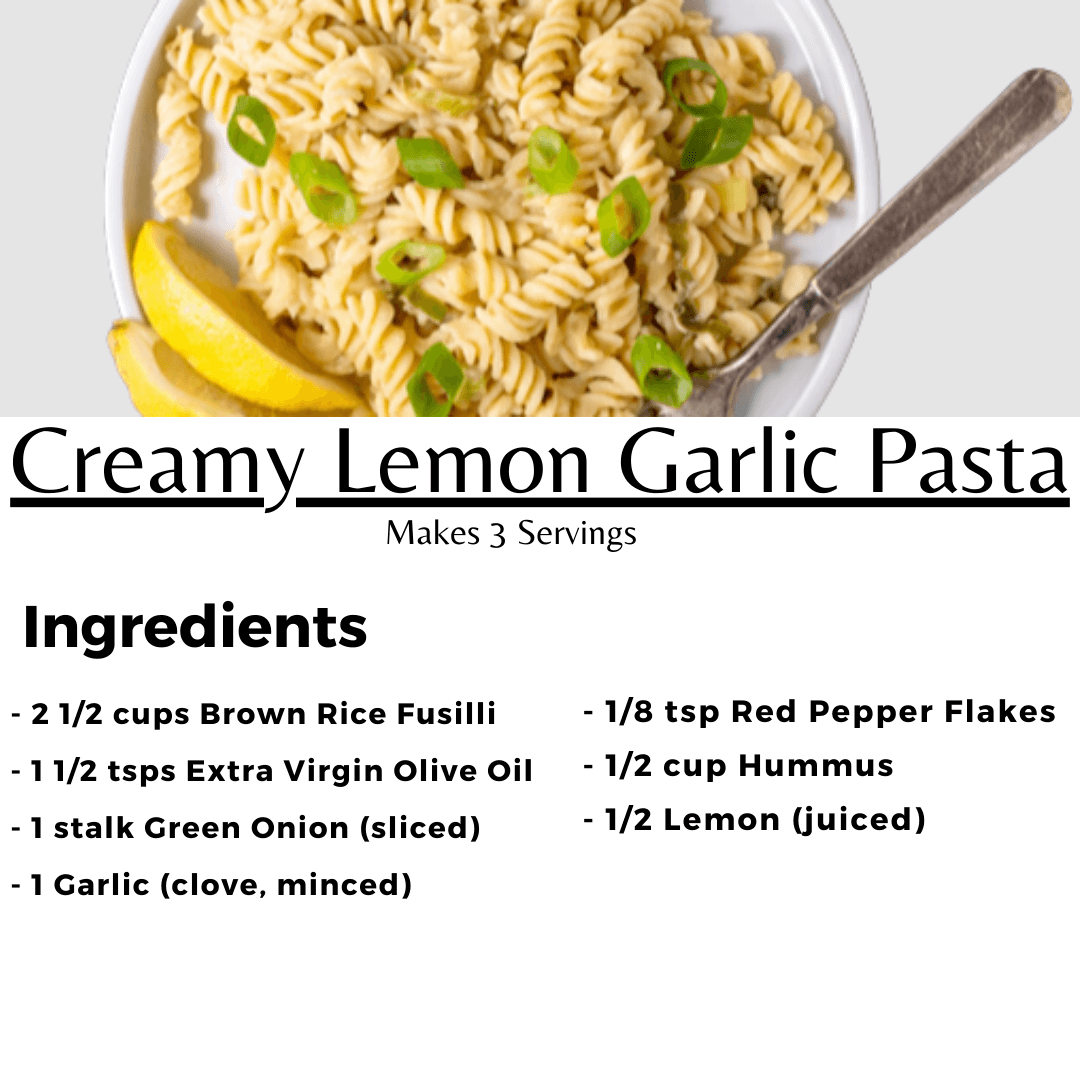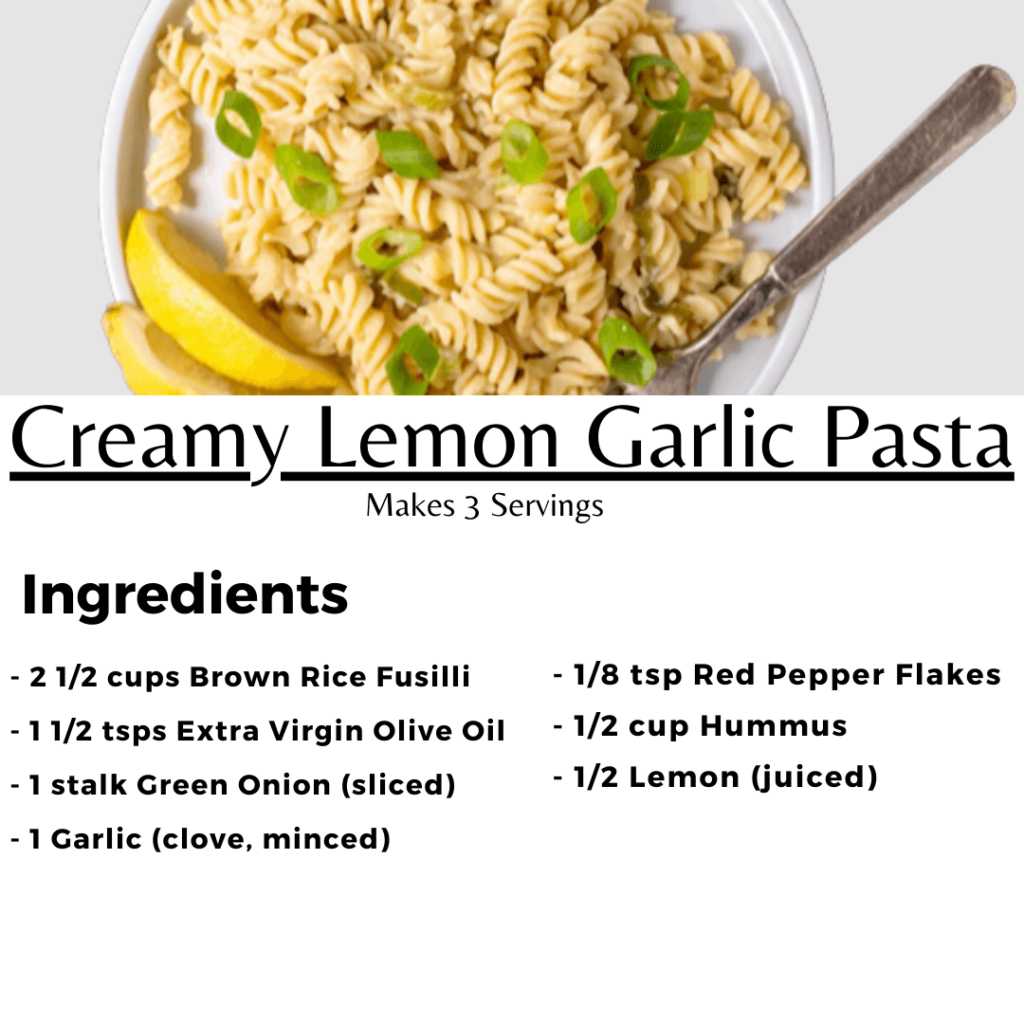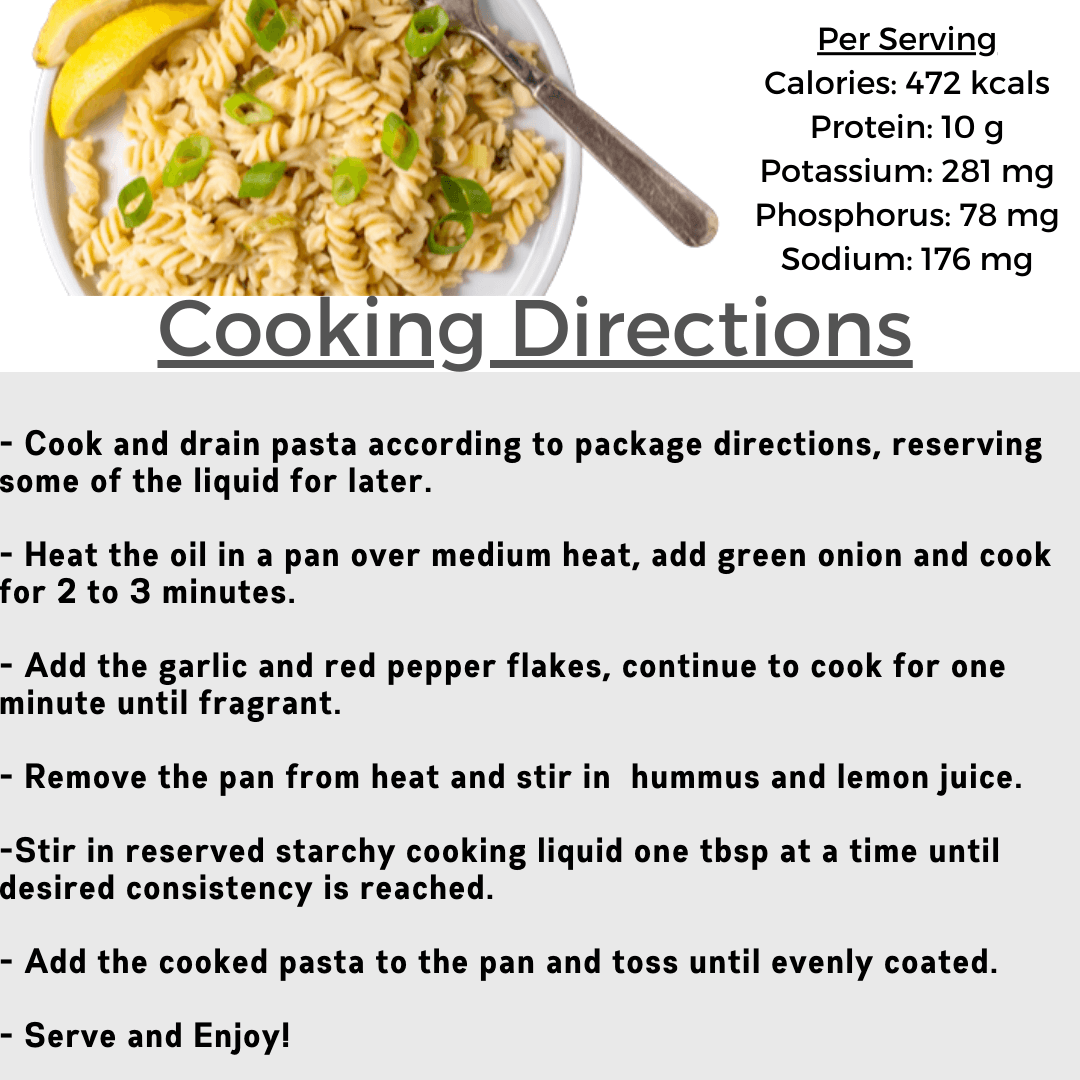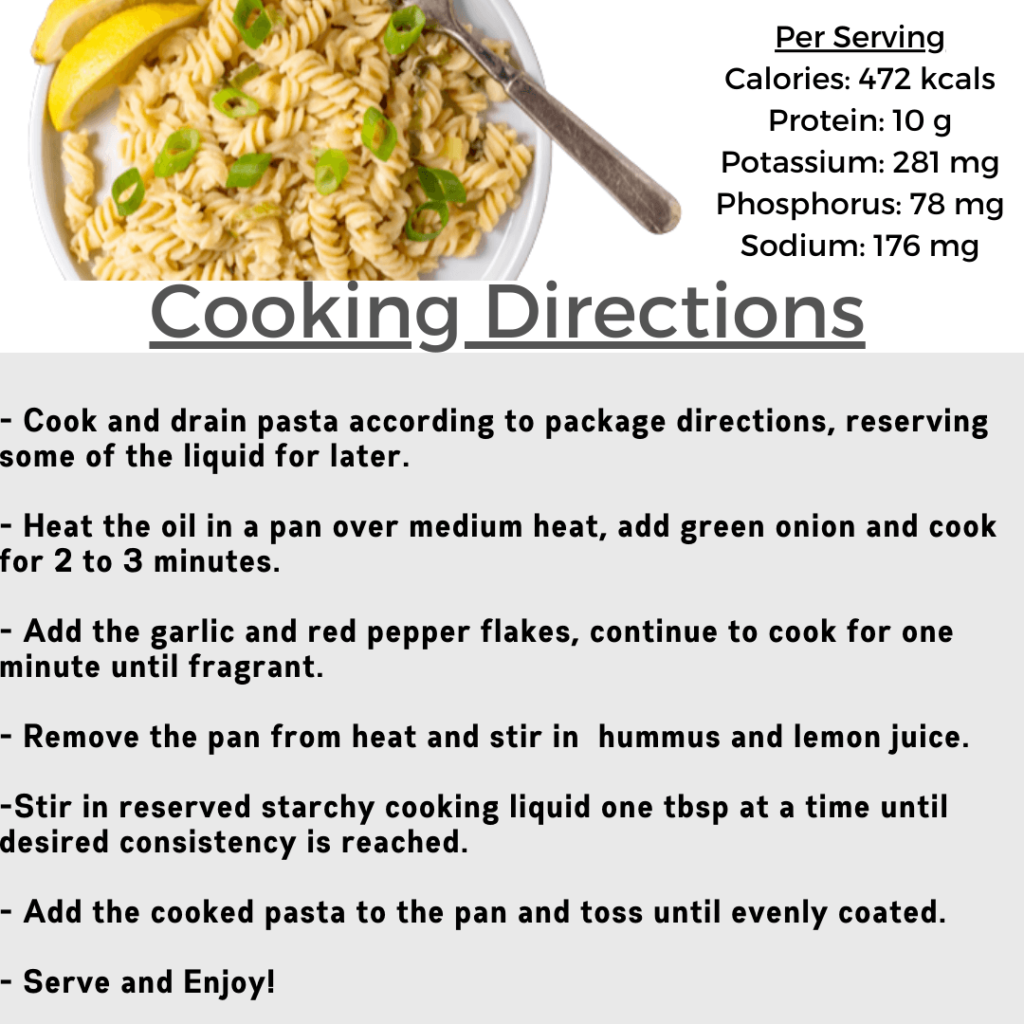 Summary
With all of the types of pasta available, there is certainly one available that can fit into your kidney friendly diet.
If you need to follow a low potassium diet, finding a low potassium pasta may be easier than you think. Wheat pasta, shirataki pasta (pasta zero) and udon noodles are all great options to include.
Whether you need low potassium, low protein or higher fiber options, there is a pasta option available to you. Bon Appetite!