We get it. Figuring out to eat on a renal diet can be tough. That's why we have created several renal diet meal plan PDF downloads for you to purchase!
Below are different renal diet meal plan options that you can purchase as a PDF.
Each Meal Plan PDF download includes:
A full meal plan for the number of days specified – breakfast, lunch, dinner, and at least one snack for each day
Nutrition information for each day of the meal plan
Nutrition information for each recipe, per serving of the recipe
A detailed 1-2 page pdf grocery list for you to print and take with you when grocery shopping
The nutrition information for each day and each recipe serving size includes:
Calories
Total fat
Saturated fat
Trans fat
Polyunsaturated fat
Monounsaturated fat
Total Carbohydrates
Fiber
Sugar
Protein
Cholesterol
Sodium
Potassium
Calcium
Iron
Vitamin D
Folate
Vitamin B12
Phosphorus
Magnesium
Zinc
Curious about what our meal plans look like? Be sure to get our free meal plan first. Then come back and get some more renal diet meal plans!
Stage 3 Renal Meal Plan Options
Vegan / Fully Plant-Based Diet
For those with stage 3 kidney disease, we have a sample renal diet with a 7-day menu here for you.
Our fully plant-based 7-day vegan renal diet plan will help give you ideas on how you can add more fruits and veggies to your diet while keeping nutrients like potassium and phosphorus in check.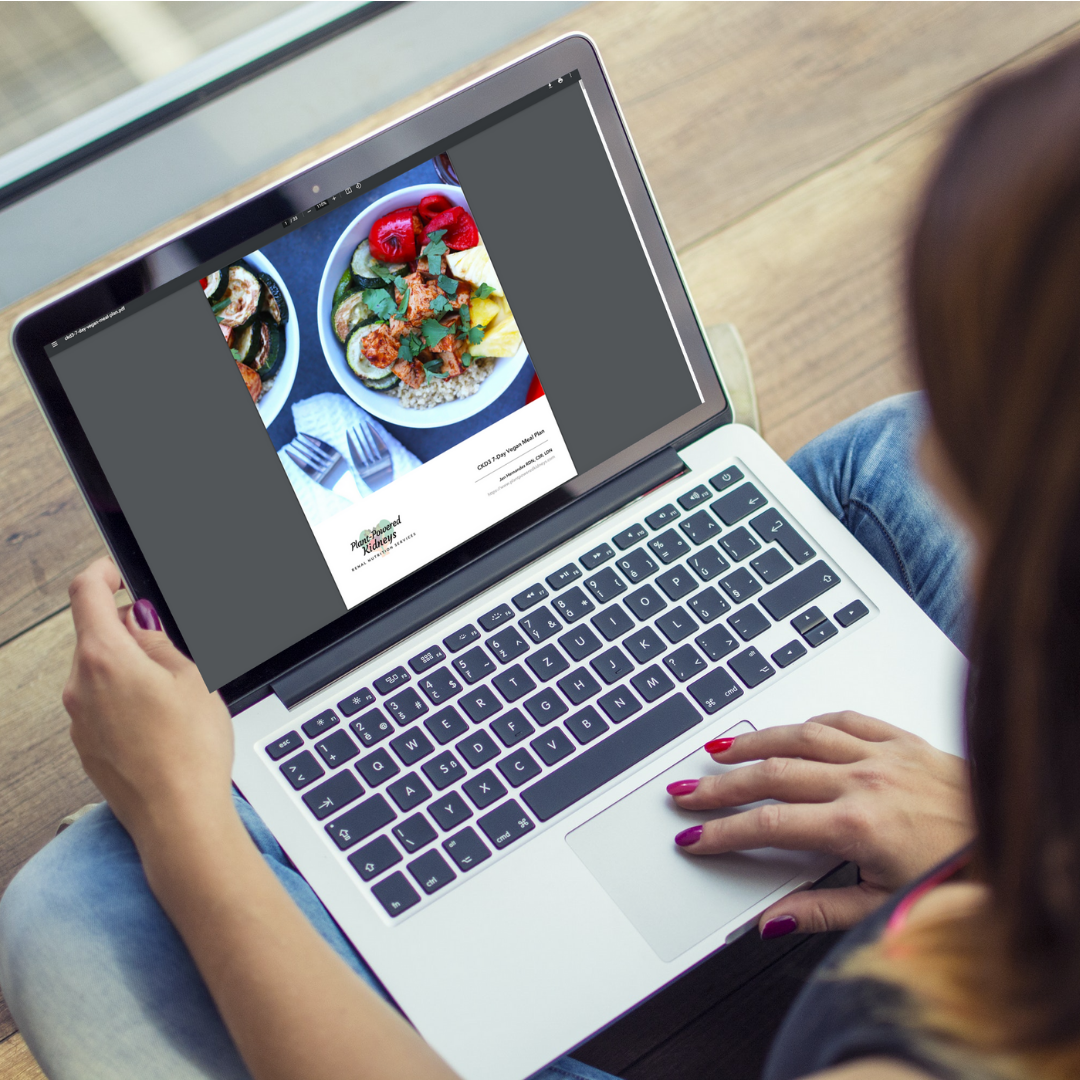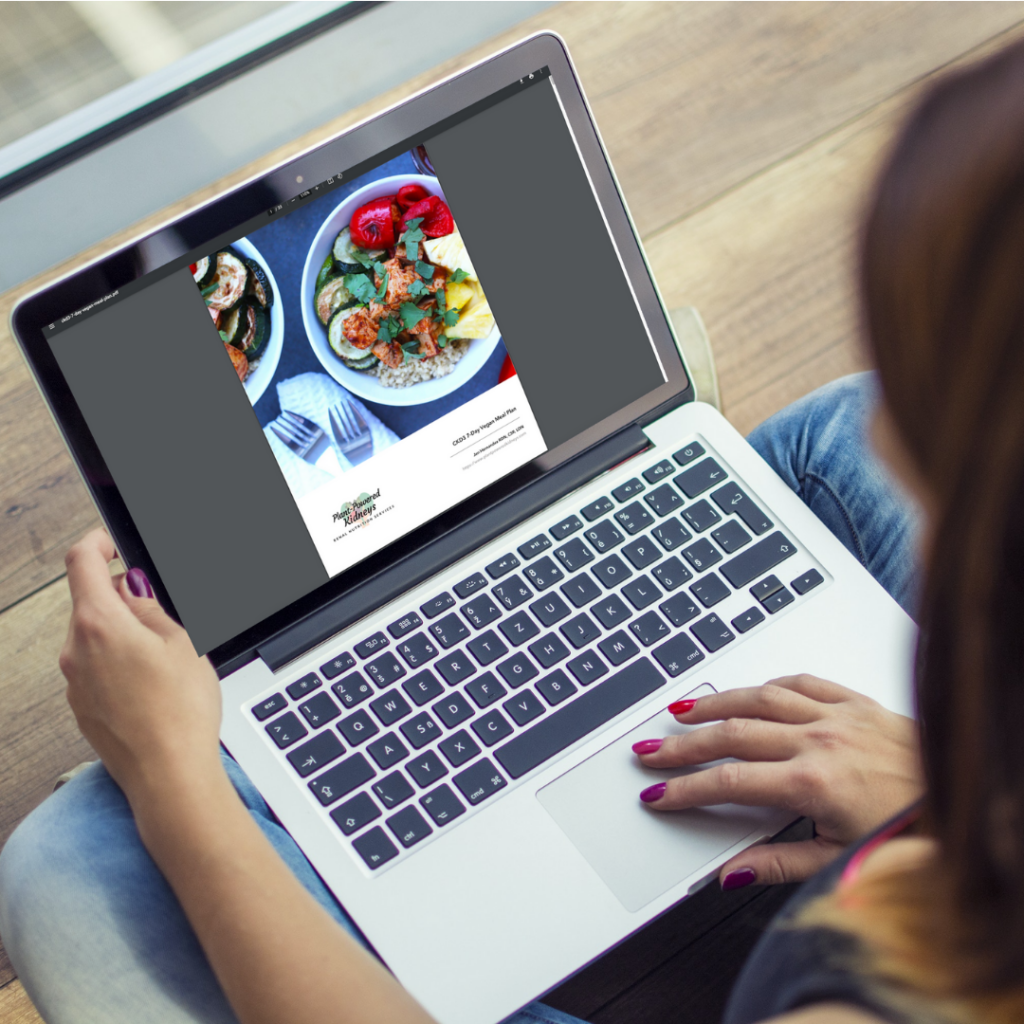 Some of the delicious recipes in the CKD3 vegan renal meal plan include:
Hawaiian BBQ Tofu Bowl
One-Pot Cauliflower & Lentil Green Curry
Blackberry Chia Pudding
Gingerbread Oatmeal
Start cooking today!
Vegetarian Diet
Interested in adding more plants, but still keeping in some animal products like dairy? Everyone has different renal diet needs, and many can benefit from a vegetarian diet (like those with kidney stones)!
This 7-day meal plan comes fully loaded with tasty vegetarian recipes, all while giving you a breakdown of each day and recipe.
You'll love our breakfast-for-dinner potato and egg tacos. Of course, the leftovers make for a great meal any time!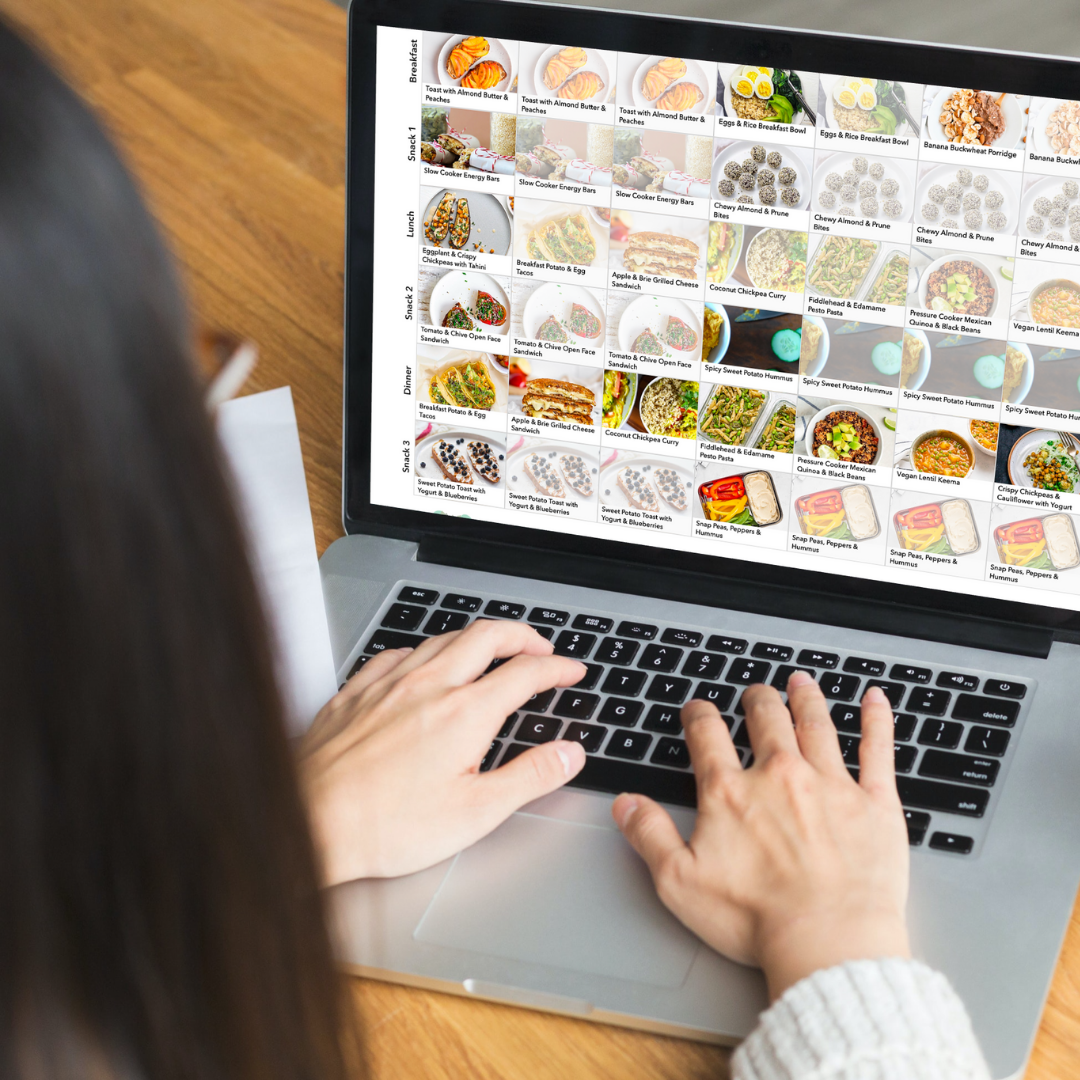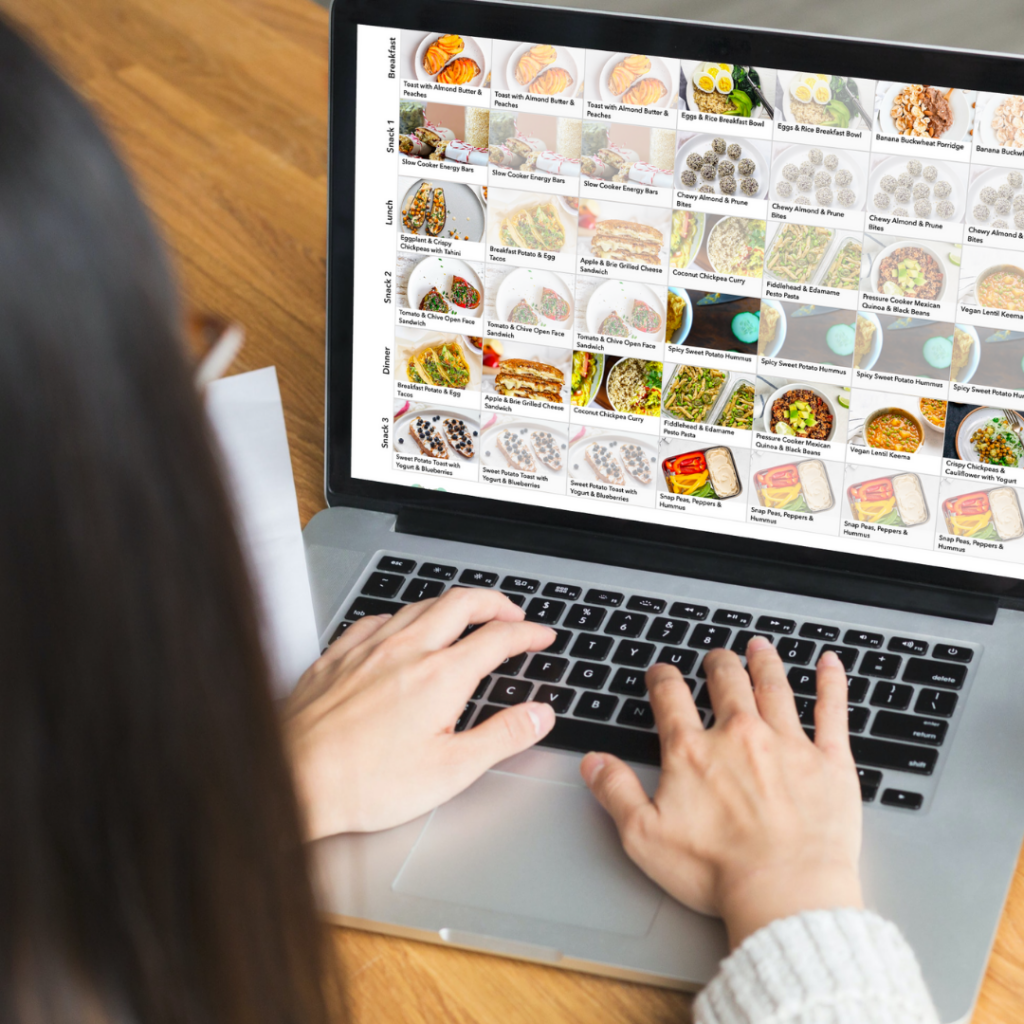 Other recipes included in this meal plan download include;
Slow cooker energy bars
Spicy sweet potato hummus
Banana buckwheat porridge
Vegan lentil keema
Stage 4 and 5 Renal Diet Meal Plans
Low Protein Vegan 7-Day Plan
Do you need to follow a low-protein meal plan? This full meal plan includes 7 days with a max of 40 grams of protein per day.
Besides limiting protein, phosphorus is less than 900 milligrams per day (and all plant-based).
Potassium is under 4,000 milligrams per day, but averages to about 3,200 milligrams per day.
This meal plan also comes with a done-for-you grocery list so you can get started right away!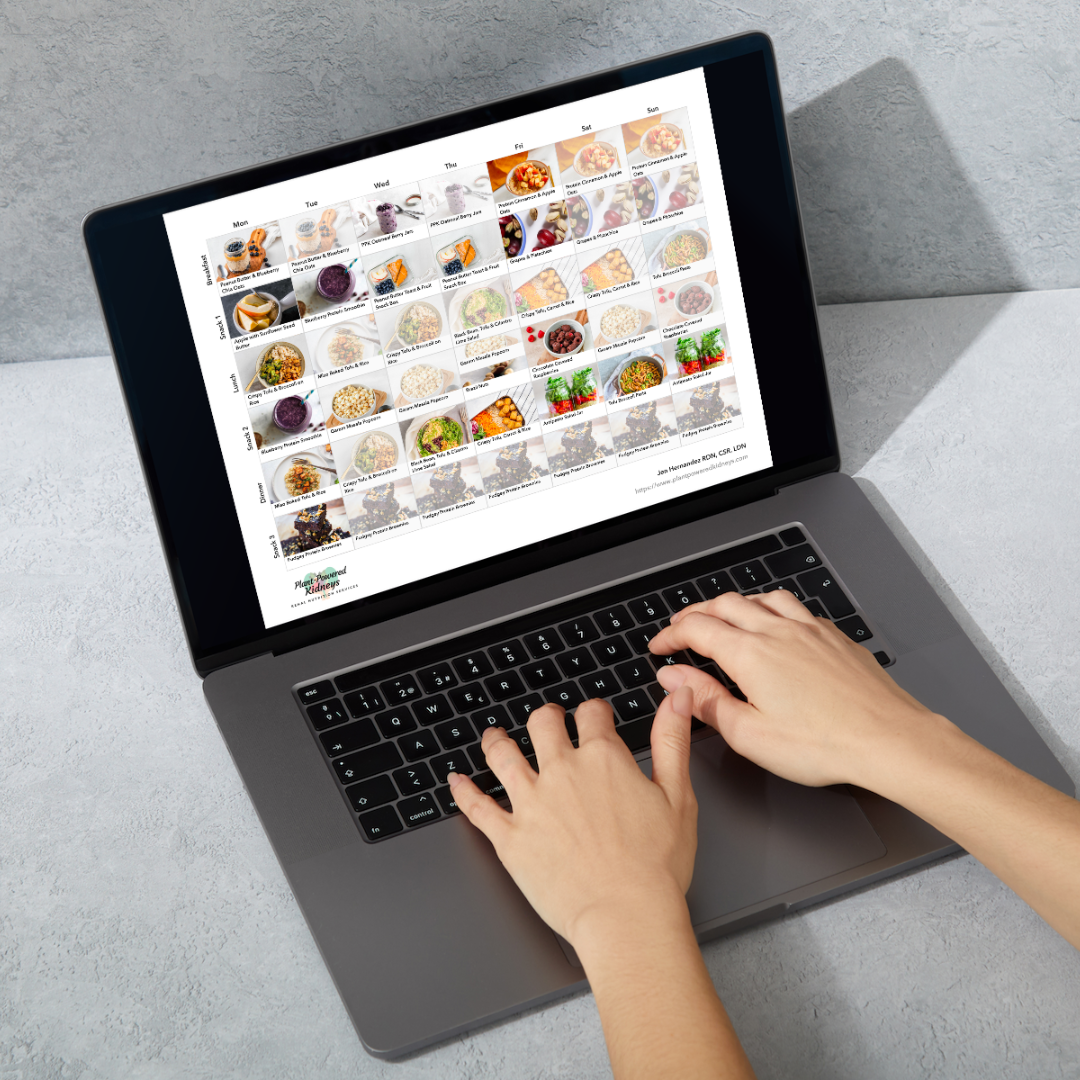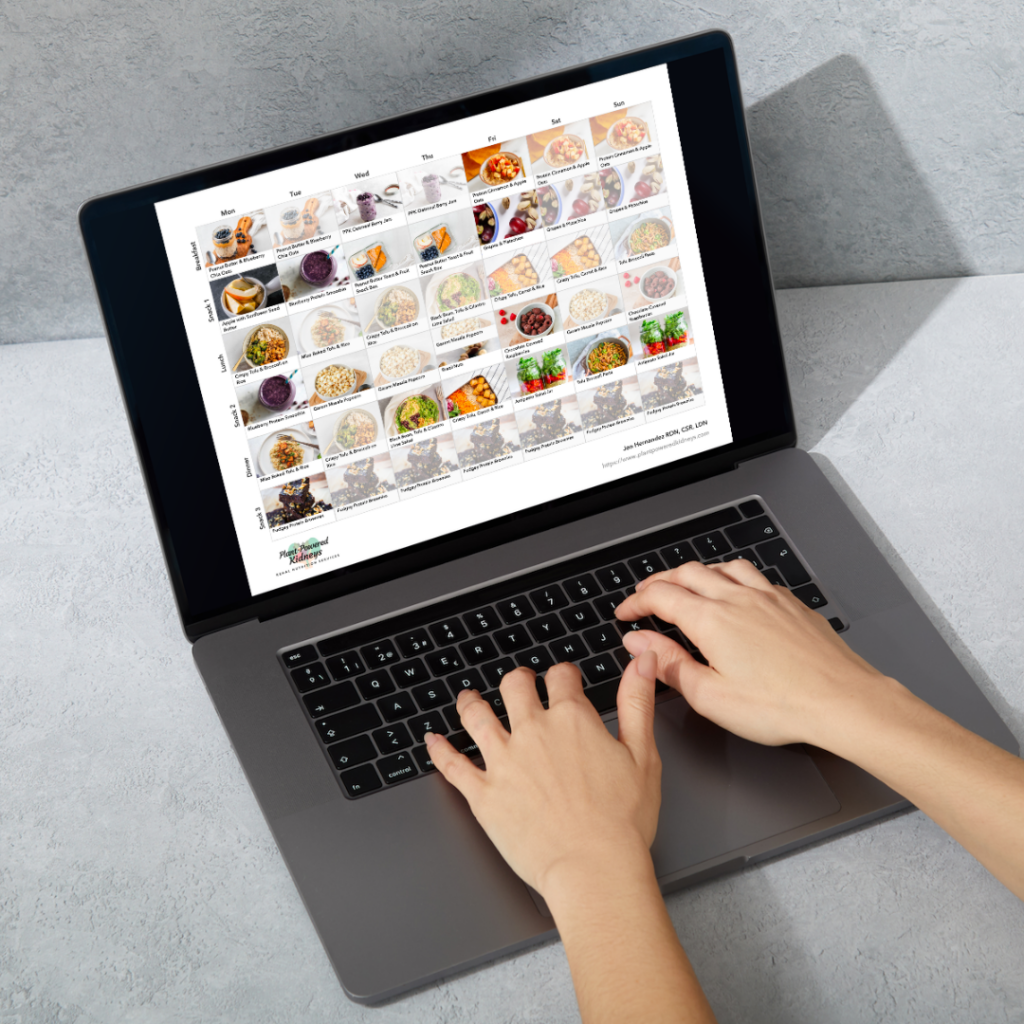 Dialysis Vegan Meal Plan
If you are on dialysis and looking for a vegan meal plan, look no further.
Our dialysis meal plan features breakfast, lunch, dinner, and 2-3 snacks each day.
This 7-day meal plan has 85+ grams of protein per day. Protein is very important for dialysis patients, and this meal plan provides all protein sources from plants.
The daily potassium amount is approximately 3,000 milligrams, suitable for those not on a severe potassium restriction.
Phosphorus amount is approximately 1,600 milligrams but all plant-based and therefore not highly absorbed.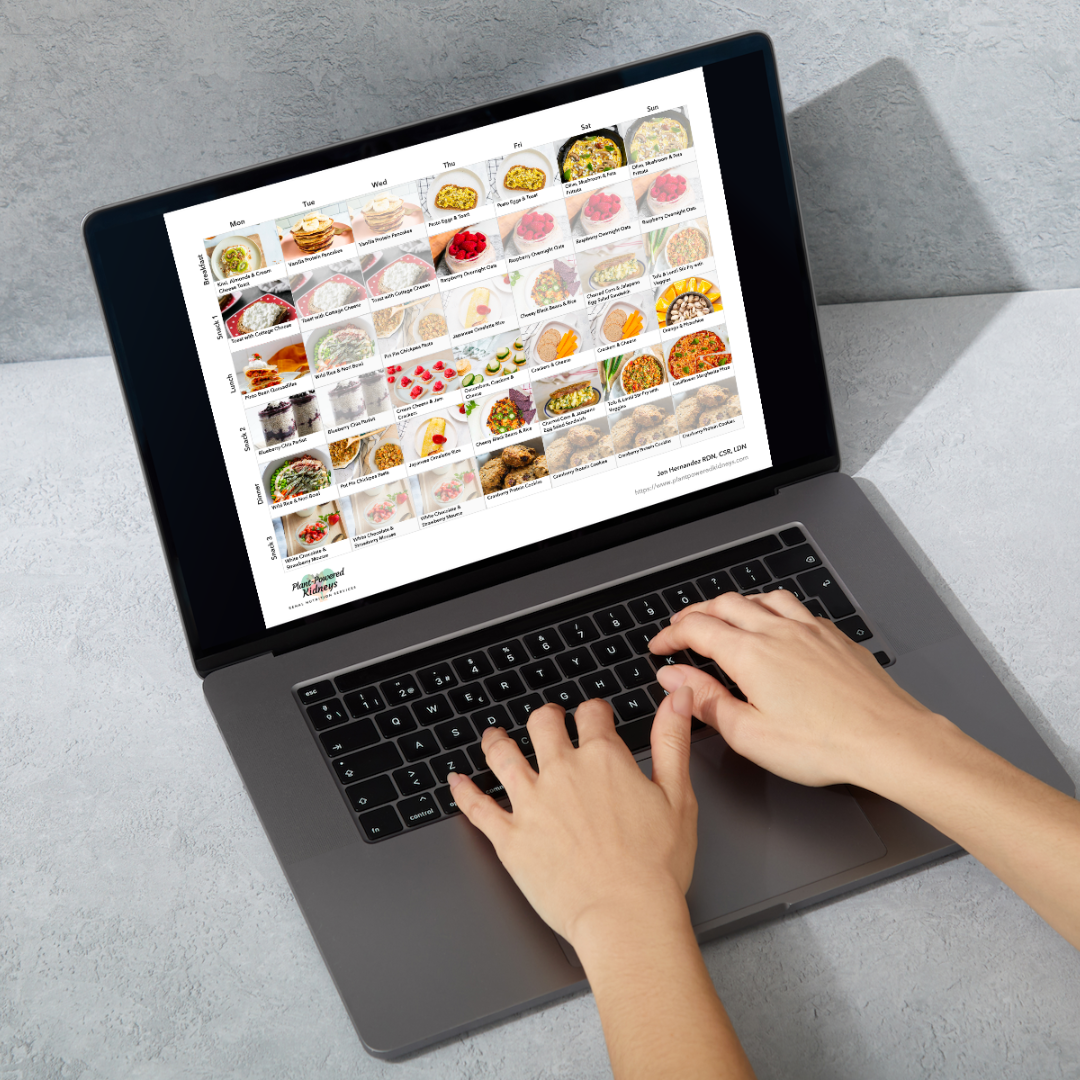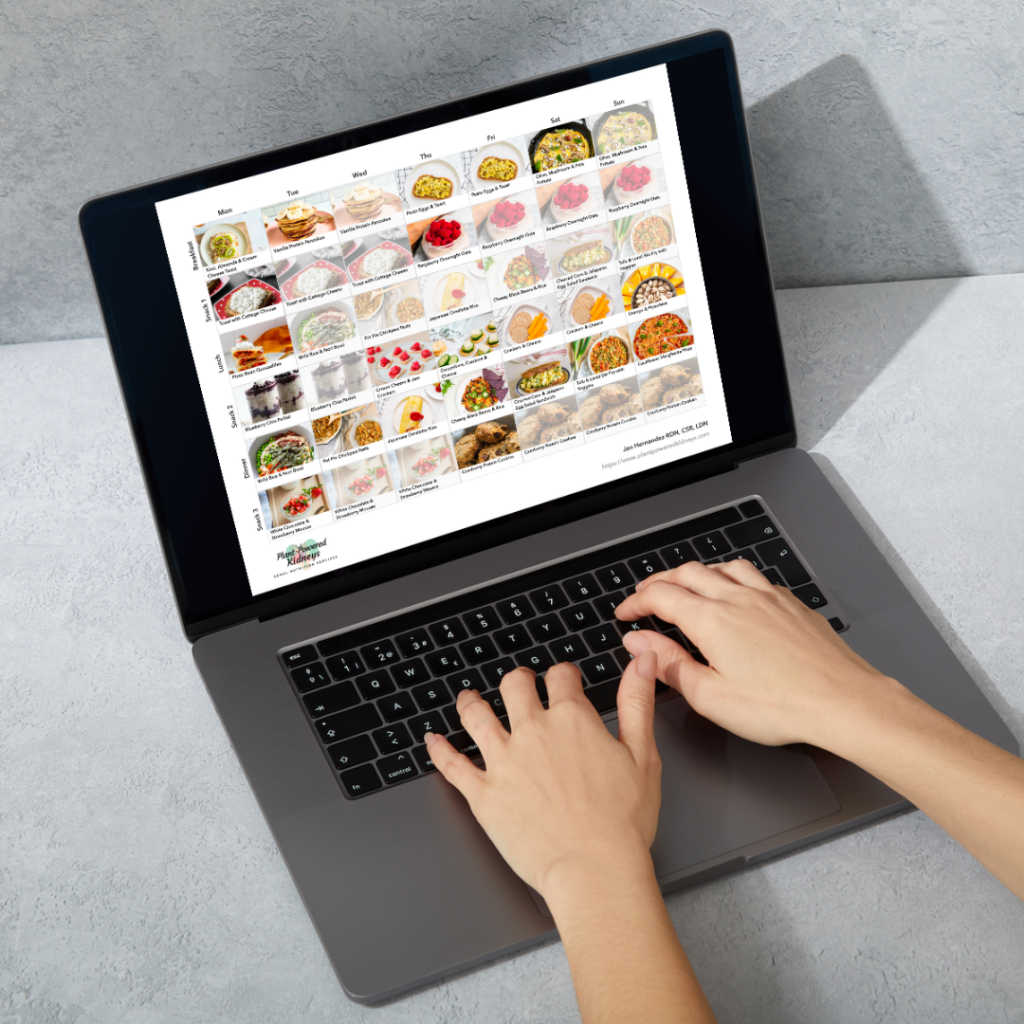 Dialysis Vegetarian Meal Plan
Not ready or interested in giving up all animal proteins? No worries – that's why we have our vegetarian dialysis meal plan.
This dialysis meal plan features breakfast, lunch, dinner, and 3 snacks each day.
This 7-day meal plan has 85+ grams of protein per day. Protein sources include a combination of plant sources like tofu and nut butter, along with vegetarian sources like eggs, yogurt, and cottage cheese.
Each day has 3,000 milligrams of potassium or less.
Like our vegan meal plan, the phosphorus amount is approximately 1,600 milligrams but mostly plant-based and not highly absorbed.
The meal plans are available to download immediately as a PDF for personal use only and not for redistribution. Because of the immediate access to and no way to return a digital download, there are no refunds.