As the holidays approach, you may be wondering if a kidney-friendly Thanksgiving exists. With the large portions, high potassium sides, and shocking sodium loads, it can be challenging. But, if you take the time to learn and plan ahead, you can enjoy a kidney-friendly Thanksgiving without sacrifice. You may even feel better afterward because of your healthier choices.
This article will review the common foods during the holiday season and how they can fit into a renal diet.
Nutrition information for Turkey
Turkey is a good source of protein as well as iron. It is important to know that your Thanksgiving turkey has more potassium than most people realize.
In fact, most animal meats are considered high potassium foods. Read more about that here.
Below is the detailed nutrition information for Turkey, both with skin and without skin. (Note the biggest difference here is the fat content.)
Nutrition for Turkey Breast (no skin)
Nutrition for Turkey Breast (with skin)
What about deep-fried turkey? A serving of 100 grams (about 3.5 ounces) of the trendy deep-fried version also still clocks in with 230 milligrams of potassium, 213 milligrams of phosphorus, and 270 milligrams of sodium to start.
Sodium in Turkey
Turkey itself is naturally low in sodium. A fresh, natural turkey breast without injections, additives or preservatives will have approximately 84 milligrams of sodium per 3 ounces.
However, many companies inject their turkey products with a sodium solution, similar to a brine. This will increase the sodium content. Depending on the ingredients, it may also increase the potassium and phosphorus content of the turkey as well.
If you are going to a friend or family's house for the holidays and are considering turkey as part of your renal diet for the day, it can be helpful to ask the host how they will prepare the turkey.
If there is any marinade, brine, or seasoning there is a good chance there will be added salt.
Phosphorus in Turkey
Turkey is also a source of organic phosphorus. Organic phosphorus is the kind that is naturally-occurring and is less absorbed in its natural form.
However, turkey can also have inorganic phosphorus. This kind is more highly absorbed and can be harmful to kidney health.
Read more about phosphorus here.
Is Turkey Good for Kidney Disease?
As mentioned above, turkey is a high protein, high potassium food. It may also have added phosphates, so it's important to read the ingredient list if you choose to include turkey in your renal diet.
Turkey may be acceptable in some cases for a renal diet.
An example would be someone on dialysis that has higher protein needs and gets good cleaning (AKA goes to all dialysis treatments).
Another example of someone that may be able to include turkey in the renal diet would be a person with stage 3 kidney disease.
When is turkey not good for kidney disease?
Turkey may be a more difficult food to fit into a person with stage 4 or stage 5 kidney disease.
In these, stages, a low protein diet is commonly recommended. A serving of turkey could potentially cover most if not all of a person's protein allowance in these stages.
Finally, turkey has a PRAL (potential renal acid load) score of just over 7. The higher or more positive a PRAL score in a food, the more acid load onto the kidney.
Plant-Based Main Dishes to Replace Turkey
Now that we have covered the pros and cons of including turkey in a kidney-friendly Thanksgiving, let's cover some alternatives. These alternatives may be a better fit for those that want to keep to a plant-based renal diet.
Before we dive into these a bit more, it's important to warn that many plant-based substitutes will be higher in sodium.
Because of this, we do not recommend including these in a typical plant-based renal diet. However, the holidays include special-occasion meals, where we enjoy foods just one or two meals each year.
Tofurkey Holiday Roast
A turkey replacement made from tofu, Tofurkey is marketed as a tofu-based turkey roast. This roast is one of the most well-known vegan alternatives to turkey during the holidays.
A serving of the roast is 1/5 of the roast, or about 5 ounces. A serving has 33 grams of protein.
If we compared to turkey in equal weights, it's essentially equivalent in protein (21 grams for a 3-ounce serving). But what is important to note also is that it is very high in potassium, at 900 milligrams per serving.
The roast is also high in sodium. However, that's to be expected with any processed food, especially one that is trying to replace animal meat. This roast has 670 milligrams of sodium per serving.
It's also high in potassium which may make it less of a good choice if you have to follow a low-potassium diet. Thankfully there are no phosphorus additives to be found!
One more note- the primary ingredient is gluten (this is common for meat replacements like seitan). If you have celiac disease, gluten intolerance, or if you have IgA nephropathy, you may need to avoid gluten.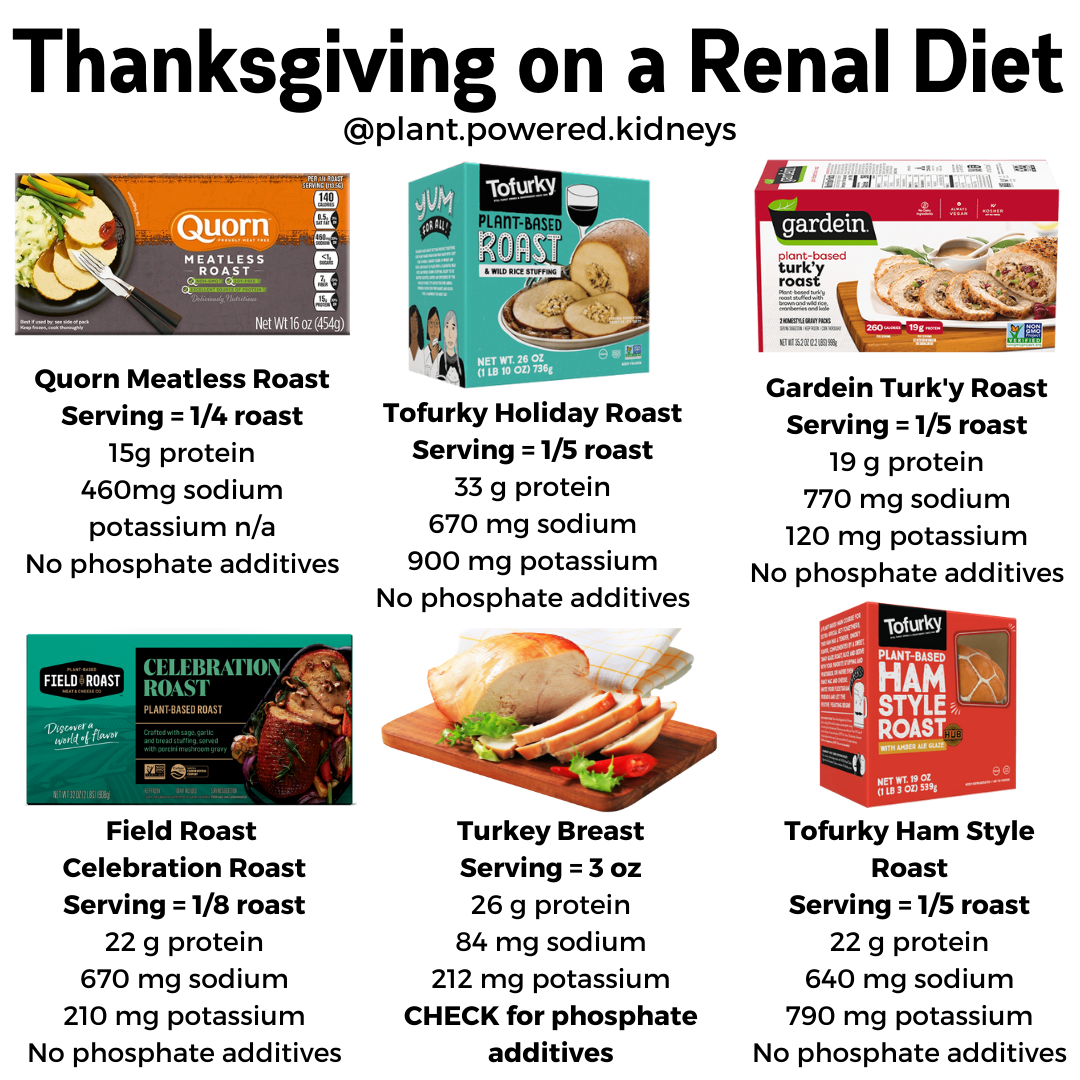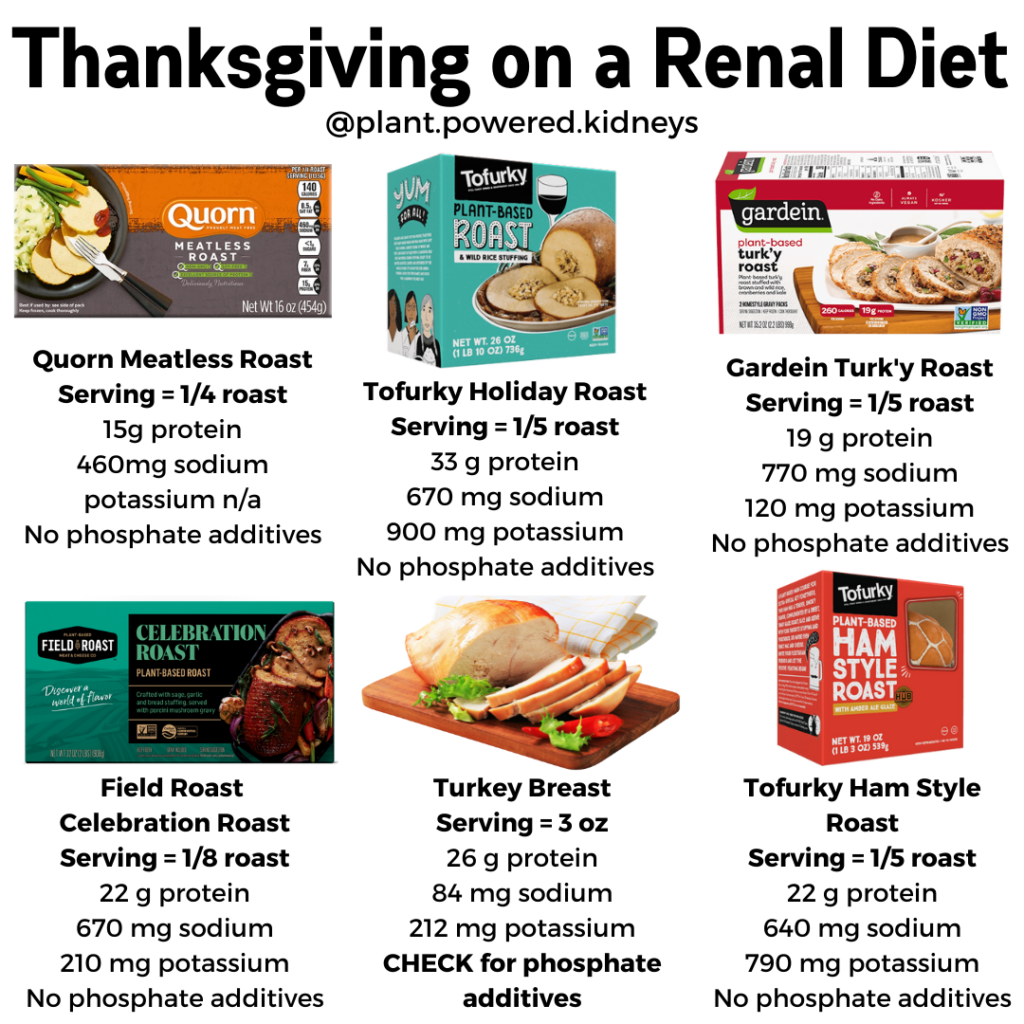 Gardein Turk'y Roast
Another meat substitute is Gardein's Turk'y Roast. This is one of the lower protein options compared to turkey and some of the other plant-based turkey subsitutes.
A serving, 1/5 of the full roast, has 19 grams of protein. While it is on the lower end of protein, it's the highest sodium per serving at 770 milligrams of sodium.
The nutrition label does include potassium content of 120 milligrams of potassium per serving. This makes it a low potassium option.
At the time of this article's publication, there were no phosphate additives found in the ingredient list. But remember- it's important to check for yourself as ingredients can change without notice.
Field Roast Celebration Roast
The Celebration Roast from Field Roast is another plant-based alternative for a kidney-friendly thanksgiving.
It's closer in protein to turkey at 22 grams of protein per serving. One serving is 1/8 of the full roast.
Sodium content is still on the higher end at 670 milligrams per serving. Potassium is just over the low potassium threshold at 210 milligrams per serving.
There were no phosphate additives found in this roast. However, the sage & garlic roast did have phosphate additives listed.
Tofurky Ham Style Roast
If you prefer a plant-based substitute more similar to ham, this could be an option.
The Ham Style Roast from Tofurky has 22 grams of protein per 1/5 roast serving. Within that serving also is 640 milligrams of sodium (not including the accompanying glaze).
This one is also very high in potassium at 790 milligrams per serving. A good thing to note is that there are no potassium additives found at this time.
A 3-ounce serving of regular ham roast has 19 grams of protein, 308 milligrams of potassium, and over 1,000 milligrams of sodium.
So, a plant-based option like this one may still be a better route if you need to limit sodium.
Quorn Roast
Another turkey alternative is the meatless roast from Quorn. This roast includes eggs and milk, making it vegetarian, not vegan. It's a good time to point out that not everyone with kidney disease needs to follow a completely vegan diet.
Quorn's roast is significantly lower in protein when compared to turkey, with 15 grams of protein per serving. It is also a lower-sodium option when compared to the Tofurkey roast, with 460 milligrams of sodium per serving.
Note that the nutrition information of this roast does not include potassium data. However, the ingredients suggest that it would not be a very high source of potassium. But keep this lack of information in mind if you need to restrict your potassium levels.
Comparison Table of Plant-Based Turkey Substitutes for Kidney Patients
Below is a table of some of the most common plant-based turkey substitute options for a kidney-friendly Thanksgiving. It can be very helpful to compare them side by side to determine which is best for your diet.
| Product Name | Serving size | Protein (grams) | Sodium (milligrams) | Potassium (milligrams) | Phosphate additives? |
| --- | --- | --- | --- | --- | --- |
| Quorn Meatless Roast | 1/4 roast | 15 | 460 | n/a | no |
| Tofurky Holiday Roast | 1/5 roast | 33 | 670 | 900 | no |
| Gardein Turk'y Roast | 1/5 roast | 19 | 770 | 120 | no |
| Field Roast Celebration Roast | 1/8 roast | 22 | 670 | 210 | no |
| Tofurky Ham Style Roast | 1/5 roast | 22 | 640 | 790 | no |
| Turkey Breast | 3 ounces | 26 | 84 | 212 | depends on brand |
Kidney-Friendly Thanksgiving Recipes
Here are some plant-based options for cooking something at home!
Stuffed Squash
Winter squash may be a great turkey substitute if you do not have a potassium restriction. Butternut, acorn, kabocha, and other winter squash are high in potassium but pack a lot of other great nutrients, including fiber!
Using a squash instead of tofu or turkey also a lower-protein option which may be great for someone with CKD that can have some extra potassium.
Check out this Roasted Stuffed Butternut Squash from the Minimalist Baker for a possible holiday recipe to try out as a turkey alternative.
Roasted Portobello Mushroom
Probably my favorite meat substitute is mushrooms! This is an easy swap for turkey that is lower in protein than the tofu-based subs mentioned. A portobello mushroom (also called portabella mushroom) has approximately 300 milligrams potassium per mushroom cap.
Compared to turkey, this is a higher potassium substitution when compared to turkey. But keep in mind that this is also lower sodium and higher fiber option- both benefits!
To prepare for dinner, preheat the oven to 400 degrees Fahrenheit. Mix together ¼ cup avocado or olive oil, 1 tbsp low-sodium soy sauce or coconut aminos (be sure it's still low in sodium!), 1 tsp liquid smoke, 1 tsp smoked paprika, and 1 minced or smashed garlic clove.
Remove the stem and scrape out the gills on the bottom with a spoon. Wipe mushroom with a clean, damp towel. Place mushrooms in a shallow baking dish and pour marinade over the mushroom. Allow marinating for 15-30 minutes, turning once or twice.
Place marinaded mushrooms on a baking sheet lined with parchment paper. Roast for 10 minutes, flip over and roast for another 10 minutes.
Potassium in Common Thanksgiving Side Dishes
Many of the most common Thanksgiving dishes are very high in potassium. Here are some of the dishes you may need to limit or avoid to have a kidney-friendly Thanksgiving meal.
High potassium dishes
Here's a list of common holiday dishes that are higher in potassium.
Instead, you can swap for other dishes that are just as delicious but lower in potassium! Here are some ideas: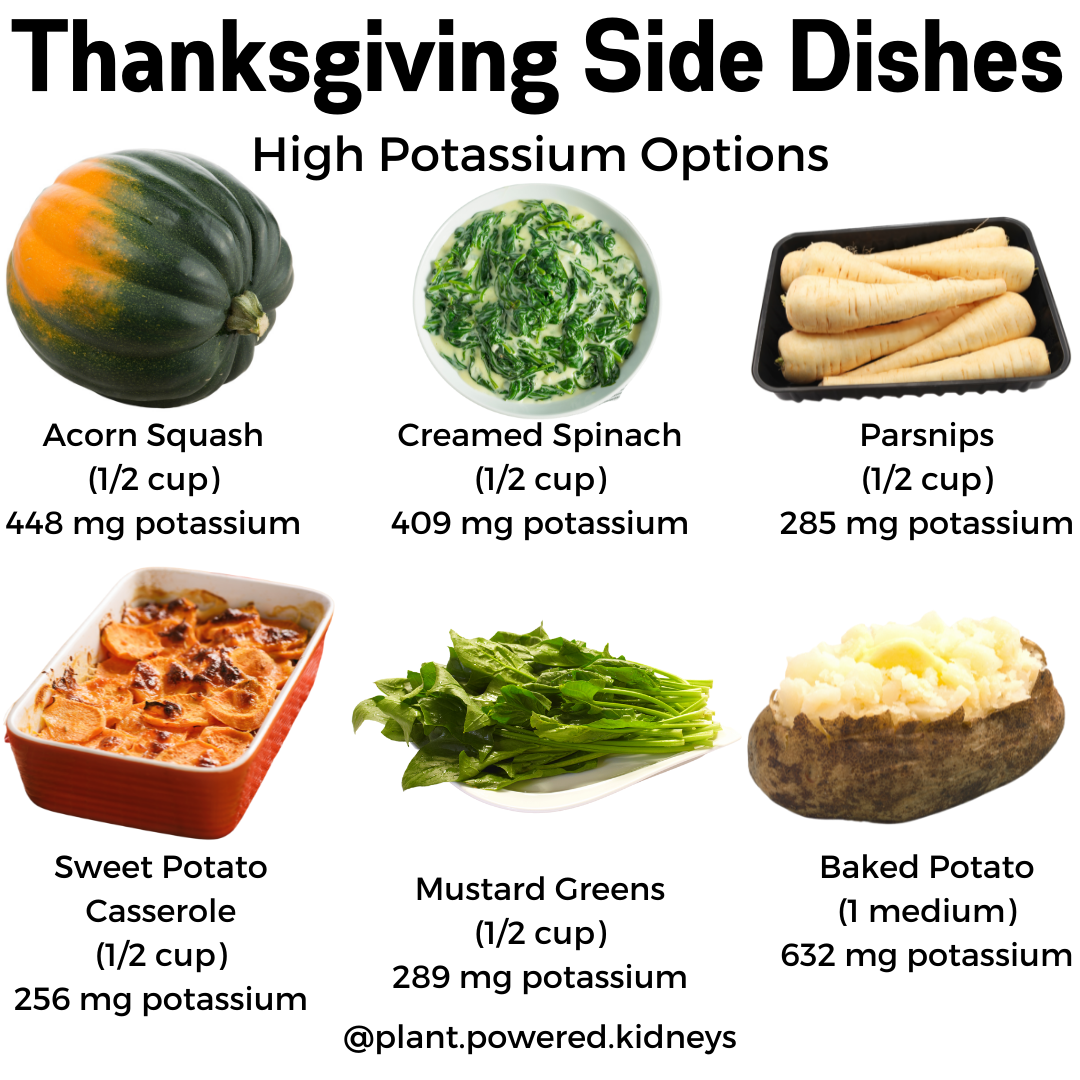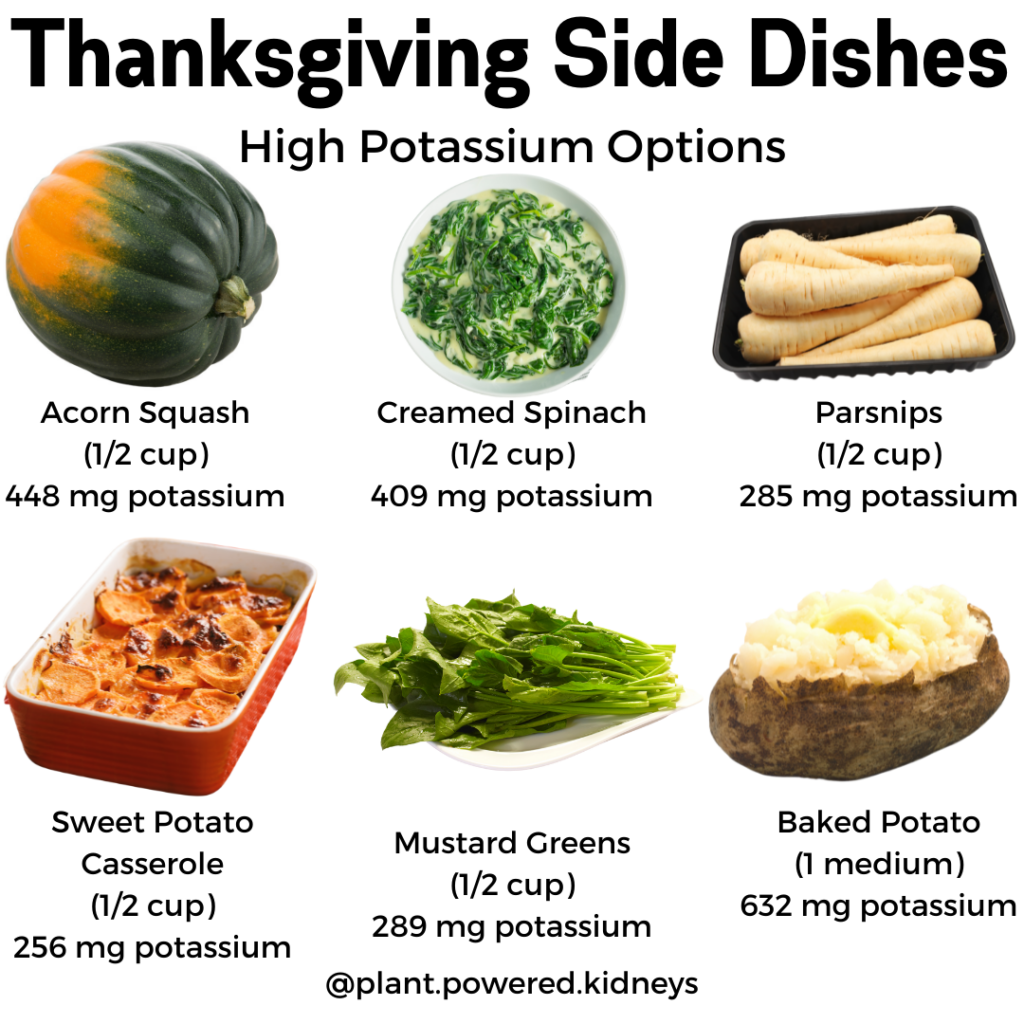 Lower potassium dishes
Here's a list of holiday dishes that are lower in potassium!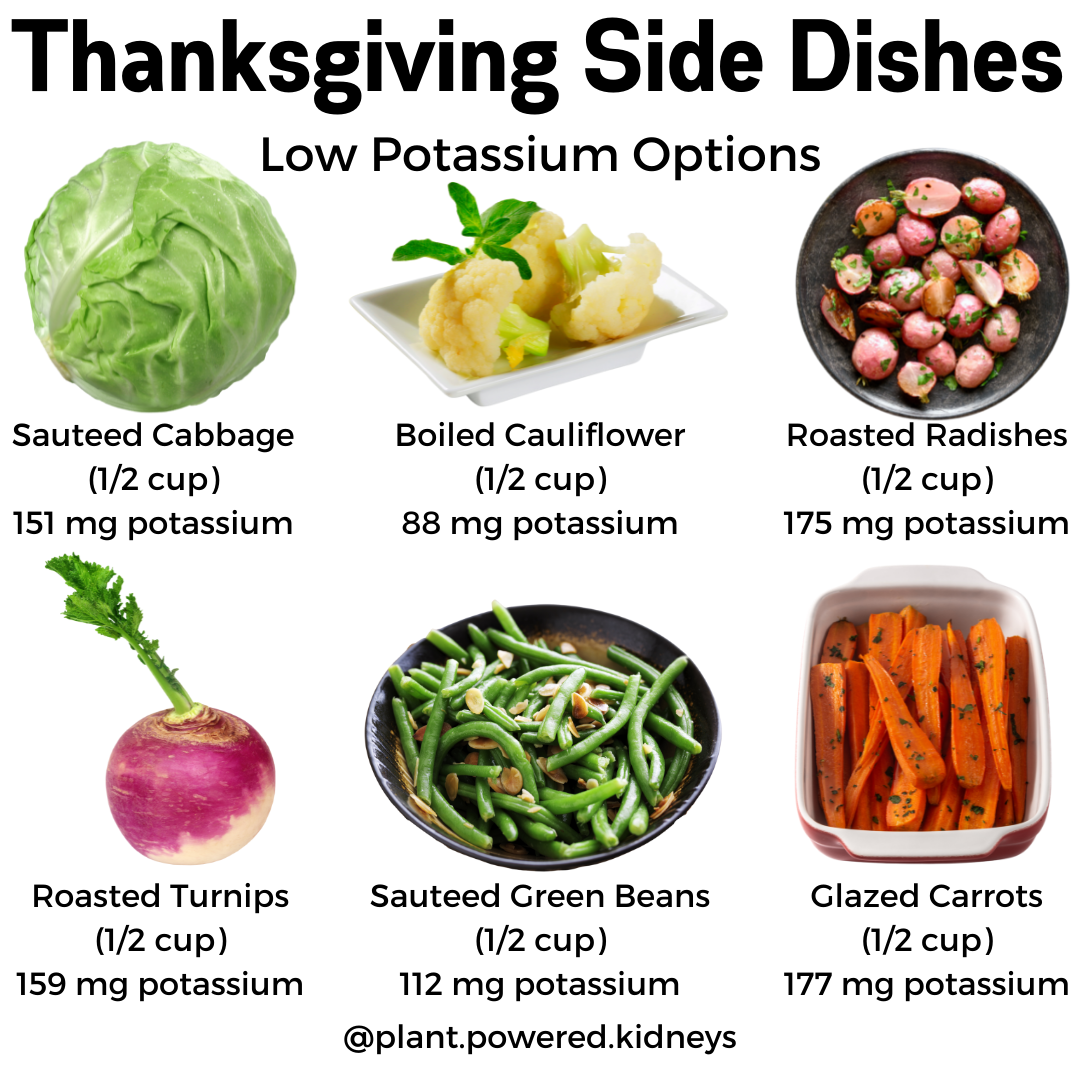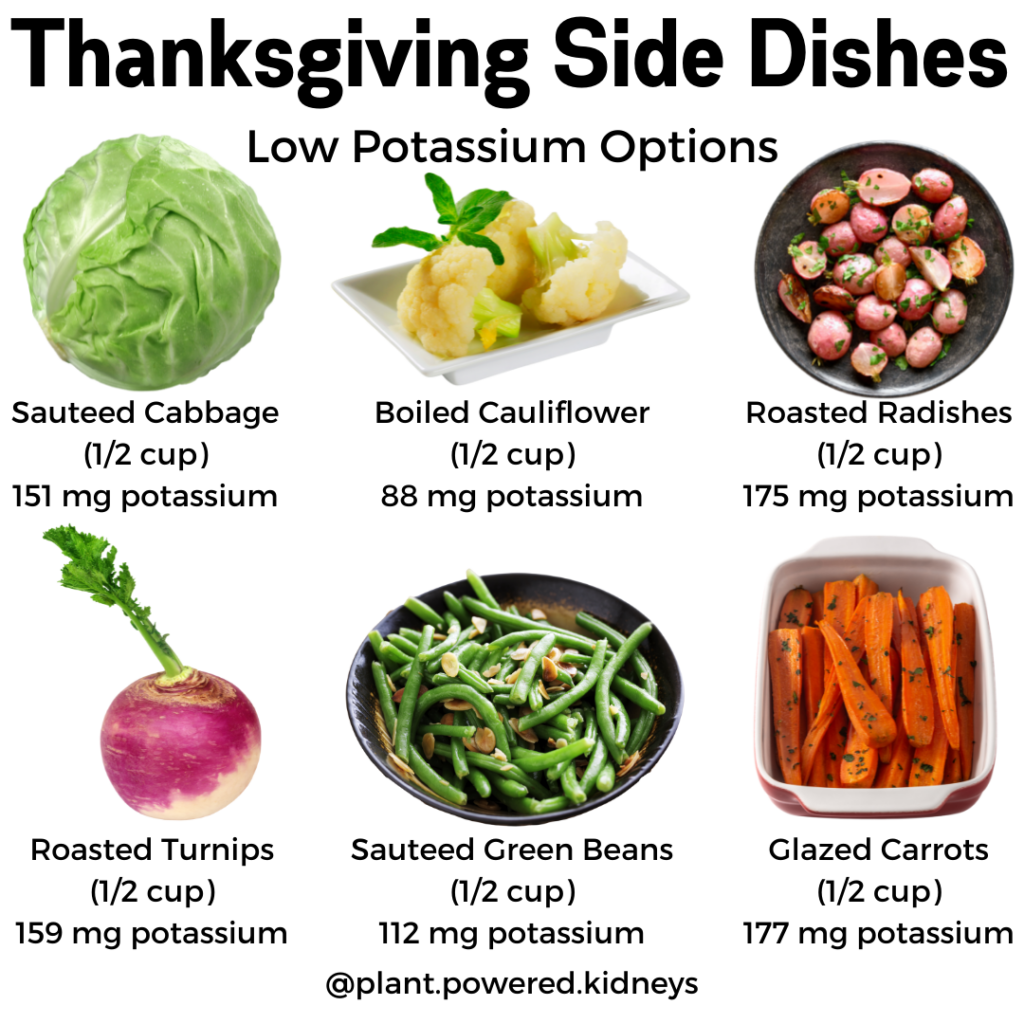 Kidney-Friendly Thanksgiving Pie Options
It can be hard to pass up a dessert at the end of your Thanksgiving meal. But many desserts are loaded with too much sugar, saturated fat, or even potassium.
Potassium in particular can be a concern as some pies are higher than others.
Some kidney-friendly pies include;
cherry pie
apple pie
pecan pie
blueberry pie
Other pies that you may need to be more careful with include;
pumpkin pie
sweet potato pie
banana cream pie
chocolate pie
These pies are higher in potassium.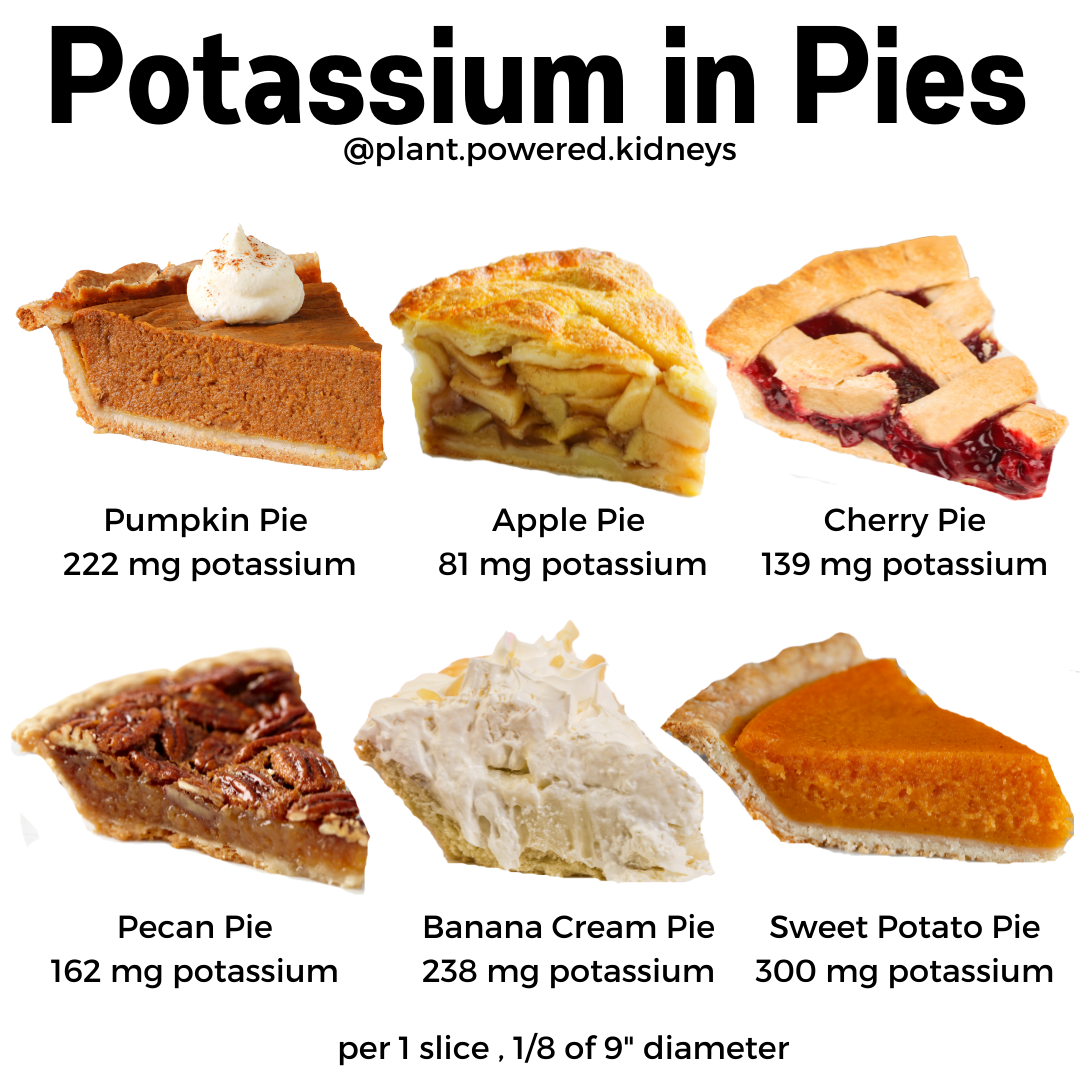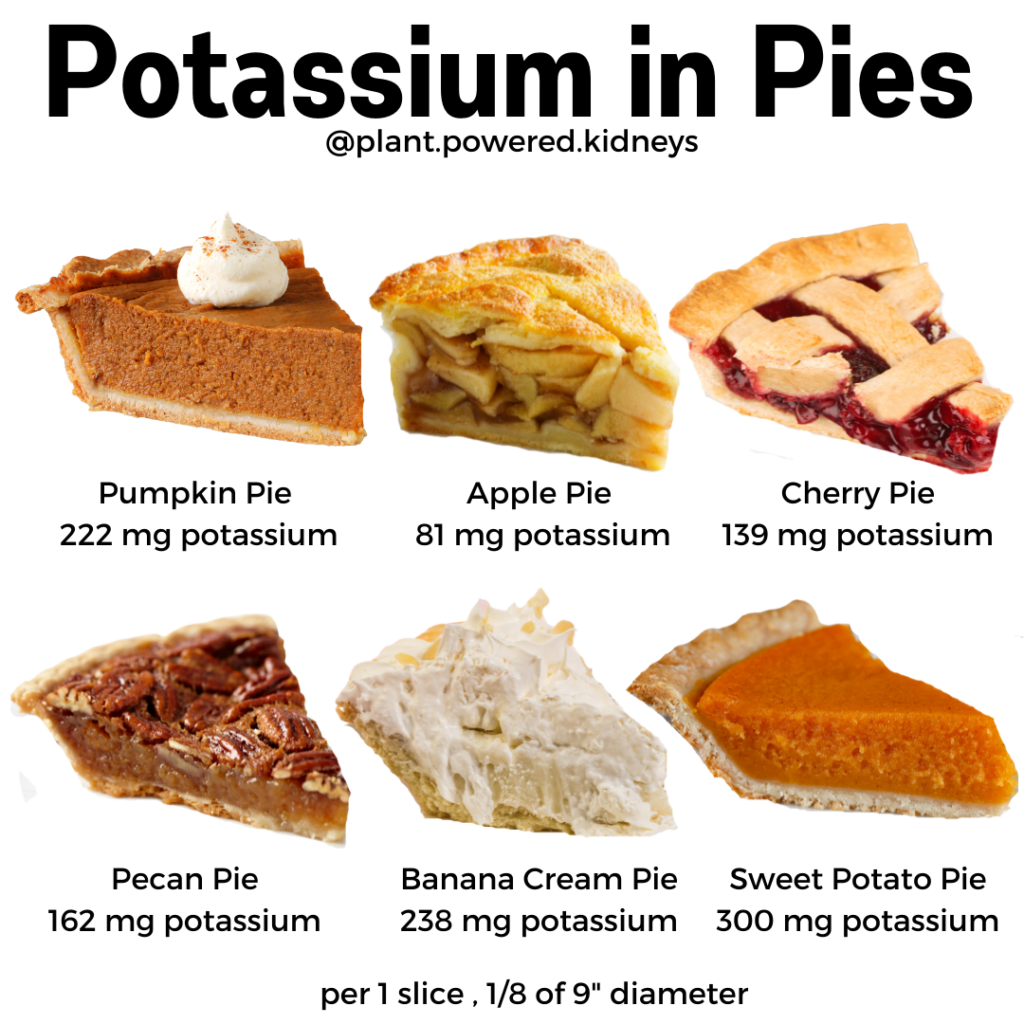 Tips to lower potassium at Thanksgiving
There are ways you can modify recipes to lower the potassium and make them more kidney-friendly!
Double-boil root vegetables
Did you know that double-boiling root vegetables have been shown to lower potassium levels by up to 75%?
If you are going to mash or roast potatoes, try double-boiling them first! To do this, place cubed potatoes (about 1" cubes) into a pot of cold water.
Bring to a boil and boil for 10-15 minutes. Turn off the heat, drain potatoes, and refill the pot with fresh, cold water. Bring to boil again for another 10-15 minutes or until completely cooked. Drain and proceed with your recipe!
Learn more about potassium in potatoes here.
Use more homemade ingredients
Some recipes call for ingredients that are high in sodium due to the pre-made ingredients.
Take the classic green bean casserole. It calls for cream of mushroom soup.
Check out the Kidney RD's mushroom soup recipe as a swap for the typical mushroom soup ingredient in the casserole dish.
Low-sodium Thanksgiving Ideas for Healthy Kidneys
Here are some other suggestions to cut down on sodium for your holiday meal!
Try cutting the recommended salt amount in the recipe by one-third or half when making homemade gravy
For stuffing or dressing, choose the lowest-sodium bread and broth options in your grocery store
Rinse any canned vegetables with water before using
Phosphorus at Thanksgiving
While not everyone needs to worry about phosphorus, many people with kidney disease should pay attention to phosphorus in their foods. Phosphorus can be very harmful if not managed early on.
Read all labels
As mentioned earlier, be sure to check all food labels for any ingredients with added PHOSphates. You can find this information under the nutrition label in the ingredients list. Even if it's at the very bottom of the ingredient list, any added phosphates can be damaging to the kidneys as they are absorbed by 100%.
Take your binders
If you are taking a phosphorus binder prescribed by your doctor, discuss what a higher safe dose could be to cover a larger meal. Binders work like sponges- they can only hold so much phosphorus before they're full!
Be sure to discuss any phosphorus binder concerns with your nephrologist before making any changes. It's important you speak with your kidney specialist about everything related to your kidney health!
Read more here about phosphorus binders.
Summary
Thanksgiving is a holiday that is all about being grateful for everything you have- your family, your friends, and your health! Be grateful for the health you have, even with chronic kidney disease.
Talk with your dietitian or healthcare provider about what you should pay the most attention to during the holidays. It's very possible to have a kidney-friendly Thanksgiving when you get personalized guidance and support from your healthcare team.
If you have been directly advised to limit potassium intake, be sure to choose low-potassium foods or find ways to cut down the potassium of your favorites like mashed potatoes.
By making healthy choices at your holiday meals, you'll likely find yourself enjoying them even more as you feel good about yourself and your choices.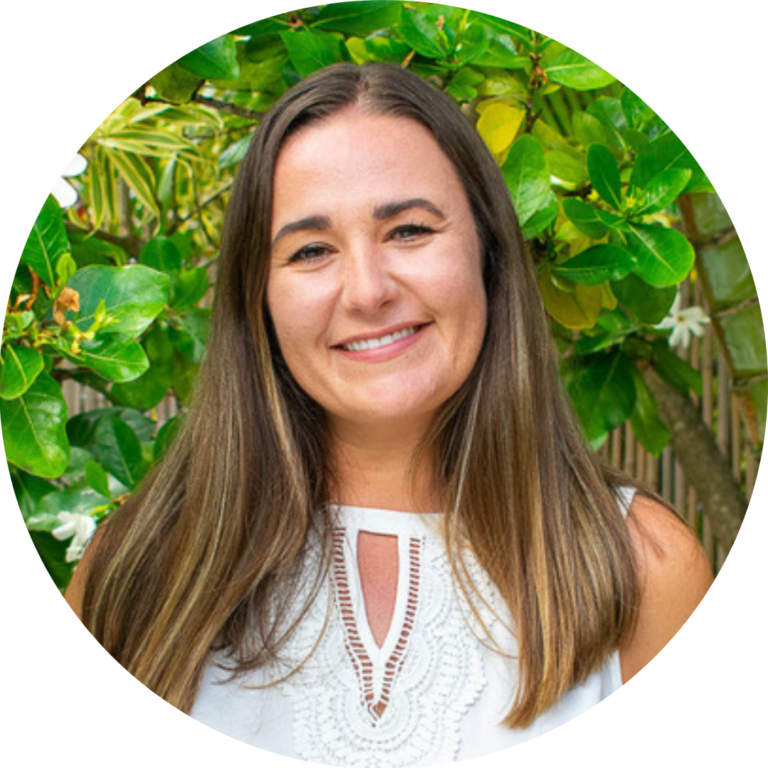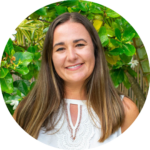 Jen Hernandez is a registered dietitian and board-certified specialist in renal nutrition. She has nearly a decade of experience with kidney disease patients in all stages - from stage 1 through kidney transplant. Jen writes on the blog of Plant-Powered Kidneys to help reach and teach more kidney patients about how they can enjoy more foods in a plant-based diet while protecting kidney health.