There are a ton of resources of recipes for a renal diet online. But how do you know if they're good? Are the recipes safe? Are they for chronic kidney disease or for dialysis?
Before you start combing through pages and pages of different websites, take a look at this roundup of some of the most well-known (and maybe a few that are less known) renal diet recipe websites. All verified by a renal dietitian, yours truly! And be sure to read all the way down.. I've got a surprise for you!
Quick Review: What makes a recipe kidney friendly?
Sodium
Essentially everyone with chronic kidney disease needs to be aware of sodium in their diet. The majority is coming from processed foods, so any home cooking you can do can help in lowering your sodium intake.
General guidelines for sodium in a kidney-friendly diet is to be under 2,300 milligrams sodium per day. Some may benefit from a lower sodium intake between 1,500-2,000 milligrams sodium per day, but that restriction should be discussed with your nephrologist or dietitian.
Potassium
Probably the most confusing nutrient in the renal diet is potassium. In fact, many people feel kidney disease means low potassium automatically. The truth is that a renal diet can include potassium amounts of anywhere from about 2,000 milligrams to an unlimited amount of over 5,000 milligrams.
I hear this all the time that once their primary doctor sees a lower GFR, they say "no more potassium!" The phrase "eat to your labs" pops up every now and then, and this is really where you should focus on your potassium intake. Always check with your own dietitian to be sure you understand your own nutritional needs.
Phosphorus
Another one that gets a lot of attention (or sometimes none at all) is phosphorus. Limiting phosphorus is essential for not only kidney health, but heart and bone health as well. The main priority when it comes to phosphorus is to limit added phosphates found in the ingredient list.
General guidelines for phosphorus in the diet are 800-1,000 milligrams per day. But the source is what matters the most, not the number. Plant-based phosphorus sources are only absorbed by a fraction. Added phosphates are absorbed 90-100%, but the amounts are not listed on most nutrition labels. So check the ingredients list and focus there moreso than the milligrams or percent listed (if it's even there).
Protein
Every stage and condition of kidney disease will have a different recommended amount of protein. Earlier stages of kidney disease may not need to limit at all whereas later stages generally need to be more careful.
Dialysis is another whole beast, where protein is nearly doubled in recommended amounts. In the United States, a dietitian is required to review protein needs of all dialysis patients. And it's also important to know that different dialysis modalities – hemodialysis and peritoneal dialysis- will also have slightly different protein needs.
Every Renal Diet is Different.
Before I dive into these resources, please remember that everyone is different. If you have stage 4 kidney disease and your buddy also has stage 4 kidney disease – both caused by diabetes- you can still be on very different diets.
The list below is not a complete listing of all renal recipe resources. It is a list of some of the most popular or the ones that I personally have used or recommended to clients.
Davita Renal Diet Recipes and Cookbooks
Pros
One of the largest and well-known dialysis clinics, DaVita has worked for many years to make recipe resources for kidney patients. With more than 1,100 individual recipes for a renal diet, there are plenty to choose from. The registered dietitians of DaVita submit and review all recipes here. There are many filtering options to allow you to really sift through to find what fits your diet needs. You can also create a free account to save your faves!
Cons
DaVita is focused on people with end stage kidney disease. For this reason, most of their renal diet recipes are often high in protein- something that I don't encourage for many with late stages of kidney disease.. When doing a search for "low protein" recipes, there were only 4 recipes that came up. When searching for vegetarian, lower protein, CKD non-dialysis, there were more but not as many as the higher protein options.
Final Thoughts
This is a great place from a reputable source when it comes to renal diet recipes. Just keep in mind that if you are not on dialysis, you'll likely end up filtering out a lot of these recipes because they're not the safest option for you. But it doesn't mean you won't find some delicious ideas!
Fresenius Renal Diet Recipes
Pros
Another one of the largest dialysis clinics around, Fresenius is continuing to expand its recipe database. The recipes are categorized by meal times plus desserts, beverages, and snacks. Sign up for cookbooks and you'll get access to 5 cookbooks: Vegetarian & Vegan, Summer, Game Day, Hearty Homestyle, and a Holiday cookbook. All vegan recipes reviewed were low in protein, which helps make them CKD-friendly.
Cons
Like DaVita, the primary customers that Fresenius is serving are those with end stage kidney failure on dialysis. This is a very different diet than chronic kidney disease. Looking into the Vegetarian and Vegan cookbook, there are five vegetarian and four vegan recipes included. The holiday cookbook included 9 recipes, still focused on recipes high in protein for the most part.
Final Thoughts
Although not as robust as DaVita's recipe database, Fresenius is still a great resource for kidney warriors to find recipes for a renal diet. A majority of the recipes are favored towards those on dialysis and because of this, recipes are higher in protein and lower in potassium. Nonetheless, this is one of the most expansive renal diet recipe databases around. You're likely to find plenty of recipes to enjoy safely.
National Kidney Foundation Renal Diet Recipes
Pros
The National Kidney Foundation serves all people with chronic kidney disease. They look to help stages 1-5 and those on dialysis equally, which I find to be very appealing as an unbiased source of information. NKF utilizes dietitians and resources all over to obtain recipes for a renal diet to share online. Searching low-protein and vegan recipes result in 25 recipes! They also have several cookbooks available to download or to purchase. Those on dialysis can order at a discount.
Cons
One of the categories you can choose from is "dialysis and stage 5," which to me are extremely different diets and may be seen as confusing or frustrating for someone with stage 5 kidney disease and not on dialysis. Many of the recipes were listed as appropriate for all stages of kidney disease, which I find could also be misleading. This can be an issue for some recipes that are labeled low-protein but include over 5 ounces of animal protein; definitely not low protein.
Final Thoughts
While the recipes look very tasty, the lack of serving size information and overlapping groups into different diet categories concerns me. It is interesting that a person with CKD stage 5 would be advised to follow the same filter as someone on dialysis.
American Kidney Fund Renal Diet Recipes
Pros
Another great site is the American Kidney Fund. They also serve all stages of chronic kidney disease with plenty of supportive resources. Recipes include highlights of being low, medium, or high in different nutrients. Satellite Dialysis partnered with AKF to create the recipes. However, it isn't clear if registered dietitians created or reviewed the recipes. There are plenty of recipes available and many filtering options are available.
Cons
It would be great if they would like the exact nutritional values rather than stating low, medium, or high in nutrients (a la Cukebook), but they have a lot of recipes included that are still easy to skim through to just look for certain nutrients. When I selected the holiday recipes, I couldn't search in there specifically for low-protein, vegan, etc. Any search nullified the Holiday category I was trying to look into. I found 8 vegan recipes by manually counting through the holiday category.
Final Thoughts
This looks to be a great recipe source for all stages of CKD. Filtering for multiple issues like low protein, low sodium, low potassium still resulted in many pages of recipes to be available. If looking into the recipe collections, just know that you won't be able to filter those without losing the collection itself.
DCI Renal Diet Recipes
Pros
No need to give your email or sign up for anything here! DCI, otherwise known as Dialysis Clinic, Inc., provides a site of free recipes and cookbooks for you to peruse. They have both Thanksgiving and Holiday cookbooks available. They have requirements for how recipes will be included in their cookbooks and is addressed in the introduction of the book. Recipes are created or reviewed by registered dietitians.
Cons
The cookbooks have a great introduction that outlines how each recipe made the cut but fails to address protein at all. The nutrition information in each recipe only includes sodium, potassium, and phosphorus. The protein content is not included in any cookbook recipe I reviewed. This could be a concern for anyone with kidney disease not on dialysis when protein should be monitored.
Final Thoughts
This is a great resource for many recipes, but it is mostly for those on dialysis that can eat more animal proteins due to the higher protein needs of dialysis. I love the variety of recipes, but this is not a resource that would be a go-to for my early stage kidney disease clients.
Cukebook Renal Diet Recipes
Pros
A recipe and cooking site created by a kidney warrior and chef?! Cukebook is a nice site that features many recipes focused on potassium, protein, phosphorus, and sodium. The filtering and easy viewing of the recipes makes this one a breeze to review the recipes and get an idea of what you can start cooking up.
Cons
As mentioned, not everything here is free. Sign up for a free subscriber account or pay $5/month to support the website. There doesn't appear to be any review by a registered dietitian. Nutrition information is obtained from the USDA food and nutrient database.
Final Thoughts
Supporting a small business like Cukebook is just a wonderful way to get renal recipes. This is another resource that is unbiased in who they help regarding different stages of chronic kidney disease but also does not have the health education/nutrition background. He is a chef though, and it shows!
Don't forget about me for recipes for a renal diet!
Instagram
If you're a social media fan for resources, check me out on Instagram @plant.powered.kidneys! I share content about specific ingredients, spices, herbs, and provide free recipes from time to time.
Facebook Group
Our Plant-Powered Kidneys Facebook group is growing stronger every weekI highly encourage you to join us! So many plant-based kidney warriors just like you are in the group, sharing their recipes, foods they enjoy, and best of all, supporting one another. Join us to see how others are keeping their kidneys healthy and safe with their diet changes and support from the group.
You can find the link to join here – be sure you answer all the questions to get in! (I work hard to keep the bots out and members safe is one of my top priorities.)
Plant-Powered Kidneys Course
Did you know that I have a 6-week online course that also includes 6 weeks of plant-based and kidney-friendly recipes? Plant-Powered Kidneys has helped hundreds of kidney warriors learn the fundamentals of renal nutrition. Going through the course helps arm you with the information and right questions to take to your nephrologist or dietitian to make the most of your kidney health.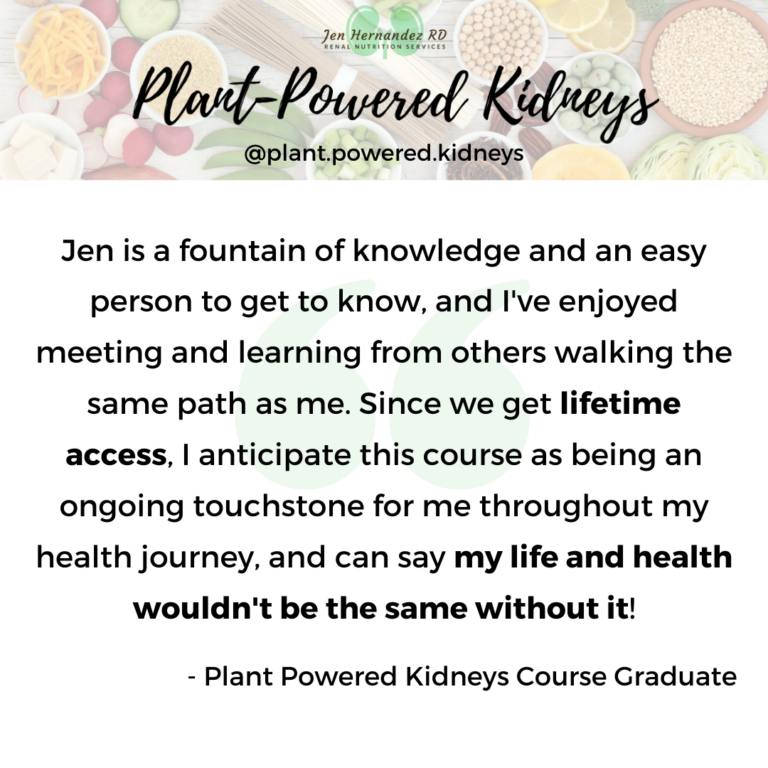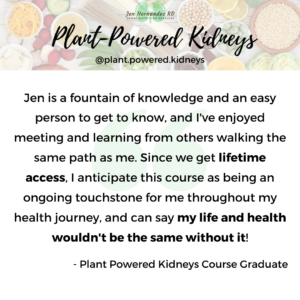 Private Clients
My private clients get access to resources like these plus a customized nutrition database with a nutrition prescription created by myself by the end of our first session together. They can see exactly how much protein, potassium, phosphorus, sodium, and other nutrients they need for their kidneys.
Free Renal Diet PDF for the Holidays
Thank you, my reader and kidney warrior, for taking the time to read this post. For that, I am happy to give you a free gift!
Please feel free to download this free Holiday Renal Diet download. You can get five recipes right here, right now, with nutrition information included! Make them and tag me on Instagram or share them in our Facebook group!
The Bottom Line
There are plenty of places online for you to find recipes for a renal diet on Thanksgiving or throughout the holidays. The most important thing to help you sift through it all is to understand the priorities for your kidney health.
Reviewing the recipe resources noted above can give you ideas of where to start, and you may be able to tweak the recipe to make it better for your needs!
The holidays do not have to be a stressful time to follow a renal diet. The most important thing to do is understand your kidney health needs and goals. And if you need help with that, let me know! 🙂