If you have a fluid restriction, you may be familiar with the struggle that comes with controlling your fluid intake during the hot summer months. Here are ten fluid restriction tips to help control blood pressure, make dialysis easier, and give your heart a break.
(Pssst! These ideas could be excellent gifts for people who are having trouble with their fluid restriction!)
This page contains affiliate links to products that I recommend, at no cost to you. I only recommend products that I feel are truly valuable and helpful. Thank you for your support and happy shopping!
Why is a Fluid Restriction Important?
Fluid restrictions are important to prevent further damage to the kidneys and other organs. Your heart especially will benefit from safe fluid intakes as it has to pump more of the fluids throughout your body.
Too much fluid over long periods of time can lead to a very tired heart, potentially causing congestive heart failure.
Read more about fluid restriction in kidney disease here.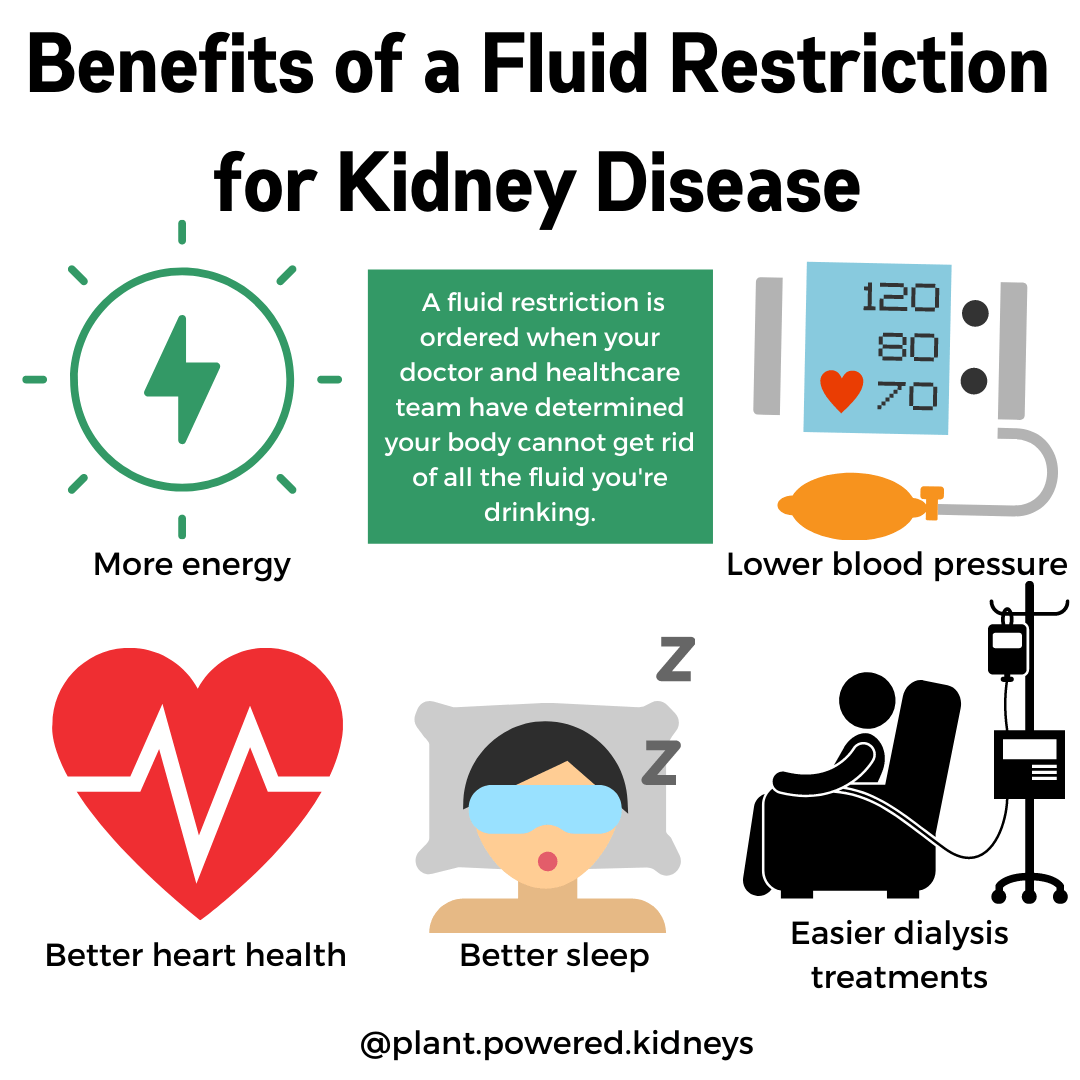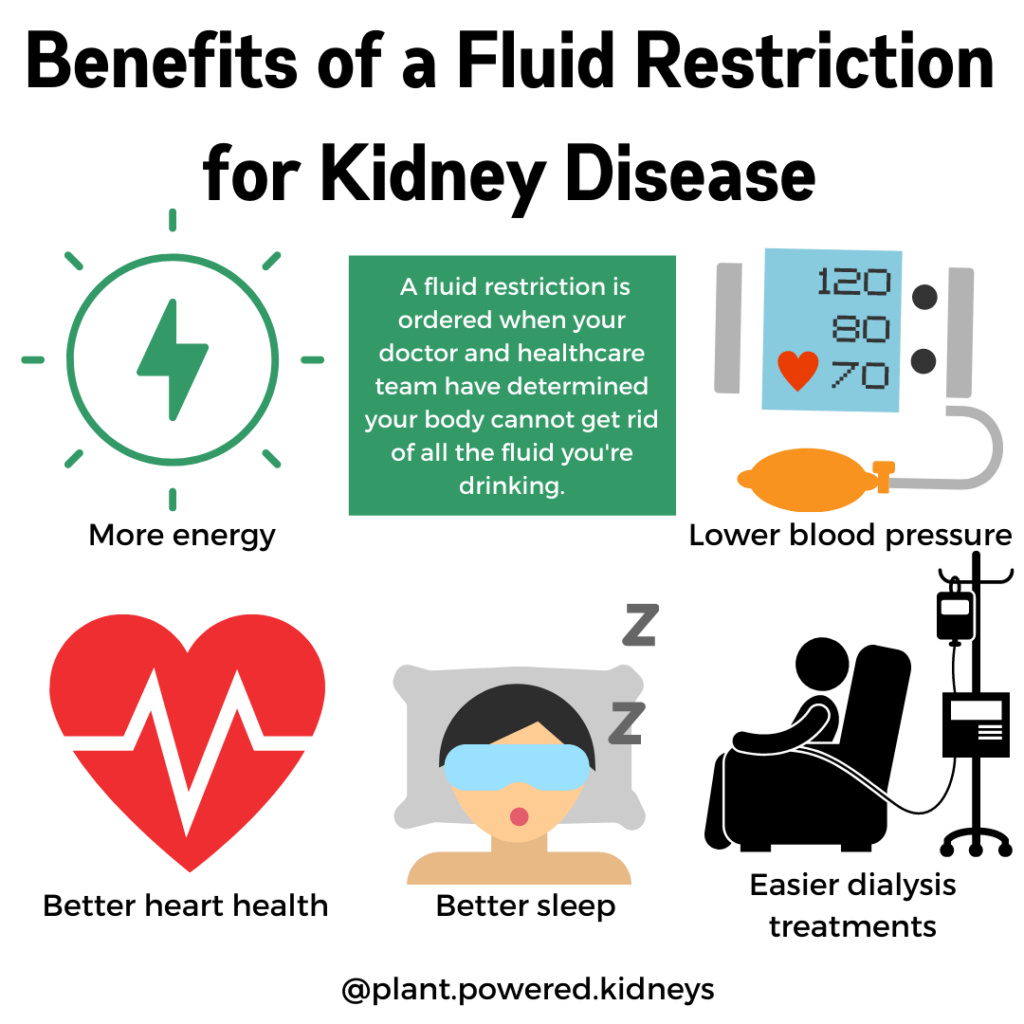 While a fluid restriction may be advised in later stages of kidney disease, it is most commonly prescribed when a person needs dialysis.
This is when there is less than 15% of kidney function remaining and renal replacement therapy is used to manage what the kidneys can no longer do on their own.
It's important to know that following a fluid restriction should be under the direction and care of your healthcare team. Be sure to discuss your own fluid intake goals with your kidney specialist or dietitian.
The Best Fluid Restriction Tips
When it comes to figuring out what are the best tips to sticking to a fluid restriction, it should come down to resolving why you're drinking too much water.
Some of the common problems that come up with drinking too much include:
Too much salt in the diet
Dry mouth (a side effect of many medications)
Drinking more water to take medications
Poor blood sugar control
Eating a lot of spicy foods
More intense exercise
Warmer weather / being outside more
Diarrhea or vomiting can also result in losing a lot of fluids. If you are experiencing either of these, it is important to consult your doctor as soon as possible.
So to determine the best fluid restriction tips for you, think about what is causing you to drink more water. From there you can look at the best solutions to help you keep your fluid restriction.
Freeze Your Water Bottle
Hopefully, you can help the environment and save money by choosing a reusable water bottle like this easy tote-able one.
Fill it halfway, place it in the freezer overnight (leave the cap off to allow expansion without risk of bursting/cracking). In the morning, fill it to the top with fresh, cold water.
Since the water will expand when frozen, it will decrease the amount you drink. In fact, water will double in size when you freeze it.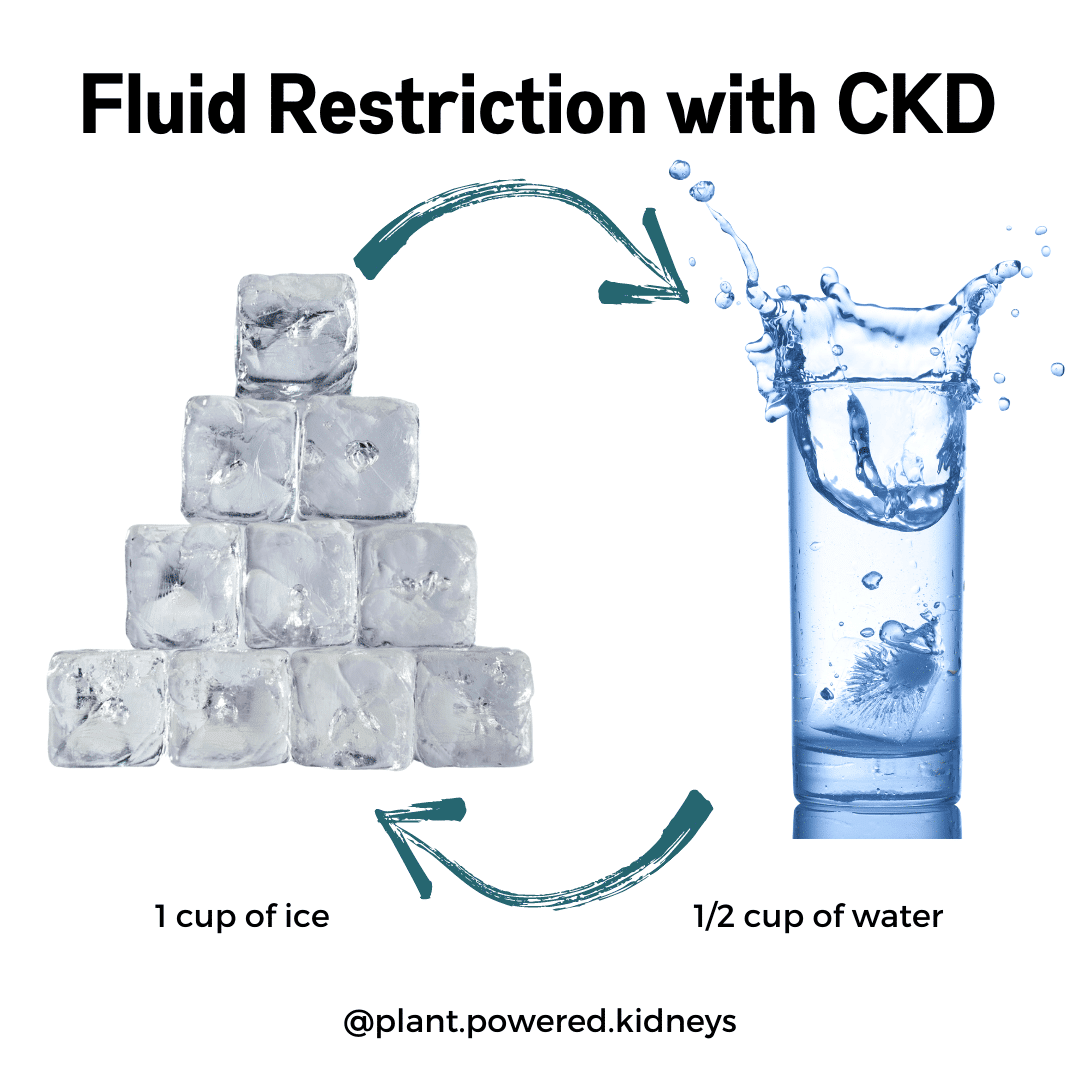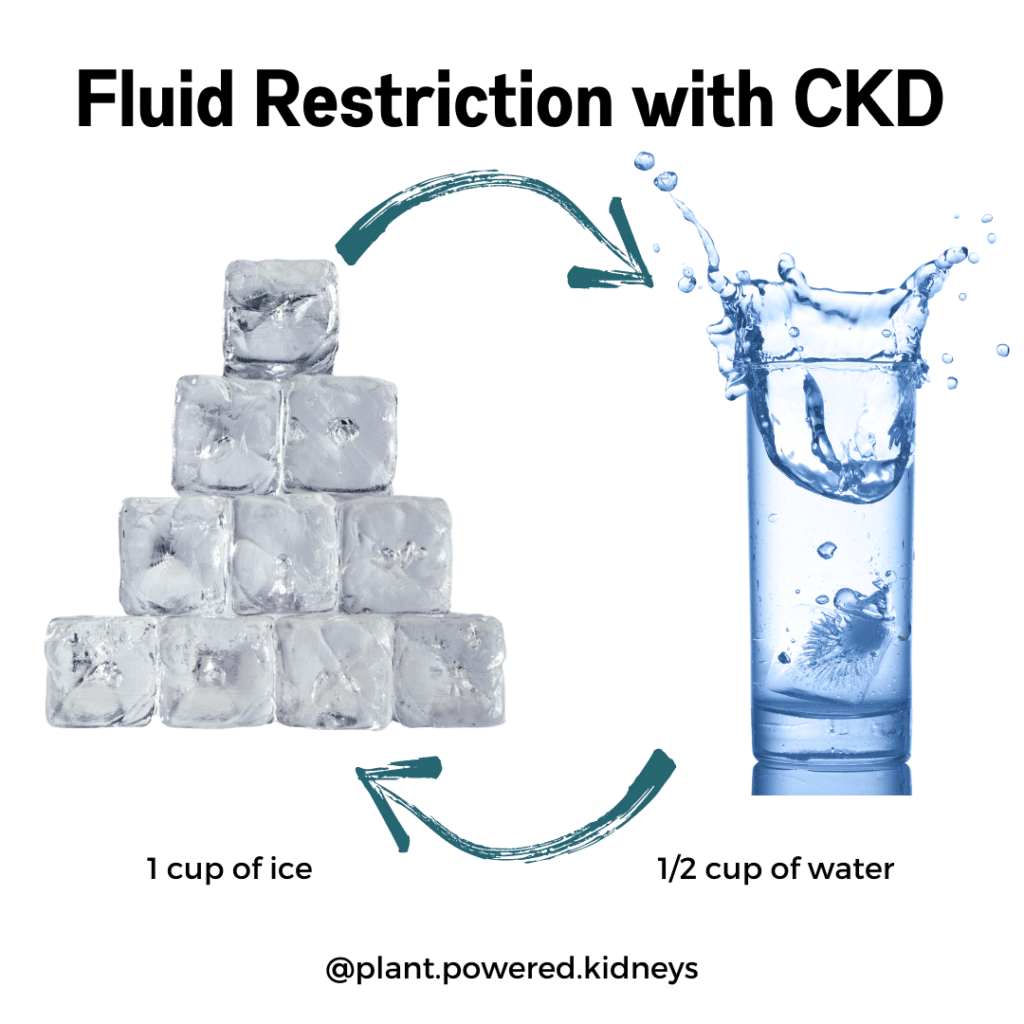 You can make your own experiment to see how much it reduces your fluid intake. Measure the amount of water you freeze by using a measuring cup. Then, using a measuring cup again the next morning when you top it off.
Use Frozen Fruits Instead Of Ice Cubes
Purchase a bag of frozen strawberries, blueberries, pineapple – all low potassium fruits!
Swap them in place of half the ice cubes you would normally add. Enjoy refreshing chilled and flavored water.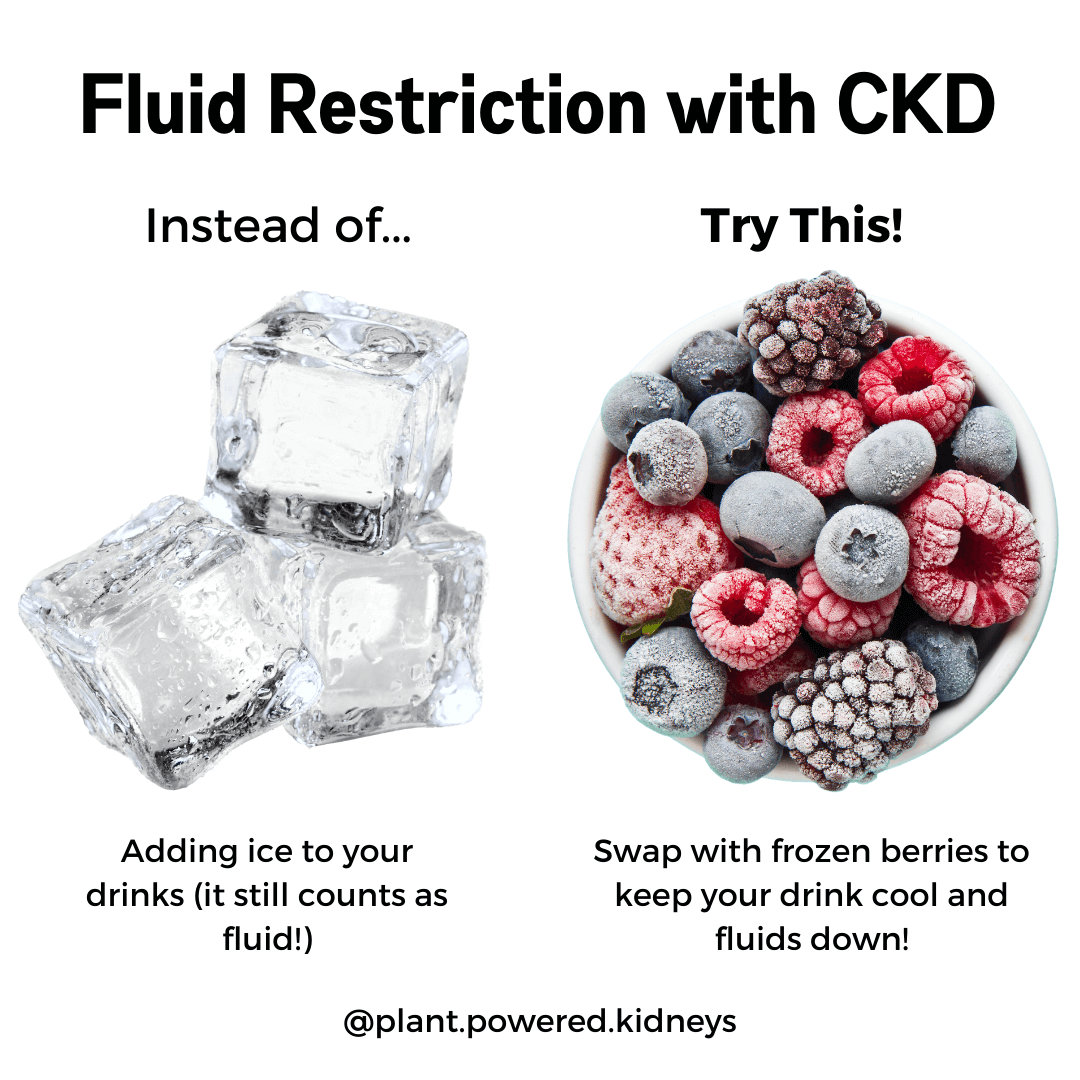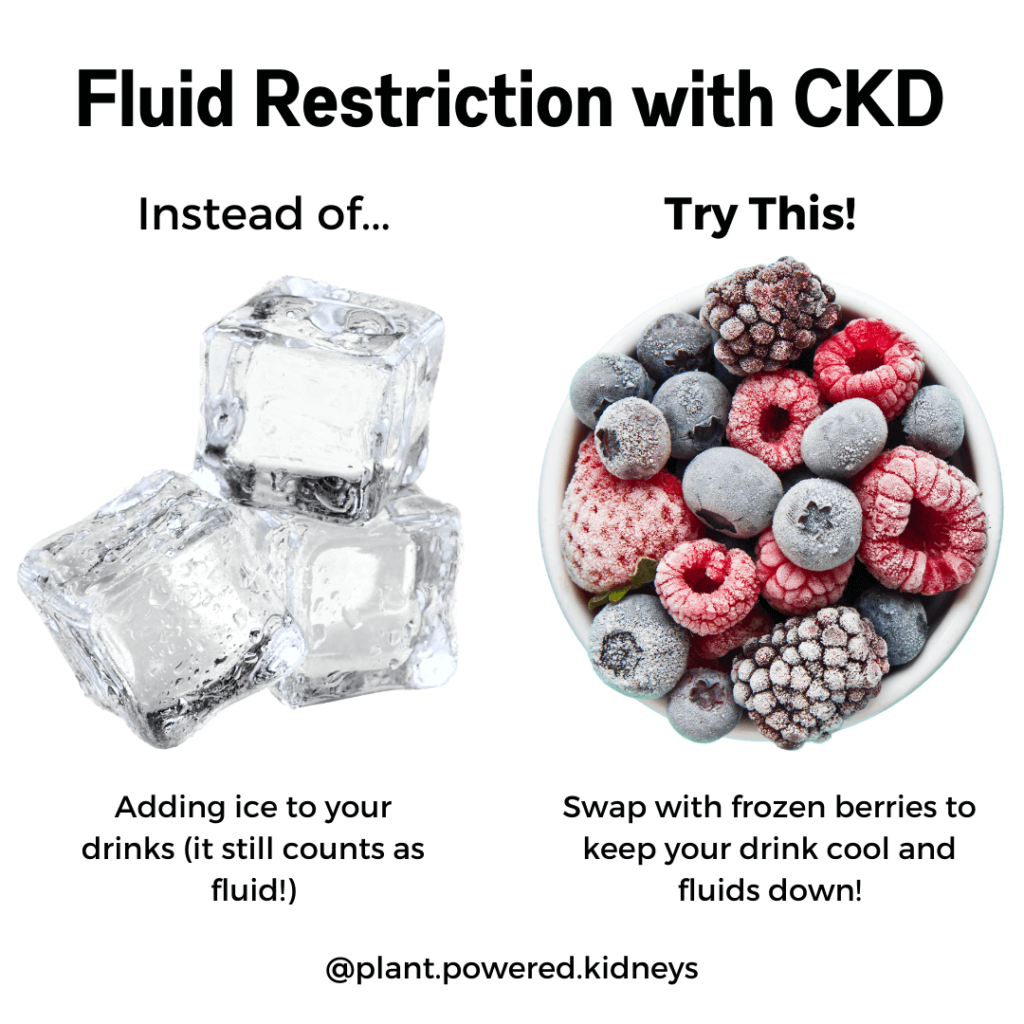 Bonus tip: In addition to the frozen fruit, try adding in some herbs to pair along with your frozen fruits for an extra burst of flavor! (See below for ideas!)
Use Reusable Ice Cubes
This cuts back on the fluids you drink even more because these ice cubes don't add extra fluids to what you're already drinking. In fact, fill your large-mouth bottle with these cute colored cubes and then add the water to really save on fluids.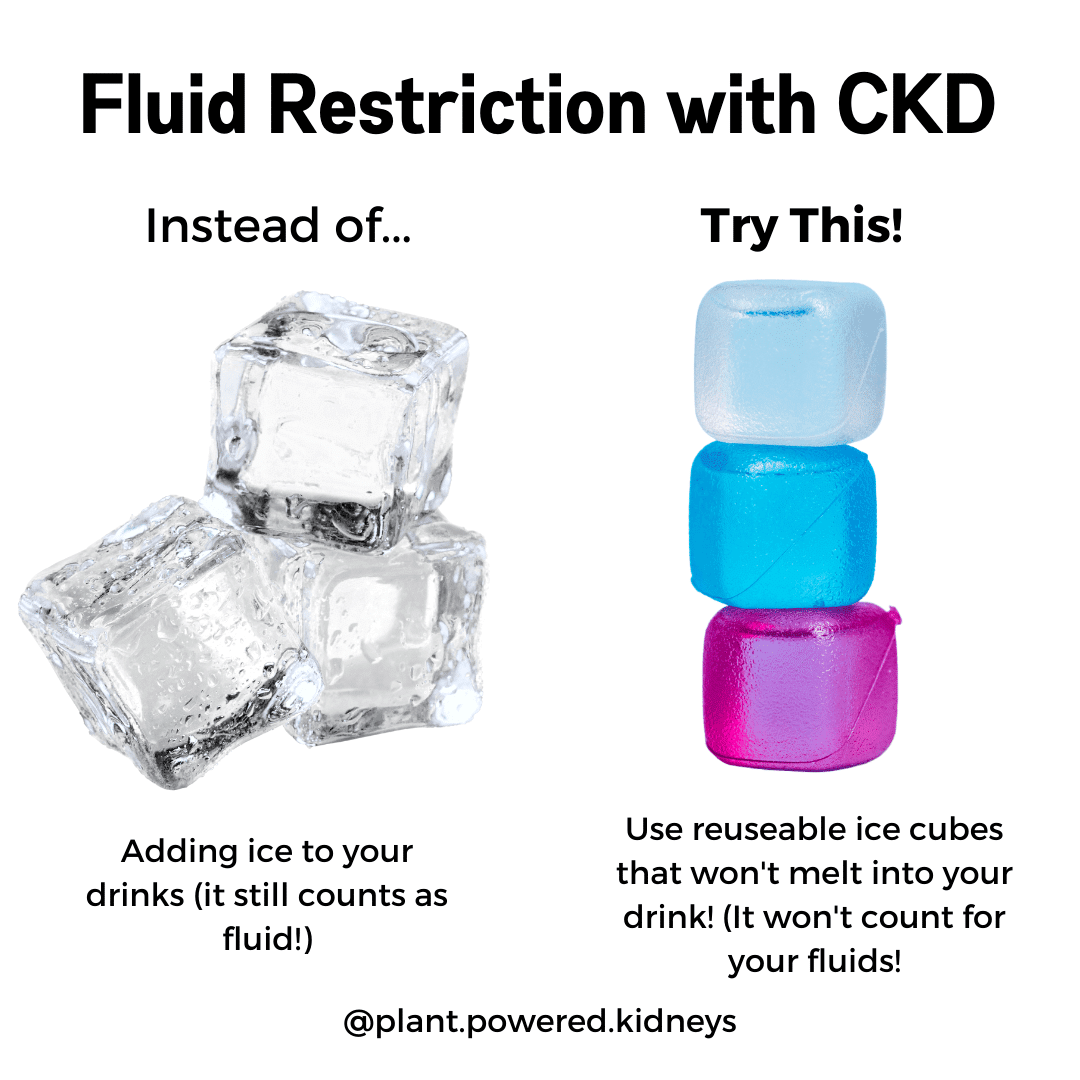 Or slide these genius water bottle sticks to your typical narrow-mouth bottles to keep your drinks cold and refreshing.
Hosting a party? I am IN LOVE with these fruit-shaped cubes added to sparkling flavored water!
Try A Chill Towel
These towels have over 5,000 5-star reviews! After being wet, they can cool up to 30 degrees and come in a variety of colors so you don't have to worry about getting yours mixed up with someone else!
Read the reviews – people are astounded at how much of a difference these can make when you need to be under the hot sun!
Avoid The Midday Sun (If Possible!)
A fluid restriction doesn't just mean cutting back on fluids – it can mean cutting back on situations that will make you more thirsty.
The peak hours are from 12-3 pm. If you're like most of us and need to get outside, try to avoid being in the mid-afternoon heat.
Personally, I make sure I get my daily walk in either first thing in the morning or in the evening when there's little to no direct sun. That change in temperature can make all the difference in sticking to exercise goals!
Stop Working Over A Hot Stove – Take It Outside!
Please tell me you are grilling some delicious meals during the summer! Keep temperature lower in your house by keeping the stove and oven off for as much as possible.
My husband and I had this grill for over 8 years, and it's been a lifesaver with both the charcoal and gas grilling options!
Weekdays usually call for quick gas grilling, and of course the summer weekends are all about that charcoal time during sunset hours.
If you don't want to cook outside, try a slow cooker (this is the one I use) or Instant Pot to make a great meal without cranking up the heat inside.
Finding ways to make cooking easier and keeping fluids under control makes this for one of my favorite fluid restriction tips!
Place A Fan Nearby
Sounds strange but these fan necklaces can really work wonders, especially using any sweat from your face and neck (gross, but true)!
A tower fan can also help with circulating some air and cooling a room down quickly.
Use Mint In Your Afternoon Thirst-Quencher
Mint is a refreshing herb that can be picked up at the grocery store or easily grown in your kitchen window or backyard.
Simply tear off some leaves, give them a "clap" between your hands to release the oils, and stir into water (with cucumbers, pineapple, or lemon) or unsweetened iced tea!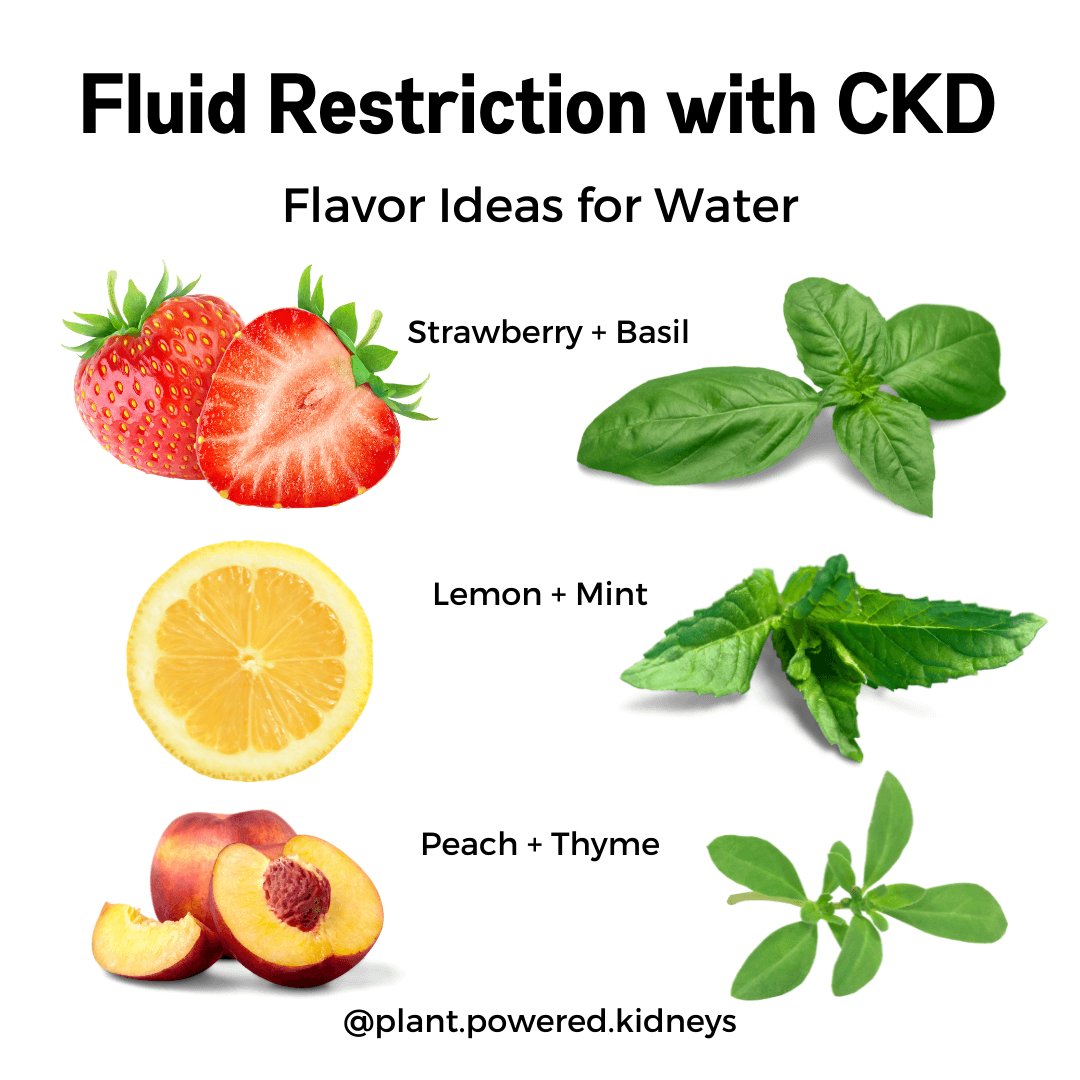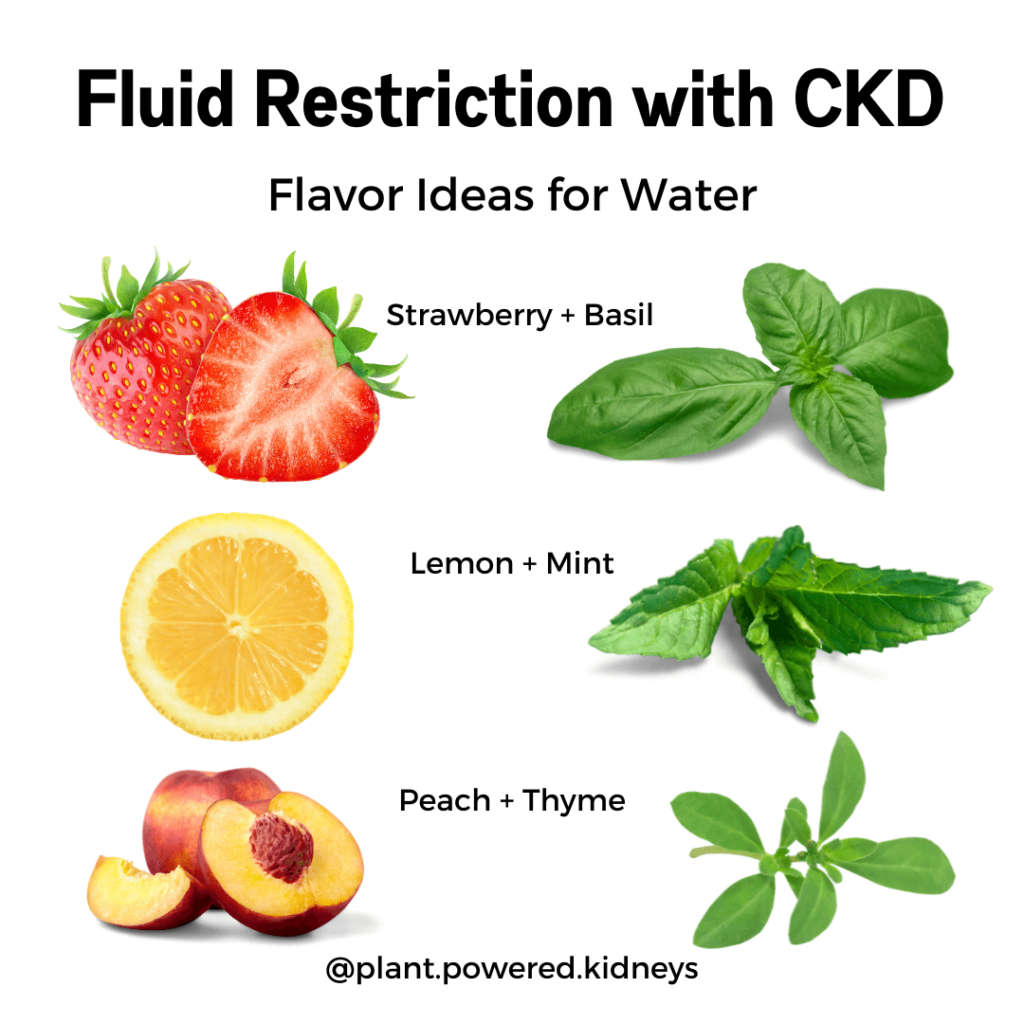 I love my Aerogarden to keep herbs – including mint- growing all year long.
Install A Misting System On Your Patio
Using a misting system was a LIFE-SAVER in our Texas back patio! Simple to connect and apply to a patio, umbrella, or whatever your outdoor hangout place is.
Don't want to install anything? Try this misting fan instead, with almost 5/5 stars and over 3,000 customer reviews!
Try Sour Grapes
These sour grapes are a great way to combat not only heat, but dry mouth. I encourage you to make these with the kids and grandkids as it's a fun and easy recipe!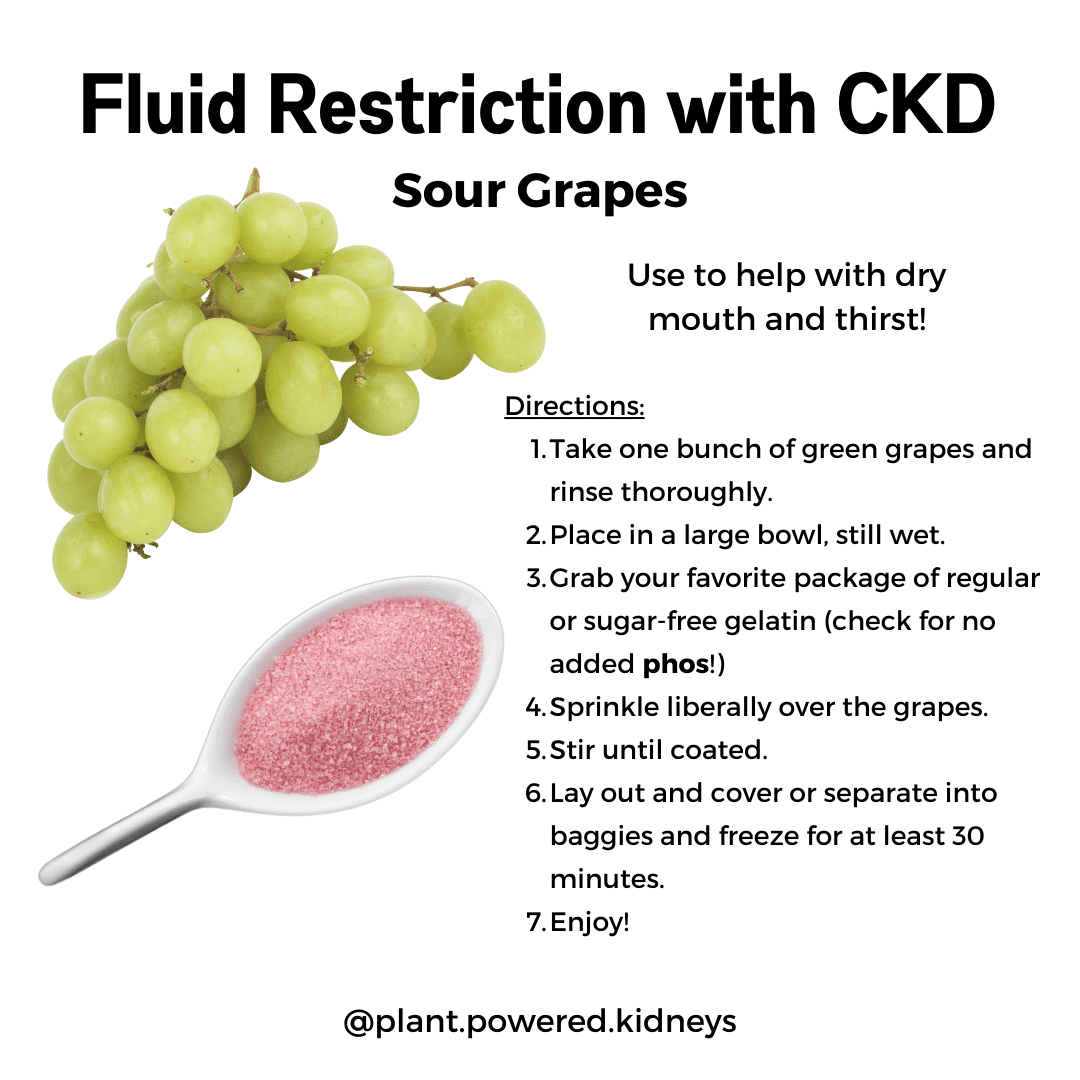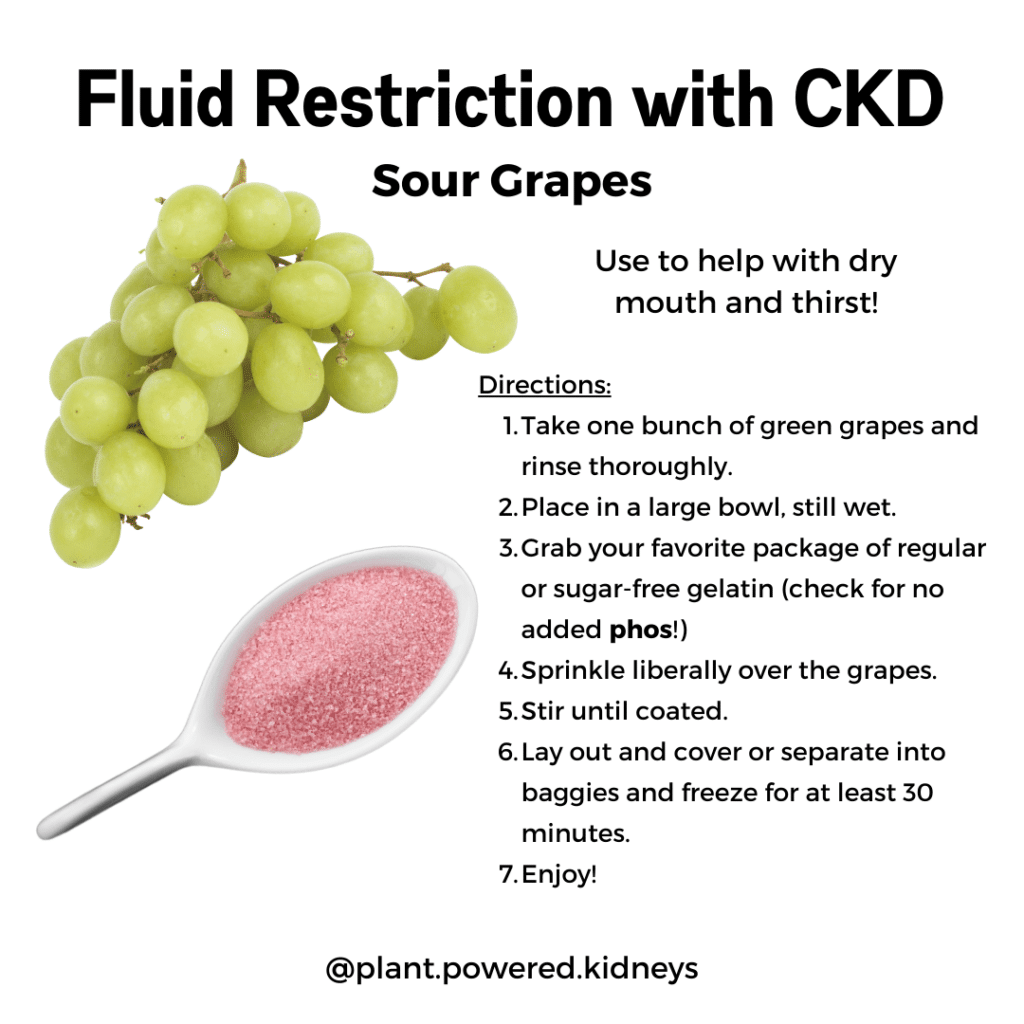 Thoroughly rinse a bunch of green grapes (or red, but green is more tart). Place in a large bowl.
Using your favorite package of regular or sugar-free Jell-o or these phos-free, Starburst Gelatin and sprinkle liberally over the grapes while still wet. (Whichever gelatin you choose, be sure it has no phosphorus additives!)
Stir until coated well. Cover or separate into 1 cup servings in sandwich baggies and place in freezer. Let freeze for at least 30 minutes and enjoy the flavor of chilled fruit-cubes!
A package of gelatin will cover about 3 pounds of grapes.
Share your Fluid Restriction Tips for Chronic Kidney Disease
I hope these fluid restriction tips are new and helpful to you! If you have another idea of how to control fluids to keep your heart and kidneys happy, share it below!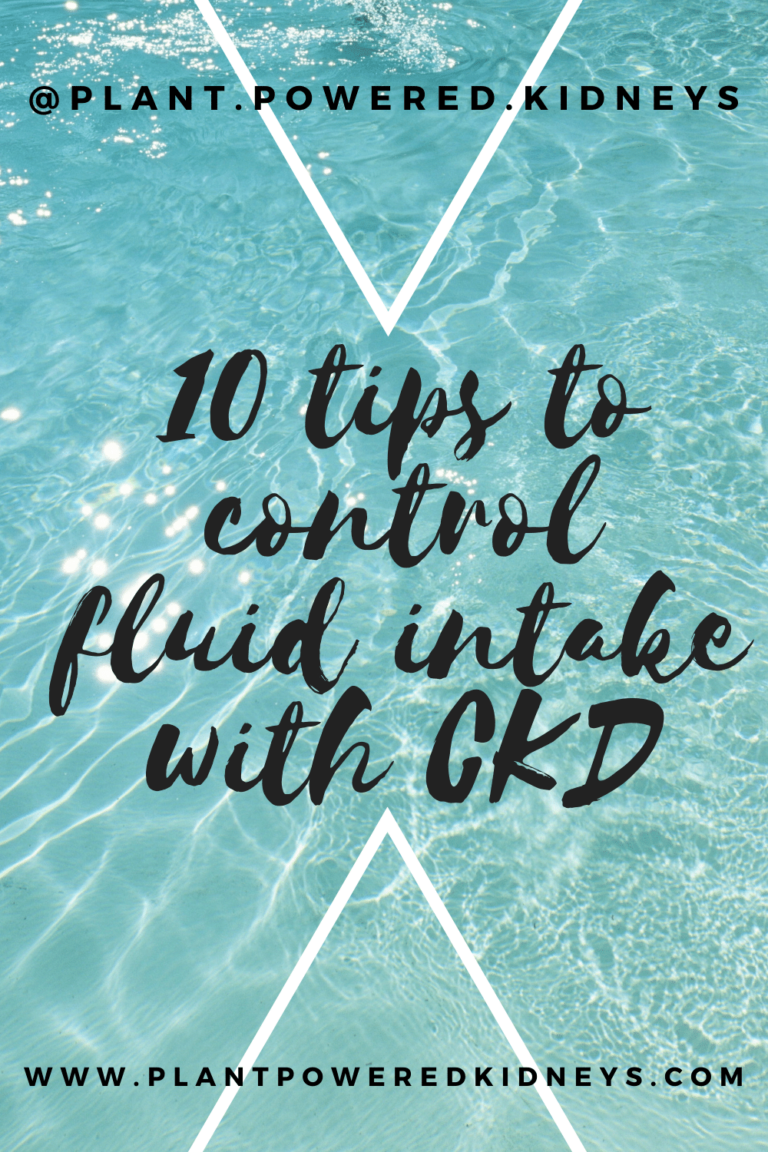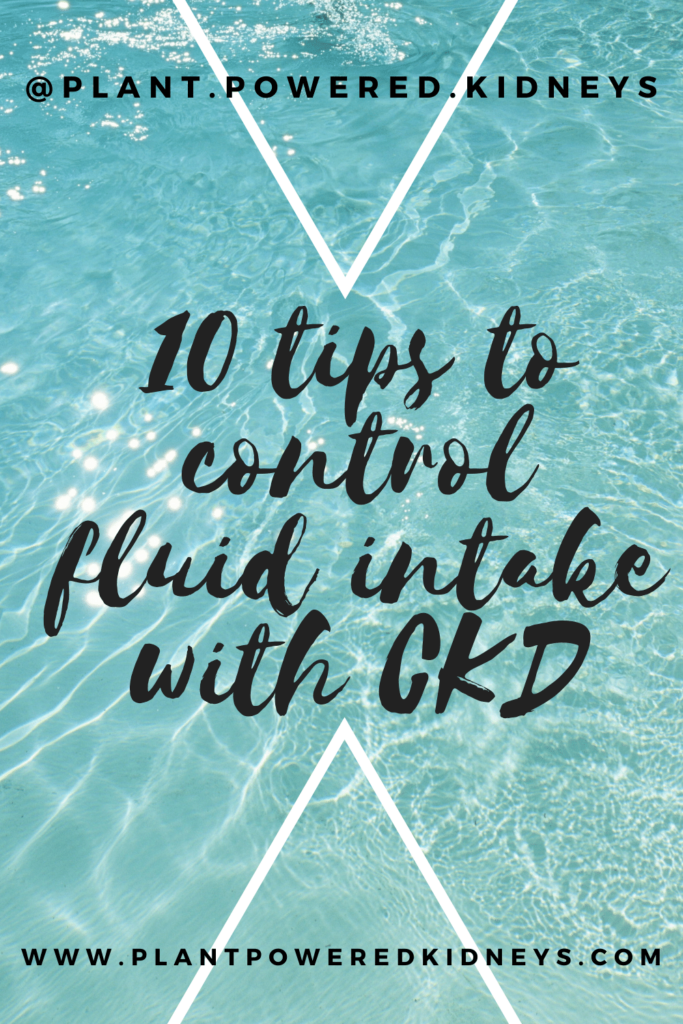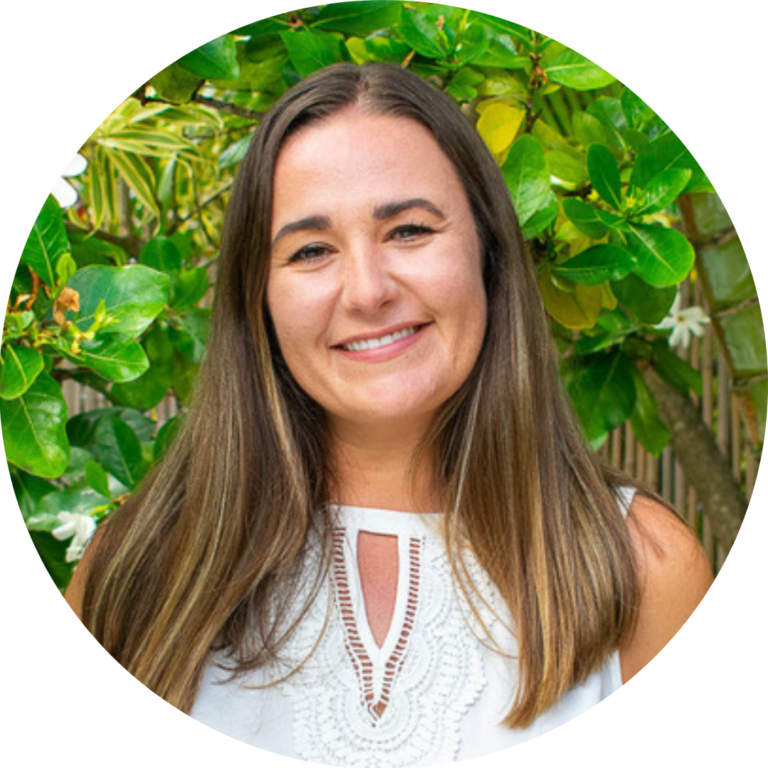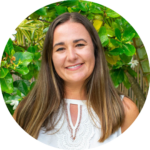 Jen Hernandez is a registered dietitian and board-certified specialist in renal nutrition. She has nearly a decade of experience with kidney disease patients in all stages - from stage 1 through kidney transplant. Jen writes on the blog of Plant-Powered Kidneys to help reach and teach more kidney patients about how they can enjoy more foods in a plant-based diet while protecting kidney health.