This guide is for you if you have been referred to a kidney specialist. It's been created by a renal dietitian after working with hundreds of conversations with people with chronic kidney disease. Read on to learn important questions to ask and how to prepare for a great appointment with your kidney specialist.
A referral to a kidney specialist is one of the steps in taking care of your kidney disease. Seeing a new specialist about a new health condition can be very overwhelming and scary.
And if you've already been seeing your kidney specialist, it may not be overwhelming. But you might feel that your appointments aren't going the way you'd like them to.
With every appointment, you'll become more comfortable. I hope that these ideas and questions will help you feel more confident about working with your kidney specialist.
What Is A Kidney Specialist?
A kidney specialist is a medical doctor specializing in kidney health. Other names include kidney doctor or nephrologist.
After going through the standard process of becoming a doctor, they then need to go through additional years of education and training to become a doctor that specializes in kidney disease.
A kidney specialist will see both patients with chronic kidney disease as well as those with end-stage kidney disease on dialysis. A nephrologist will be the medical director of dialysis clinics.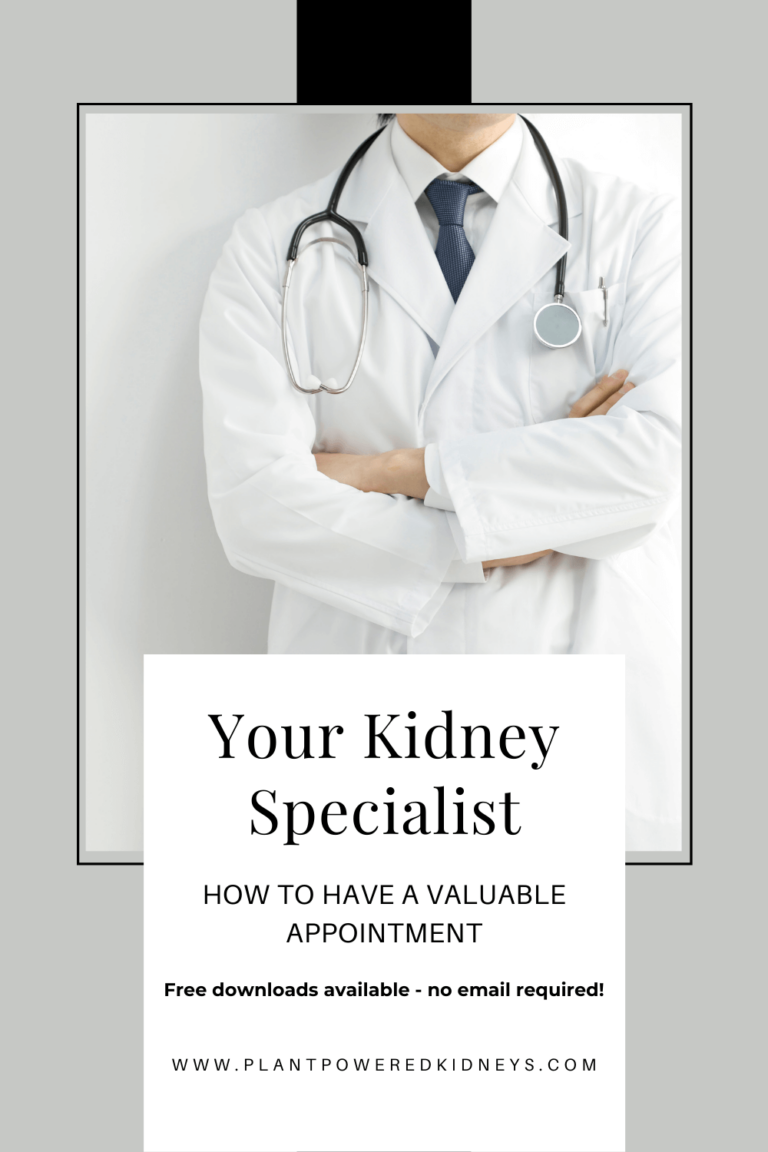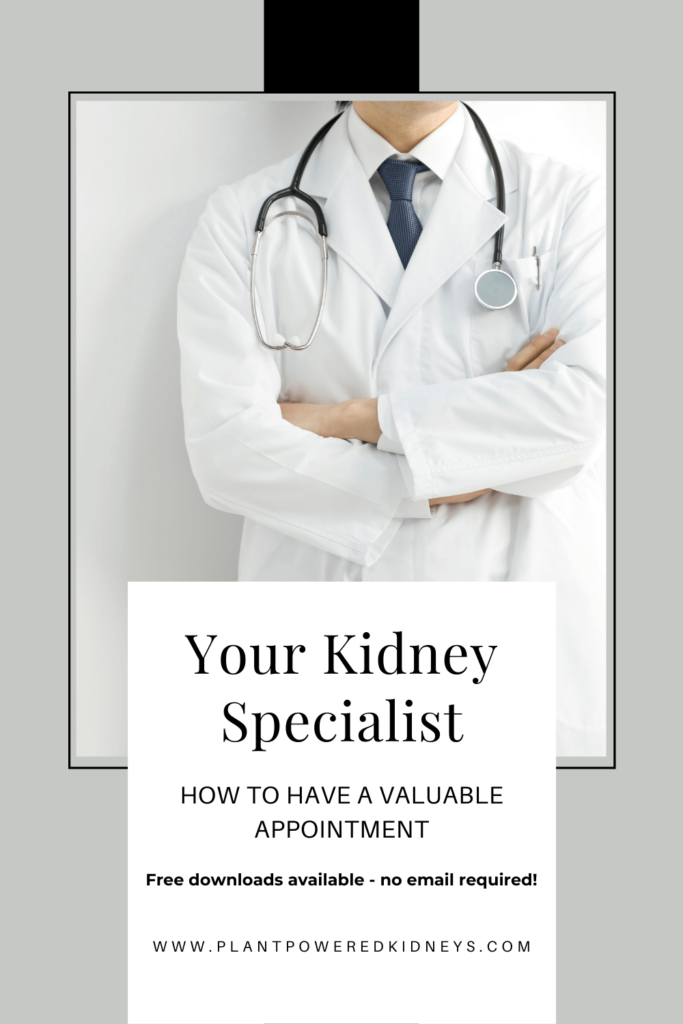 When Should I See A Kidney Specialist?
If your primary doctor sees lab changes regarding your kidney health, they will likely confirm that there is an issue first and then refer you to a kidney specialist.
In general, any confirmed outliers with your renal function panel such as creatinine, BUN, GFR may lead to your physician sending you to a kidney specialist.
If you experience frequent kidney stones, you may be sent to a urologist. A urologist is another type of kidney specialist – they focus on the bladder and urinary tract among other concerns. You may be referred to both a urologist and a nephrologist.
Be sure to discuss what the concern is with your primary physician so you understand why you are going to whichever kidney specialist they refer you to.
What Does A Kidney Specialist Do?
Your kidney specialist will review all aspects related to your kidneys and what your kidneys do.
High blood pressure is one of the top causes of kidney disease as well as something that can happen with lower kidney function. Because of this, your kidney specialist may help manage your blood pressure and blood pressure medications
If you have diabetes, your kidney specialist may help in your blood sugar control but may also refer you to an endocrinologist (a doctor who specializes in diabetes) and/or a certified diabetes educator (who may likely be a dietitian as well).
How To Prepare For Your Kidney Specialist Appointment
Your actual time with your nephrologist can be brief. It's important to be prepared for the time you will have. Here are some tips on what to bring and do before you leave for your appointment so you can make the most of it.
Bring a current list of all medications and supplements
Kidney-related or not, it's important for your kidney specialist to know all of the things you are currently taking.
The kidneys are responsible for filtering some medications from your system, and there are some medications that are not safe for people with kidney disease.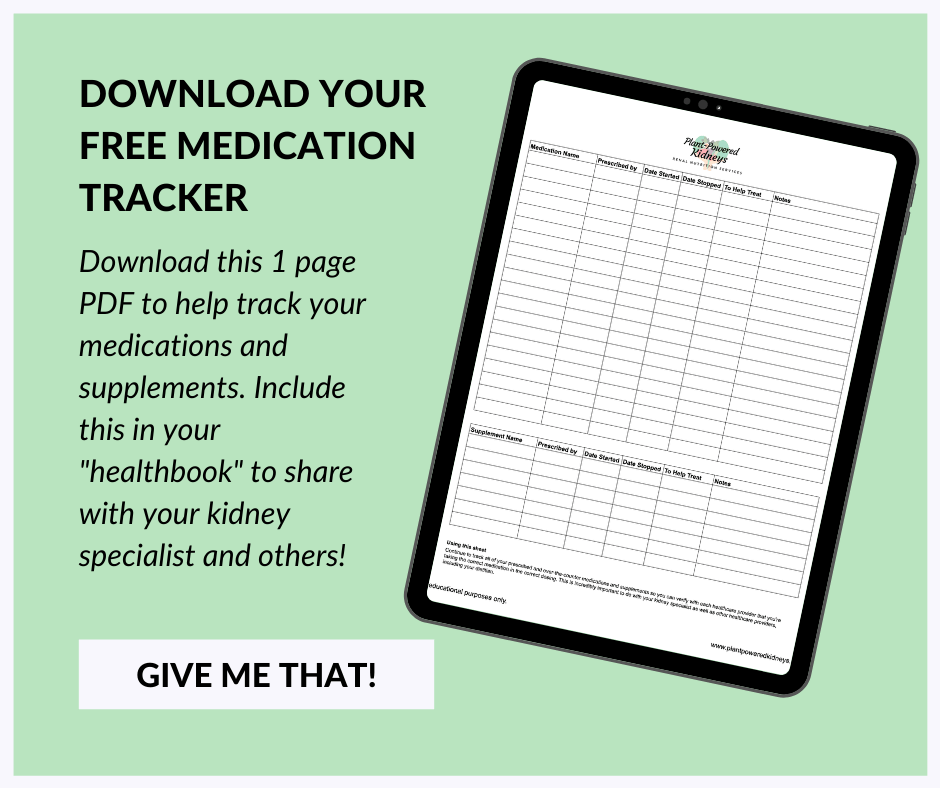 Have a current record of blood pressure/blood sugars (if possible)
By having a log to track these numbers, you can provide your kidney specialist with more detailed information about how your body is taking care of itself throughout the day.
If you are not currently tracking your blood pressure, it may be helpful to consider doing so.
Blood sugars can be helpful to check if you have diabetes. If you do not have diabetes or a family history of diabetes, you may not need to keep track of your blood sugars- but this is important to check with your doctor about.
Bring a "healthbook"
Bring a notebook or journal to your appointment to record your plan, vitals taken at the clinic, and any recommendations or new treatment orders your doctor may discuss with you.
This could be the same notebook you use to track your blood pressure, blood sugars, and weight. Including the free medication tracker I've included here is a great component of your healthbook!
Practice some deep breaths right before your session
Ever hear of the term "white coat hypertension?" This is a term that explains when you have high blood pressure at the doctor's office but do not typically have high blood pressure at home or otherwise.
By incorporating some slow, deep breaths before (and even during) your appointment, you can help keep blood pressure better controlled at your vital check.
Read more about gratitude meditation to learn how to practice breathing that can help reduce the stress that can come with a doctor's appointment.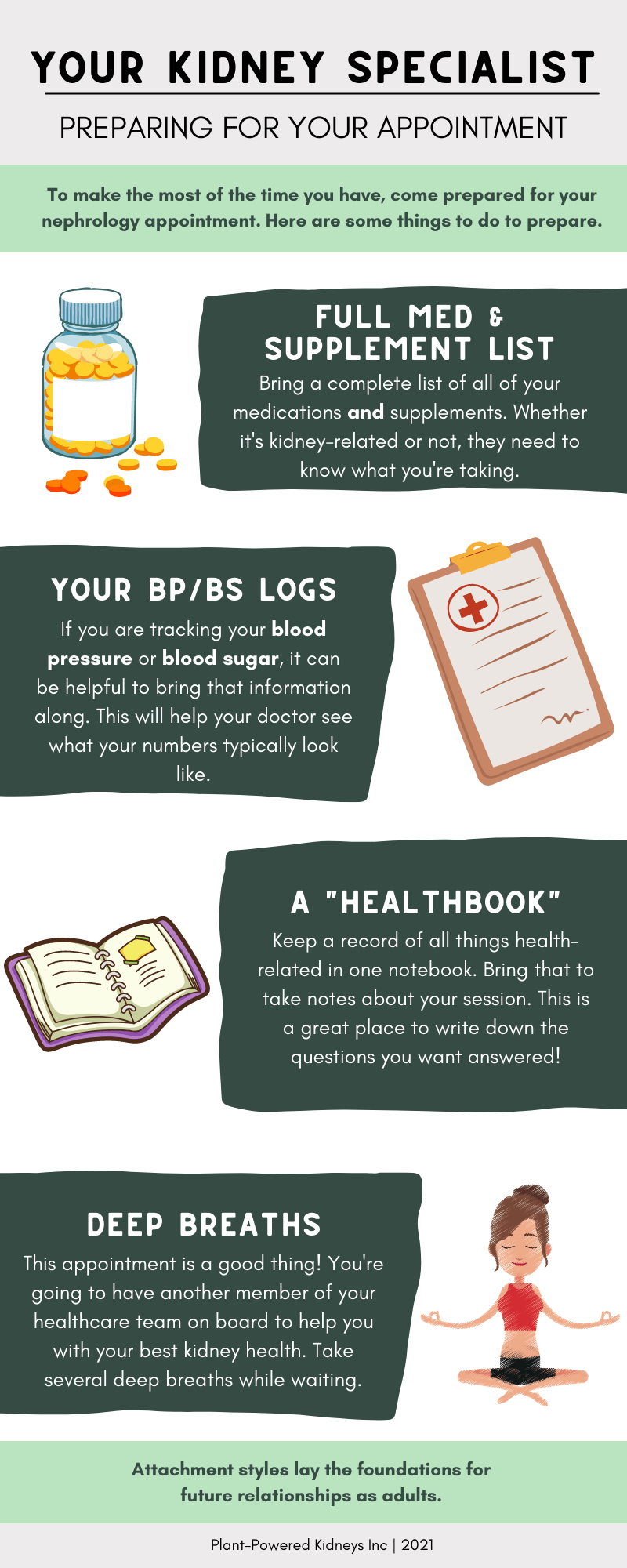 Questions To Ask Your Kidney Specialist
Below are some questions you will want to ask at your first appointment with your nephrologist. You can ask these at later appointments too! Some answers will change from time to time.
What caused my kidney issues?
I always tell my clients, we need to know exactly what caused your kidney problems to best determine your nutrition treatment plan.
If your kidney specialist cannot determine what caused your kidney issues, then ask…
What stage am I in?
There are 5 stages of kidney disease (6 if you count kidney failure on dialysis). By understanding your stage you can "speak kidney" with others that are also going through similar stages.
Someone in stage 3 kidney disease is much different compared to someone in stage 5 kidney disease.
Is there other testing I should have done?
Certain testing may be helpful in determining what the cause is. For example, IgA nephropathy can be confirmed with a biopsy. Goodpasture's Syndrome is confirmed with antibody tests.
When you discuss additional testing with your doctor, it will likely bring you peace of mind to check that the testing will not cause further damage to your kidneys (or to review the pros and cons of further testing).
In some cases, a kidney biopsy may not be necessary.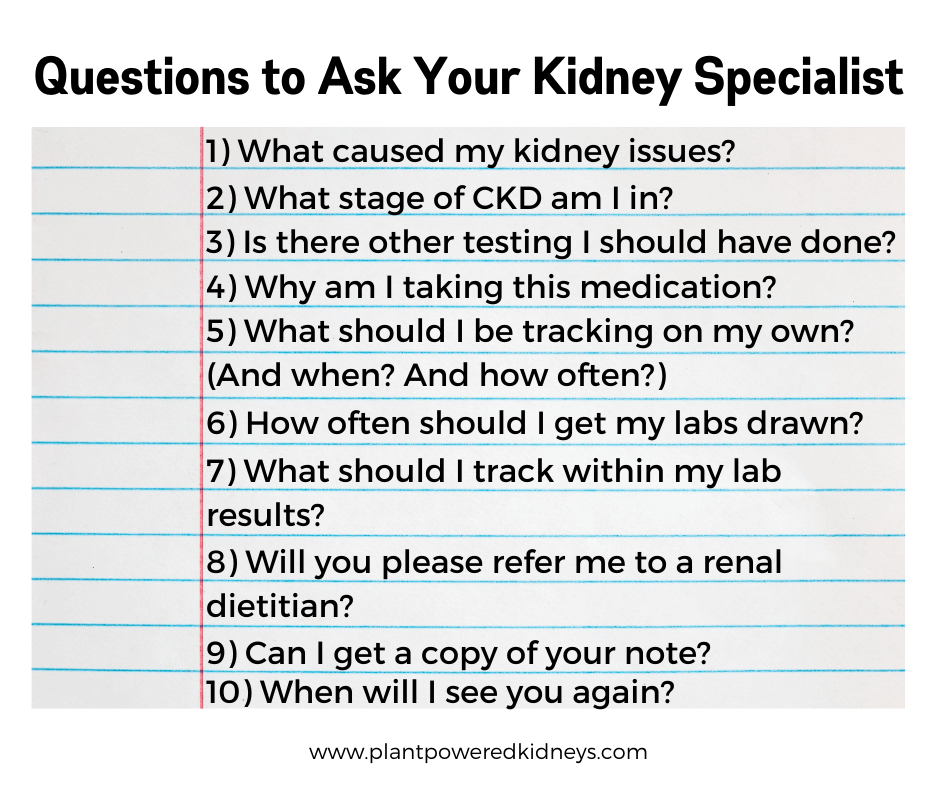 Why am I taking this medication?
I am a huge advocate for knowing exactly what the purpose is of each medication you take. I often will ask my clients to explain to me in their own words what their medications are for. This is to help them understand their medical plan.
Be sure to take notes about this! It's great to use that "healthbook" and list out your medications as well as the dosing, purpose, and potential side effects to monitor.
Keep in mind that some medications can influence your nutrition as they may either retain or release potassium from your body.
What should I be tracking on my own? (And when? And how often?)
It's great to check with your kidney specialist about this because it will give you the understanding of what is the most important from your doctor's perspective.
When you return for your next appointment, you'll have the details of what they want to discuss with you. Some examples include;
Blood pressure

Weight

Blood sugars

Medication (dosing, timing, etc.)
How often can I get my labs drawn?
There are many factors to consider when looking at the frequency of your lab draws. Your health insurance may have restrictions or your doctor may have restrictions.
Lab draws every 6 months is a common frequency for lab checks.
If you have late-stage kidney disease (stage 4-5), you may get lab draws done every 3 months, monthly or even every other week.
Remember: it's not just about checking the numbers. It's also about doing something in between your results to see better numbers.
What should I track within my lab results?
Besides the most common ones, is there something your kidney specialist wants you to monitor closely?
If you'd like to learn more about lab results, read my article about the Renal Function Panel!
Will you please refer me to a renal dietitian?
Diet and nutrition can make a huge impact on every stage of kidney disease. Even in stage 1, there are big things that we can do to keep your kidneys safe.
Not every kidney specialist feels there is an important role for nutrition with early stages of CKD. (This is where they and I disagree!) If that's the case, it doesn't mean they're a bad doctor – it's just not their area of expertise!
You can find a renal dietitian on your own by going through your health insurance network or checking the list of renal dietitians on the National Kidney Foundation's dietitian directory.
For those living outside the United States, check this listing of other dietetic associations for different countries.
Can I get a copy of the note from today with details about our plan?
You can ask for details of your session to be provided in writing for future reference or to include in your notebook.
Your doctor will likely already be sending your primary care physician a note regarding your kidney health.
As a renal dietitian, I always provide private clients with a Nutrition Treatment Plan Summary at the end of every session so they can look back to review what we discussed as well as our plan moving forward.
When should my next appointment be and how often should I see you?
They will likely have you schedule your next appointment before leaving, but understanding the frequency of your appointment can be helping in planning ahead.
Download a Free Copy of These Questions!
Click here or the image below to download your free copy of the questions described above. Print as many copies as you like for future nephrologist appointments.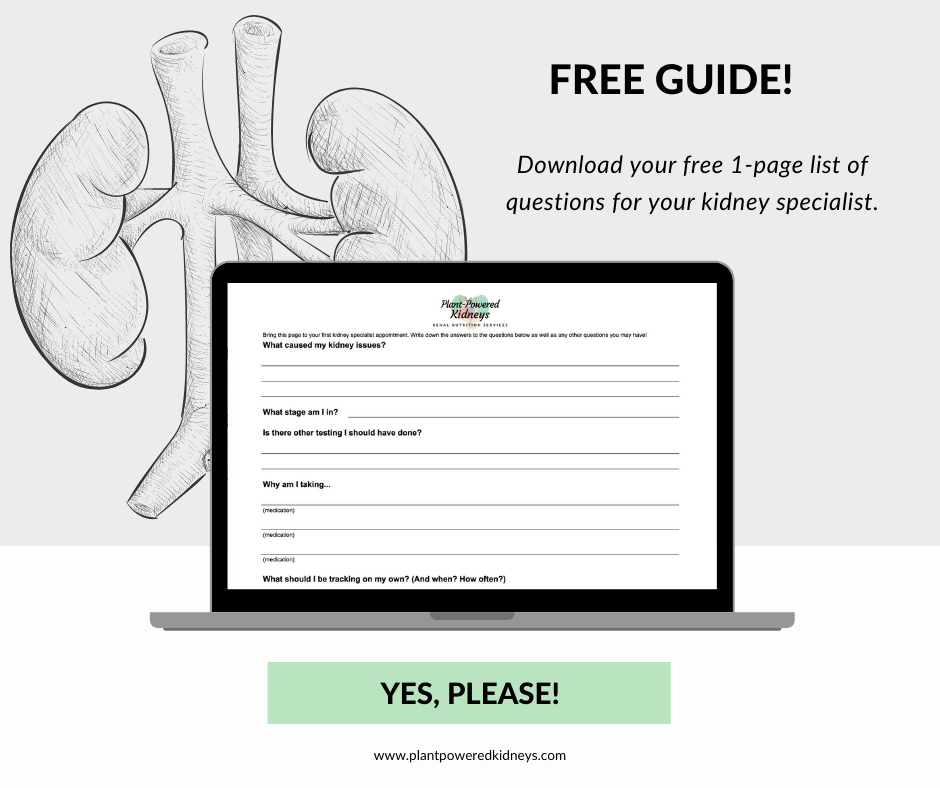 Watch the Video about Working with Your Kidney Specialist
Summary
The time with your kidney specialist is short but extremely valuable. You'll be able to make the most of your appointment by planning ahead.
It's your health and your life that are the focus! It needs to be your priority to come to the appointment prepared.
Your doctor will help support you and provide recommendations to help you protect your kidneys but at the end of the day, it's all up to you about what you do with your treatment plan.
Comment below if this has helped you with your own kidney specialist appointment!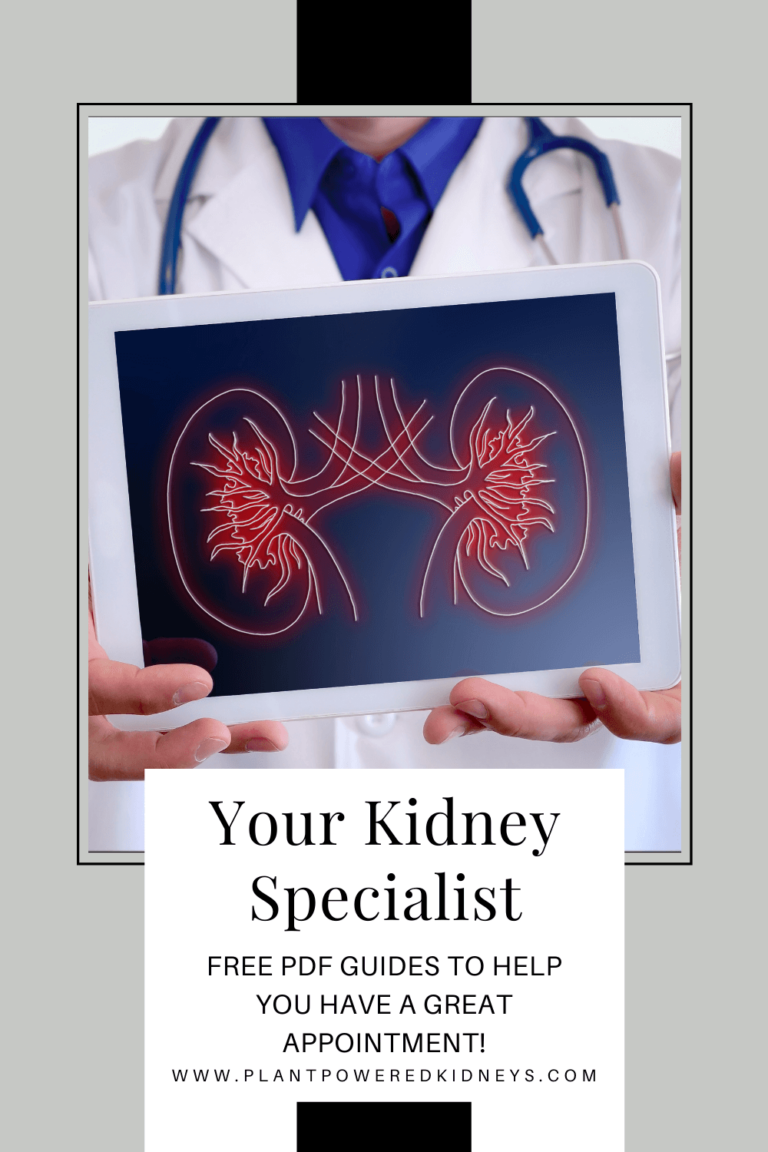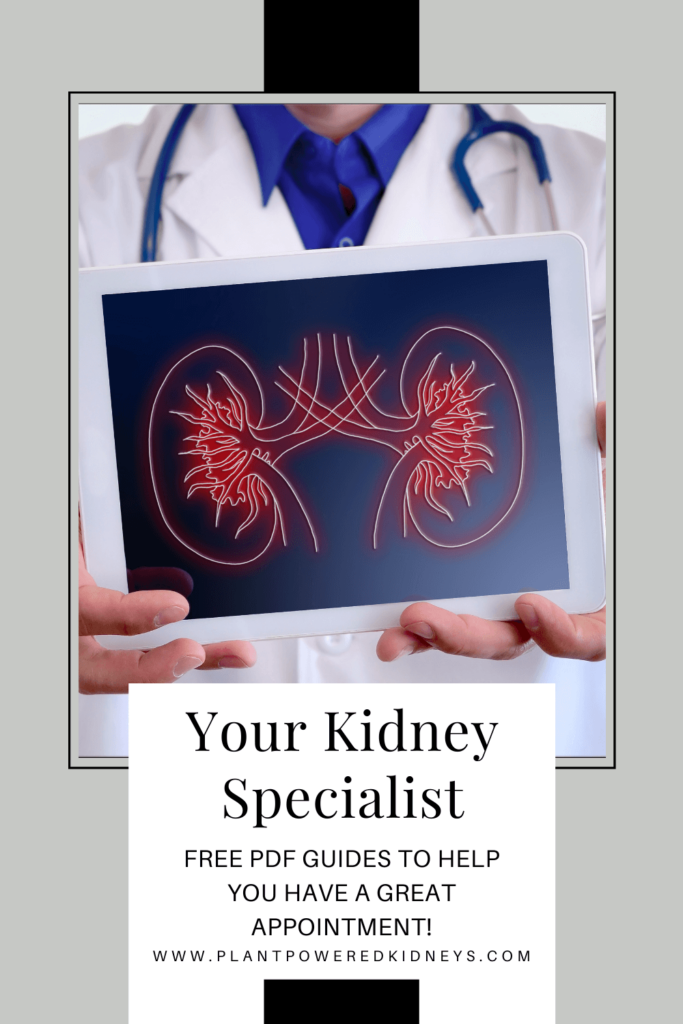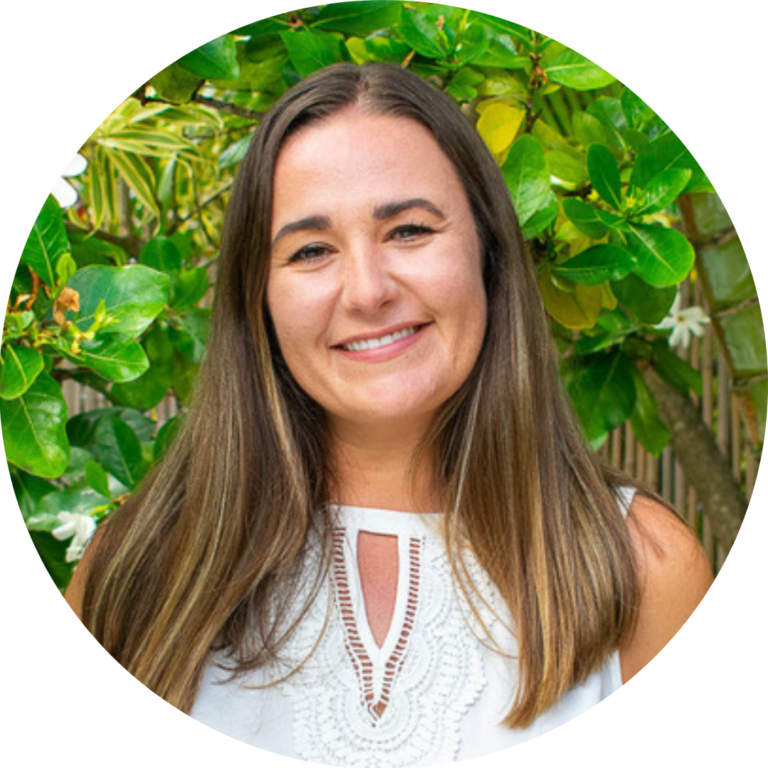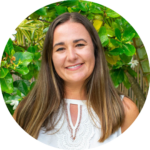 Jen Hernandez is a registered dietitian and board-certified specialist in renal nutrition. She has nearly a decade of experience with kidney disease patients in all stages - from stage 1 through kidney transplant. Jen writes on the blog of Plant-Powered Kidneys to help reach and teach more kidney patients about how they can enjoy more foods in a plant-based diet while protecting kidney health.