You may have heard of a registered dietitian or a registered dietitian nutritionist. But have you ever heard of a renal dietitian nutritionist? Renal dietitian nutritionists are a sub-specialty in the nutrition realm. 
Many dietitians can cover an immense range of health conditions. Renal dietitian nutritionists, however, focus on the renal diet for chronic kidney disease.
In this article, you'll learn more about what it means to work with or even become a renal dietitian nutritionist.
What's the difference between a dietitian and a nutritionist?
Before we get further, we need to clarify these different titles because they can be so confusing.
What it takes to be a dietitian
A dietitian in the United States is someone who has completed all of the following steps:
A bachelor's degree at a credentialed university

A dietetic internship of at least 1,200 supervised hours with a registered dietitian

Passing the national dietetic exam
After completing these steps and passing the exam, a person is then allowed to use the title Registered Dietitian, or RD. Dietitians are also permitted to use the title Registered Dietitian Nutritionist, or RDN.
Nope, RD does not stand for renal dietitian.
What it takes to be a nutritionist
A nutritionist, on the other hand, does not have consistent requirements for the title. Anyone can call themselves a nutritionist.
There are many certifications out there for people to take general nutrition courses and be given a "title" of nutritionist. However, this title holds no standards. 
Again- anyone can call themselves a nutritionist without any formal training or education.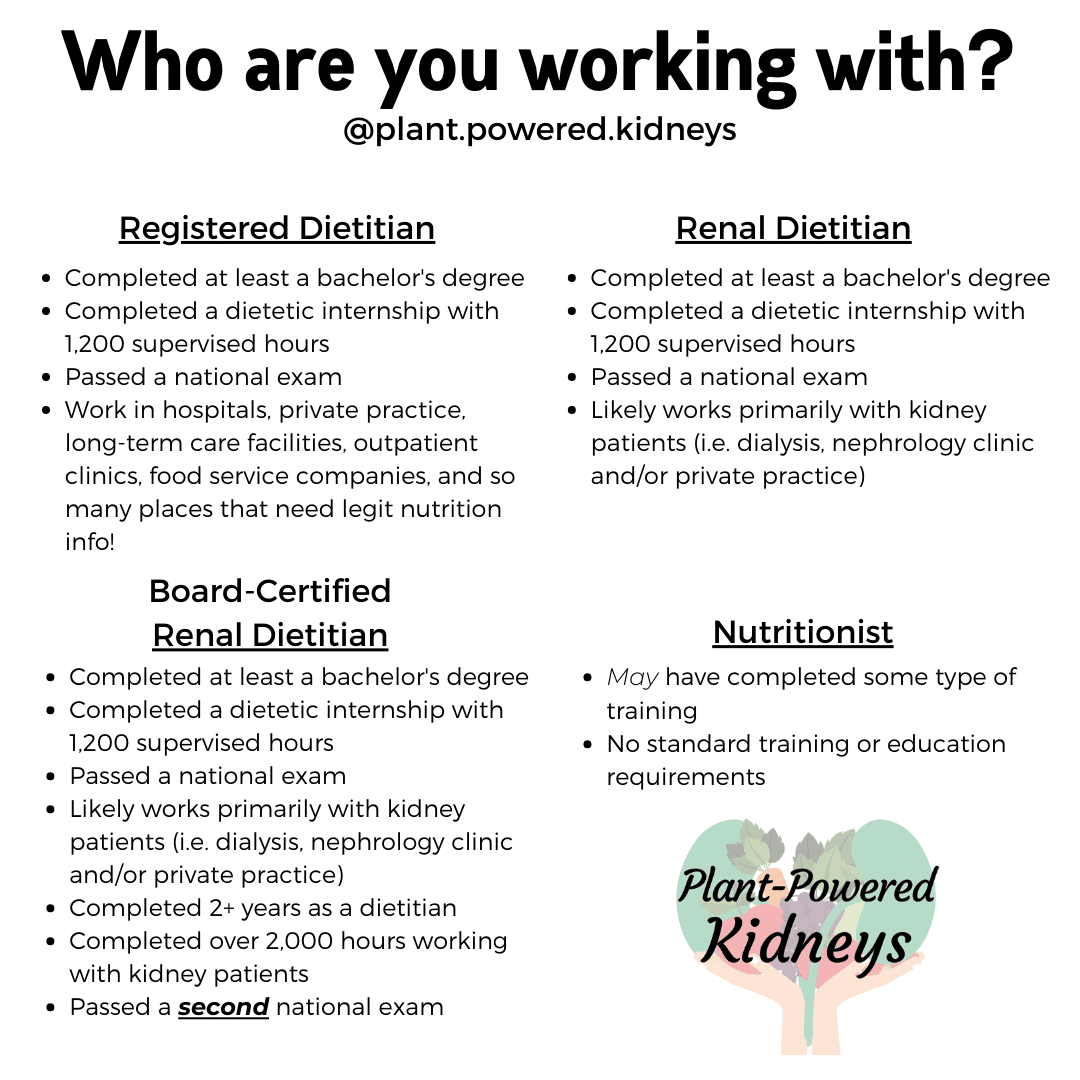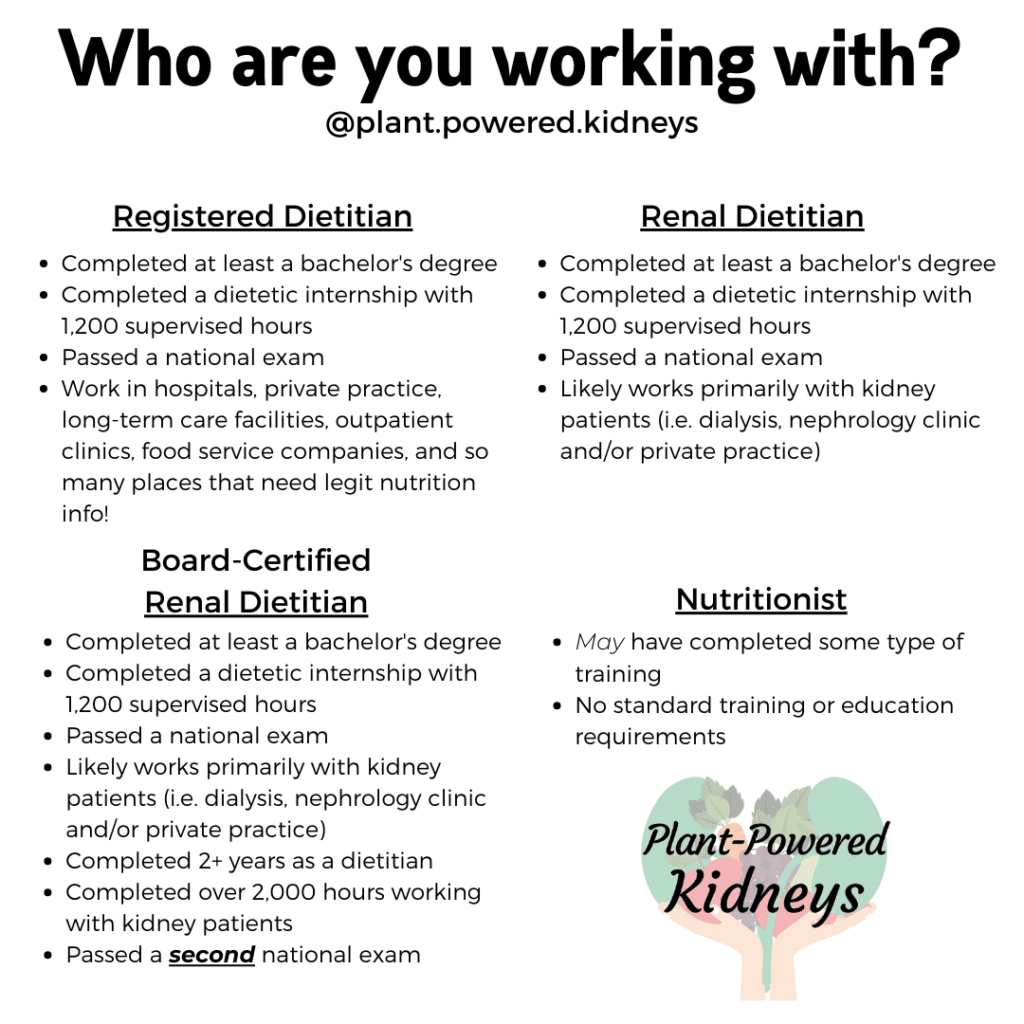 How to become a renal dietitian nutritionist
The path to becoming a dietitian is long, and even longer to become a renal dietitian. A renal dietitian has additional requirements.
Many are able to self-title as a renal dietitian based on their job or clinical focus. In my example, I was a renal dietitian while working in the dialysis clinics.
Becoming a board-certified renal dietitian
For those that are serious about focusing on people with kidney disease, there is an option to become board-certified in renal nutrition. To do this, the dietitian must:
Be a registered dietitian for at least 2 years.

Complete 2,000 hours working with renal patients.

Complete and pass a

second

dietetic exam, focused on all stages of renal medical nutrition therapy.
After working in both dialysis and with the National Kidney Foundation, I was eligible to sit for (and pass!) the renal nutrition exam. 
This is how I have earned the Certified in Specialist in Renal Nutrition (or CSR) behind my name.
While it's not a requirement that a dietitian is board-certified to work with renal patients, it does help in providing our patients and clients with more confidence that we have a lot of experience helping those with kidney disease.
How common are board-certified renal dietitian nutritionists?
There are a very small fraction of registered dietitians that are also board-certified in renal nutrition.
As of August 2021, the Commission on Dietetic Registration reported 108,264 registered dietitians in the United States.
Of those dietitians, only 521 are also board certified in renal nutrition. That's a mere 0.5% of the dietitians that have also completed the requirements to become board certified!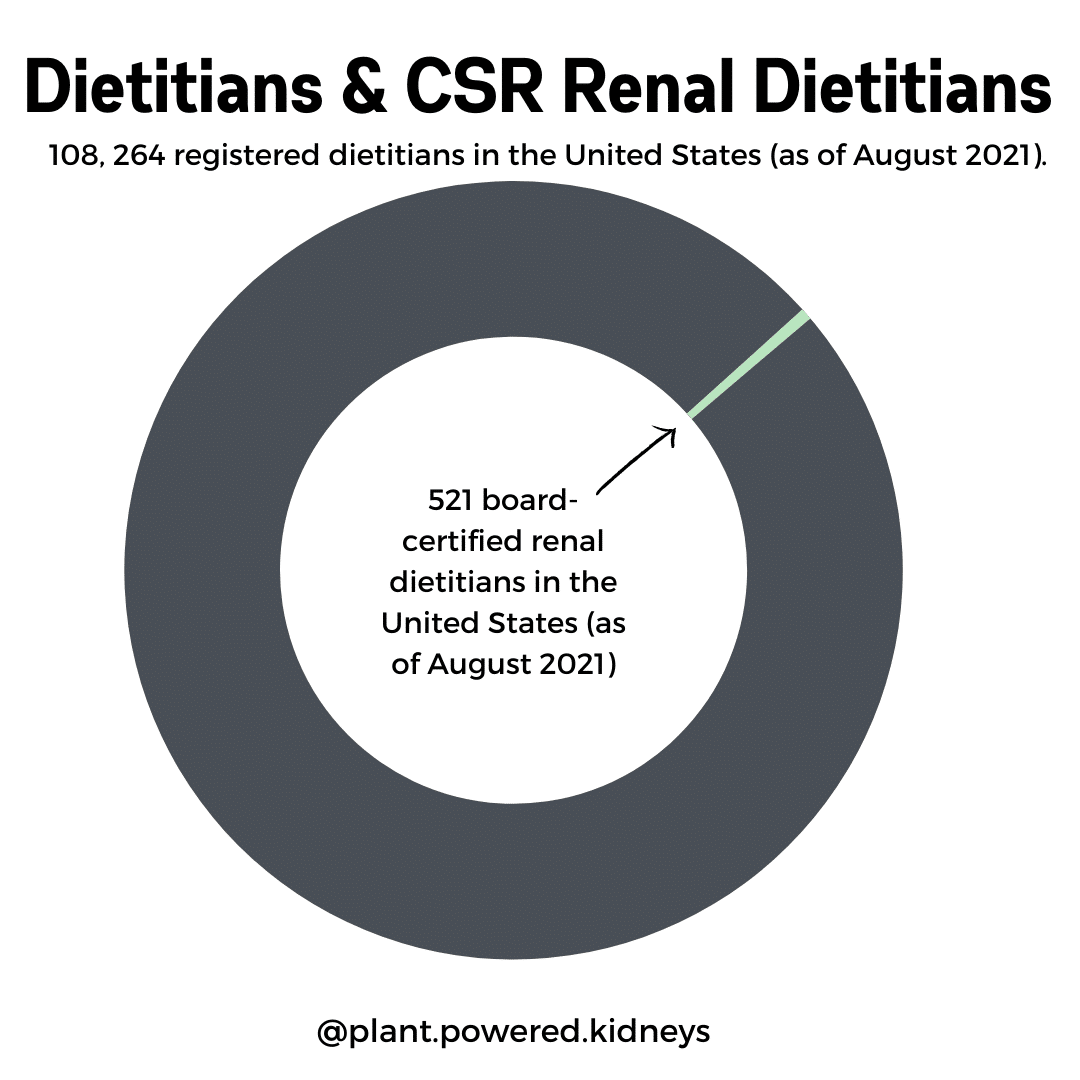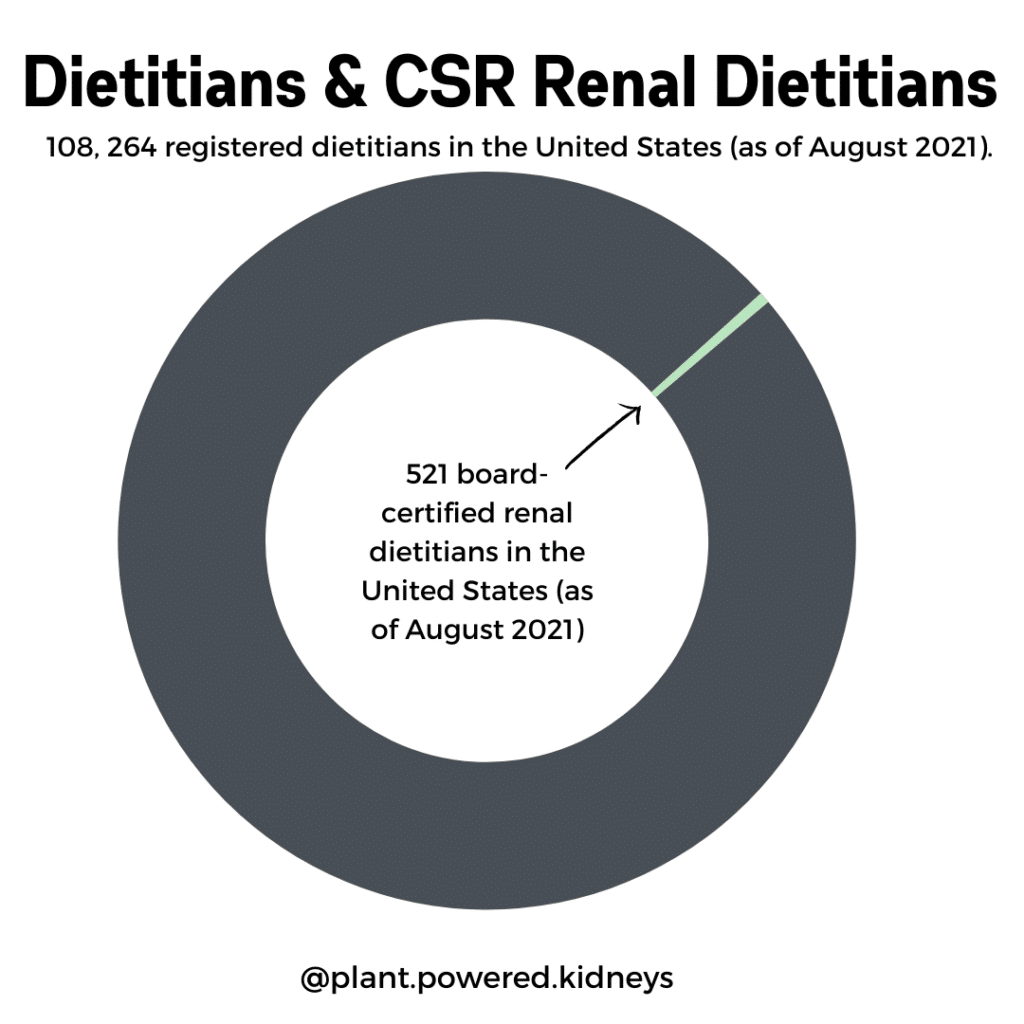 What does a renal dietitian nutritionist do?
A renal dietitian will work with clients that have kidney issues and want to work on their renal diet. 
There can also be factors related to health insurance benefits that may require certain limitations. You can read more about how to use your health insurance to work with a dietitian here.
Typically, an initial assessment is set up for the first session. This can be anywhere from 1-2 hours depending on the dietitian and clinic setting.
Your dietitian will then create a plan with you to get you started. This may include a review of;
Renal function panel

and other lab test results

Health history

Eating habits and preferences

Challenges that may come up

Nutrition education related to your concerns or from your

doctor
From there, your dietitian will likely set up a follow-up session with you to with a SMART goal in mind.
You may have a set number of visits or a set timeline to work with a renal dietitian. The purpose will always be to help you feel your most confident with your personalized renal diet.
Who can work with a renal dietitian nutritionist?
Dietitians that specialize in renal nutrition may also specialize in other areas.
For example, some renal dietitians help people in their dialysis clinics. In dialysis, every person in the United States is required to see a dietitian at least once each month. 
Other renal dietitians may see patients out of transplant and help them with keeping their new kidney healthy and safe.
And some help people with any stage of kidney disease to keep their kidney function as much and as long as possible to delay dialysis. This is what the dietitians here at Plant-Powered Kidneys do! Click here to read more about our team.
It's important to know that dietetic regulations require certain licenses for dietitians to work in some states. This is why we ask before a Kidney Master Plan Call about the state of residency, so we can find out if we're able to work together.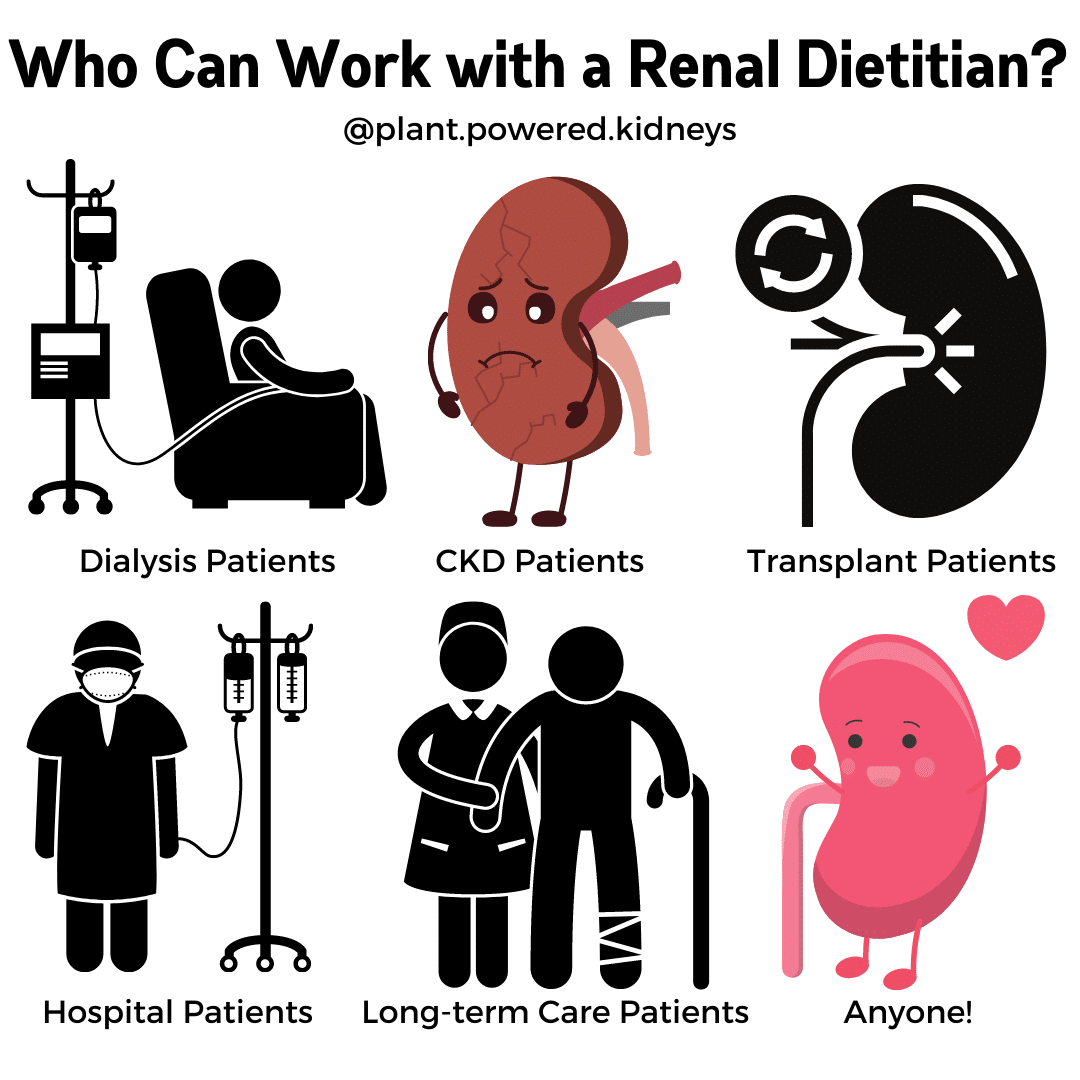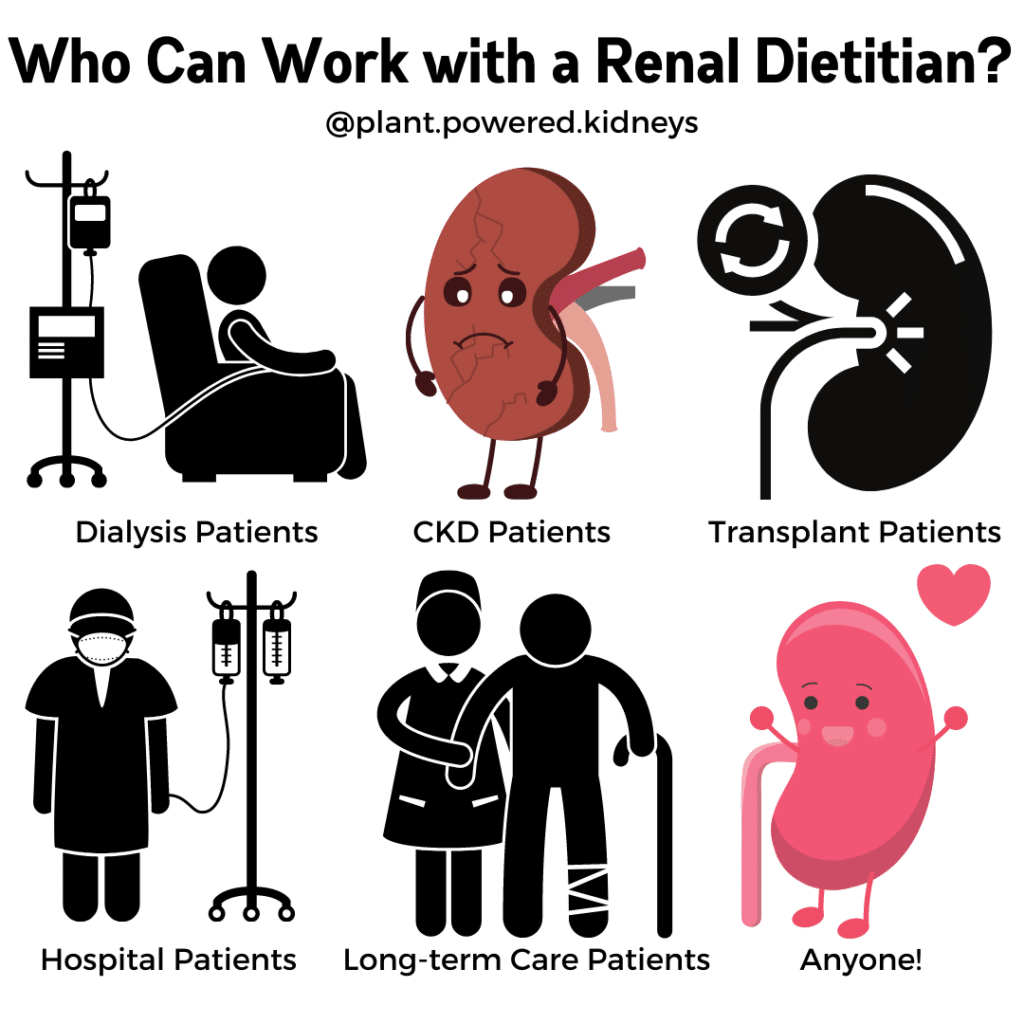 When can I work with a renal dietitian?
Before a kidney diagnosis
You don't need to wait to have a diagnosis of kidney disease before seeing a dietitian. Many of us have health insurance plans that will cover at least one, but sometimes unlimited visits with a dietitian.
Your dietitian can help you make the best choices in your diet to decrease your risk for kidney disease as much as possible. So if you have family members with kidney disease, diabetes, or hypertension, it can be very powerful to make changes now.
When you first find out
If your primary doctor tells you that you have kidney disease – or even "lower kidney function" – you have the power to ask for a referral to a dietitian.
Get one-on-one time with a renal dietitian nutritionist to review all parts of your diet, what to focus on, and what to watch out for (like phosphorus).
This is a great time to start working with a dietitian as you have the possibility to slow down the progression of kidney disease with changes to your diet.
Making changes to your diet and lifestyle at this point can add years to your life before requiring dialysis or kidney transplant.
When you get new labs
Whether you get your labs drawn annually, twice a year, or every month, that can be a great time to reach out to a renal dietitian.
The "heat map" shown here can give an idea of how quickly your kidney disease is progressing. The darker red you get – or the "warmer" you are – the faster your kidneys are worsening.
To get an idea of what your other labs mean, you can check out our article about your renal function panel.
If your kidney function changes
Whether it's stage 2 to 3 or stage 4 to 3 or any other change, up or down, your nutritional needs and diet recommendations will likely also change. 
Working with a renal dietitian to determine the primary focus of your diet can be helpful and will likely reduce a lot of stress, frustration, and confusion.
When your kidney disease stage changes, your doctor may switch an emphasis from increasing a nutrient or limiting another. Ask for your lab results, recent and past, to give your dietitian information in determining the best diet for you.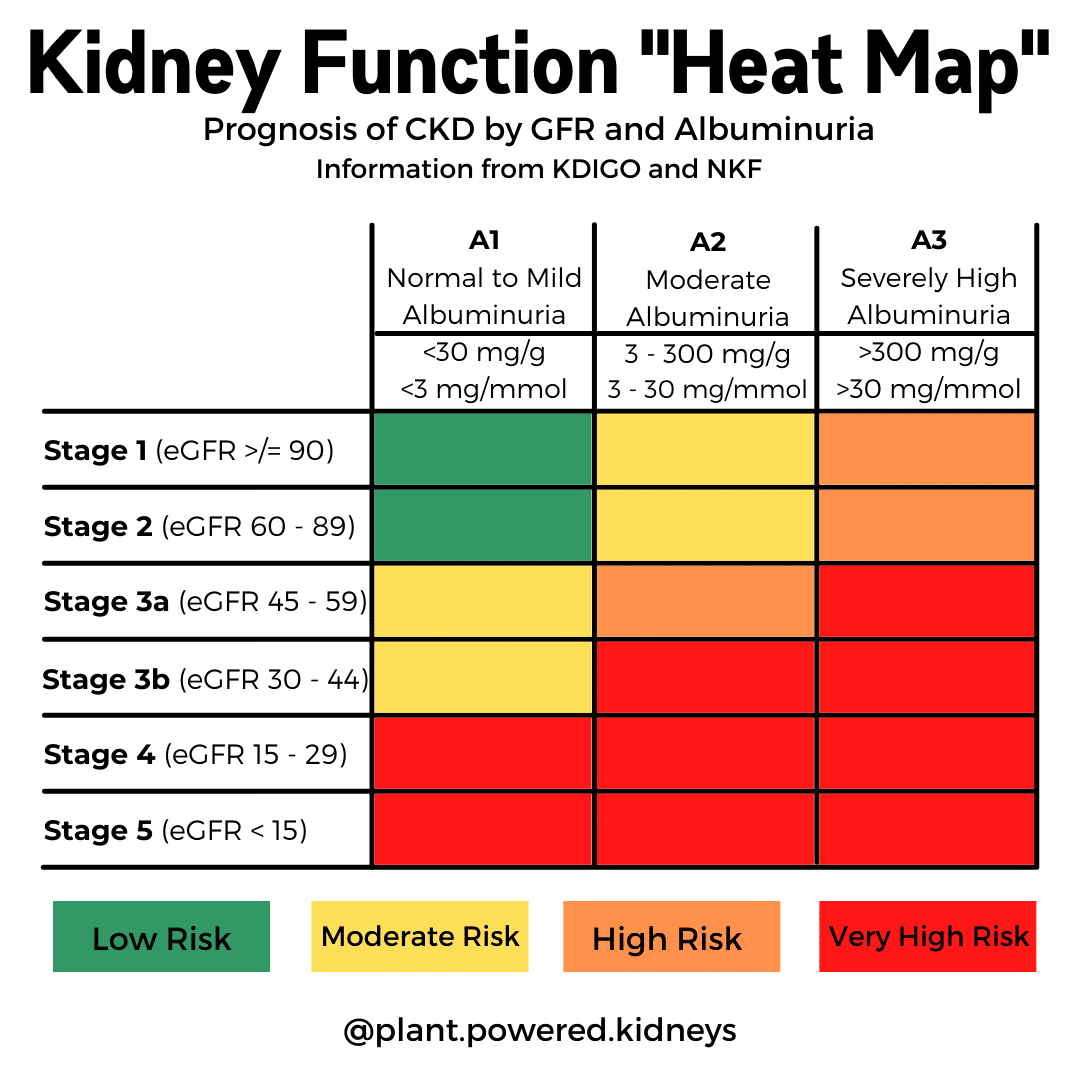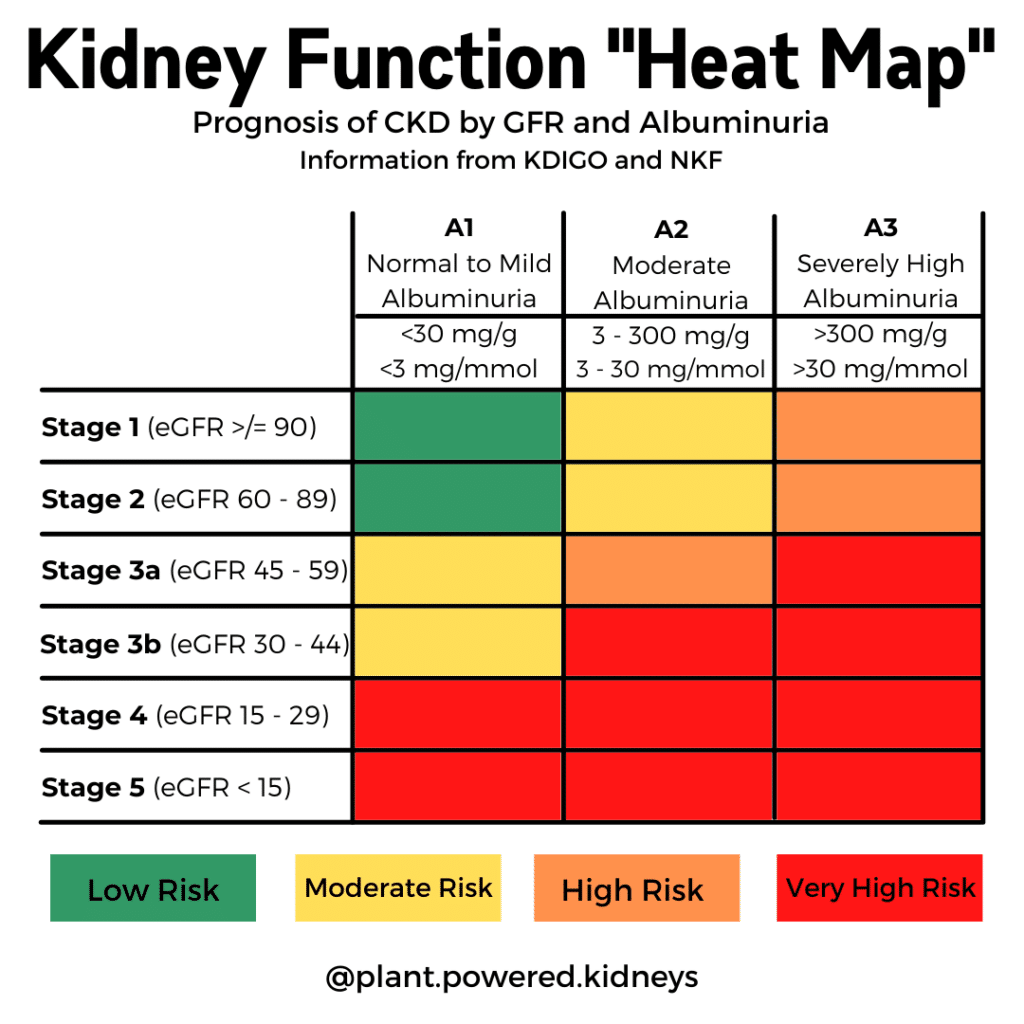 If you are in the yellow/orange area, you are at a great opportunity to take advantage of some of the best diet options in your favor.
Already in red? Contact us right away to work together.
When you're scared of food
Many of our clients have come to us because they can't tell what's "good" and "bad" anymore. 
If you're at a point where you're skipping meals, feeling hungry, starving constantly, you're not doing your kidneys any good.
You're putting yourself at risk of malnutrition.
You're putting yourself at risk of worsening blood sugar control. Worse blood pressure control.
You're putting yourself at risk of kidney failure.
Our bodies, especially in chronic illnesses like kidney disease, need delicious nutrition to have a chance at maintaining function and not only feel good but get back to thriving in life!
Don't believe us? Read the many success stories from past clients of Plant-Powered Kidneys here.
Where can I find a renal dietitian?
Renal dietitians can be found in a variety of settings. Some examples include;
Nephrology outpatient clinics

Dialysis clinics

Transplant clinics

Oncology clinics

Hospitals

Long-term care facilities

Pharmaceutical companies such as nutrition support services (i.e. tube feedings)

Private practice

Renal dietitians are also online!
In the past years, many healthcare practitioners have shifted to virtual or online telehealth practices. 
This is to be able to help more people that would otherwise not be able to see a renal dietitian.
Plant-Powered Kidneys is a virtual private practice that sees people on a renal diet entirely online, by phone, or computer. Learn more about the renal dietitians at Plant-Powered Kidneys here.
Resources to find a renal dietitian
We have compiled a list of resources to help you find renal dietitians no matter where you are.
Check out our Renal Dietitian Directory page to find links to dietetic directories in the United States as well as other countries.
What if I can't see a renal dietitian but I want to learn more?
If there is something preventing you from working with a renal dietitian – your insurance, location, personal issues that take priority, there's another option.
Plant-Powered Kidneys holds a 6-week nutrition course that teaches the fundamentals of the renal diet.
In our course, you learn not only what to focus on, but why they're so important. You'll also learn what and when not to focus on certain things (even potassium).
Registration is open just 2-3 times per year, but students all receive lifetime access to the course, meal plans, recipes, handouts, and guides. 
This also means that when the course is re-opened for registration, past students are automatically enrolled into the next live round of Q&A calls with the dietitians of Plant-Powered Kidneys. 
Click here to learn more about our Plant-Powered Kidneys Course.
Summary
Renal dietitians are focused on helping you with taking care of your health and kidneys by teaching you your best renal diet.
We want to keep you away from dialysis for as long as possible with the goal of keeping up a good quality of life.
Find the dietitian that feels like the best fit for you, no matter who that person is. There are renal dietitians that serve both in-person and online in virtual private practices.
Other articles you may enjoy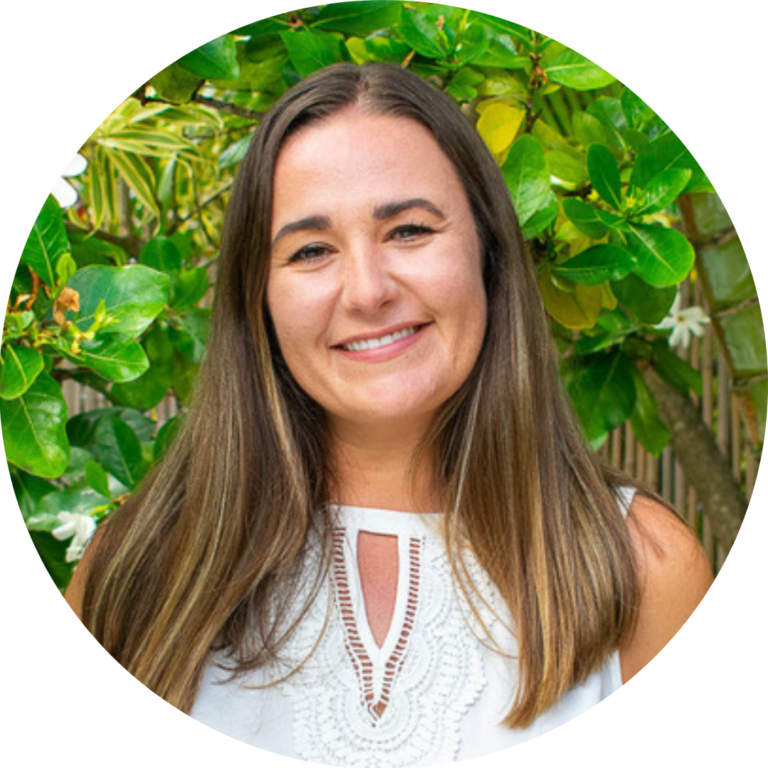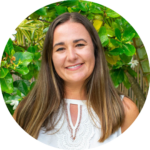 Jen Hernandez is a registered dietitian and board-certified specialist in renal nutrition. She has nearly a decade of experience with kidney disease patients in all stages - from stage 1 through kidney transplant. Jen writes on the blog of Plant-Powered Kidneys to help reach and teach more kidney patients about how they can enjoy more foods in a plant-based diet while protecting kidney health.