Do you have someone in your life that is also a dialysis patient? Whether they've been on dialysis for a day or a year, chances are there are a few gift ideas they could use while in dialysis treatment.
As a renal dietitian that has worked several years in different dialysis clinics, I've learned a lot from my experienced dialysis patients. The things they tell me they can't live without are passed on to my new dialysis patients or encouraged to family to give as a gift to their loved ones.
Treat your dialysis patient, whether it's a loved one or yourself, to a thoughtful gift and make dialysis treatments and life a little easier and a lot comfier!
This list contains affiliate links in which I may receive a small percentage of a sale. It in no way affects the cost for you, nor your shopping experience. I only provide affiliate links for items I or my clients personally use. Thank you for your support and happy shopping!
Dialysis Clothing
If you've ever been to a dialysis clinic, you may realize one thing right away. It's cold. And to imagine sitting on a vinyl-covered chair for 4+ hours without being able to get up or move much… let's just say it can be rough. I feel especially for those who get the chairs right under the vents.
While it would be wonderful to bundle up tightly with layers and layers, a dialysis patient must keep their access site (on their arm, clavicle, or sometimes groin) visible for the entire treatment. This is to ensure safety so the dialysis nurse and technician can monitor the patient's dialysis site.
Luckily, there are companies now that make sweatshirts that have access to dialysis ports. This one comes in sizes S-3XL and has wonderful reviews. A gift like this shows thoughtfulness in something that is extremely useful- they'll use it for at least 12 hours each week, likely year-round!
Multi-Cooker
Dialysis patients require treatments that take about 4 hours at a time, three days a week. Plus, being on dialysis generally means they'll have longer travel times to and from their clinic, as well as other appointments to attend.
A slow cooker is one of my top recommended tools to gift to dialysis patients because they can throw stuff in the pot, set it on low for 6-8 hours, and come home to a hot meal (with plenty of leftovers)!
While the slow cooker does help prep before a meal, the pressure cooker can help people make up for the lost time when they get home and only have 30 minutes to cook up some healthy high-protein meal.
My favorite small appliance? The classic Instant Pot. Another benefit of the Instant Pot is that it also has a slow cooker feature and even an air fryer lid to help save kitchen space with the number of small appliances you need!
Pssst! Want to add in a free gift for dialysis patients to tie in with the multi-cooker? Here's a link to a ton of dialysis-friendly slow cooker recipes for you to check out as well.
Blender
One of the big parts of a dialysis diet is PROTEIN. And keeping in tune with the "they-don't-have-much-time-to-cook" theme, a blender can help them create a fast protein shake to take along to an appointment. Often times appetites can be low or downright gone, which makes protein shakes very helpful to get them the protein their body needs without overwhelming their stomach.
Warm afternoons can also call for a refreshing smoothie to provide a boost of energy with nutrient-rich fruits and veggies! Soups can be blended up for a smooth, velvety texture. And if they enjoy plant-based milk, it's easy to whip up a quick almond or oat milk in the right blender.
This is the blender in my kitchen that has made appearances on Instagram and Facebook.
RD-Approved protein bar or powder
I'm always talking to my dialysis patients about snacking on protein. Ask them what brands they like and get them a special package of their favorite bars. Are they saying they don't know? Get them a variety pack! It's a great way to let them sample different flavors and figure out what is good- plus it prevents flavor boredom.
You can also check with the dietitian in their dialysis clinic if you'd like to get some information on bars they recommend locally. Here's a few great bars and powders that I love to recommend.
PowerCrunch – 10 bars, 10 flavors; light and crispy, similar to KitKats (This is my personal favorite!)
Quest Bars – Another variety pack and something they can use to make my high-protein cookies!
Zone Perfect – a 12-pack of cinnamon roll flavor, the lesser-known but so delicious flavor!
Orgain Protein Powder – creamy chocolate fudge!
Body Fortress Whey Powder – cookies n' creme, yum!
Interested in others? Watch for PHOS-additives!
Classic warm, soft blanket
Ask them about their dialysis clinic and the first description that probably comes to mind is IT IS SO COLD!! Part of dialysis even includes a lower temperature setting, so pretty much everyone is wrapped up in at least one blanket.
Help make sure they're comfy for their 4-hour treatment with a nice blanket that will remind them of your love. Make your own or check out this great blanket on Amazon.
Even though it is freezing in there, please don't get them a heated blanket. Dialysis centers usually will not allow items that need to be plugged into an outlet.
Comfy Neck pillow with Bluetooth speakers
Dialysis amenities typically include a personal television with access to TV stations- there's not a lot someone can do for 4 hours while glued to a chair. It's easy to strain your neck when looking up at the TV screen or even to just be comfortable while trying to take a nap.
Neck pillows are a hot commodity in dialysis with some companies providing free ones to new patients, but you can do better! A great gift for dialysis patients is a nice a neck pillow with an auxiliary jack and speakers so they can lay back and enjoy the show without straining to hear from the speaker on their remote!
Genius tablet/Smartphone holder
Speaking of technology, this is a great gadget to help them hold up their smartphone or tablet without straining their arms. I know my arms would get tired after holding up my tablet for a while! Dialysis patients may also be warned to straighten their arm during treatment to prevent kinks in the blood flow, so this can be an easier solution.
I first saw one of my patients coming into the clinic with this one already strapped around their neck. He may have fallen asleep a few times while watching his fave shows- LOL!
Mittens, gloves and Socks- Oh My!
Did I mention how cold it is? With dialysis, patients have to keep their access arm visible so nurses can always see their access site safe and working properly. Hands get cold fast, so treat them to some fun and cute mittens. Get some reusable hand warmers to keep in their mittens or pockets for even more warmth!
(Why mittens? When the fingers are together, and not separated like gloves, they can keep each other warmer!) This one is both gloves and mittens, sure to keep their fingers toasty warm!
Don't forget that tootsies get cold, too! Some nice warm socks for men or women can be a wonderful gift!
A kidney-Friendly cookbook
Give them a pretty cookbook filled with healthy and kidney-friendly recipes. You can find plenty online like here. But if you want to get them something else on this list, save your money and print one for free from DaVita!
Dietitian-approved, patient-approved recipes with pictures. You can simply print in color and put the pages in sleeve-protectors, or even just download and email to them. Simple but thoughtful! Check out all of their cookbooks here.
(And in case you missed it, there are a ton of renal recipe resources.)
A unique water bottle
Since their kidneys are not able to produce urine to get rid of extra fluids, they likely need to limit their fluids. Find them a nice bottle that helps with tracking!
Check out this awesome customizable water bottle that will give them feedback on how much they've drunk. They can set their own fluid goal/limit and watch the bottle tally up each sip. Here's one that shows exactly how many ounces they've had.
Or if they don't like the technology, a pretty water bottle that is smaller in size helps with limiting intake.
Cute or Fun Pill Holders
If you really know your friend/family member on dialysis, you probably see the boatload of medications they have to take. (I talk about some of the most infamous ones in my blog posts all about phosphorus).
Instead of the ugly ones from the drug stores, try to get a prettier or fun one to make the most of their meds! There's the sensible but brightly colored keychain pill holder, the snarky and funny pill holder, or this citrus-inspired pill holder. Honestly, the more pill holders the better because they're taking an average of 19 pills per day, if not more.
Binge-Worthy Entertainment Subscription
Dialysis treatments are long. So some entertainment is essential during that time. Yes, most clinics will have a TV for each chair/station. But what if there's nothing interesting to watch? There are a lot of subscription services you could look into, but I highly recommend something that provides more than just some movies or TV shows.
With Amazon Prime, they'll get access to a ton of movies, TV shows, books, and music to keep them busy for their treatment time. Clinics will usually have WiFi for patient access so no need to worry about connectivity either!
Tablet
If they're looking for a new tablet or way to enjoy that subscription, Amazon has great deals on their tablets (especially on Black Friday and Cyber Monday)!
Bonus tip: Customize it for them ahead of time by downloading their favorite apps and games onto the tablet, and add some pictures of friends and family to make it even more special.
Not-So-Annoying Sunrise Alarm Clock
Could you imagine the struggle of waking up at 3am three times a week? Now, I'm an early bird, but that's a bit early even for me.
Say hello to the most enjoyable and healthy way to wake up! This alarm clock helps gently wake you up by moving you out of your deepest sleep cycle until you're able to comfortably wake up on time. Plus the light therapy helps with mood imbalances! Check out this brightening alarm clock I have in my own home.
Noise-Cancelling Headphones
Dialysis clinics can get noisy. Beeping machines, neighbors loudly chatting to each other or on their phones, snoring, and staff moving patient-to-patient.
Ear buds won't make the cut to tune out the noise (and they get quite uncomfortable after a while), which means turning up the volume to uncomfortable levels. And they can feel a little uncomfortable after a while, can't they?
Some luxurious headphones make a wonderful gift for dialysis patients that will allow them to drown out the noise and let them enjoy their entertainment or maybe sneak in a much-needed nap!
Overnight Roller Bag
When we talk about all these things, what are they carrying it in?? Their dialysis clinic may provide them with a nice tote bag, but that will easily be filled. And then they need to lug in on their shoulders to- and from dialysis. May not sound bad, but imagine the hassle while juggling everything else!
By having a nice roller bag, they'll easily be able to pack everything away and pull this alongside them. And they'll still be able to use it for their travelling as well! If you're looking for one gift for dialysis patients that truly stands out – this is it. Incredibly thoughtful and incredibly useful!
"I Wish I Had One" Portable Device Charger
When using their phone, tablet, or other electronic device for 12+ hours a week just on dialysis, they're bound to get a low battery.
Not all clinics will have an outlet available at the dialysis chair, so don't let them be dependent on that chance! I like a flat portable charger (instead of the round ones) so it won't roll away when you pull it out. This one has quite a bit of reviews related to fast-charging and convenience for a variety of devices!
Insightful Activity Tracker
Similar to the blood pressure monitor, this kind of tech toy can have some serious health benefits. As their dietitian, I generally talk about incorporating some healthy exercise into their life.
Sleep can be a common issue with dialysis patients (different schedules, restless legs, and other problems). By using the sleep monitor on the FitBit, it will provide good feedback on the quality of sleep they're getting, which they can share with their doctor and team!
Using the steps is a great way to track light activity and set goals. Plus you can connect with them if you use FitBit too and set challenges for one other.
Happy shopping!!
Whatever you choose to gift for dialysis patients in your life, know that they will be so grateful for your thoughtfulness. Dialysis can indeed feel like a full-time job without helpful resources to save time. These gifts can be resources when they're not on dialysis or help the time go by faster and more comfortable when they're in dialysis treatment.
Pin Now, Shop Later!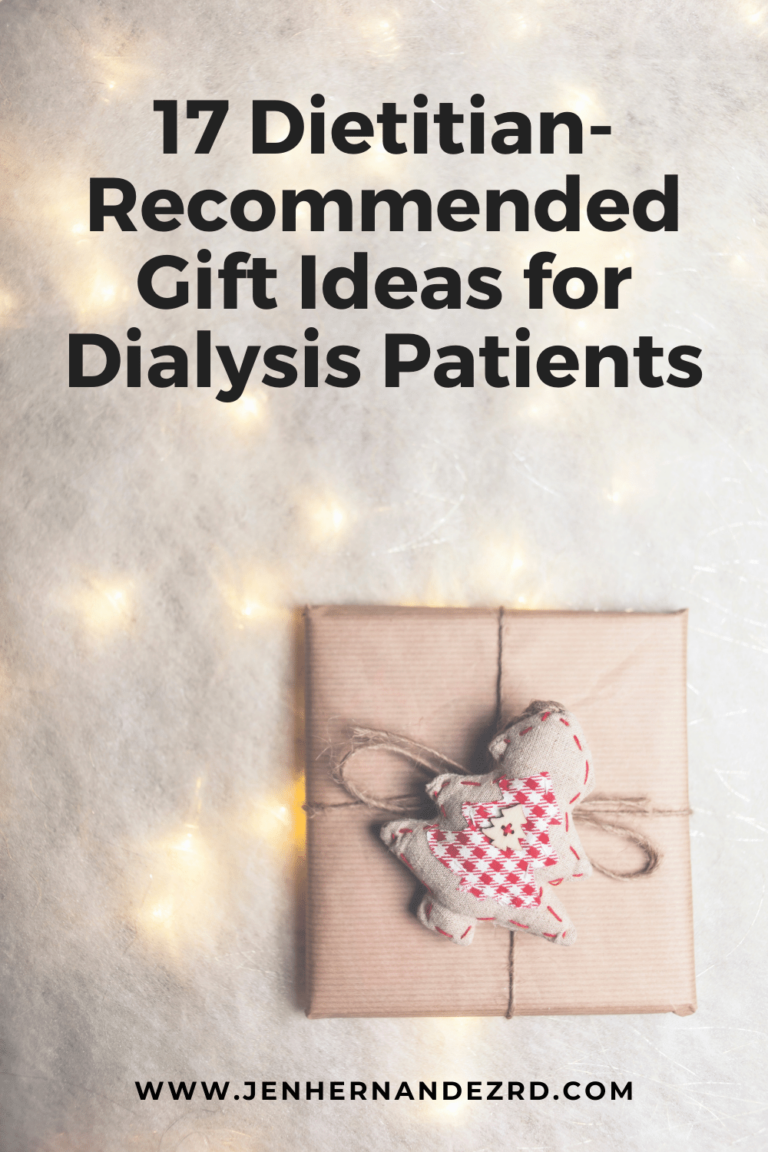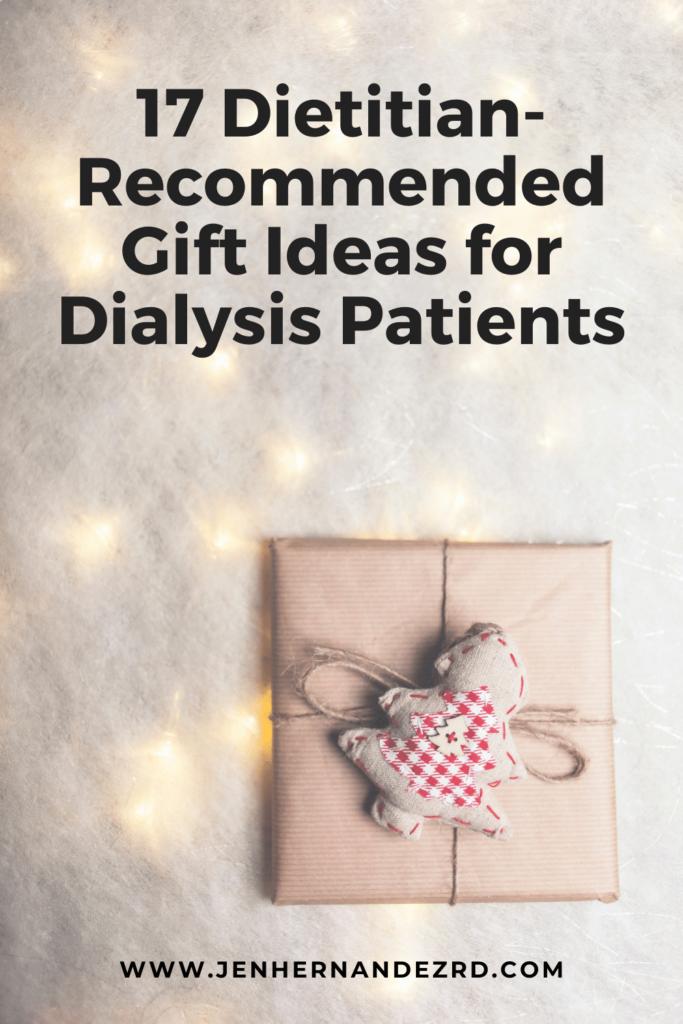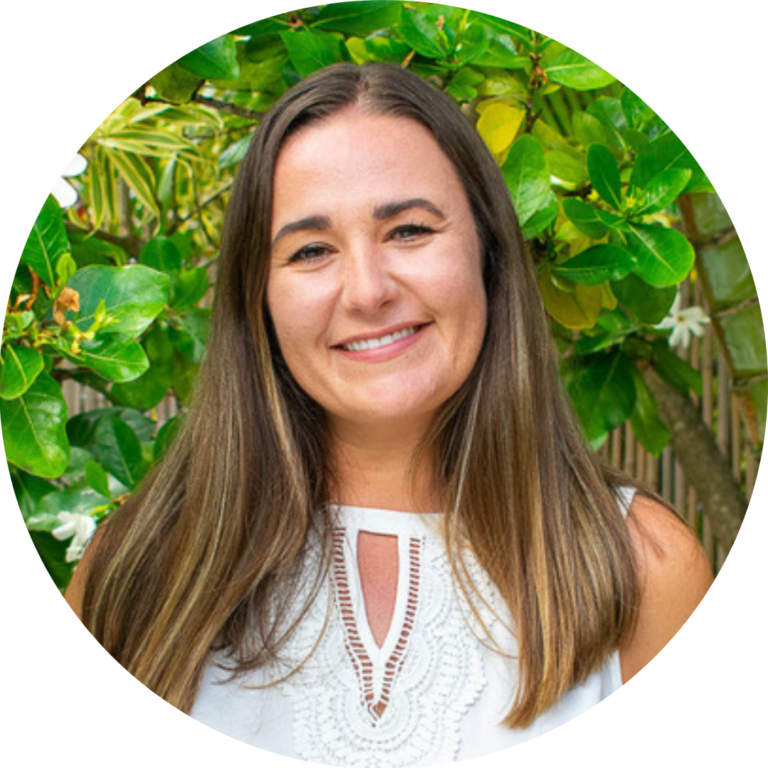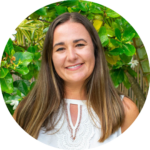 Jen Hernandez is a registered dietitian and board-certified specialist in renal nutrition. She has nearly a decade of experience with kidney disease patients in all stages - from stage 1 through kidney transplant. Jen writes on the blog of Plant-Powered Kidneys to help reach and teach more kidney patients about how they can enjoy more foods in a plant-based diet while protecting kidney health.