When someone says "healthy food" what comes to mind? Likely salads are one of the first things that pops into your head. And most people can agree that salads are pretty healthy. The debate starts when it comes to the salad dressing. There are some salad dressings out there that can turn an otherwise healthy salad into a not-so-healthy meal. Let's settle what makes a kidney friendly salad dressing and what dressings don't make the cut.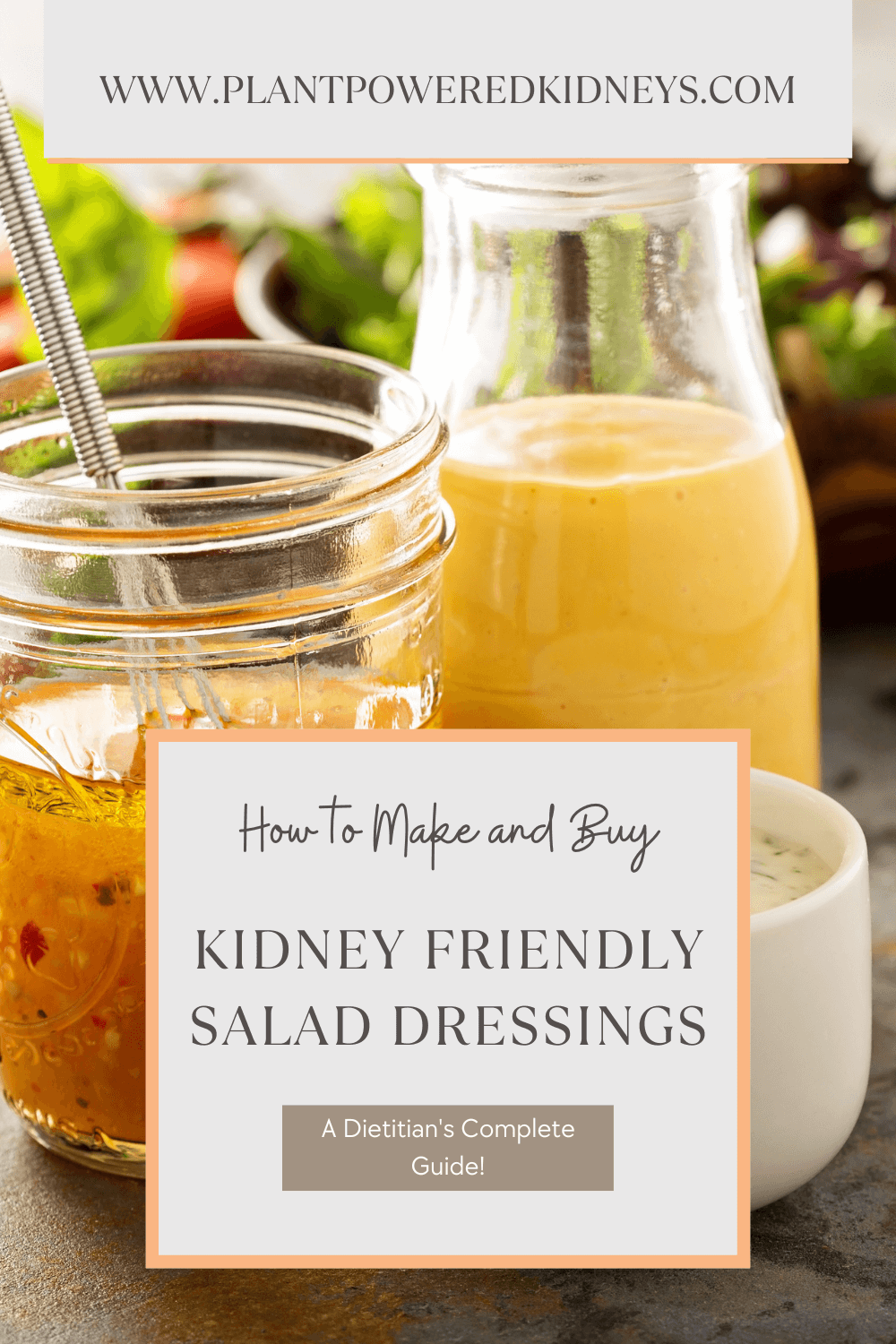 What makes a Kidney Friendly Salad?
In order to use a kidney friendly salad dressing, we need a kidney friendly salad. Plain and simple.
However, putting together a kidney friendly salad may be more involved than you think.
Luckily, we've put together step-by-step instructions on how to make a kidney friendly salad every time.
Nutrient Dense Base
Let's start with the basics.
We need a strong base. Something to anchor your salad.
Gone are the days when a bowl of iceberg lettuce and some salad dressing will make the cut.
By the way, there is nothing wrong with iceberg lettuce, but we can make your salad much more nutrient dense!
Try out these kidney friendly salad bases:
Kale
Spring mix
Arugula
Radicchio
Bibb Lettuce
Iceberg lettuce
Spinach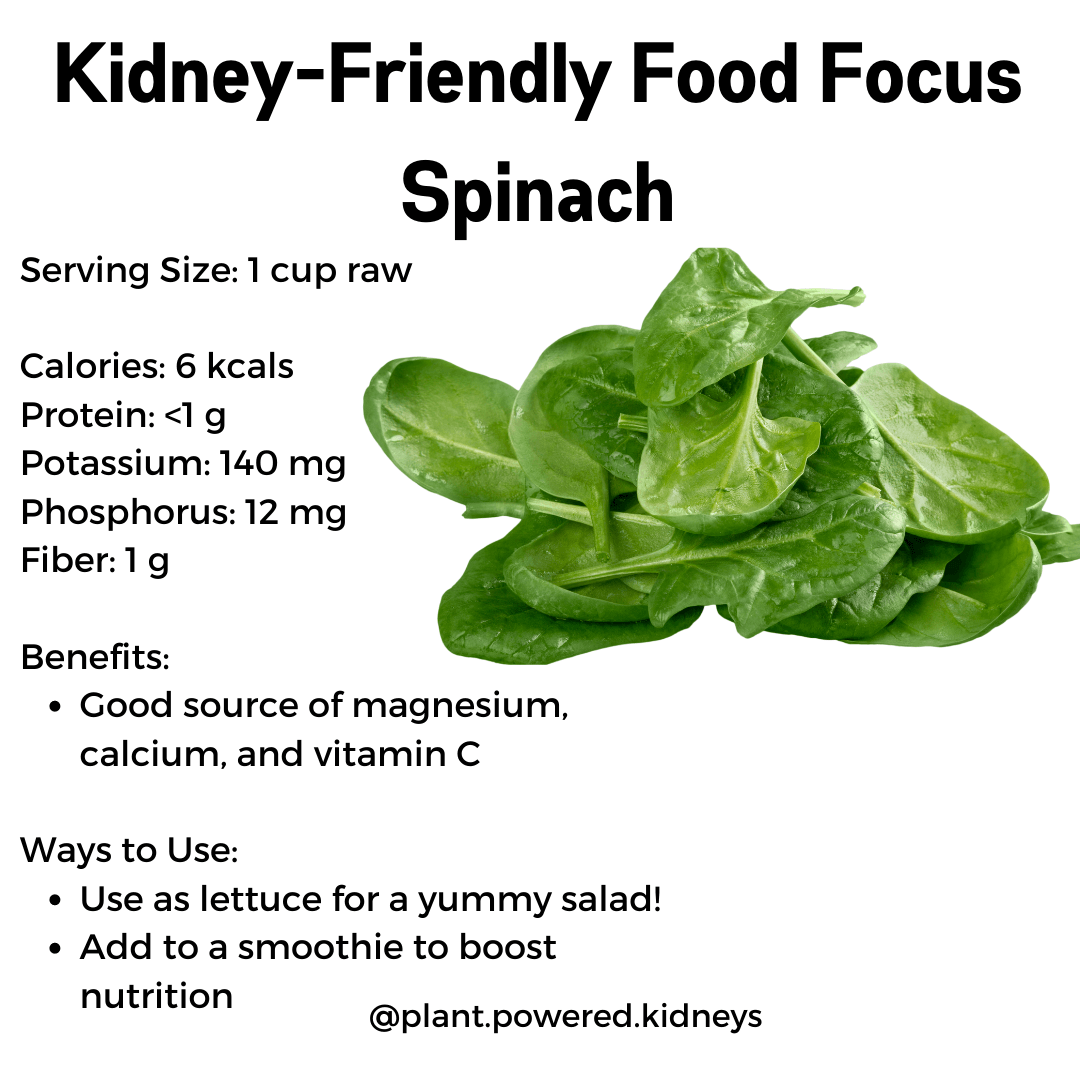 A mixture of these different lettuces is also an option!
Your base does not just have to be a dark leafy green. Other salad bases can work too:
Chopped broccoli
Zucchini Noodles
Pasta
Beans
Potatoes
Variety of Toppings
Next, we need a good variety of toppings. The more toppings we can add, the better!
Different salad toppings can provide different vitamins and minerals.
Toppings are vital to ensuring that your salad is a nutrient-dense, balanced meal.
Try out some of these kidney-friendly toppings:
Chopped Fruits and Veggies:
Beets
Cherry Tomatoes
Cucumbers
Shredded Carrots
Apples
Dried fruits (raisins, craisins etc.)
Peppers (red, orange, yellow, green)
Purple and green cabbage
Cauliflower
Red Onion
Strawberries
Blueberries
Mandarin Oranges
Broccoli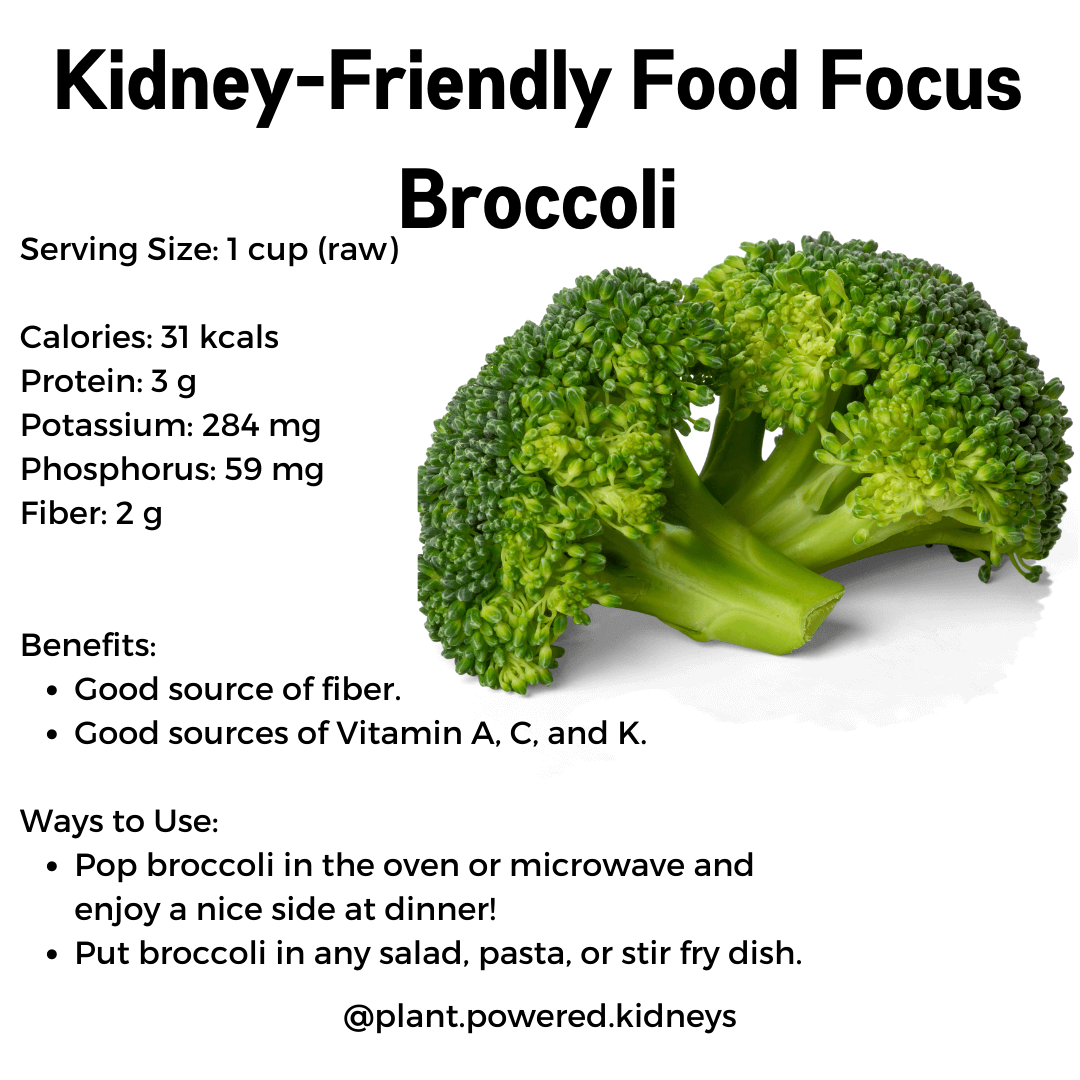 The list goes on and on! Pick 2-3 fruits or veggies to go on top of your base.
More than just veggies!
There are more than just veggies that can go in your salad.
Plant-Based Proteins:
Black beans
White beans
Edamame
Cubed tofu
Chopped tempeh
Chickpeas
Next, pick a plant-based protein. This can help your salad be more filling and satisfying.
Learn more about protein in the renal diet here.
Nuts and Seeds:
Sunflower seeds
Pepitas
Chopped walnuts
Sliced Almonds
Sesame seeds
Nuts and seeds add healthy fat to your salad and can provide some crunch. Pick one to top your salad with!
Whole Grains:
Farro
Barley
Quinoa
Couscous
Brown Rice
Whole grain pasta
Whole grains are great sources of complex carbohydrates.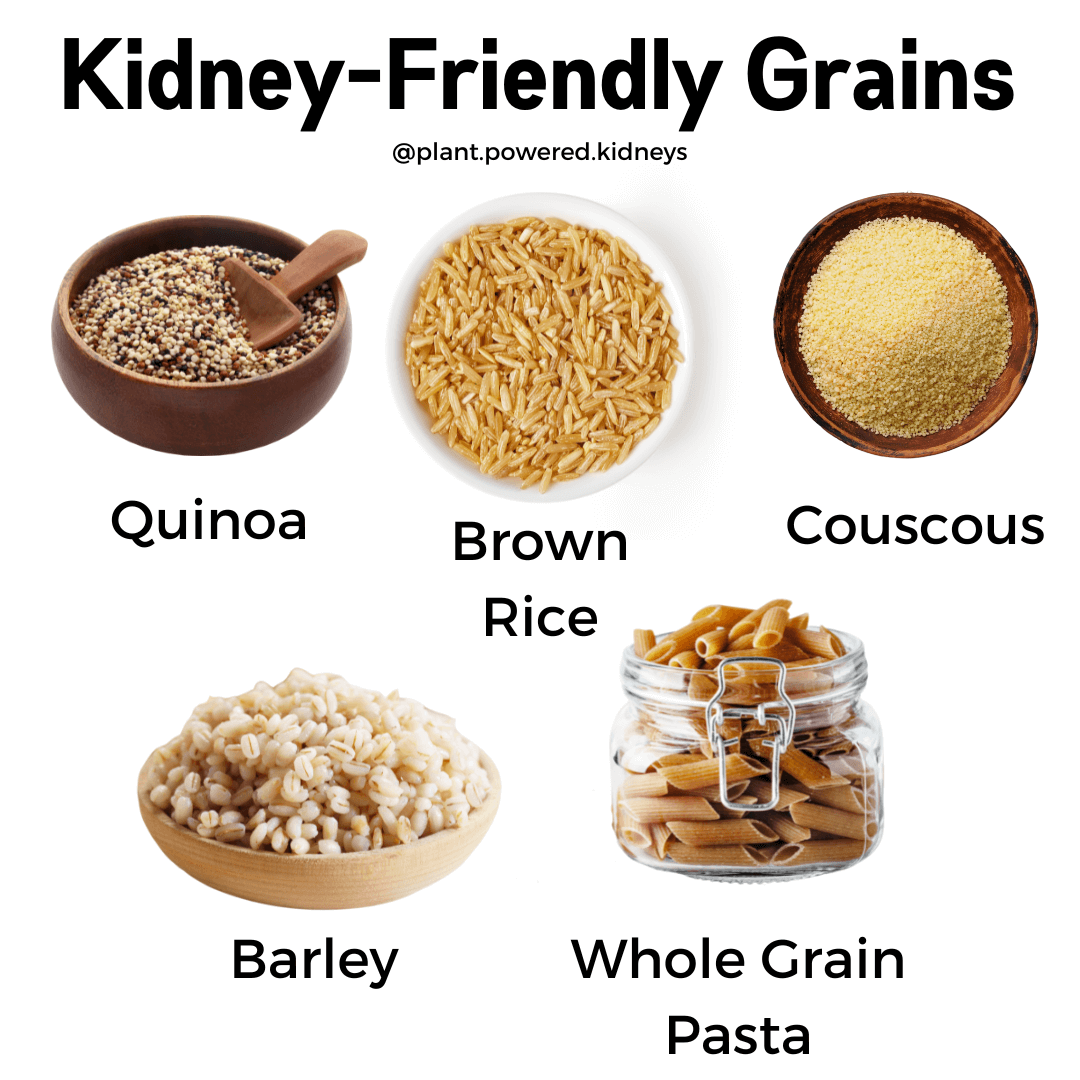 This can provide you with energy and can make your salad more filling. Choose one to add to your salad.
How does this all fit together? Here is an example:
Base: Spring mix and kale
Fruits and Veggies: Purple Cabbage, Cherry Tomatoes, Cauliflower
Plant-Based Protein: Edamame
Nuts and Seeds: Sesame Seeds
Whole grains: Brown Rice
Finish it off with a Sesame Ginger salad dressing and Voilá! You have a nutrient-dense, satisfying kidney-friendly salad.
What to Avoid in a Salad Dressing
Now that we know how to create a kidney-friendly salad, let's talk about kidney-friendly salad dressings.
Salad dressings are a common household staple, however, some store-bought dressings are better than others.
Let's start by talking through a few things that we want to make sure that we avoid with our salad dressings.
Too Much Sodium
Too much sodium is the most common not-so-great ingredient that we find in salad dressings.
Store-bought or homemade, if we aren't careful our salad dressing can contribute too much sodium to our salad too quickly.
How do we know when the amount of sodium is too much?
Ideally, we are looking for 140mg of sodium or less per serving.
That means that if the nutrition label of your salad dressing says that there is 350 mg of sodium per serving it may be something that you put back on the shelf.
With that being said, for many salad dressings it can be hard to stick to 140mg of sodium or less.
Remember, this number is just a rough guide to help you pick out the best option.
For example, if the salad dressing has 180mg of sodium per serving (for example), that can likely still fit into a kidney friendly meal.
Remember that for our entire meal, try to aim for 400-600mg of sodium total.
It can still fit if the total amount of sodium from the rest of the meal still equals out to between 400-600mg of sodium.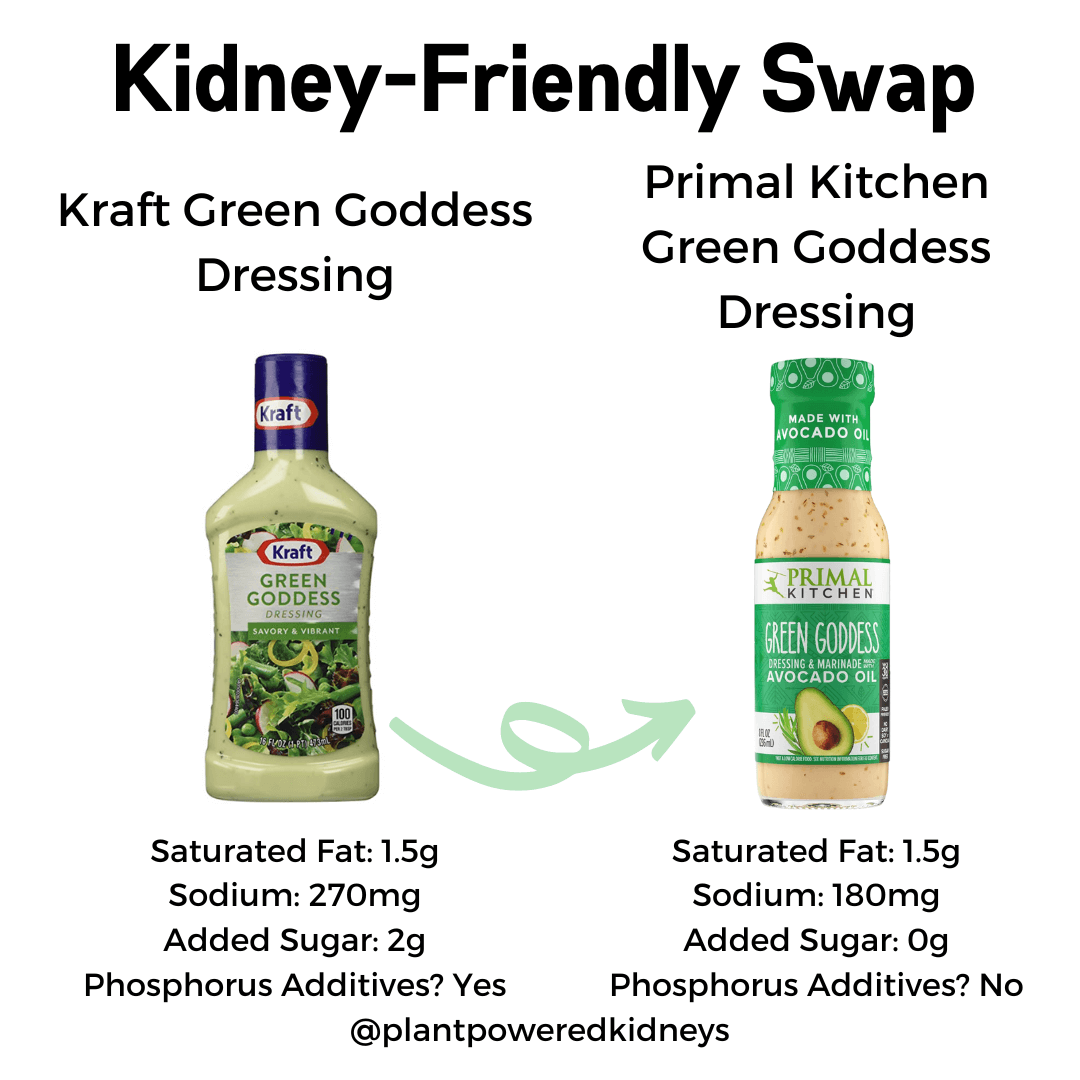 Phosphorus Additives
This is an important one to look out for.
Many food manufacturers will add phosphorus to foods as a preservative.
We absorb nearly 100% of this phosphorus. Therefore, kidney patients need to look for salad dressings that do not contain added phosphorus.
You can read more about phosphorus additives here.
For example, the Wish-Bone light creamy caesar dressing contains phosphoric acid.
This makes it a not-so-great choice for kidney patients.
However, the Primal Kitchen brand caesar dressing does not have any phosphorus additives.
This makes the Primal Kitchen brand a better choice if store-bought caesar salad dressing is something you would like to keep in your diet.
Dietitian tip: If you make your own salad dressing you don't have to worry about phosphorus additives and you can control the amount of sodium that goes into it!
Trans and Saturated Fats
Salad dressings can also contribute unhealthy fats to your diet. The base of many salad dressings is usually what contributes unhealthy fats.
Other items such as toppings and certain protein choices can contribute unhealthy fats as well.
The unhealthy fats that we want to avoid or limit include:
Trans fats
Saturated fats
The most common sources of unhealthy fats in a salad or salad dressing are:
Tropical oils

Coconut oil
Palm oil
Palm kernel oil

Full and low fat cheese
Beef or bacon
These are items to avoid or limit in your kidney friendly salad and salad dressing.
Too much added sugar
Surprisingly, salad dressings can also be a source of too much added sugar.
The CDC recommends limiting added sugar intake. Too much added sugar may lead to obesity, type 2 diabetes and heart disease.
Ideally, we would like to limit added sugar to less than 5g per serving for our salad dressings.
What to Include in a Salad Dressing
Now that we have the ingredients to avoid out of the way, let's talk about what should be in your salad dressing.
Heart Healthy Fats
Here are the types of fat that we want to include in our kidney friendly diet:
Unsaturated fat

Polyunsaturated fat
Monounsaturated fat
In the right amounts, these fats may help improve cholesterol levels.
These types of fats can be found in:
Olive oil
Avocados
Avocado oil
Sesame oil
Walnuts
Walnut oil
Flax oil
Flax
Certain nuts and seeds (such as almonds or sesame seeds)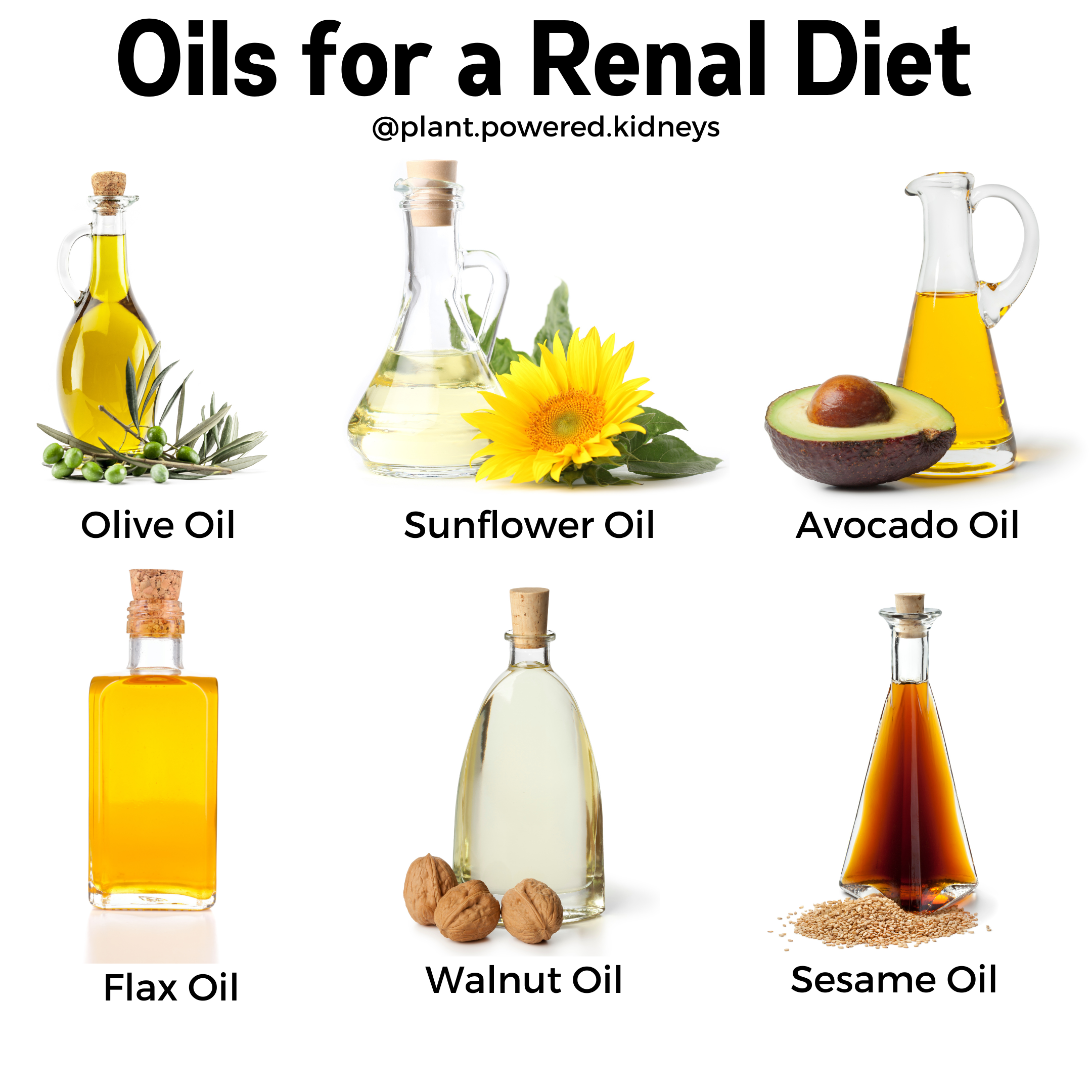 Adding these heart healthy fats:
Improve flavor
Help you feel full and satisfied
May help with your overall heart health
Using store-bought dressings and making homemade dressings that are made with olive oil or avocado oil can be a great way to add healthy fats to your salad!
Herbs and Spices
Hello, flavor! Herbs and spices can be a great way to add flavor without adding the salt.
Plus, they add their own nutritional benefit.
Here are some great spices that you can add directly to your salad or to your kidney friendly salad dressing:
Onion powder
Garlic Powder
Basil
Mint
Rosemary
Sage
Cilantro
Paprika
Thyme
Oregano
Coriander
Turmeric
Cardamom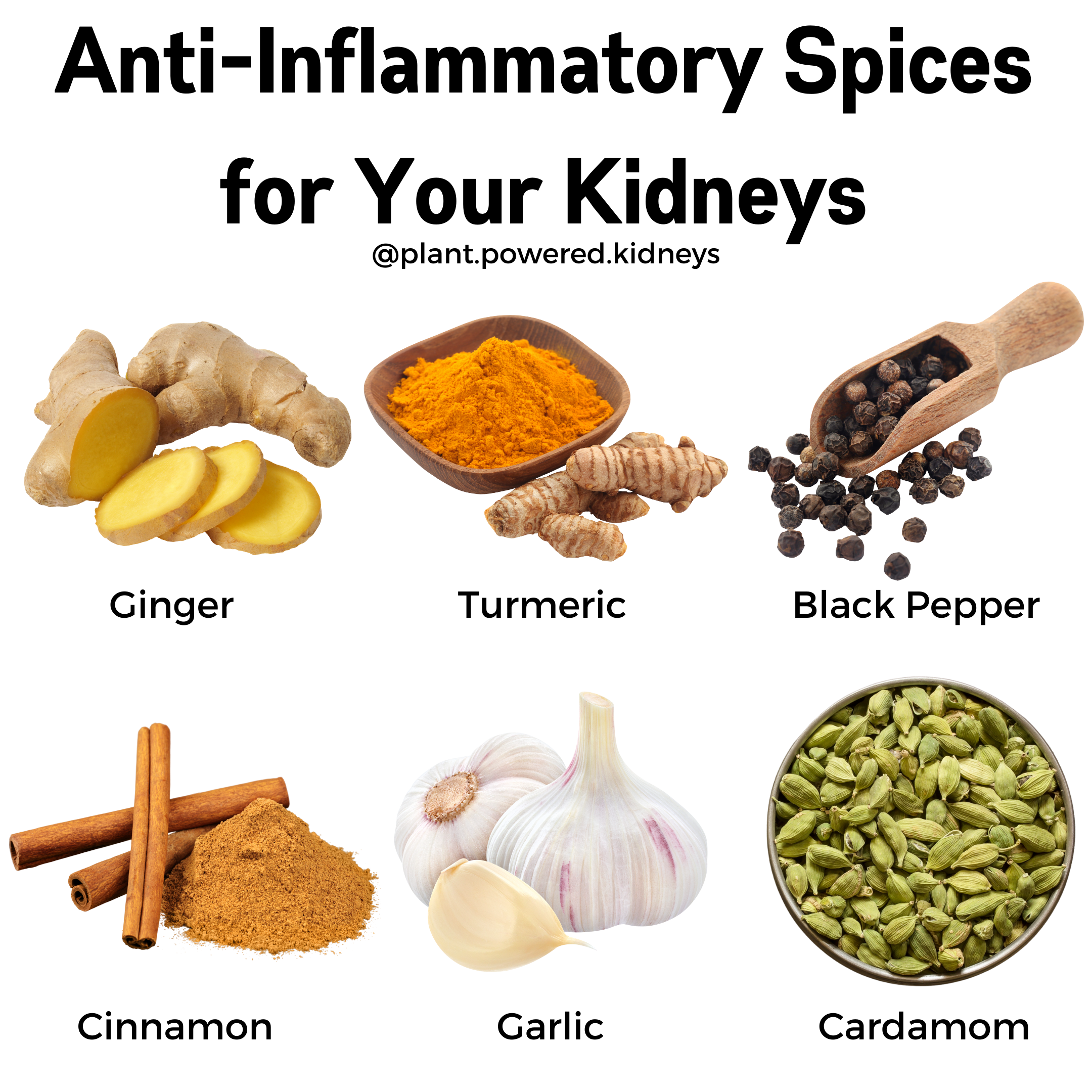 Flavor!
Don't forget to finish up your salad dressing with some flavor!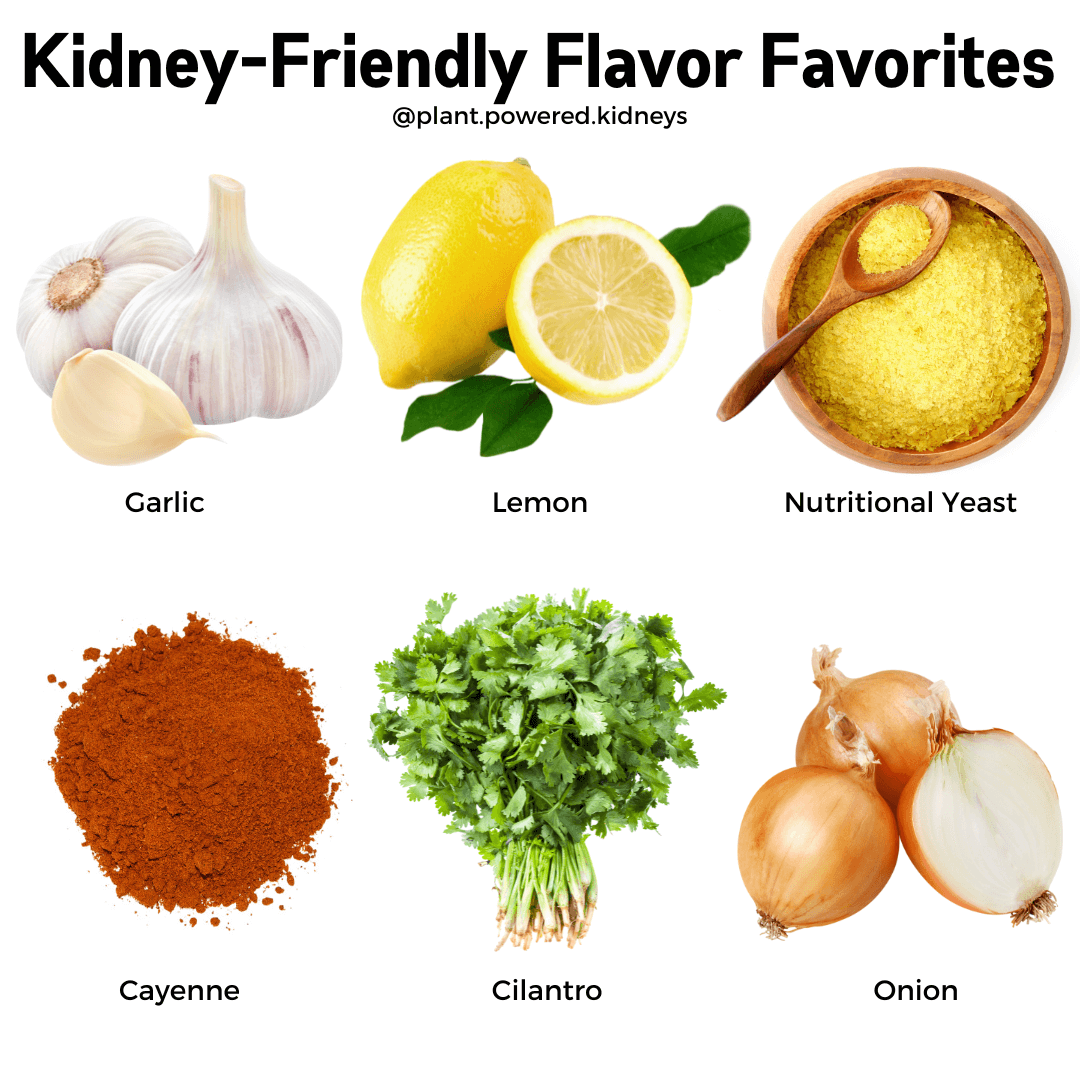 Try adding these ingredients to your dressing:
Vinegars

Apple cider
Balsamic
Red wine
Distilled white
Champagne
White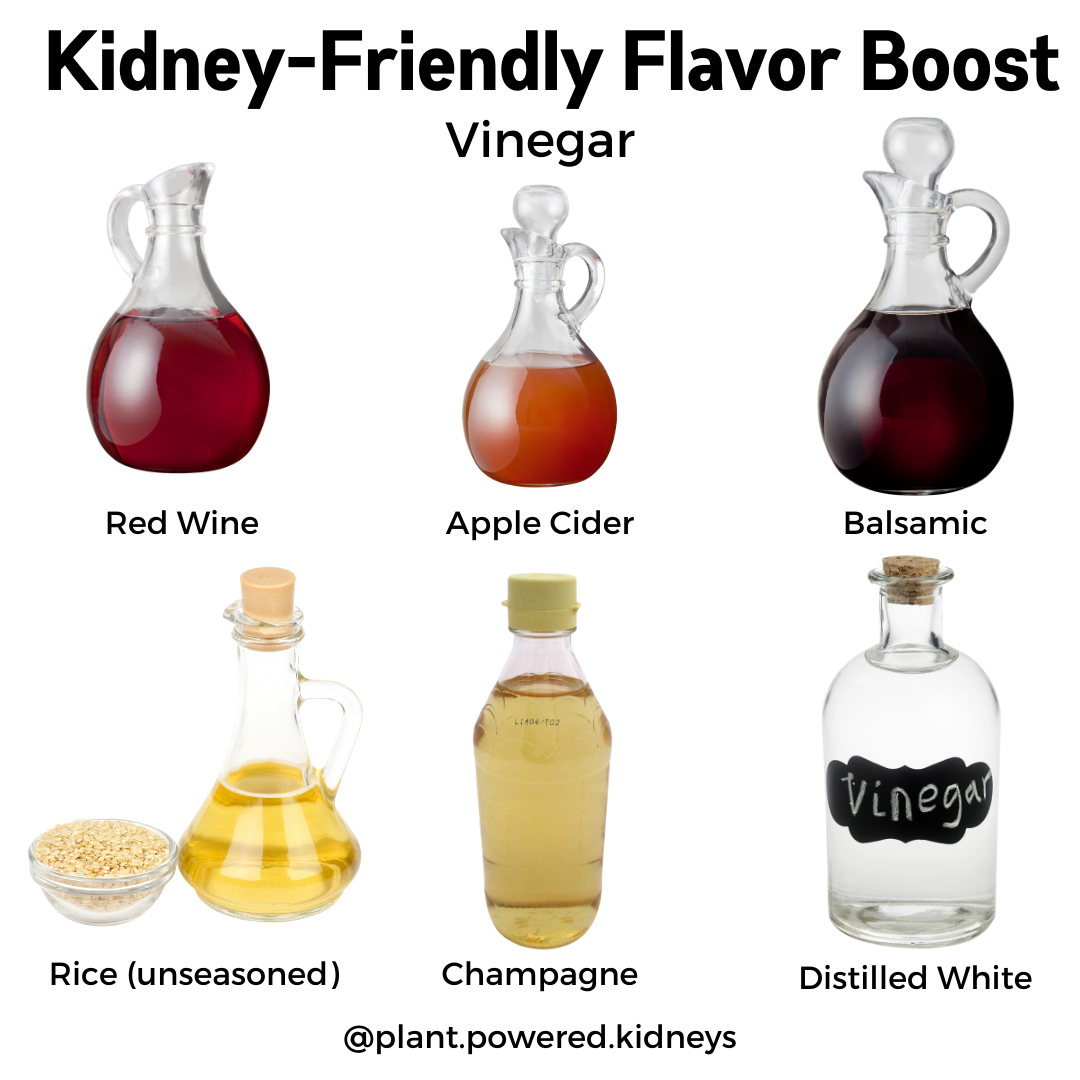 Lemon juice
Lime juice
Garlic
Ginger
Nutritional Yeast
Mustard
Honey
Peanut Butter
Coconut Aminos
Tahini
Kidney Friendly Salad Dressing Recipes
Want to make sure that your salad dressing has all good ingredients and none of the bad?
You can make your own at home!
If you make your own you can control what goes into that dressing (and also what doesn't!)
Making your own dressing can also be significantly cheaper. Some brands of salad dressings can get pretty expensive!
Below are some of our favorite dressings that you can whip up and enjoy on your kidney friendly salad!
Kidney Friendly Balsamic Vinaigrette
Ingredients:
1/4 cup balsamic vinegar
1/2 tsp honey
1 tsp garlic powder
2 tsp Dijon mustard
Ground black pepper to taste
1/4 cup plus 1 tbsp extra-virgin olive oil
Directions:
Whisk all ingredients together and enjoy!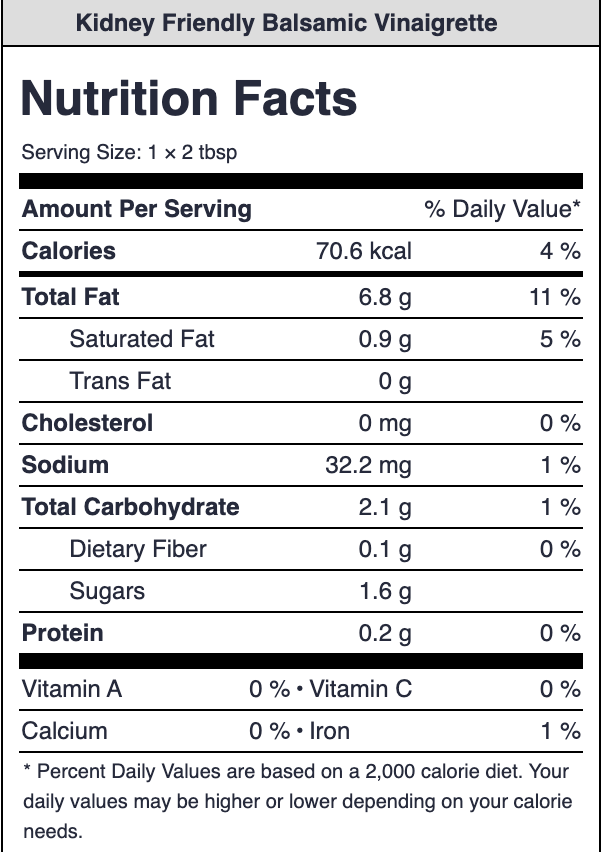 Kidney Friendly Creamy Cashew Dressing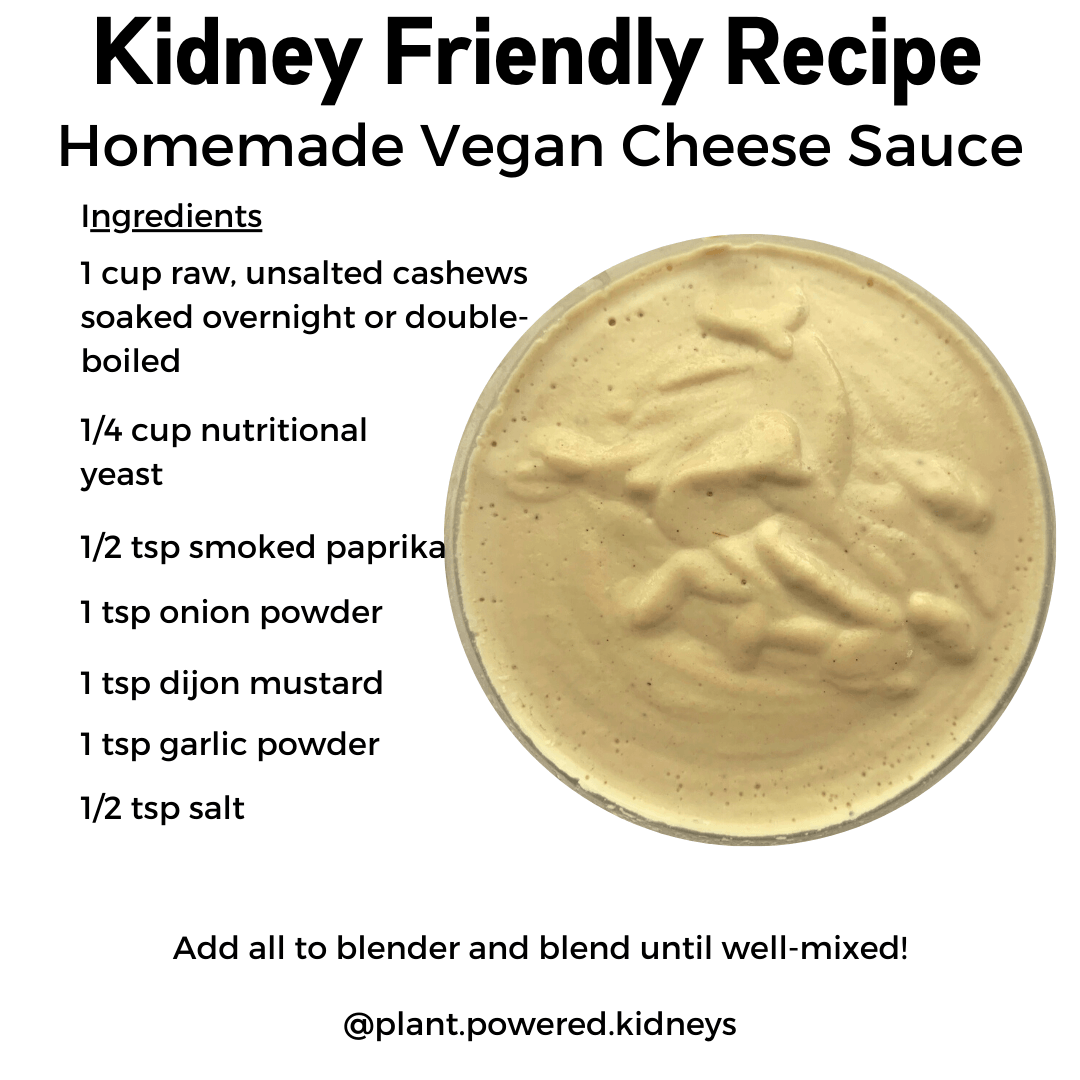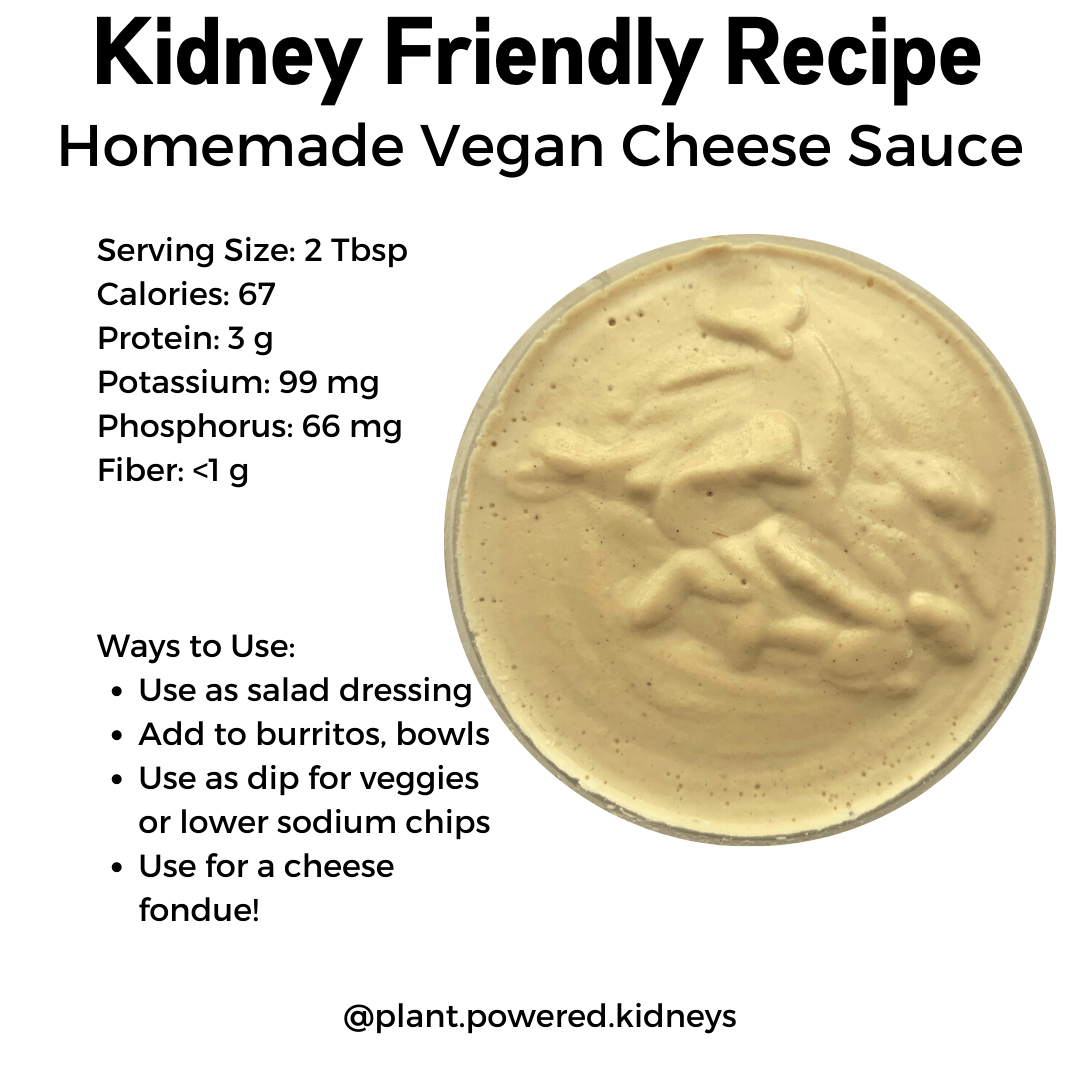 Store-Bought Kidney Friendly Salad Dressings
While we usually encourage making your own salad dressings, there are a few kidney friendly salad dressings that you can buy.
When choosing a salad dressing, remember that we want to look for:
Low sodium options
No PHOS (phosphorus) additives
Heart Healthy fats
Delicious and flavorful options
Below are some options that we think fit the bill!
Kidney Friendly Oil Based Dressings
Kidney Friendly Creamy Salad Dressings
Primal Kitchen Green Goddess Dressing
*contains eggs
Primal Kitchen Cilantro Lime Dressing
*contains eggs
*contains eggs
Are there any that we missed? Comment below and let us know!
Kidney Friendly Ranch Alternative
Looking for a traditional ranch alternative? If you don't want to make your own, we may recommend the Primal Kitchen Brand.
Their Vegan Ranch Dressing is a source of heart healthy fats and doesn't not contain any added sugar or phosphorus additives.
There is 220mg of sodium per 2 tbsp serving, so be sure to take that into consideration if you would like to include this in your diet.
Want to make your own kidney friendly ranch dressing?
Check out this recipe:
Easy Homemade Vegan Ranch Dressing
Ingredients:
1 packet of dry vegan ranch mix
1 6oz container of silken tofu
Directions:
Blend all ingredients until smooth and enjoy!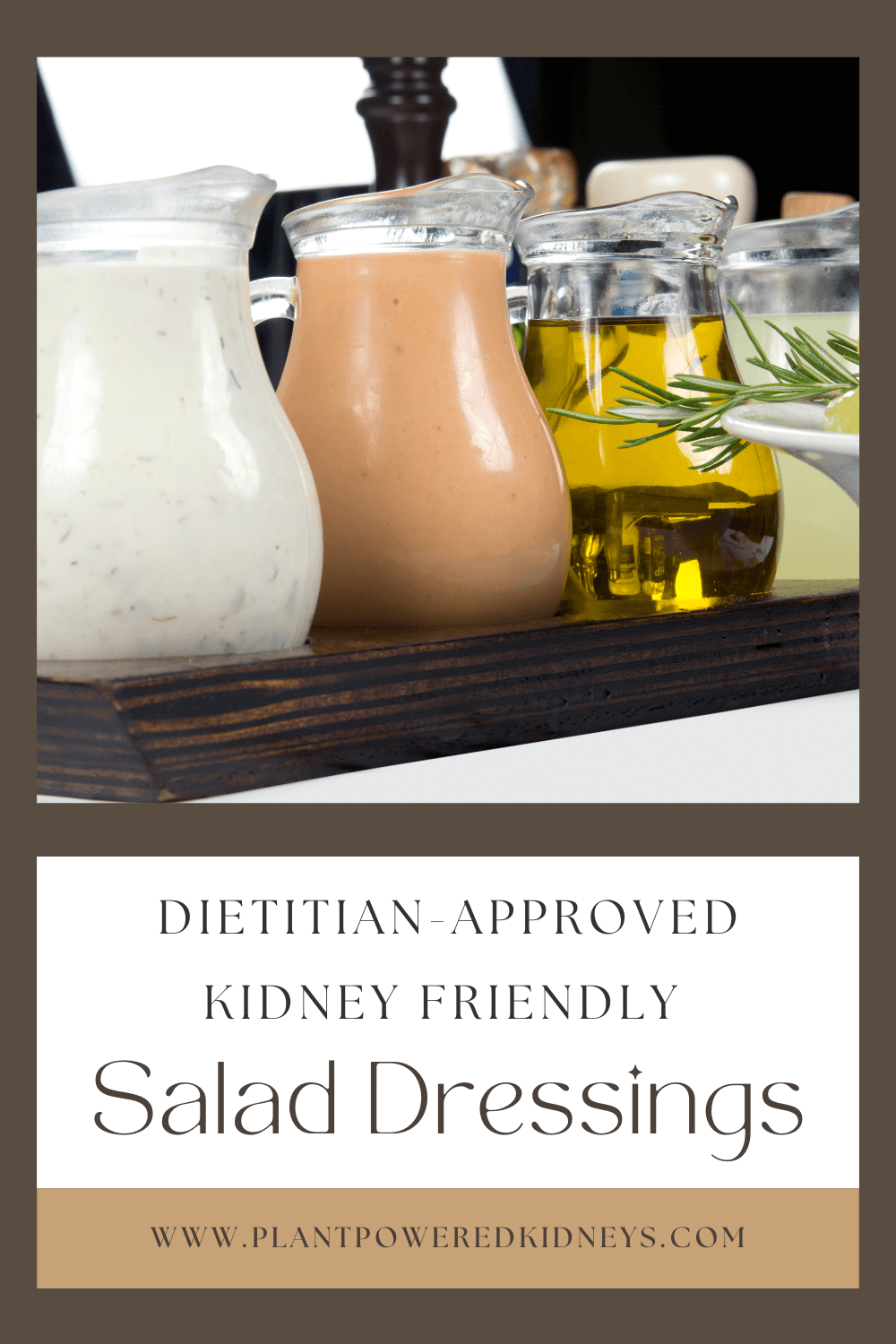 Summary
Although we usually think of salads being healthy options, the wrong salad dressing can make a salad unhealthy.
To ensure that your salad dressing is healthy and kidney friendly, make sure that it has the right amount of sodium and added sugar, heart healthy fats and no phosphorus additives.
And most importantly, an outstanding flavor that makes you want to enjoy salads more often!
Have a kidney friendly salad dressing that you want to share? Comment below! We would love to hear about it!
Enjoy your salad dressing, kidney warrior!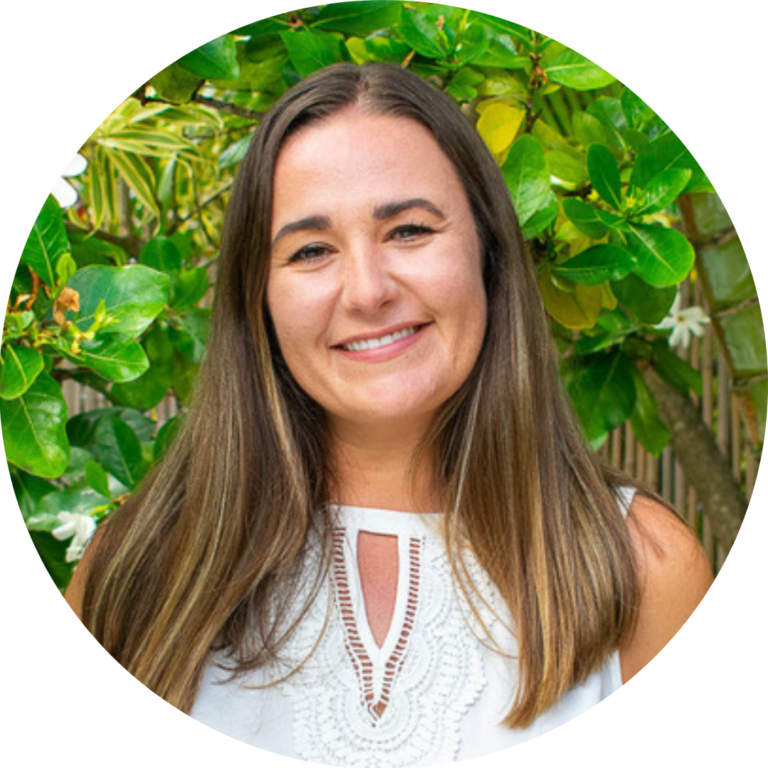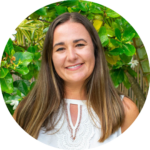 Jen Hernandez is a registered dietitian and board-certified specialist in renal nutrition. She has nearly a decade of experience with kidney disease patients in all stages - from stage 1 through kidney transplant. Jen writes on the blog of Plant-Powered Kidneys to help reach and teach more kidney patients about how they can enjoy more foods in a plant-based diet while protecting kidney health.