Choosing the right kidney-friendly desserts can be challenging. However, we can have our cake when we know what to look for when keeping our kidneys healthy. This article includes quick, easy, and kidney-friendly desserts to try for yourself. Each recipe will feature ingredients and directions, along with the nutrition information to help you decide if it will fit into your renal diet.
This article was written by dietetic student Leticia Papaleka and medically reviewed by Jen Hernandez RDN, CSR, LDN.
*This article contains affiliate links. This means a purchase made through an affiliate link may result in compensation for us, but at no additional expense to you. We only partner with companies, products, and services that truly help us and our kidney patients. Thank you for your support.
Including Desserts in the Renal Diet
Many traditional diets have touted the idea of removing desserts. However, this mentality can make following a kidney-healthy lifestyle even harder than it already can be.
Research has shown that diners who anticipated a dessert or indulgence made better choices.
Including dessert can also help lower the total amount of calories consumed.
Creating a Kidney-Friendly Dessert
One of the best ways to create a kidney-friendly dessert is to start with fruit.
This helps provide additional nutrients like vitamins and minerals. Fruit also has fiber, which is very helpful for kidney patients.
If potassium is a concern, choose a low potassium fruit to stay within your potassium allowance.
Kidney Friendly Desserts
These dessert recipes include ingredients and directions. Cronometer* was used to determine the nutritional value of each recipe/serving.
We love Cronometer as a food tracker for kidney patients. They offer a free plan.
However, the Gold Plan is very affordable and provides specific nutrient analysis that are helpful for kidney patients.
Click here to learn about Cronometer's free plan or get a discount on their Gold plan.*
Caramel-Coated Pretzels
Low-sodium pretzels are an easy fit into a renal diet. Add homemade caramel to them for a sweet, crunchy, and kidney-friendly dessert.
Ingredients
6 Pretzels, unsalted
For Caramel Sauce:
1 cup brown sugar
8 tablespoons vegan butter (Earth Balance is a great choice)
4 tablespoons plant-based milk of choice
½ teaspoon vanilla extract
Directions
Add all caramel sauce ingredients to a small pot on medium heat.
Stir until thicken and bubbles appear.
Remove from heat and slightly cool.
Dip pretzels into caramel using a fork. Place on wax paper-covered sheet pan to harden.
Store pretzels in an air-tight container; refrigerated. Caramel will hold for about a week and will set. Reheat prior to use.
Marshmallow Popcorn Balls
Popcorn is a great source of fiber and is low in calories. When homemade, it also will be low in sodium and have no added potassium or phosphates.
Ingredients
1 cup popcorn (air-popped)
½ cup marshmallows
1 tablespoon butter or margarine
1 tablespoon peanuts, unsalted
Directions
In a medium saucepan, melt marshmallows with butter over low heat.
Turn off the heat and stir in popcorn and peanuts.
Let rest for 2-4 minutes and carefully with greased hands make it into a ball.
Snickerdoodle Mug Cake
A mug cake can be done in a matter of minutes, here is a low-potassium recipe just for you. Enjoy!
Ingredients
1 tablespoon of cream cheese
3 tablespoons confectioners sugar
1 tablespoon of coconut flour
1/2 tablespoon of melted butter, unsalted
¼ teaspoon no alcohol vanilla extract
½ teaspoon cinnamon, ground
1 tablespoon plain non-dairy yogurt
Directions
Mix in a small bowl the cream cheese and 1 tablespoon of the confectioner's sugar and set aside.
In a microwave-safe mug, lightly grease with some butter and mix in the rest of the ingredients until combined.
Do not overmix. Microwave mug for 60 seconds adding an extra 10 seconds until set.
Let cool for 2-5 minutes and spread the cream cheese mixture.
Two-Ingredient Ice Cream
Raspberries are a low potassium fruit and a great source of omega-3 fatty acids an amazing component in the prevention of heart disease.
Ingredients
6 ounces raspberries, frozen
3 ounces full fat coconut milk
Directions
In a blender or food processor blend ingredients and serve immediately.
Can be saved up to a week in the freezer. Thaw out 5-10 before serving.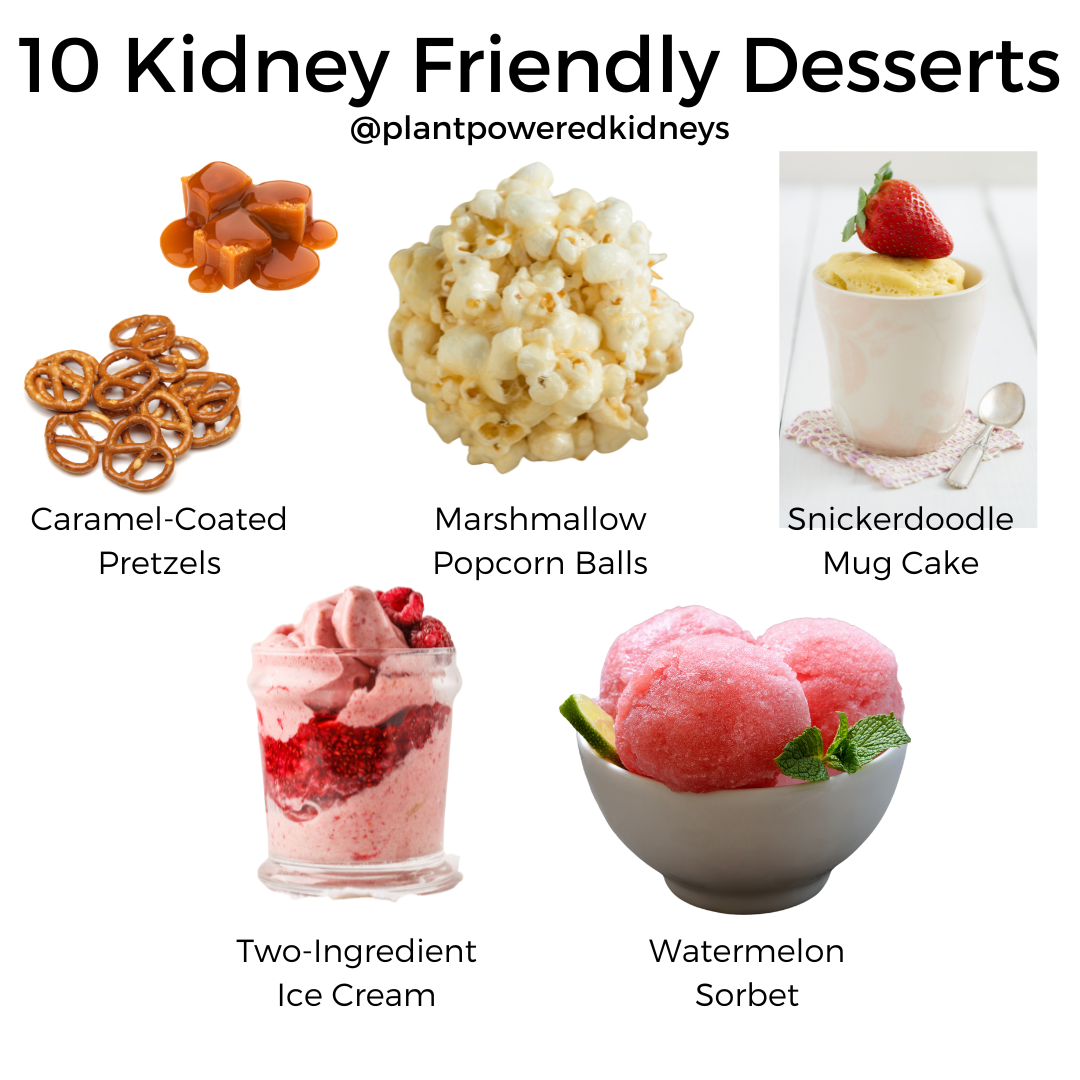 Watermelon Sorbet
With only three ingredients and a blender you too can enjoy this nice frozen treat.
Watermelon makes a tasty sorbet. Not only is this fruit low kidney-friendly, but it also provides beta carotene and lycopene.
Ingredients
1 cup watermelon, frozen
¼ cup simple syrup ( boil ¼ cup water with ¼ cup sugar) and let cool
Directions
Just freeze your favorite kidney-friendly fruit ( lowest in fluid).
In a blender or food processor combine with a simple syrup (equal parts and sugar boiled to dissolve) or water to consistency.
White Chocolate-Covered Strawberries
Strawberries are delicious on their own but if you are in the mood for something sweeter, try covering them in white chocolate.
White chocolate is a great chocolate option to cover your fruit. Or you can have on its own as it is a kidney-friendly candy.
Strawberries are a great source of vitamin C and help provide us with high-density lipoproteins (HDL), the good cholesterol.
Ingredients
¼ cup white chocolate chips
¼ teaspoon coconut oil
3 large strawberries
Direction
In a microwave-safe container melt the chocolate and coconut oil for 15-30 seconds.
Stir until smooth and slightly cool before dipping strawberries, let cool before enjoying.
Dessert Pizza
This semi-homemade dessert pizza makes the perfect potluck dish, everyone will enjoy and can be substituted with other kidney-friendly fruits.
This recipe works for CKD because it contains berries. Berries are one of the best options for CKD.
Berries are low in sugar and calories. They are also high in antioxidants, vitamin C, and fiber. You won't have to feel guilty about this kidney-friendly dessert.
Ingredients
1 Pillsbury ready-to-bake sugar cookie
½ tablespoon whipped cream cheese
¼ cup mixed berries (blueberries, raspberries, and strawberries)
¼ tablespoon confectioners sugar
Directions
Bake a cookie according to packing directions, these ready to- bake make it easy to save the rest for later.
Meanwhile, combine cream cheese and confectioners sugar in a bowl.
Once cookies are ready and slightly cooled, spread the cream cheese mixture over and add berries.
Dessert Shell with Peaches and Cream
Canned fruit is great for kidney patients. They shelf-stable and available year round.
Additionally, most often the amount of potassium is reduced in the cooking and canning process.
Canned peaches have more folate than fresh, which can help blood levels in the body.
Ingredients
1 vanilla dessert shell
¼ cup of canned peaches (in juice), drained
1 tablespoon of coconut whipped topping
Directions
Drain the peaches and fill your dessert shell
Topped with whipped cream.
Grilled Pineapple with Vanilla Ice Cream
This dessert is simple and delicious for any picnic or cookout.
Pineapple has many wonderful benefits. Not only does it contain high amounts of vitamins, it may help aid in digestion, speed up the healing process, and suppress inflammation. 
It may also help combat nasty colds and the flu by providing an immunity boost.
Ingredients
1 cup fresh pineapple (wedge or rings)
½ cup coconut whipped topping or vanilla ice cream
Directions
Grilled pineapple to desire taste.
Topped with sugar-free vanilla ice cream or your favorite plant-based whipped topping, such as coconut.
Golden Milk
Golden milk is good for the soul, it is a scrumptious and soothing drink all in one.
It has many properties to help reduce joint inflammation because of the curcumin and ginger.
Ingredients
16 ounces milk of choice
1 teaspoon ground turmeric
¼ teaspoon ground ginger
¼ teaspoon ground cinnamon
a pinch of black pepper
Directions
In a small saucepan, warm two cups (16 ounces) of unsweetened milk of choice over medium heat for 3-5 minutes.
Next, whisk in each of the spices.
Add in your sweetener of choice (honey, maple syrup, sugar, or sugar substitute like Stevia) to desired taste.
Continue to heat over medium-high heat for 3-5 minutes, but not to boil. Remove from heat and allow to cool slightly. Add additional spices to your preference. This can be stored for up to 3 days in the refrigerator.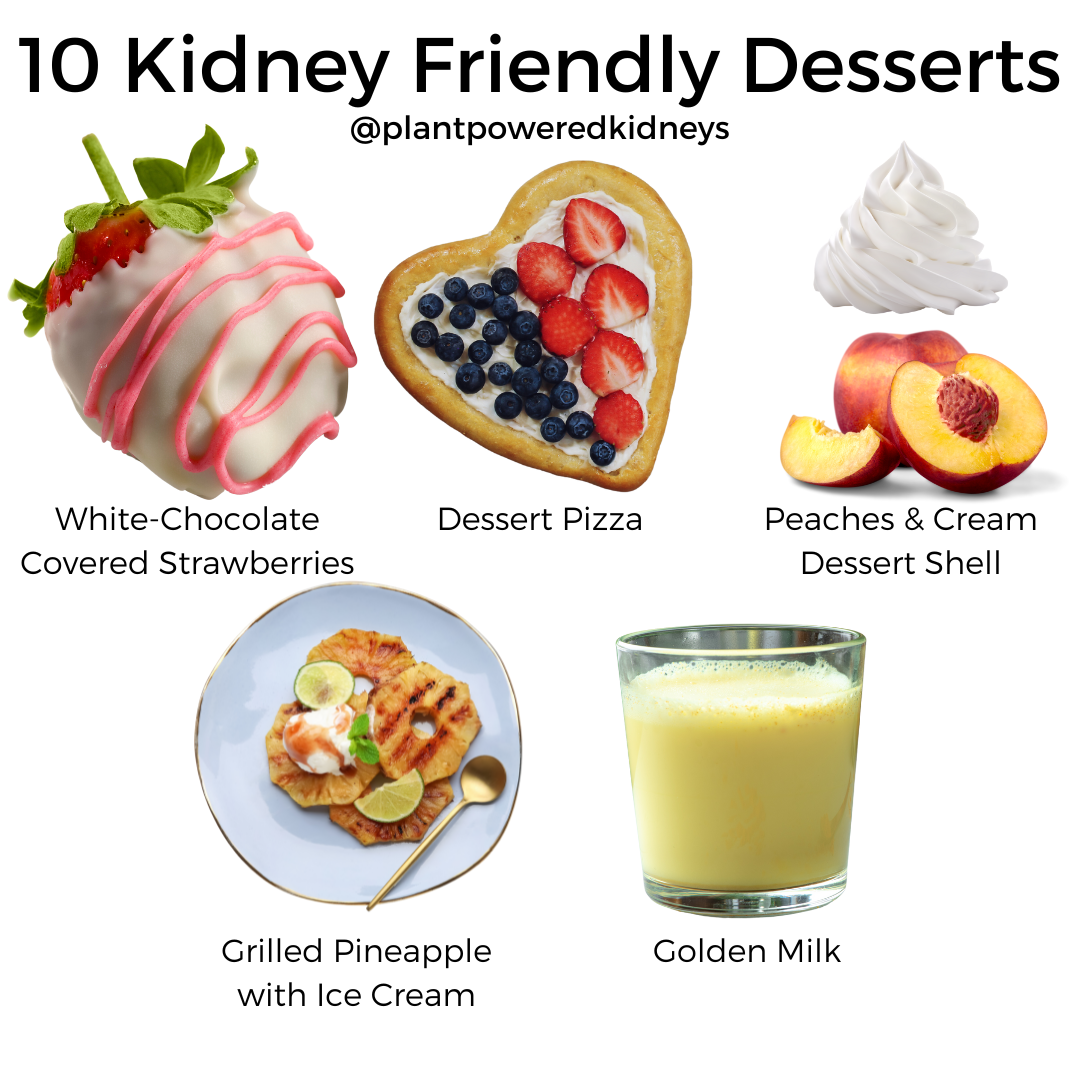 Summary
Research has shown certain ingredients that may be in desserts are not good for kidneys. If you are craving something sweet, try one of our kidney-friendly dessert recipes that everyone will enjoy.
It can be difficult to follow a renal diet that says "no desserts." And it's important to find a healthy diet that you can follow for life.
This means including desserts can actually help you protect your kidney health.
Choose a fruit to start with, then add other sweetening flavors to treat yourself. The fruit will provide nutrients like fiber that will help with blood sugars.
What dessert have you tried from this list? Comment below!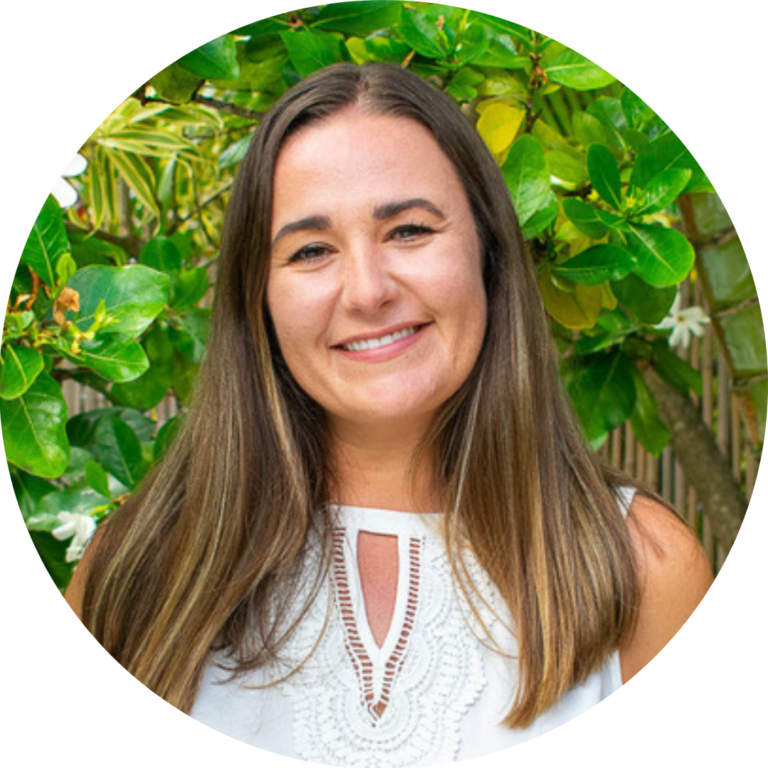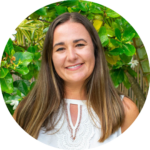 Jen Hernandez is a registered dietitian and board-certified specialist in renal nutrition. She has nearly a decade of experience with kidney disease patients in all stages - from stage 1 through kidney transplant. Jen writes on the blog of Plant-Powered Kidneys to help reach and teach more kidney patients about how they can enjoy more foods in a plant-based diet while protecting kidney health.